With the Acunetix web vulnerability scanner, you can test for thousands of web application vulnerabilities (including SQL Injection, XSS) as well as misconfigurations.
The Acunetix Web Vulnerability Scanner is recognized as a leading solution, you can read some reviews here. It is also trusted by many people including fortune 500 companies. So, if you an online business owner or do a lot of things online, you should scan your site. I scanned my website a couple of weeks ago and it was so helpful. This is definitely a must-have security software that you need.
*I received a free trial of the Acunetix to review. Opinions are my own. This post is sponsored.
Acunetix Web Vulnerability Scanner: Is Your Site Safe?
Did you know that over 70% of websites are vulnerable to hacks? I have had a few blogger friends in the past, get hacked. It was absolutely horrible to see and hear what they were going through and be helpless to them! They were finally able to get their site back, but only after long hours of struggling first! With Acunetix, you can detect and fix your website vulnerabilities quicker. It just makes sense.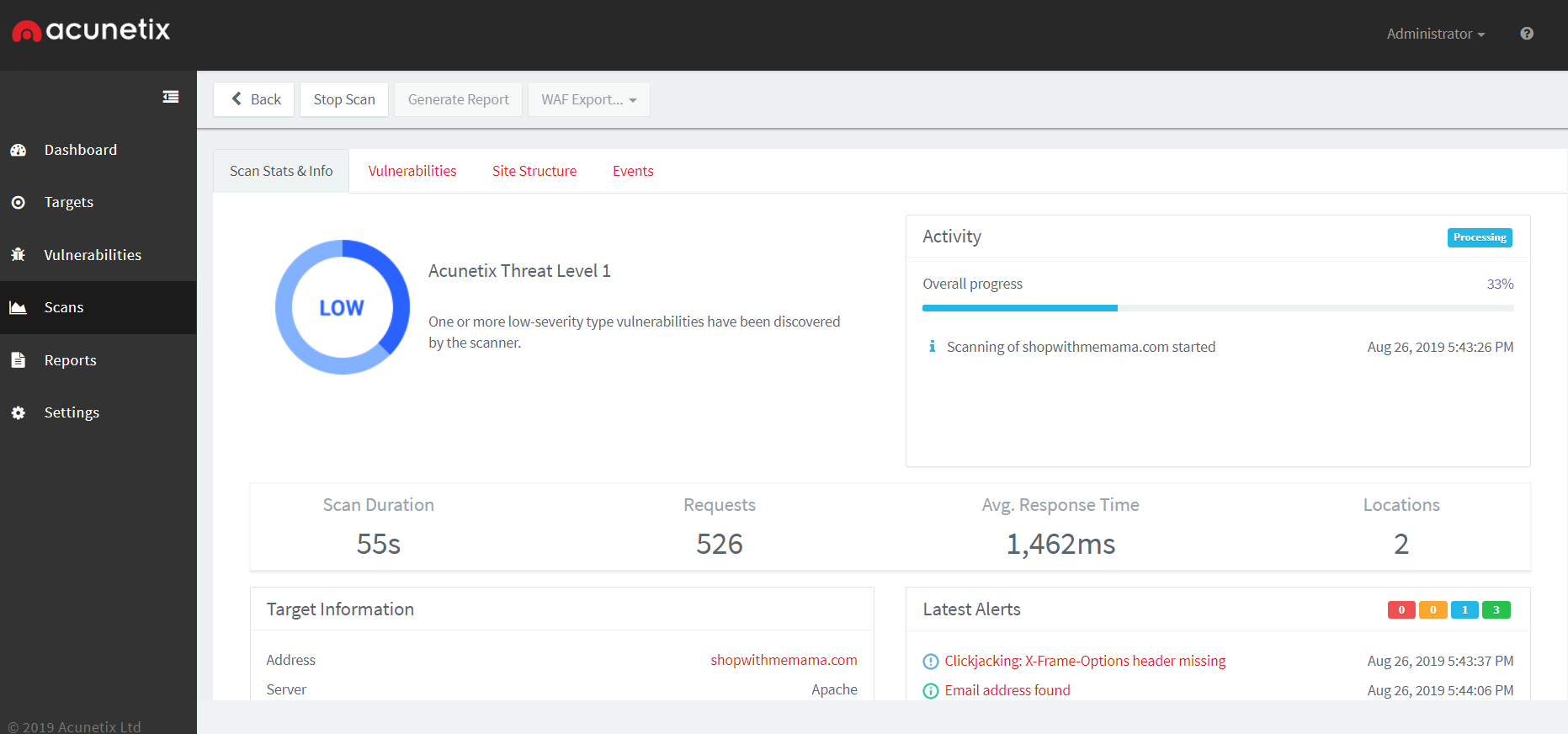 I downloaded the trial version to scan my site. Since I am on my laptop that was a good option for me. Downloading it was simple and quick. I then had to create a password and enter my email address. Once it was installed on my laptop, I added a target, which was my blog URL. Once that was put in, I then chose my Business Criticality, which I put at 'normal'.
I then set the scan speed to fast and clicked the 'Continuous Scanning' option. After that, you can choose a few different things to make your scan even more thorough.
You can also click the following:
Try to auto-login into the site: Website's forms authentication in some cases can be identified automatically. The automatic detection will try to identify the steps necessary to log in, the restricted links which should not be clicked in order to keep the session and the pattern by which a valid session can be identified. If you decide to do this, you will be able to enter your credentials in a little form.
Use pre-recorded login sequence: If your website requires forms authentication, you need to record the steps required to log in on the website. This will be saved as a login sequence file and can be used later. You can also specify a section of the website which you do not want to be crawled (for example links that will log you out from the website).
SSH Credentials: SSH Credentials are only used for Network scans. Enter them on their form at this point, if you want to do this.
AcuSensor: AcuSensor allows the scanner to gather more information from your PHP, .NET, or Java web applications, resulting in improved scan results and reduced false positives. Download and install AcuSensor for this Target before running the web scan.
Then You Can Choose how you want your site to be crawled or navigated by choosing the user agent, case sensitive paths, or excluded paths you want or don't want it to take and if you want your file/s to be imported by crawler at the start.
Next, you can choose the HTTP if you want to do an HTTP Authentication or not. There is also a place to mark if you want a client certificate and a place to click for your proxy server. Then, of course, you can go advanced with technologies, custom headers, custom cookies, allowed hosts, issue tracker and excluded hours. I did not do any of these things.
Then, save your settings. Once you decide all of the above, you can then start the Acunetix Web Vulnerability Scanner. I did a full scan of my website and opted for a quick report that was instant. The scan is ongoing for my site but the scan immediately started and a few things popped up already.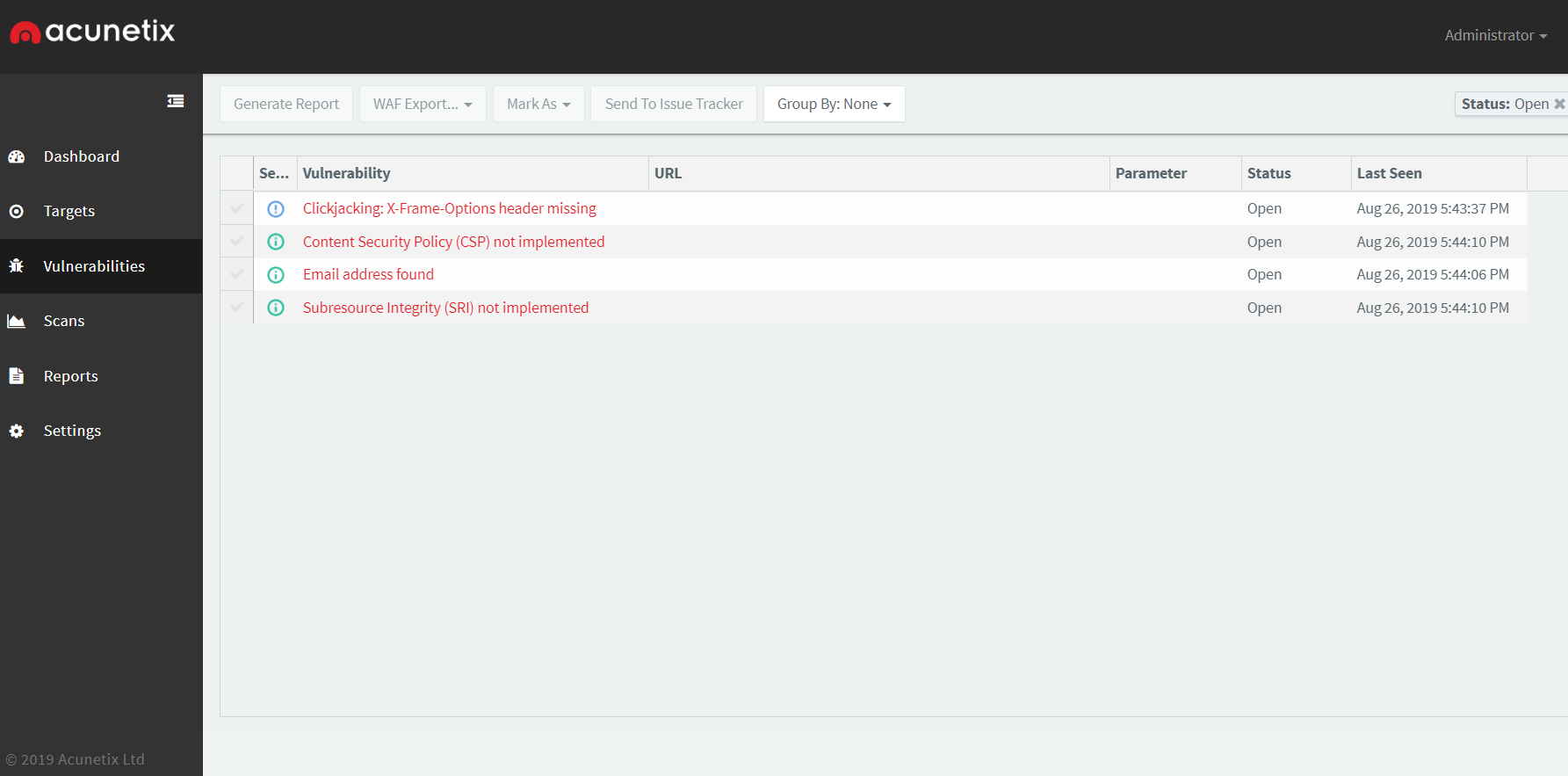 There are several vulnerabilities that the Acunetix web vulnerability scanner found. Since I have the free trial version, I won't get the full report on that but I do now know and can look into it further if I want to.
The Acunetix Threat Level for my site, so far, is a 1 which is Low. It says that one or more low-severity type vulnerabilities have been discovered by the scanner. Once my scan is completed (it is lighting fast, so almost done!), I can generate the report and export it.
This is a great tool for businesses and will help them identify and mitigate web application vulnerabilities, easily. A tool like Acunetix for penetration testing software (see description below), is a great idea for all online businesses. You can never be too safe.

Since I have a WordPress blog, I was happy to hear and see that the Acunetix has the highest detection of WordPress Vulnerabilities. It scans WordPress installations for over 1200 known vulnerabilities in WordPress' core, themes, and plugins. That was great to hear! Also, it was nice to know that Acunetix can save the progress of a scan midway, pause it, and resume it later on from where it left off entirely automatically. This is crucial for time-boxed pen testing or when scanning enormous web applications with time restrictions are at play.
What Is Penetration Testing Software?
The modern cybersecurity threat landscape is continuously changing. One of the most popular ways for organizations to keep up with the onslaught of security vulnerabilities is through Penetration Testing (pen testing). I never knew about pen testing until now.
Penetration testing is a process in which a skilled penetration tester conducts a series of tests using penetration testing software (like Acunetix), which is then combined into a report and sent to development teams to fix vulnerabilities found by a pen tester.
While manual security testing provides organizations with thorough point in time security assessment, unfortunately, manual penetration tests are time-consuming, expensive, only provide point-in-time security assessment (not continuous), and does not provide a scalable approach when organizations have several hundred or even thousands of web applications to test.
Fortunately, automated penetration testing tools like Acunetix web vulnerability scanner allow organizations to scan anywhere from a handful to thousands of web applications quickly, cost-effectively and, most importantly, continuously. Pen Testers are able to leverage the pros of automation for their web penetration testing freeing up their time for more important manual tests.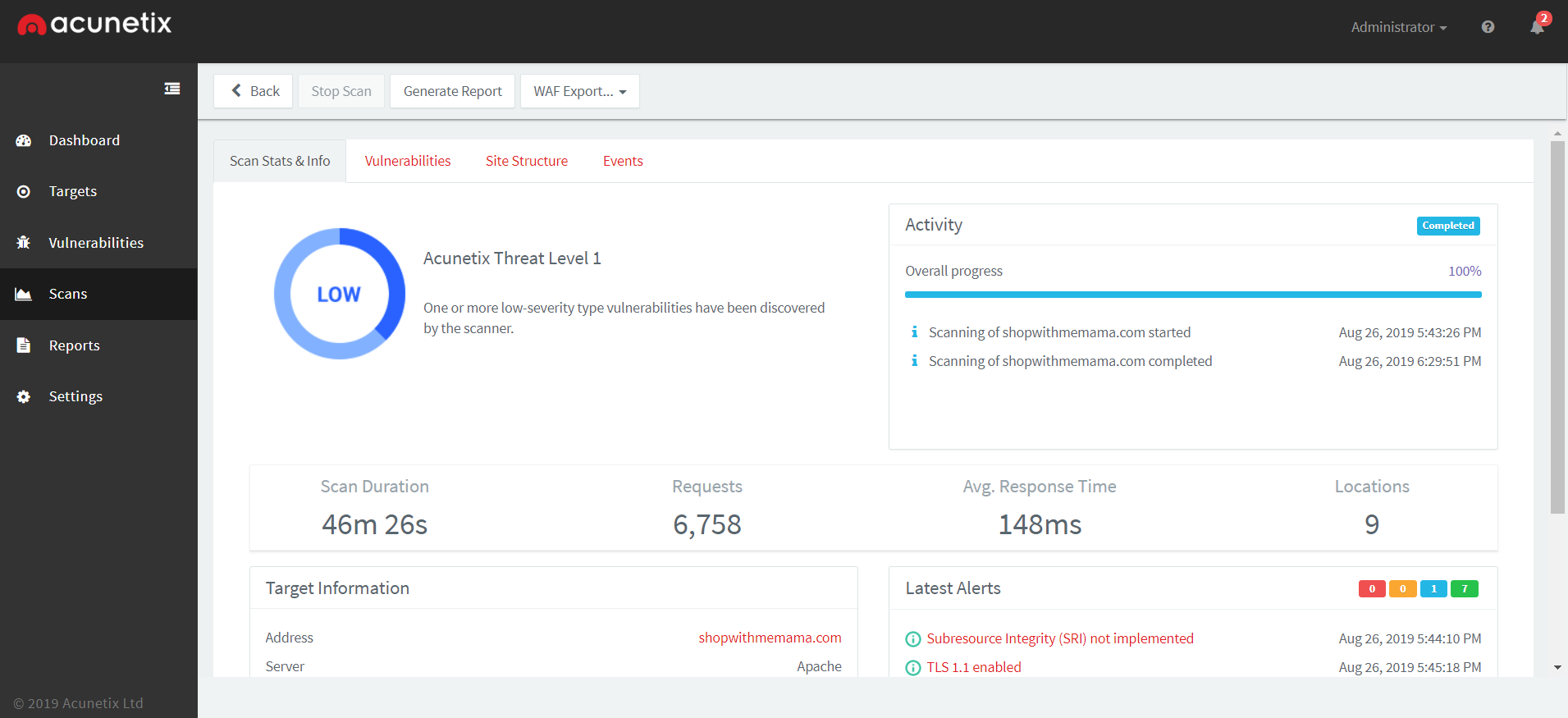 What Makes Acunetix Different?
While most penetration testing tools support legacy technologies, Acunetix takes technology support to the next level with the best-of-breed, JavaScript support. Unlike most software, Acunetix has full support for modern Single Page Applications (SPAs) and can understand and fully test applications which rely on JavaScript frameworks like React, Angular, Ember, and Vue. This means that unlike most penetration testing software, Acunetix can scan everything from legacy web applications developed on traditional stacks, as well as modern web apps taking advantage of all the latest and greatest technologies.
Another issue that Acunetix solves over other web application security software is the ability to instantly generate a wide variety of technical and regulatory and compliance reports such as PCI DSS, HIPAA, OWASP, Top 10, and many others. Additionally, Acunetix allows users to export discovered vulnerabilities to Issue Trackers.
*NOTE: Avoid using AcuSensor on production systems.
Start Today!
Protect your site from malicious hackers with Acunetix's website security scanner. You can get your demo or trial today and get started! You can check out the pricing here.
How Are You Protecting Your Website/ Web Applications, etc?