*Product Was Received. All Opinions Are Mine.

My kids start school tomorrow, finally. And yes, I have cried already. I am sure you are all "Wow, she CRIED????" Ummm, ya, I DID! And I am sure I will cry tomorrow as well. And NO, not happy tears, but tears of sadness because my babies are not babies anymore. I cried because these dang years go by WAY too quickly.
So, this long weekend we just had, we prepared for their return back to school. We bought all the necessary school supplies (which was not so bad!) and we bought them their lunch boxes.
I also let me son and daughter pick out their outfits that they wanted to wear, the first day of school. Tonight we go and drop off their school supplies and meet their teachers! My little girl will be starting kindergarten and she is SO excited! My son will start 2nd grade and he is NOT excited, LOL..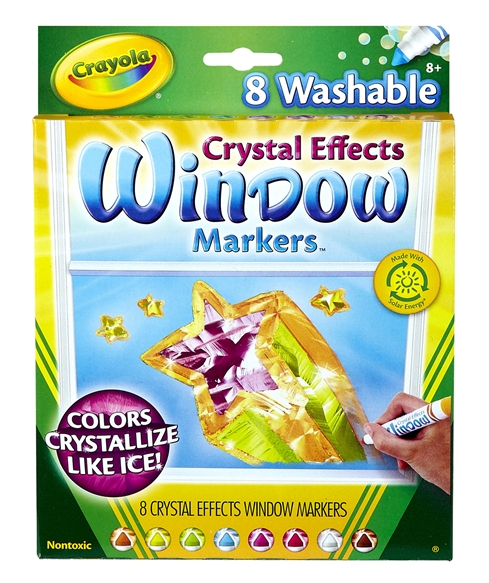 I had the opportunity to try out some of Crayola's items, before the kids went back to school. For more than 100 years, Crayola has never missed the first day of school. The company continues to provide children with a growing assortment of colorful tools to help them discover and create in the classroom. We love Crayola and all of its colorful products!
We were sent the following to check out:
 *Crayola's marker and colored pencil all-in-one kits, which contain 65 pieces in a durable, portable case
* Crayola's Wild Notes black notebooks and journals, where bright, metallic colors pop off the black paper, showing kids this is not their ordinary pen and paper
And we were sent some fabric markers (the kids loved drawing on old t-shirts!!) and we were also sent some Crystal Effects Window Markers, which are VERY cool!! My kids went crazy drawing pictures on our sliding glass door and on the long car ride to my sisters, they drew all over their windows! Lots of fun!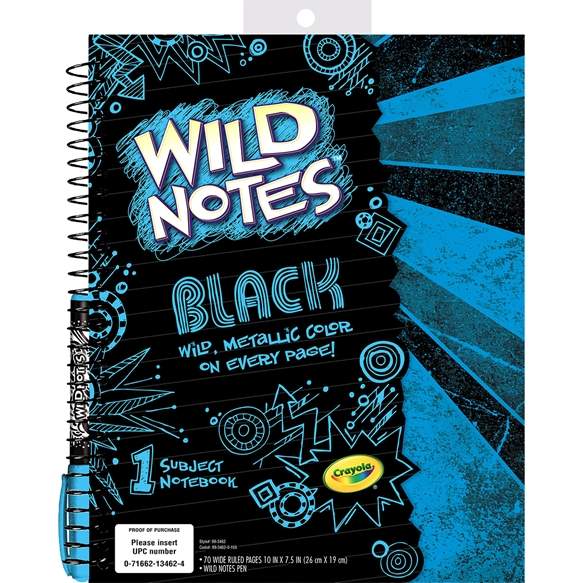 My son grabbed up the Wild Notes Black Notebook that came with a metallic color and my daughter grabbed up the Supertips Washable Markers All-in-One Kit.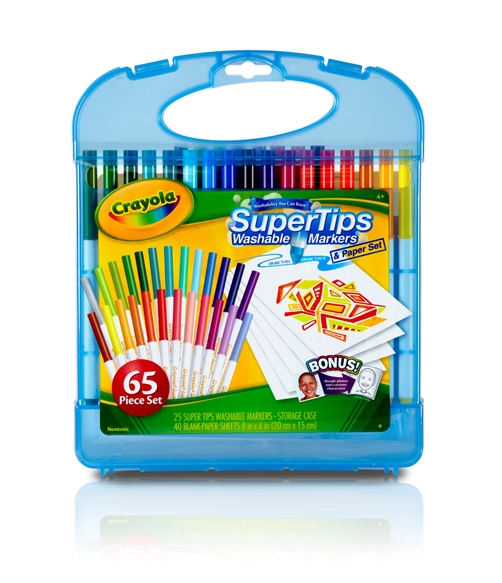 We took a ride up to my sister's house a few weeks ago and I gave these to the kids to use. It kept them occupied for a few minutes at least!
The Wild Notes Black Notebook with the Metallic marker is probably the coolest thing ever! The notebook is black and when you write or draw on the paper, the metallic pen really makes things 'pop' out at you! I love this notebook and I want one!
The marker all-in-one kit is super cool too. It has lots of colorful markers in it and some paper so that you can make some awesome masterpieces!
Buy
You can purchase the new Crayola products online at http://www.crayola.com/