Have you heard about the Breville Combi Wave 3-in-1 Microwave? This is an awesome microwave that is not only nice looking, but it has a variety of cooking programs to fit your needs. This is a combination Microwave that Air Fries and is also a convection oven. And, it is now available at Best Buy. Perfect for the holiday season approaching and can help you out with all your holiday cooking!
*This is a sponsored post from BestyBuy.com. Opinions are my own.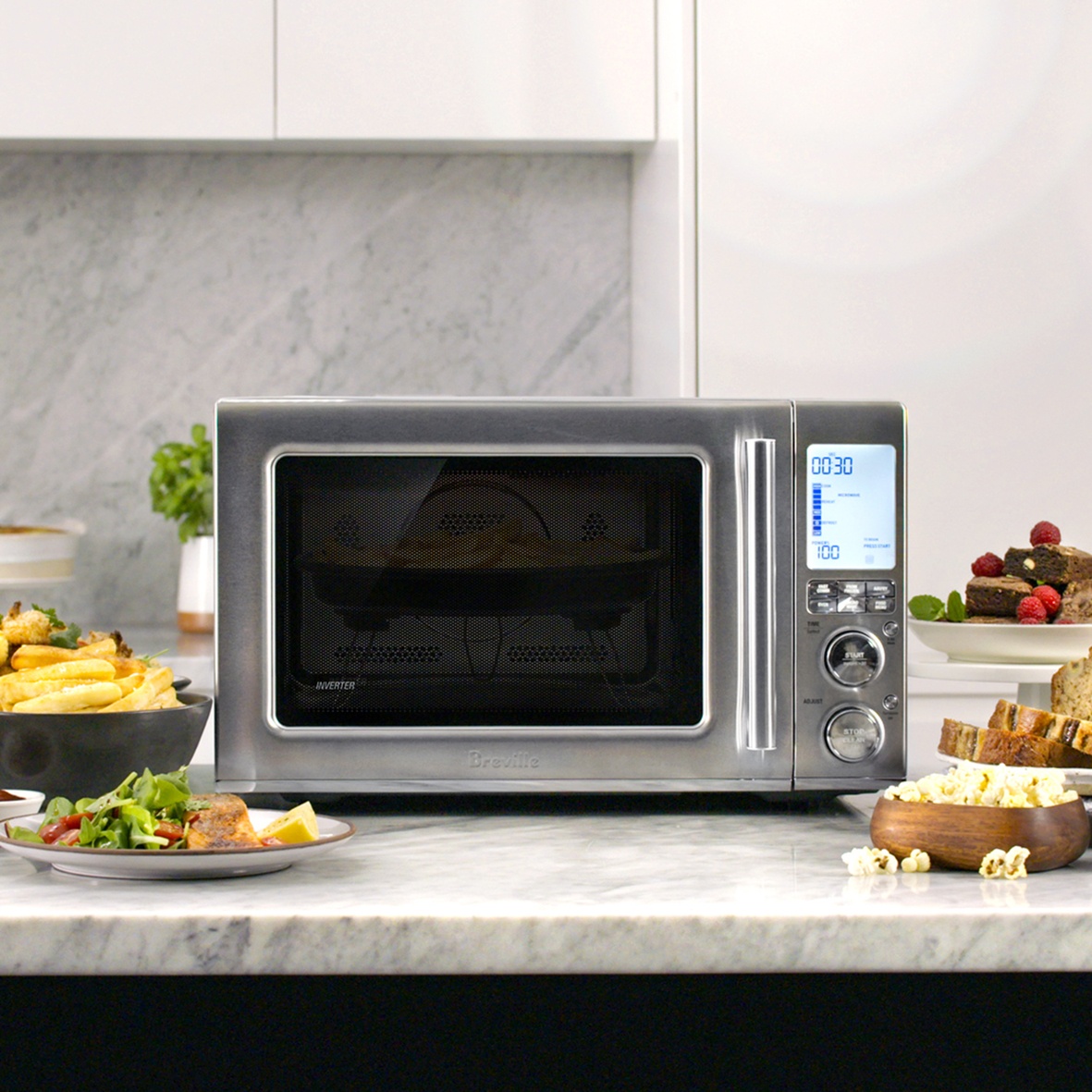 Breville Combi Wave 3-in-1 Microwave
During the holidays, we are always cooking up good food for the family! And, most times then not, we don't have a lot of space! The Breville Combi Wave 3-in-1 Microwave would be such an asset in our kitchen to help with holiday cooking.
This microwave lets you air fry (think crunchy fries, Brussels sprouts, chicken wings! Yum!), bake or roast (whole chickens, lasagna, chocolate brownies!!!) or simply microwave with even heat distribution. Sounds good, right?!? I NEED this microwave NOW.
Another thing I really like about the Breville Combi Wave 3-in-1 Microwave is that it is 80% quieter with the soft-close door, so no more loud microwave door slams. I HATE that! It is also 50% quieter when it is in operation. It also has a child lock and mute buttons so that you don't have to hear tons of beeps. Those can get a bit annoying! The microwave we have right now has to beep 5 times (maybe a bit more?), to tell us our food is done. UGH. I don't like that!
This microwave also has helpful presets like Smart Cook, Smart Reheat & Smart Defrost, so you can easily touch a button and know what your microwave is doing. This is great for busy families!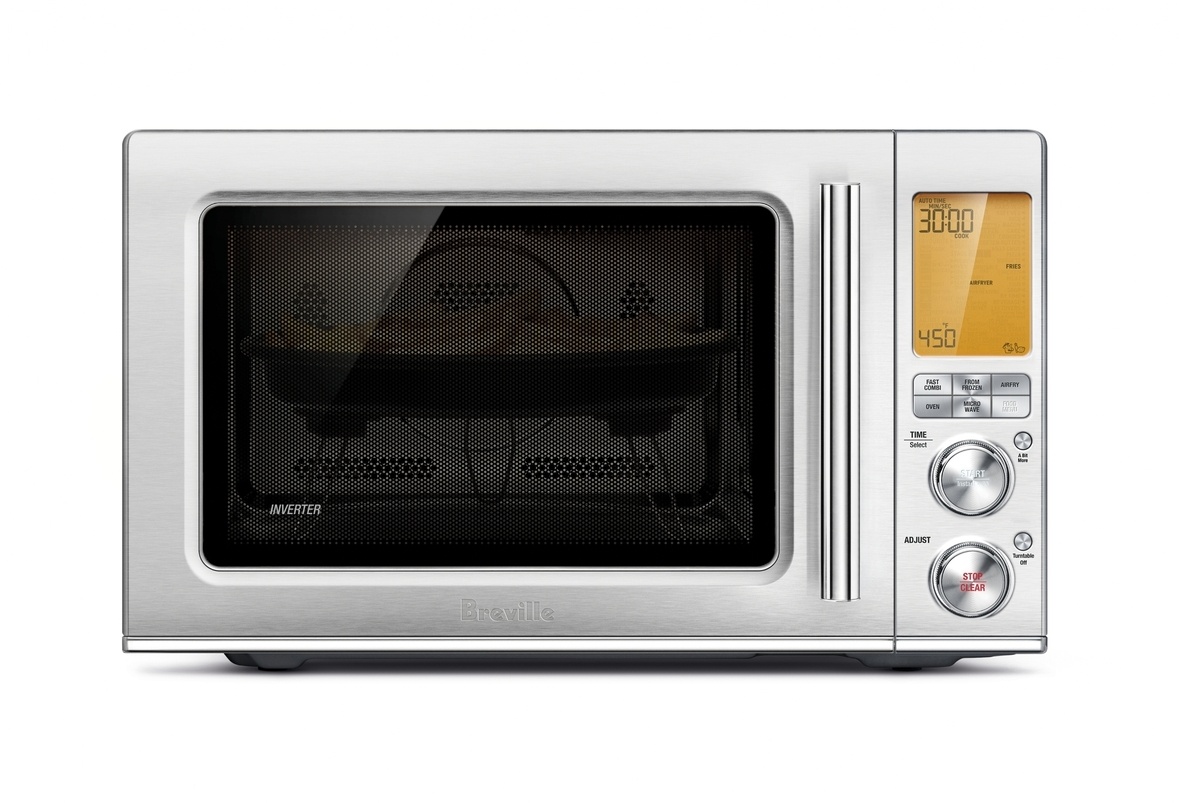 This microwave is powered by the Element iQ system which helps you with the best cooking environment ever. The Power Smoothing Inverter gives you precise and EVEN heat distribution, and reheats and cooks each dish evenly for a perfectly hot plate or dish of food. Every time!
The function of the Combi Wave 2-in-1 is designed to cook your fave dishes more quickly. Using a microwave, convection oven, and grilling to achieve your desired temp, in less time than other microwave ovens.
There was a time in my life, about 2 years ago, where we did not have a microwave for 1 whole year. I did adapt to not having a microwave, but man did it take some getting used to and nothing was quick or easy for a while there! I had to actually boil my water on the stove, cook snacks in the oven and so on. You know, like the good old days, back when my parents were a child.
Having a microwave is so nice and makes cooking or reheating food a cinch. The Breville Combi Wave 3-in-1 Microwave does so much more though than ordinary microwaves.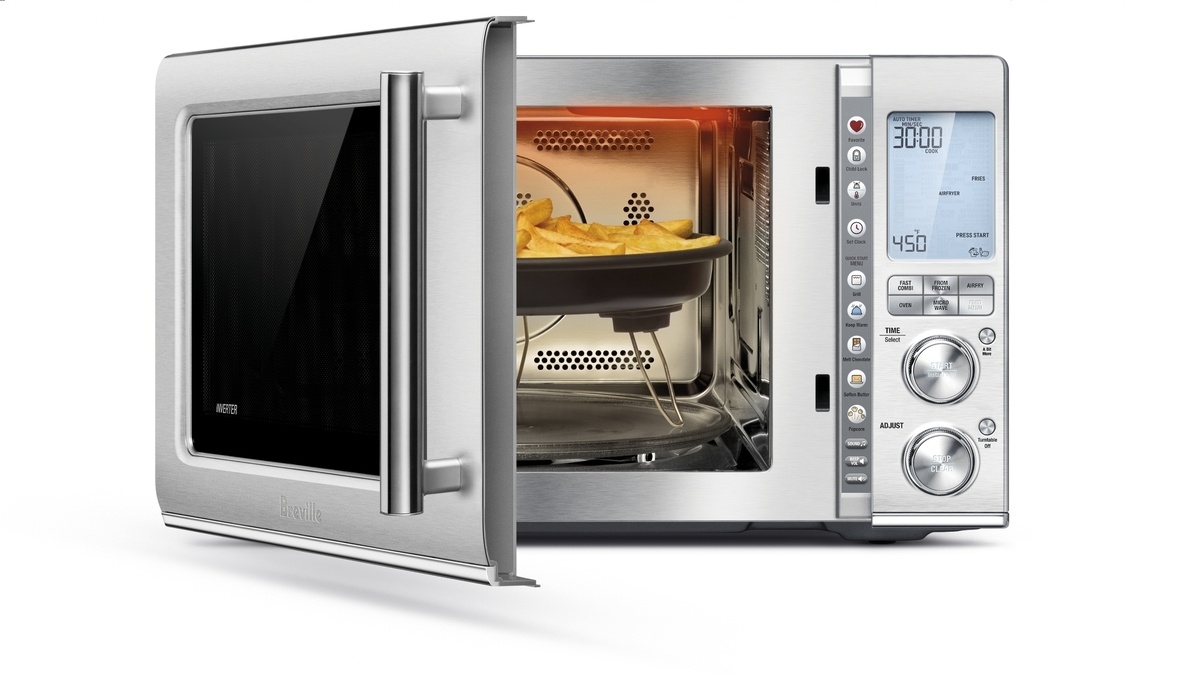 Let's go over the features one more time!
There are so many features, so I need to mention them again.
*It looks NICE. It has a Brushed stainless steel casing that provides durability and style to any kitchen.
*It is spacious! It has a large (12.4″) glass turntable that keeps food rotating to ensure even cooking every time.
*Powerful! At 1400W, you will be able to defrost, cook, and reheat your favorite foods, evenly and quickly!
*Tons of cooking options to choose from! You can defrost, reheat, cook fish, bacon, popcorn, chicken, rice (what?!), meat, cake, and more! Wow, right?!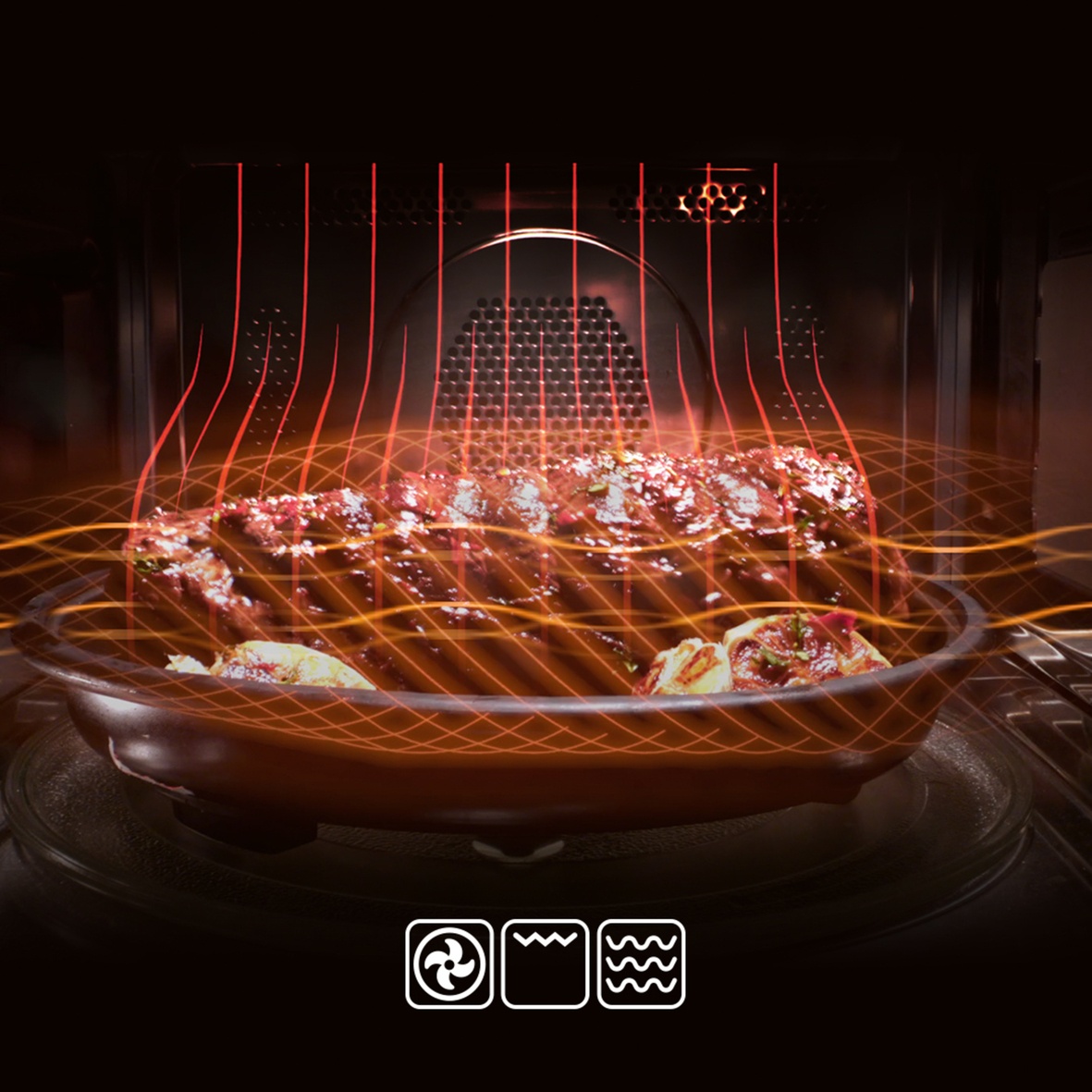 *Cooks/reheats any food evenly and quickly! The convection technology uses a fan to help circulate heat during the cooking/reheating process. This helps to minimize the number of hot spots and cold spots so that you have perfectly heated/cooked food every time! Plus, the Power Smoothing™ Inverter automatically adjusts power intensity for even heat distribution.
My absolute favorite feature on the is the PowerGrill! This grilling element will cook crispy foods including pizza, by using 1100W of grill power. This is my kind of microwave! It does a bit of everything! Yes, please! I think I will put this microwave on my holiday wishlist this year! I just might find it nestled under the Christmas tree! Yay!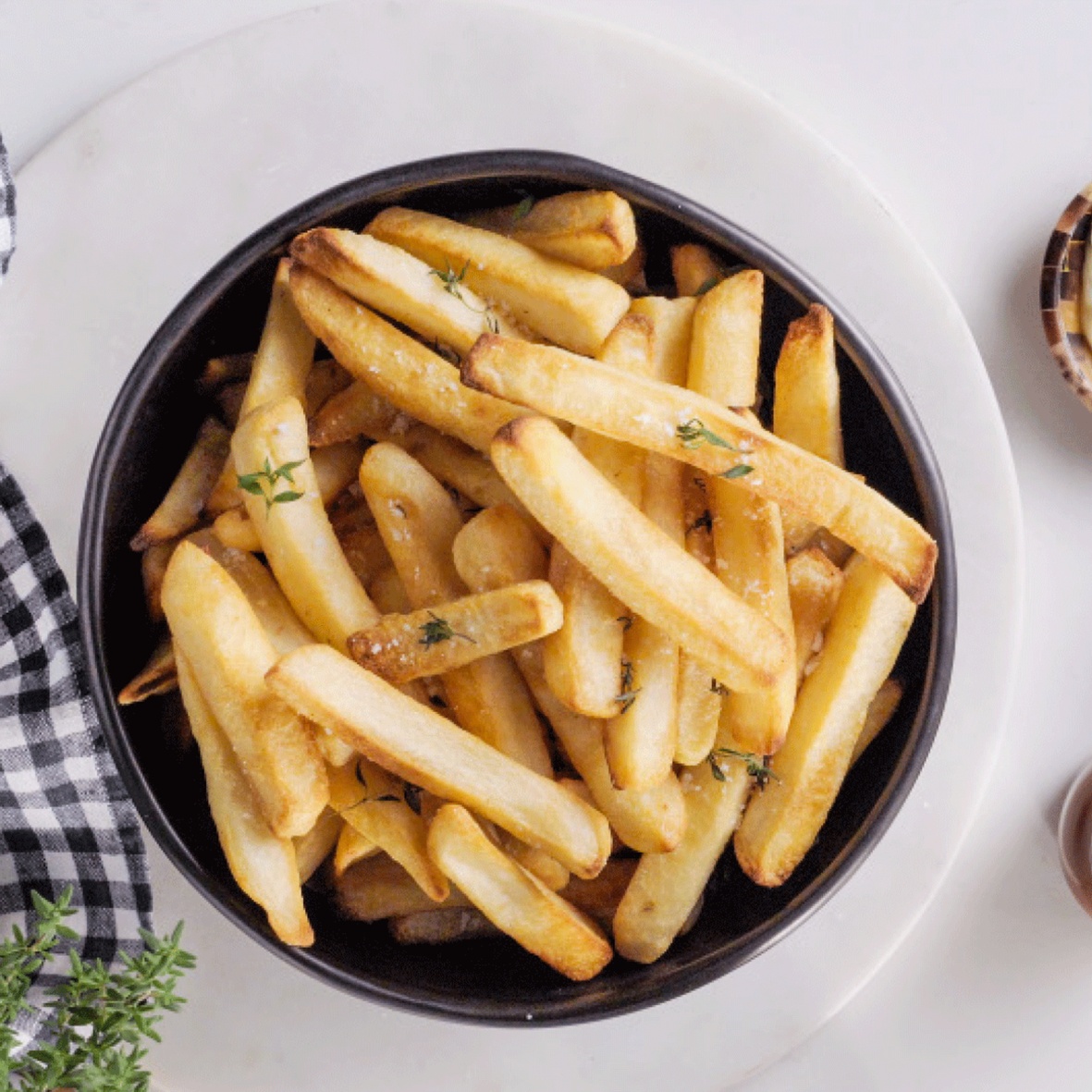 Buy
You can purchase the Breville Combi Wave 3-in-1 Microwave at Bestbuy.com. It retails for $449.99.