The CASIO PRIZM fx-CG50 Color Graphing Calculator offers innovative features such as 3D graphing, an enhanced new look, and an improved catalog function so students can use commands more quickly. Students can easily draw 3D graphs such as planes, cylinders, and spheres, and view them from various angles, and more! This is great for college students going to college this fall!
This is an easy-to-operate, high-definition 3D Graph that provides visual support for mathematical exploration. The fx-CG50 has intuitive operability and exploring features, ideal for mathematics learning.

The advanced Color Graphing Calculator has a Natural Textbook Display and an intuitive icon-based menu so it is easy to navigate and use. Also has 3 Dimensional Graphing capability. The Improved Catalog function allows for greater engagement and real-life application in the mathematics classroom. Approved for AP, SAT I/II, PSAT, NMSQT, ACT Tests (permitted on all major exams).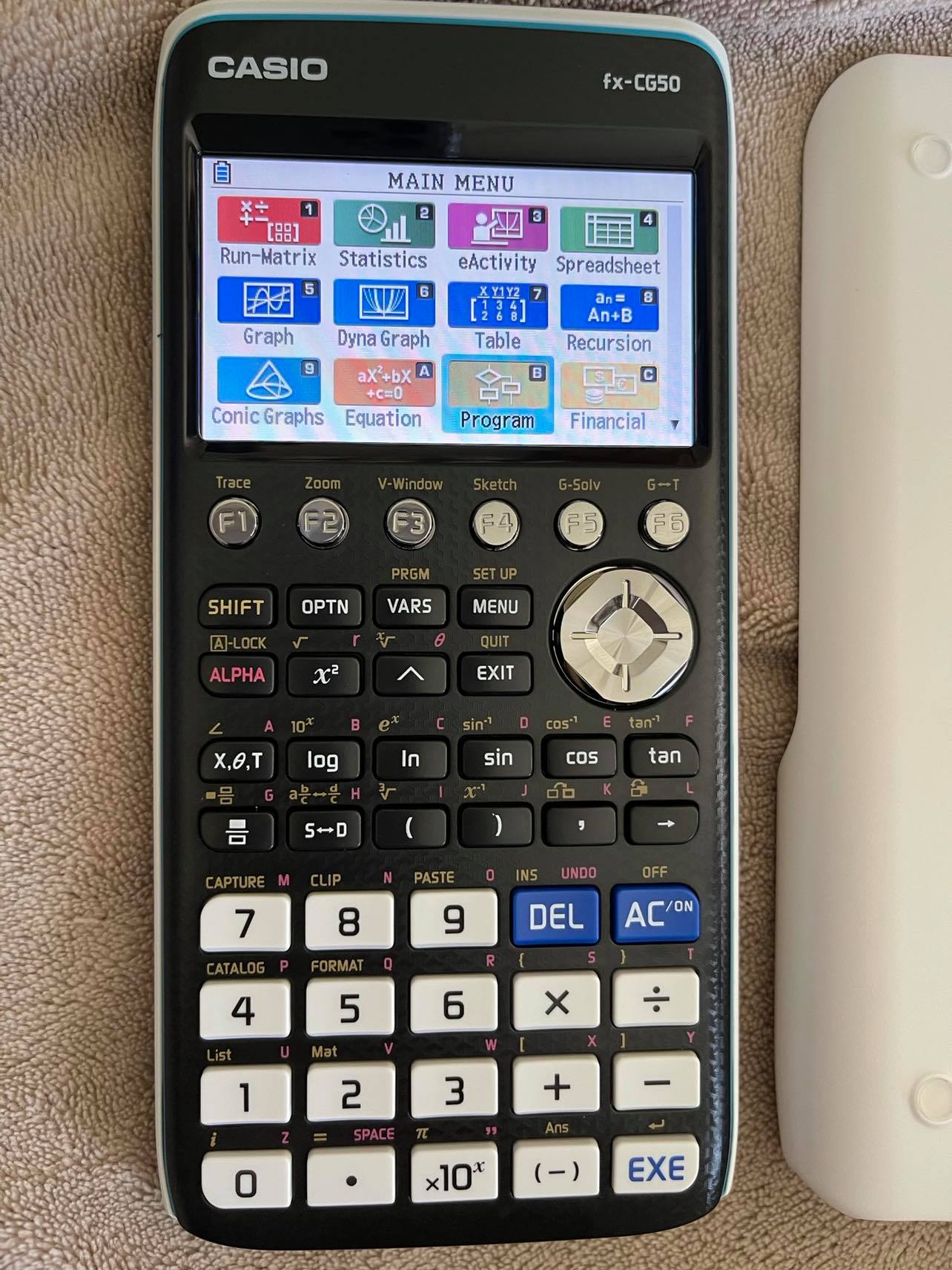 Features Worth Mentioning:
*Easy and intuitive operability
Intuitive operability and G-Solve features make it easy to use the features of fx-CG50. So you can spend less time teaching how to use graphing calculators (and more time teaching mathematics).
G-Solve feature
Use the G-Solve feature to easily solve problems involving intersections, roots, and integration. Find the point of intersection of two graphs by simply pressing the "G-Solv" key.
*Essential functions for learning all in one
Graphing calculators have a variety of functions covering from primary to higher education. Students can cultivate mathematical thinking through Graph functions operated by themselves.
Programming language "Python"
The fx-CG50 comes built-in with Python, a programming language used in the development of Internet search engines, social media sites, robots, etc.
*Extensive and advanced features
Data-logger can be used with graphing calculators and is effective for both mathematics education and science and technology education.
E-CON4
With a simple user interface, this feature is effective for collecting data for use in classroom science and technology lessons.
This feature has Auto-ID recognition, which enables the automatic drawing of graphs of collected data with no complicated settings.
Manual Sampling Mode
This feature includes Manual Sampling Mode, which enables you to freely draw graphs of collected data.
Applied studying
Examination Mode
This mode allows you to quickly prepare your calculator for exams. This mode restricts access to memory, programs, functions, and applications so that these features would not be available during exams.
Reset1
A New Reset function is added as a Reset function. (Reset1)

Graphing Calculator How-To Video
*Please note: Basic operations of fx-CG20 are the same as the current graphing calculator models.
Intro Video:
Setting up the main menu and run matrix:
Simple calculations
Editing in the Run Matrix
Delete Line/All
Insert/Delete
Parentheses
Undo
Navigating in Run Matrix
Function Keys
Options
There are plenty more how-to videos to help get you started using your CASIO PRIZM FX-CG50 Color Graphing Calculator. Be sure to subscribe too!
Buy
You can purchase the CASIO PRIZM FX-CG50 Color Graphing Calculator on Amazon.com or on the Casio website. It retails for $118.99 but is on sale right now on Amazon! Yay!
Win!
One lucky individual is going to win the CASIO PRIZM FX-CG50 Color Graphing Calculator! Yay!
Rules
The contest is open to US residents ages 18+. This giveaway will end on July 10, 2021, at 11:59 pm MT. The winner will have only 48 hours to claim their win or a new winner will be selected. I am NOT responsible for lost or stolen mail (DUH!).
IF THE WIDGET DOES NOT LOAD FOR YOU, YOU CAN ENTER THE GIVEAWAY HERE!!!!