So, you have large breasts? Or a cleavage that just won't quit? Or perhaps just something like a bra that needs to be covered? Well, Chickies Cleavage Coverage is something you should read up on and buy then!
"Chickies are meant to be worn over any bra with two straps and wrap smoothly around your back for a secure feel. Whether a standard, halter, racerback, or nursing bra…Chickies make the latest fashions possible with a little bit of modesty"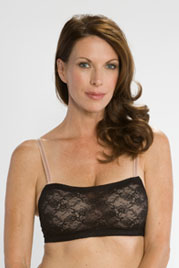 I let my mom review this for me. You see, she has some big ta-ta's (unfortunately I did not get them, ugh), and she was more than thrilled to try out the Chickies Cleavage Coverage!
She is also a Mormon, and they wear garments under their clothes, so not only did this help cover her cleavage but she also covered up her garments! She was so pleased with this product.
Now she wants one in all the colors that they come in, which are: Chocolate, Ivory, Black Lace, Black, Pink, White, and Yellow! They are super easy to wear and have little snaps at the tops so that you can just snap them onto your bra straps for added security!
No slip-ups here! It is worn like a sports bra but without the straps! Super neat design, comfortable, and definitely hides all the things you need it to hide.
A Bit About Chickies Cleavage Coverage (Taken From Their Site):
It's the greatest and most creative invention since double-sided tape and shapewear that camouflages all those unwanted assets. They're a "must-have," they're Chickies Cleavage Coverage, the stylish "fake tank" designed by San Antonio native Marla Mason Ross. Hollywood starlets, celebrity stylists, and fashionistas from all over have fallen in love with the product and are loading up on Chickies for themselves, and their friends.
Chickies Cleavage Coverage is the brainchild of Marla Mason Ross. She designed, implemented, and launched Chickies in February 2008. Chickies currently come in an assortment of colors and sizes ranging from x-small to x-large and can be found online and in retailers throughout the country!
Chickies is the hottest new fashion fix accessory that's stylish for EVERY woman. The chic faux tank is the perfect product to cover up a little extra skin and still look classy and sexy. Chickies easily hooks around your bra straps, while wrapping around your back and sitting low enough to be incognito for halter tops or racerbacks.
To enhance your wardrobe with the ultimate style solution add a Chickies! What more could you ask for? Chickies in every color, of course!
Chickie's holiday colors and styles will be the perfect fashion accessory for all your party ensembles that need a little extra coverage. Look for new styles and colors like shimmers in gold and silver, sexy lace tanks, and more. You should also check out these adorable bra straps! So cute and stylish!
Buy It!
You can purchase the Chickies Cleavage Coverage at their site!