*Products received. Opinions are my own.

I love natural products. It is not wonder I recently invested in using essential oils. The natural healing and cleaning products are amazing. I am SLOWLY going down the natural road…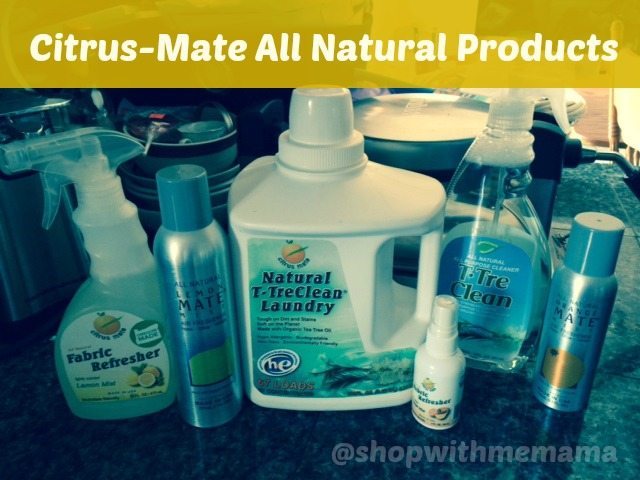 Having a clean home is also very important to me. But using harsh chemicals are not okay with me. Yes, I use bleach and probably always will, but that is the only harsh chemical I will use, on occasion. Citrus-Mate Inc. has some very good all natural products for your home. I was thrilled to be able to check some out.
Citrus-Mate Inc. produces all natural, sustainable, and environmentally friendly air-fresheners, cleaners, and detergents. I chose some products that I was really interested in trying out. I also really like that all of their products are produced right in Oregon! I was born and raised in Oregon 🙂 Citrus-Mate Inc. has been around for over 20 years, so you know they are doing something right!
Citrus-Mate uses all natural, sustainable and recycled products. They have never tested on animals (yay!) and are committed to producing quality products for your home. No harmful chemicals or additives, so I thought that was awesome!
I have used their 100 oz. Natural Laundry Detergent, in a tea tree scent, twice now (Will clean about 67 medium loads of laundry). I love subtle scent of tea tree it leaves on my clothes, so faint but it is there. My clothes are soft and nice feeling and they come out very clean. This is a great detergent and I love that it is all natural. This is a double-concentrated detergent that is specially formulated for HE and standard washing machines and is designed to fight dirt and stains with natural enzymes. It retails for $18.00.
T-Tre Clean Natural All Purpose Cleaner is one of my favorites from what I received. I use it on everything! I love the scent, so citrusy and it cleans really good. I can use it on pretty much any surface, even to clean my mirrors! I am so impressed that this cleaner only contains water, alcohol and natural citrus oil, there is no ammonia or unnecessary, harmful chemicals, which makes it safer on surfaces than leading brands! This retails for $5.99 for 22 oz.
Fabric Refresher in Lemon is so lemony and just smells really really good. For all the things I cannot fit into my washing machine, I use this spray on. So far that has been my couches, carpets and rugs. It certainly makes them smell fresher! This retails for $5.99 for 16 oz.
Lemon-Mate Mist smells like a lemon tree it smells so good! I use this in my bathrooms and it really freshens them up quickly.  Less-than-clean smelling air will be eliminated by the combination of raw scent and actively charged ions so the smell is not being covered up, but eliminated! This retails for only $5.67 for a 3.5 fl oz. bottle.
Orange-Mate Mist is the same as the Lemon-Mate Mist, but smells like fresh oranges 🙂 I use this in my bathrooms too, to ensure they smell good for us and for people who venture over here.
Fabric Refresher in Orange. This is the travel sized version and is great to pop into your bag for on the go refreshing! Did you walk through someone's cigarette smoke? No prob! Just pull the Fabric Refresher out of your bag and spritz on your clothes for an immediate refreshing scent! Great to have on hand! This retails for $2.99 for 2 fl. oz.
Buy
You can purchase these natural cleaning products for your home, online at http://stores.citrus-mate.com/. You can use Coupon Code: FREE75 for Free Shipping on purchases of Air Fresheners over $75!
Win
One person will win a $25 eGift Card to Citrus-Mate Inc.
How?
Easy! Just use the Rafflecopter form below! Good luck to you!
Rules:
Contest is open to US 18+. Giveaway will end on May 31, 2015 at 12 am PST. Winners will have 48 hours to confirm their win, after I email them, or a new winner will be chosen. I am not responsible for lost or stolen mail. Sponsor is responsible for shipping or sending out prizes.