Nothing is better than getting art from my kids. I absolutely LOVE it when they sit in the kitchen and get busy creating beautiful art with Chalkola Chalk Paint Markers! These chalk paint markers are totally AMAZING and my kids always have so much fun creating, drawing and coloring using them.
We received the Special Bundle: Pack of 40 Chalk Markers + Chalkboard + Eraser Kit. Every day I wake up to a new message on the chalkboard from my kids! It is the BEST way to wake up, EVER. I love it so much!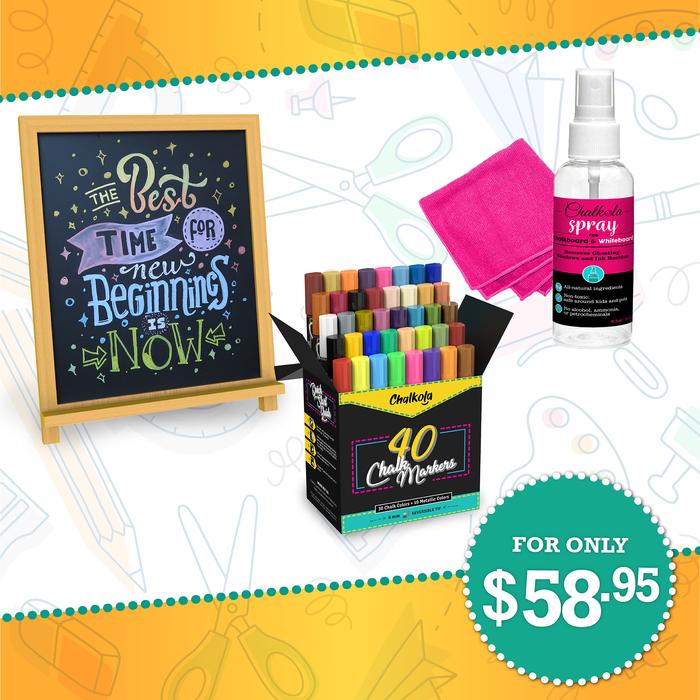 *Products received. This post includes my affiliate links.
Create Beautiful Art With Chalkola Chalk Paint Markers!
The bundle of Chalkola goodies I was sent to check out, including the following art products and supplies:
*Magnetic Chalkboard with a 12.5 x 10.5" writing surface
*3-piece Eraser Kit with a Natural Chalkboard Cleaner Spray
*Pack of 40 Chalk Paint Markers 6mm
We love this bundle so much. My kids and I all have tons of fun writing on the chalkboard and putting sweet messages to one another on it! It is a great addition to our home!
Who Can Use The Chalk Paint Markers?
Anyone! Whether you're a mom looking for holiday decorating with kids (they are kid-safe, non-toxic, and odor-free!), a clean alternative to standard chalk or paint for the kids, a teacher on a quest for the most sought-after education classroom supplies, or a business, office or restaurant owner trying to advertise and attract customers to your new product or bar menu item, these awesome markers make creating beautiful, fun messages, designs and DIY projects effortless and fun!
Why Is There No Paint On The Chalk Paint Marker Tip?
The chalk paint markers, when you first use them, don't have the chalk paint in the tip yet. You simply press them down on a piece of paper and as soon as you see the white tip turn the color it is supposed to be, you can let up on it. Now your chalk paint marker is ready to use!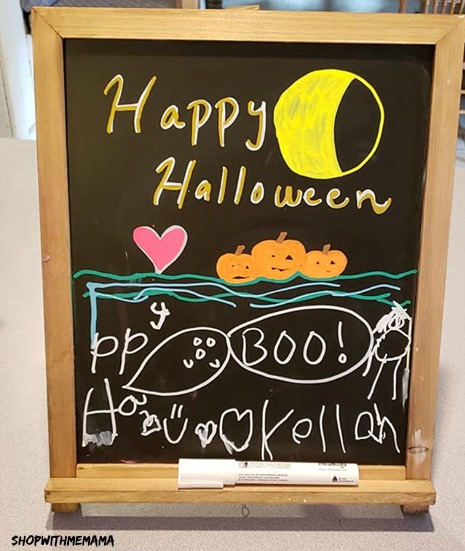 What Can I Create With The Chalk Paint Markers?
The question should be what CAN'T I create with the Chalk Paint Markers? Because the ideas are endless! You can use these chalk paint markers on windows, glass, chalkboards, and paper. My kids enjoy using them on all the surfaces I just told you about! So fun. Use these Earthy Liquid chalk pens to Design on arts and craft Paper, Books, Scrapbooking, Hand Lettering, Stencil ink and SO much more!
Chalkola's liquid chalk markers work on virtually any non-porous surface you can think of: from Birthday Parties, Furniture, Christmas Holiday, Chalkboard label contact paper and roll to gym boards, cafe menus, decorate car mirrors – even mason jars, outdoor posters, slate, wine glasses, and coffee mugs, the ways you can use the Chalk Paint Markers is endless.
Does The Chalk Paint Markers Wipe Off Easily?
Yes! The rich, high-quality water-based ink is washable! When you use the chalk paint markers, they deliver a smudge and dust-free, a clean-flowing line that goes on super smooth and dries fairly quickly. When you are ready to take the marker off the surface you used it on (minus paper!), you just wipe it off using a wet paper towel or an old rag.
If you bought the erase kit, use the spray and then wipe it clean with the sponge the kit came with. This leaves your surface all clean and ready for your next art project! These chalk markers can be used on any non-porous surface however we also use them on paper or construction paper. The ideas are limitless!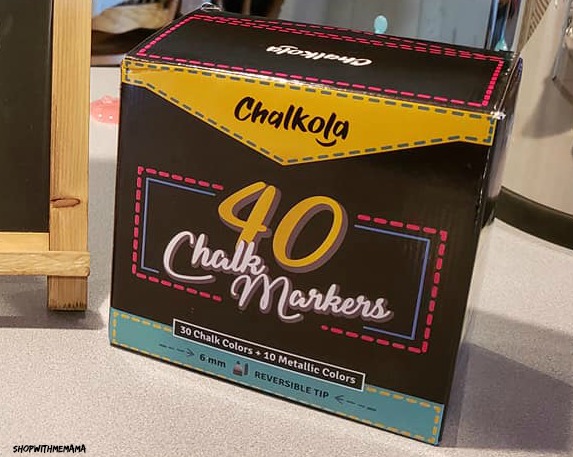 New Chalk Paint Marker Colors!
New colors are always fun! Chalkola has some new colors they just introduced and they are super pretty! They have colors like neon, classic, and metallic to choose from! Lots of pretty colors to use on your next DIY project!
Chalkola is constantly expanding its product range to fuel each creative experience you have, from chalk markers to brush pens and beyond. As they believe art should be accessible to everyone!
To put these Chalkola chalk paint markers into good use, enroll in painting workshops in Melbourne. Some of which offer online classes.
Join The Chalkola Club!
You can easily join the Chalkola Club! Just enter your email address to become a member and you will be able to unlock exciting perks/rewards! You can earn Chalkola coins for different actions, and turn those Chalkola Coins into awesome rewards! So fun!
You can also refer your friends! Give your friends a reward and claim your own when they make a purchase. They get a $5 discount and so do you! Easy peasy, right?!?
Create Beautiful Art With Chalkola Chalk Paint Markers! See Them In Action!
Follow On Social Media!
Follow Chalkola on social media to join their monthly giveaways! Just Tag them @chalkola and use #Chalkola and #ChalkolaInAction so they can see your awesome creations! Plus, get a chance to be featured and win a discount coupon or freebie! Yay!
Huge Sale!
Time to shop these awesome deals before they are gone! Chalkola is having a huge fall sale with lots of creative art supplies for you to choose from. Now is the time to start your holiday shopping! The holidays are creeping up on us quickly!
Discount Code For My Followers!
I have a unique discount code for only my followers! Use KIMD10 at checkout to receive 10% off your order!
Shop!
To check out all the art products, Chalk Paint Markers, and more, visit Chalkola online at Chalkola.com!
PIN IT!