Dermaflage: Three Simple Steps To Flawless Skin! None of us like to age. I am also NOT saying that I would not ever get Botox or some other kind of cosmetic surgery done if I had the money, but I would certainly not ever have my face/body cut into. No way. So, for now, I will stick with cosmetics and products that will help me look younger 🙂
*This post includes my affiliate links
Dermaflage: Three Simple Steps To Flawless Skin!
Dermaflage is a great product to help achieve a flawless face. It can cover pock marks, deep-set lines, scars, and more. It is really simple to do too.
When I first received the starter kit, I was kind of overwhelmed. It looked like a lot of things to do and think about doing and I was not too into that! But, once I actually could sit down and read the directions, it was EASY to figure out and even easier to do.
Dermaflage Video
It was actually kind of fun to do! It literally took me only about 8-10 minutes to put on. That included the mixing and prepping of my skin. This is a silicone-based product that you apply to your scars, wrinkles, etc.
You have to first, prep your skin with the primer it comes with, next you the silicone mixture (it will harden quickly, so you want to be quick!), then you put it on your scar or other imperfection you want to be concealed and then use the texture pad and press lightly on it for few seconds. Once that is done, you take the texture pad off and it should be all dried and ready!
You must do this on clean, dry skin (and prep it using the prep solution). You can wear makeup over this, but they recommend powder-based makeup as opposed to cream or liquid.
I wore this, with powder-based makeup for about 5 hours and it did not come off. It looked natural to me and I really liked that. It did cover the deep lines between my eyes and kind of 'fattened' up the area. You can see in my pictures, the lines are still visible, just less deep.
When you are ready to take off the silicone, you simply pull it off! It reminded me of the Halloween silicone stuff you can use when you make your face all weird looking. This means it pulls off just like that stuff. I got no irritation from this or any bad reactions.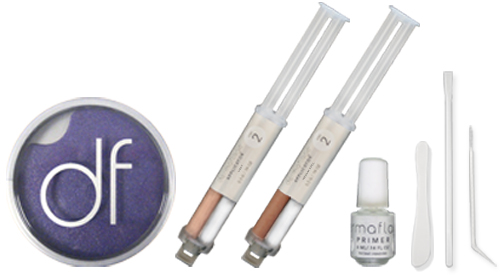 What is Dermaflage?
Unlike makeup, it uses silicone to simulate skin and fill in sunken scars on your face, neck, legs, arms, and other parts of your body. It also works for frown lines between the eyes that make you look worried or angry. And it easily matches your skin's tone and color.
instantly conceals recessed scars and frown lines
waterproof 3D scar filler
invented in Hollywood – used by the stars
non-irritating, easy 3-step application
non-invasive – no injections, no pain
clinically & dermatologist tested
allergy tested
Here Is My Pulling It Off Of My Lines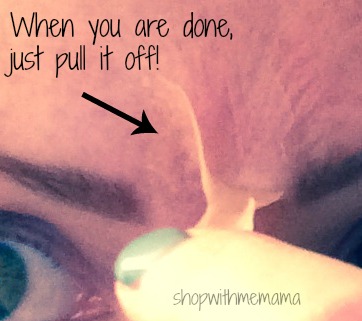 And Before And After Pictures Using Dermaflage
Dermaflage can hide:
Scars – recessed face & body
Deep Wrinkles
Box car, rolling & icepick scars
MOHs surgery
Frown & 11 lines
Skin Cancer
Pockmarks – chicken pox
C-sections
Dog bites
Cleft palate
Buy Dermaflage
You can purchase the Dermaflage Starter Kits online at Amazon.com. They retail for $50 and you can pick the color which goes best with your skin color. The kit comes with everything you need to make your skin flawless looking.