This year is the year for my health. With all that is going on in the world, I have plenty of time to take care of myself and exercise again. That is just another good reason to stay home! The other good reasons are that I get to be with my sweet family and spend more time with them. I love our family time, but I also am loving my 'me time' too! Since I am exercising again, I am also eating healthier. And, since the grocery stores don't have much left in them, now is the BEST time to order freshly made meals online like Diet to go. I also have a Diet to go coupon code for you at the bottom of this post, so you and your family can experience this wonderfully healthy food delivery service for yourselves!
*Diet-to-Go Coupon Code: Freshly Made Diet Meals. This post includes my affiliate links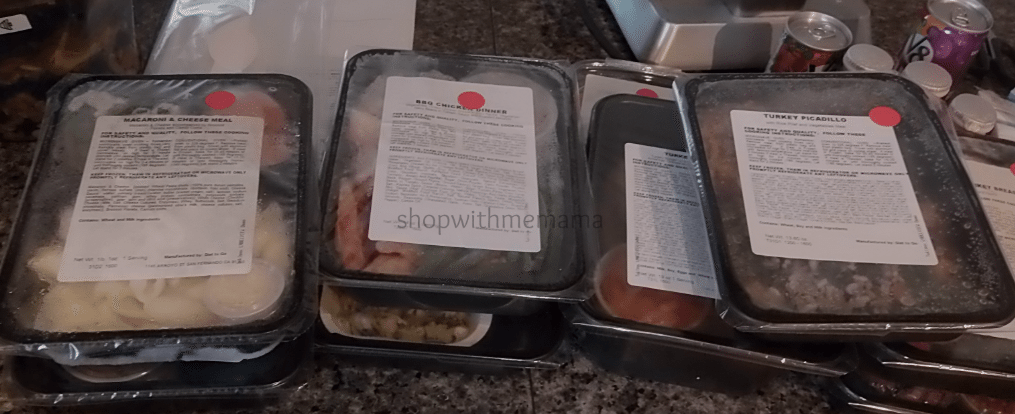 Diet-to-Go makes eating more healthier, easier for me. They have freshly made diet meals and they deliver them to your door! They are ready to be cooked and devoured! Everything is laid out for you and it is easy to get started. I really really enjoy food delivery services like Diet to Go!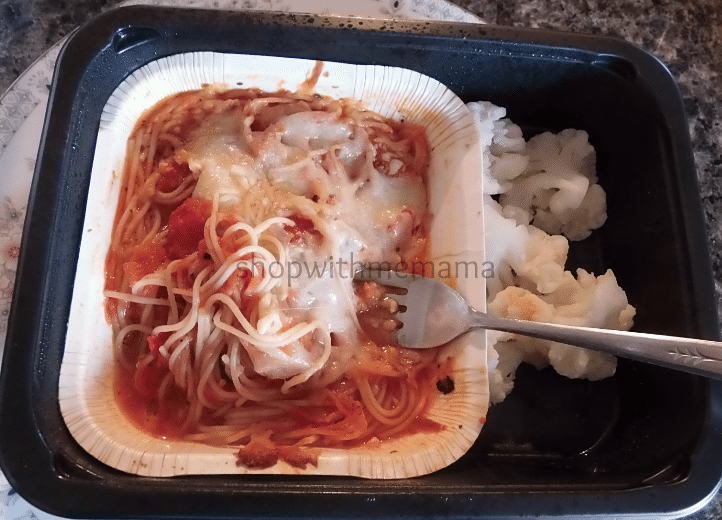 I received a 5-day plan (Breakfast, Lunch, Dinner – 15 meals). They came frozen and all I had to do was pop them in my freezer! Easy! When I got hungry, I pulled them out of the freezer and put it in the microwave.
Some of the meals had other parts to them, like cream cheese or sauces, V8 Juices or yogurt drinks too and you just read how you are supposed to eat these meals, pair it with which sauce or whatever and eat away! I love how everything is portioned and so simple to figure out meals and still eat healthily!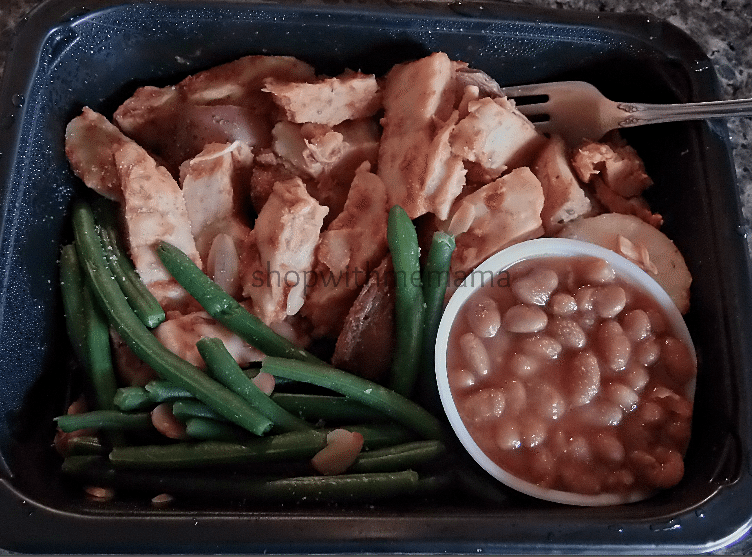 I really enjoyed how easy these meals were and there were some really yummy ones. I really enjoyed the Shells and Cheese Meal (see below) the most. That was the first one I had and I really liked the way it tasted. It was like I had cooked it myself. The chicken was in big pieces and the sauce tasted fresh and good.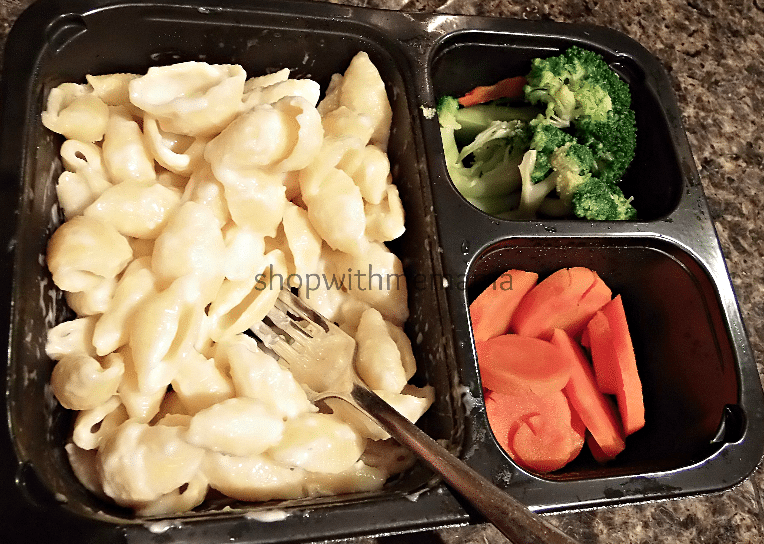 I can't really say anything bad about the Diet to Go freshly made diet meals. They were all pretty good. It gets boring to always eat the same kinds of things for dinner, but with Diet-to-Go, you can choose your menu and select new things you would not otherwise have eaten. This allows you to not only eat healthily but gives you a way to find out what other foods you like too!
Why Should I Order From Diet To Go?
EXCLUSIVE OFFER
Chef Cooked, Ready-to-Eat
Nutritionally Packed & Portion-Controlled
Rated #1 For Taste by Epicurious
4 Delicious Menus & Over 500 Meal Choices
Free Unlimited Meal Plan Customization
No Commitment – Pause or Restart Anytime
Flexible Delivery to Your Home, Office or Pick-Up Location
Diet-to-Go specializes in meal delivery services that provide healthy, restaurant-quality meal alternatives for busy lifestyles. The pre-portioned meals with dietitian-approved ingredients are designed to help people save time and eat well. Two commercial kitchens offer customers fresh, healthy and nutritionally balanced meals delivered right to their home, office or local pick-up location via four menu options: Balance, Balance-Diabetes, Keto-Carb30, and Vegetarian.
Chef-Prepared, Ready-to-Eat
Diet-to-Go has a wide range of healthy and ready-to-eat-meals on its four menus that can be personalized according to your taste and lifestyle. All meals have been prepared by corporate chefs and approved by dietitians, so customers can enjoy the foods they love and know that they are treating their bodies well too. Chef crafted, dietician designed, fresh, portion-controlled meals make healthy eating easy.
Diet-to-Go's meal delivery services let customers enjoy their food without worrying about shopping, preparation, or clean-up and all meals include sides, fruits, and condiments as well.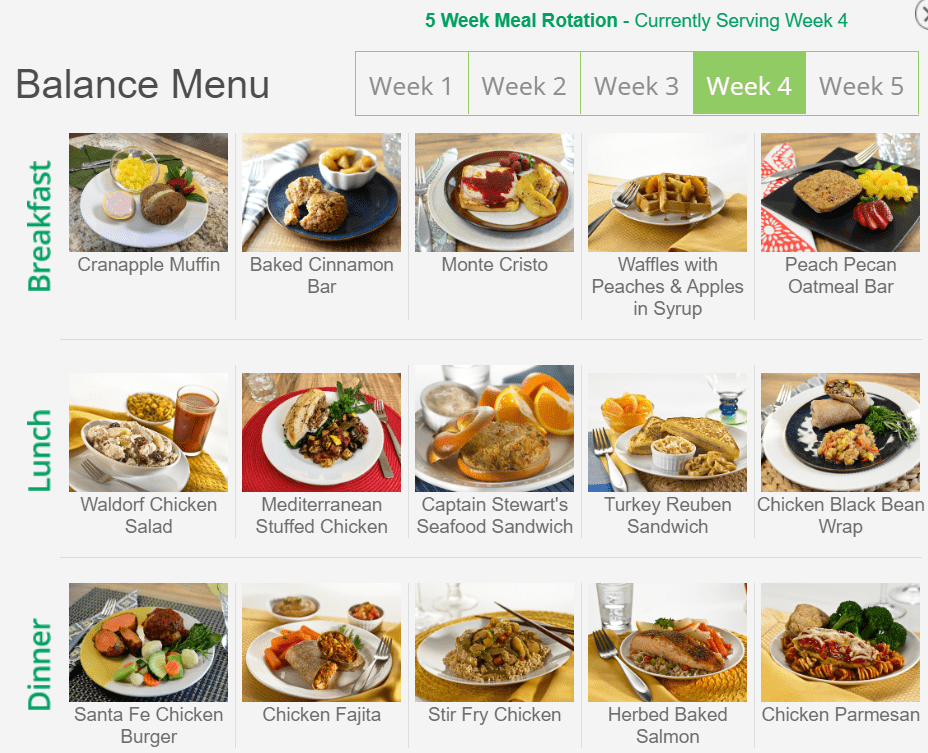 Diet-to-Go Plans
The Balance menu features mouth-watering, restaurant-quality flavors within dietitian-approved meals. It is calorie-controlled and contains nutritionally balanced, heart-healthy portions of the foods you love. (Vegetarian and no seafood options available).
The Balance-Diabetes Menu offers food selections based on the American Diabetes Association guidelines for protein, fat, and carbohydrates. It helps in managing pre-diabetes, preventing type-2 diabetes, and aiding weight loss.
The Keto-Carb30 Menu uses classic, carb-restricted food choices. Ingredients include vegetables, cheese, eggs and meats that promote ketosis. This menu is a favorite among those not only looking for convenience but quick, effective weight loss too.
Diet-to-Go also provides a heart-healthy Vegetarian Menu that consists of calorie-controlled and nutritionally balanced meals. Protein sources include dairy, eggs, beans and some soy.
How Much Does It Cost You?
Diet-to-Go offers several different plans to customize delivery to suit your needs. Prices vary depending upon how many meals you'd like each week. You may choose 5 or 7 days per week and either 2 (no breakfast) or 3 meals per day.
Meals can be eaten at any time of day or in any order you wish, so further personalization is possible. For example, it's possible to make a "lunch only" or "dinner only" plan for two people with the building blocks of the 2 meals per day option.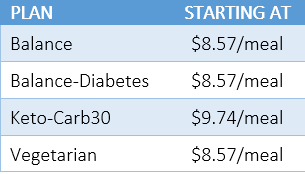 Diet-to-Go offers nutritious meal options designed to help make healthy eating easier for busy people no matter what their healthy-living goals. They offer a variety of food choices and menus and something for everyone, whether you are looking for convenience, weight-loss, diabetes support, Keto or a vegetarian meal plan. A great way to eat healthy without sacrificing flavor. With so many diet trends right now, it is hard to choose which is right for you.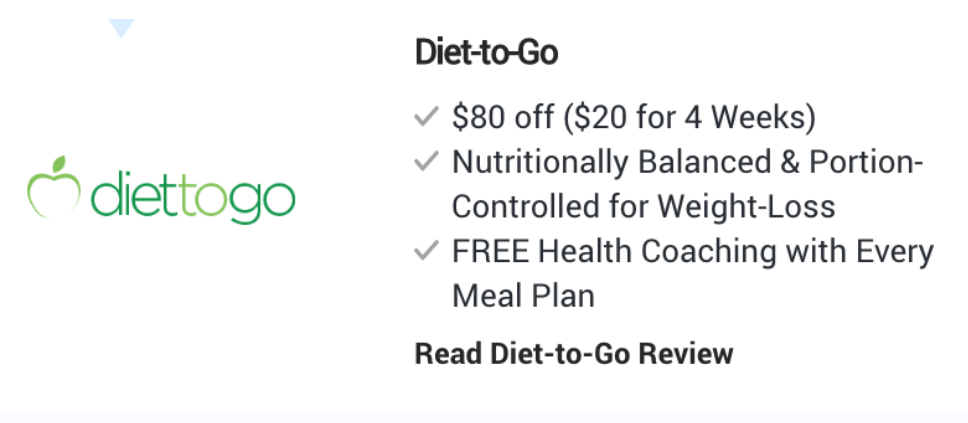 Diet To Go Coupon Just For You!
If you want to try out Diet to Go but don't want to commit just yet, I have a Diet to Go coupon for you! Get $80 off the first 4 weeks coupon for Diet-to-Go & Freshology. It is so nice to be able to save so much money, and still be able to experience Diet to Go and/or Freshology firsthand with good, healthy food for you and your family. This coupon allows you to get $80 off ($20 for four weeks!). Click THIS LINK to grab the deal! Let me know if you order using your diet to go coupon! Discount voucher codes are always nice to find!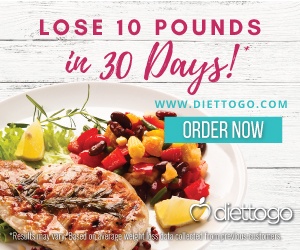 Buy
You can visit Diet-To-Go online at http://diettogo.com/ to see if this is the right fit for you and don't forget to click this link and the Diet to Go coupon will be applied to your order!