*What Hotel Should I Stay At In Sandy Utah? The Hilton Garden Inn is a great choice. I received one night comped and meal vouchers. Opinions are my own. This post includes an affiliate link.
What Hotel Should I Stay At In Sandy Utah? That is a question I asked myself numerous times as I searched high and low for a good hotel to stay at,  while we visited Sandy, Utah. My niece got married and we were going to her reception.
We were all so excited to see Myelie and her new husband and spend some much-needed time with family. I literally scoured the internet for hotels that I thought our family would enjoy staying at. It was a process, that is for sure!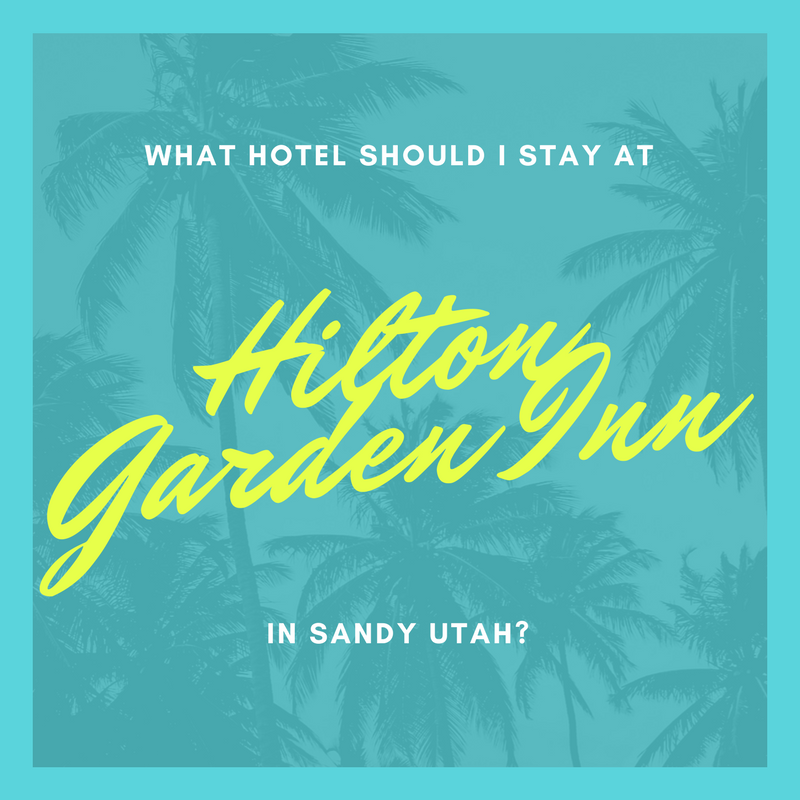 What Hotel Should I Stay At In Sandy Utah?
There are so many hotels to choose from and they each offer different things. I was most interested in the Hilton hotels only because we have stayed with them in the past and have loved everything they offer. So, I looked up Hilton hotels in Sandy Utah. Thankfully I found one!
The Hilton Garden Inn is lovely. I researched it online and then decided to stay with them. We would be out of town for three nights and 4 days and I wanted a hotel I could be comfortable at that had ALL of the amenities, not just a few.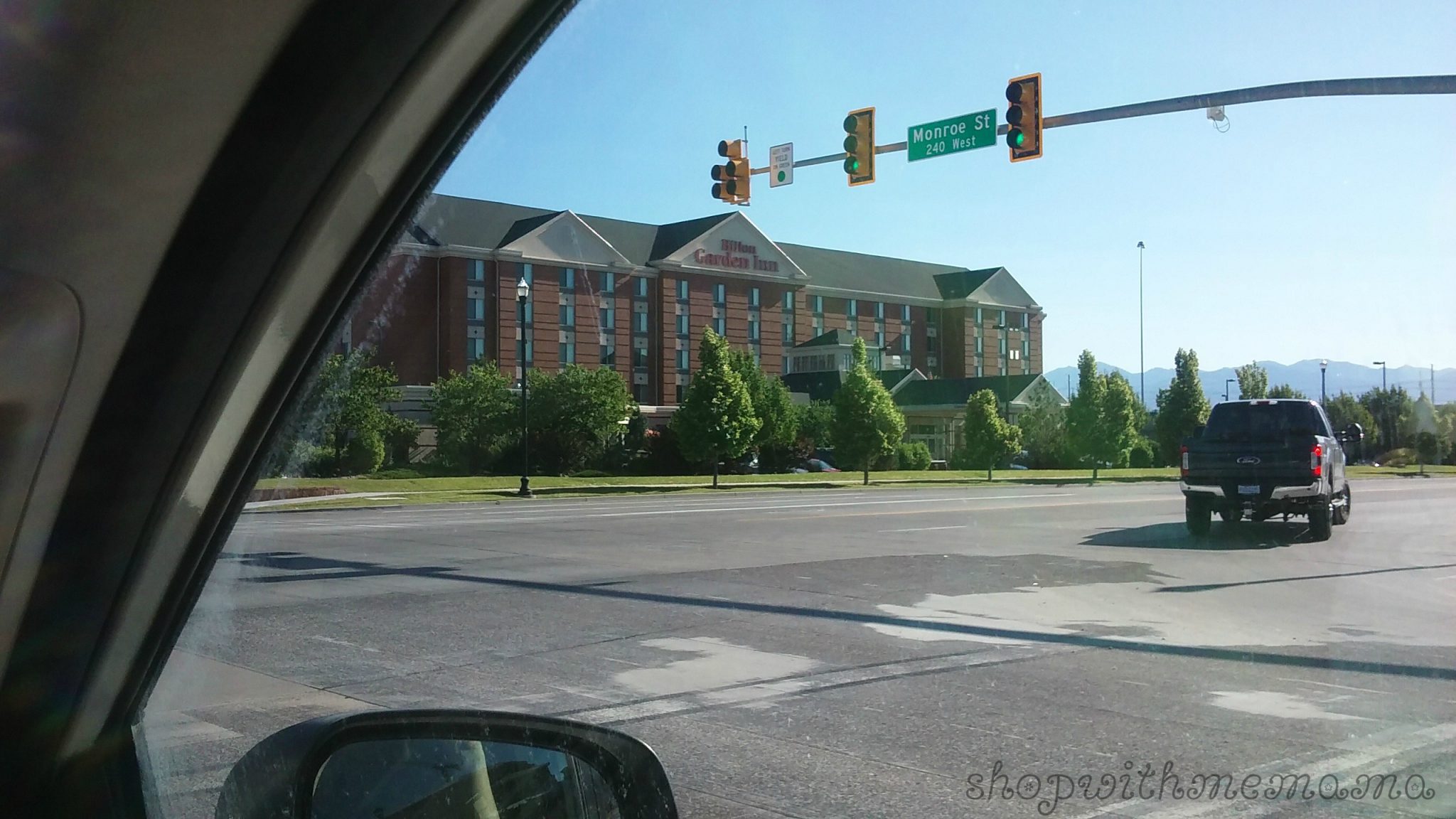 The Hilton Garden Inn offers all the amenities you will need for a comfortable stay while you are away from your home. Upon arriving at the Hilton Garden Inn, the first thing I noticed was how big the hotel was! It stands tall and proud. My kids were so excited to see how big it was!
Entering the hotel was so refreshing. We get out of the hot car and into a beautiful hotel that was cool and gorgeous. The ceiling is high and there is a gorgeous hanging lights in the foyer. On the side, there was a huge container filled with lemons and cold water, their signature warm cookies, coffee and other things. Such a nice way to be welcomed into a hotel!
Off to the far right was the hotel restaurant. It is open for room service for breakfast and dinner. You can also sit down in the restaurant and enjoy a nice meal with your friends and family. Spacious and relaxing. They have a nice area outside too, if you wanted to sip cocktails or eat outdoors. Very nice and clean! Great way to start my experience at this hotel.
We approached the front desk and were greeted with a big smile from the front desk lady. She was nice and approachable, very friendly. I liked how when I was checking in, she would take the time to smile at my kids or say hi to them.
The check-in process was so easy and quicker than most places I have stayed at, which I really liked. Having three kids by my side and trying to check in is not an easy task, so I appreciated how quick and painless it was!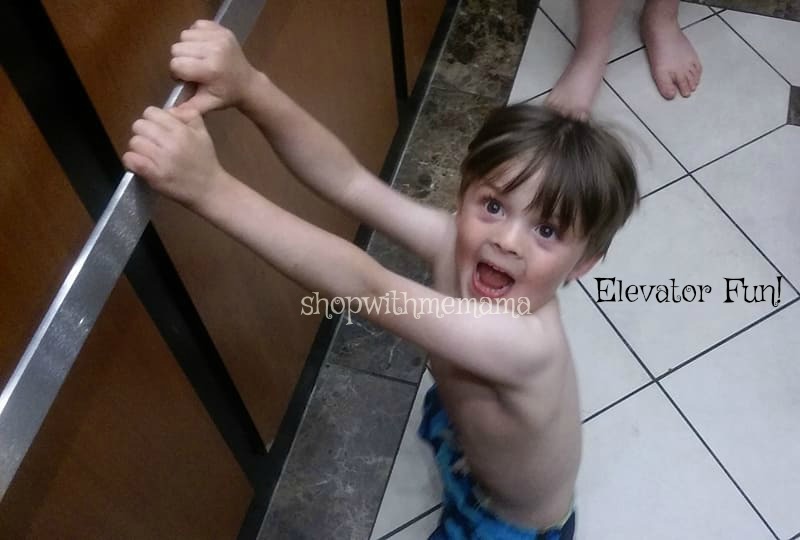 My kids and I used the side door to go out to our vehicle to bring in our luggage. We walked by a gorgeous fountain. My kids loved looking at the fountain and feeling it's coolness as we walked past it. My husband went to get a luggage cart and soon we were bringing our luggage to our room. The elevator made it easy to get our stuff from point a to point b in no time!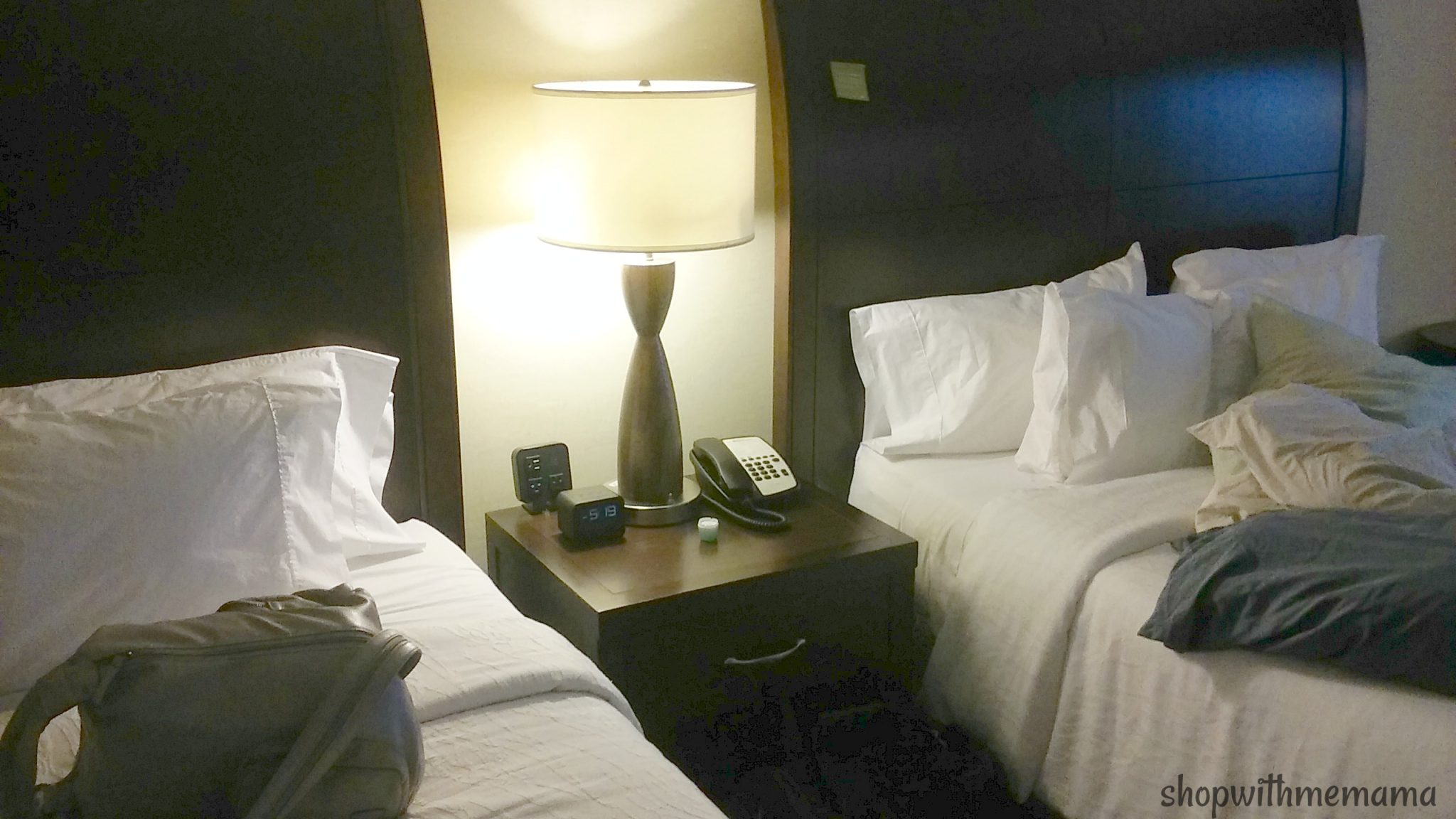 Once we arrived on our floor, my kid's hurriedly ran to the room we were given. They used the keycard to get into the room and had to look at everything before putting their bags down. The room was nice and comfortable. It had two queen sized beds with nice bedding, one chair in the corner with a foot stool, a t.v., small fridge and microwave, two phones and of course the bathroom.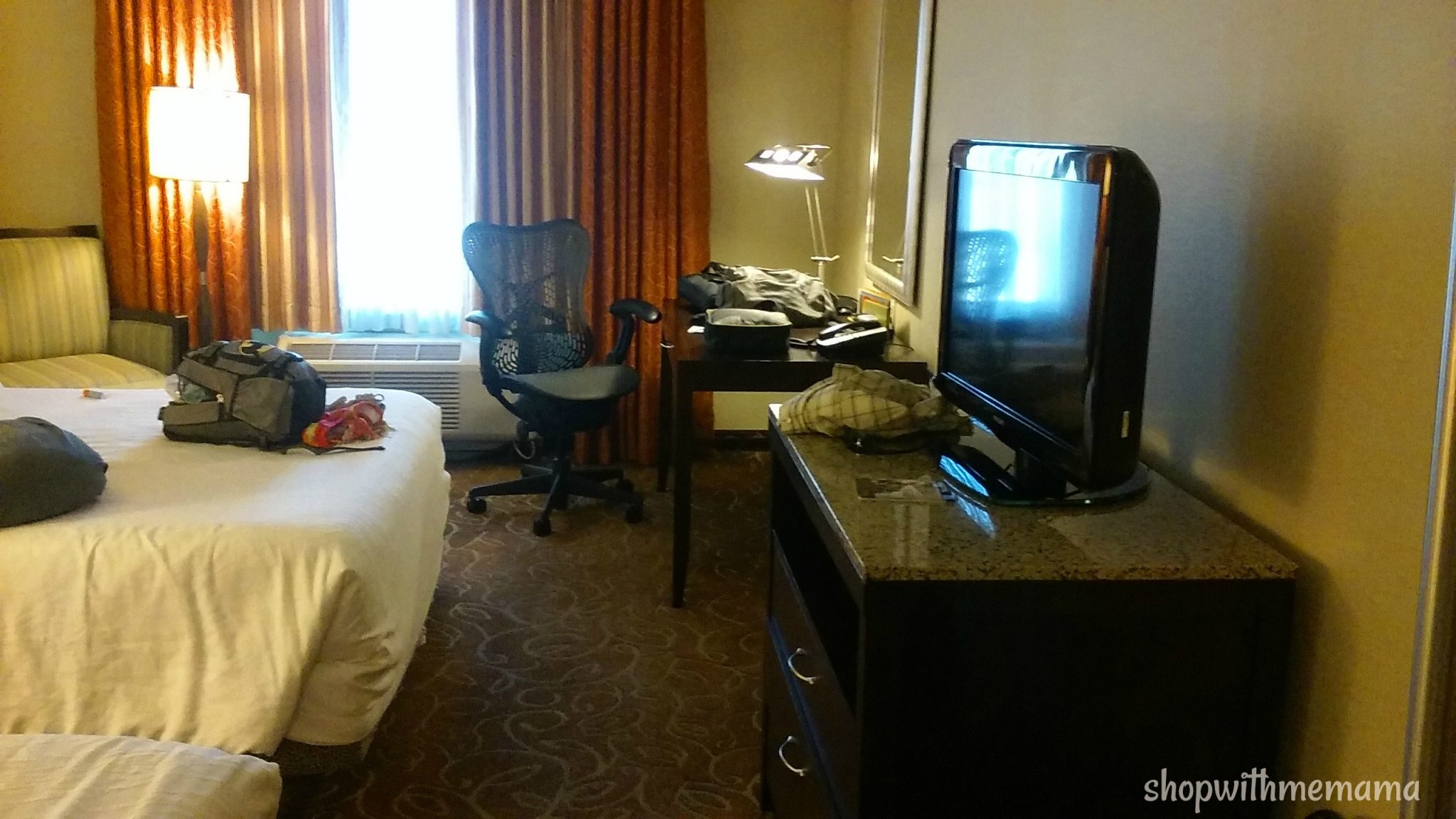 The Hilton Hotels are known for their mattresses. On the side of the bed, there is a dial that you can turn to adjust the bed to your needs. Softer or firmer, it is your choice! I have NEVER slept so good on a hotel mattress before!! So comfortable!
Everything in the room was really clean and I could tell that Hilton really ensures each room is thoroughly cleaned and double checked. I used to clean hotel rooms (once upon a time) and I know what to look for. This room was indeed clean. Very refreshing!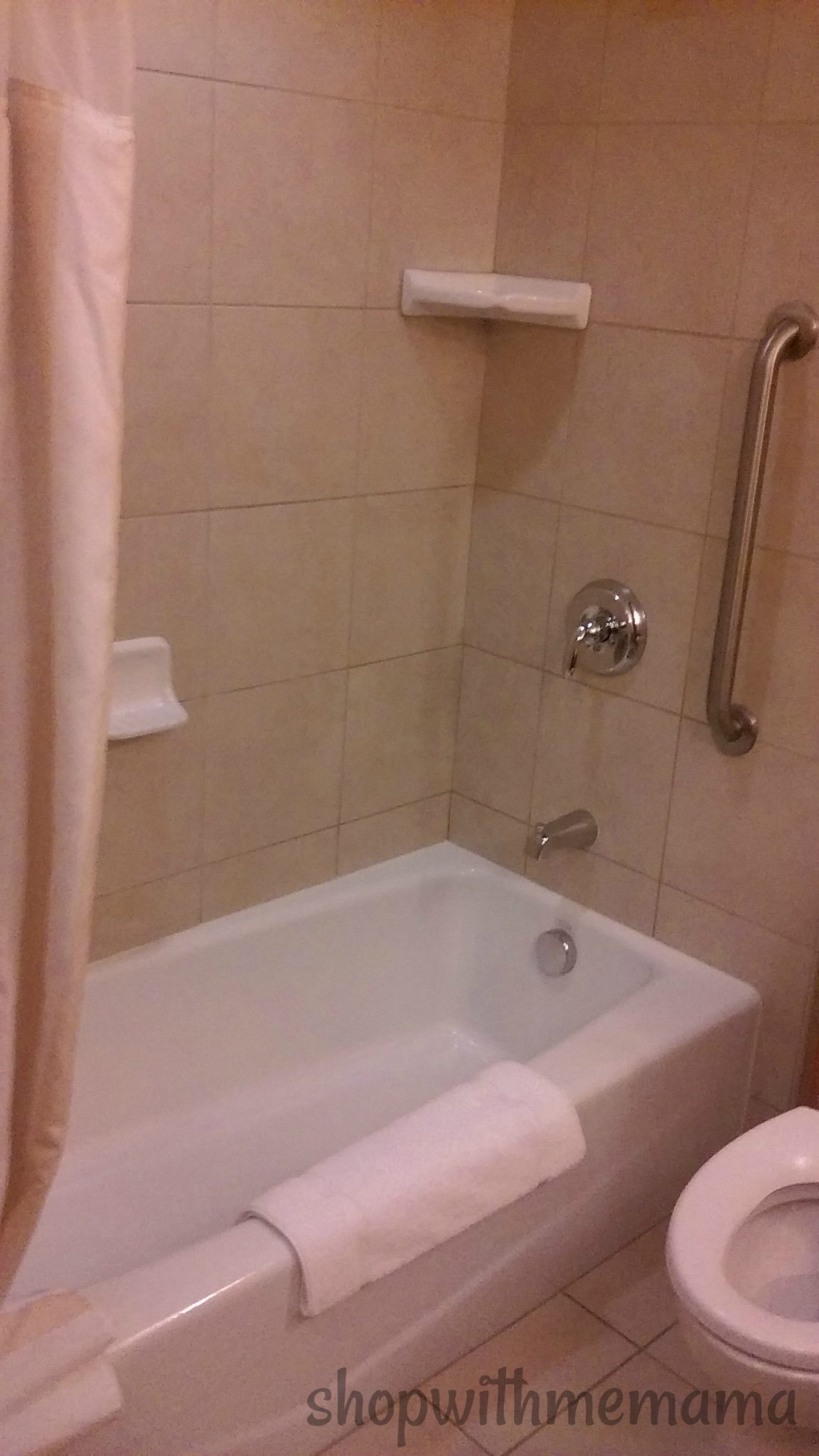 My husband and I liked that there were plugin's on the lamp table by the bed, for our phones. I hate it when there is only one plugin for your phone behind the table and it is being used by the lamp and alarm clock. So that was so nice! It was also like this on the bigger table in the room and that is where I had my laptop. The Wi-Fi is free and you don't need a stupid password, I thought that was great too. You can also pay for premium wi-fi, but the regular wi-fi was fine for us. It was a bit slow, but it worked well.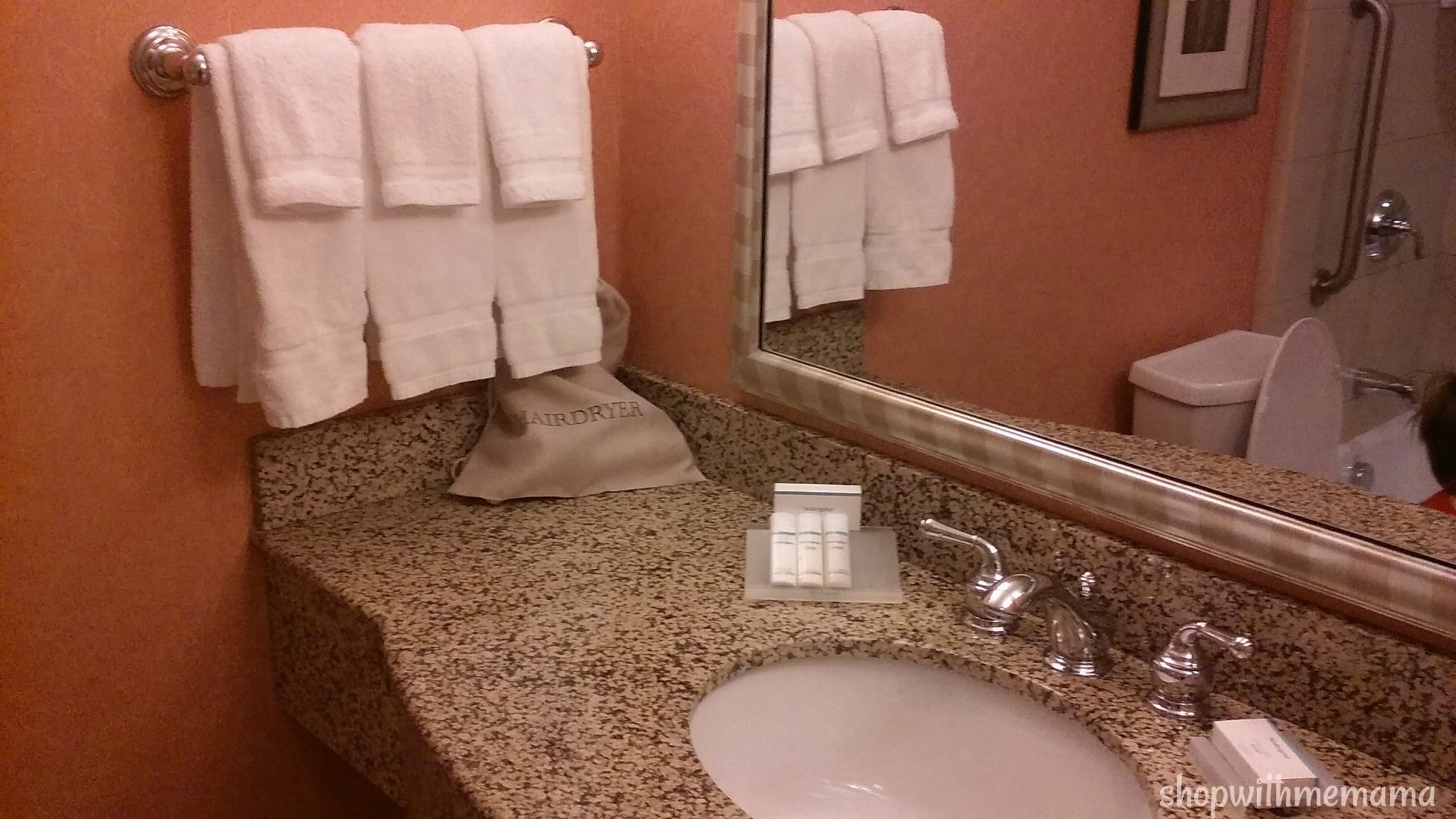 I turned on the A/C which was on the wall and soon our room was very cool and nice feeling. Then we went to check out the pool, spa and workout room. The pool was really clean and it had fresh towels on a cart. My kids had to swim almost as soon as we got there! So, I sat and watched as my babies swam for hours literally, HOURS…. Thank God the hotel had a full bar…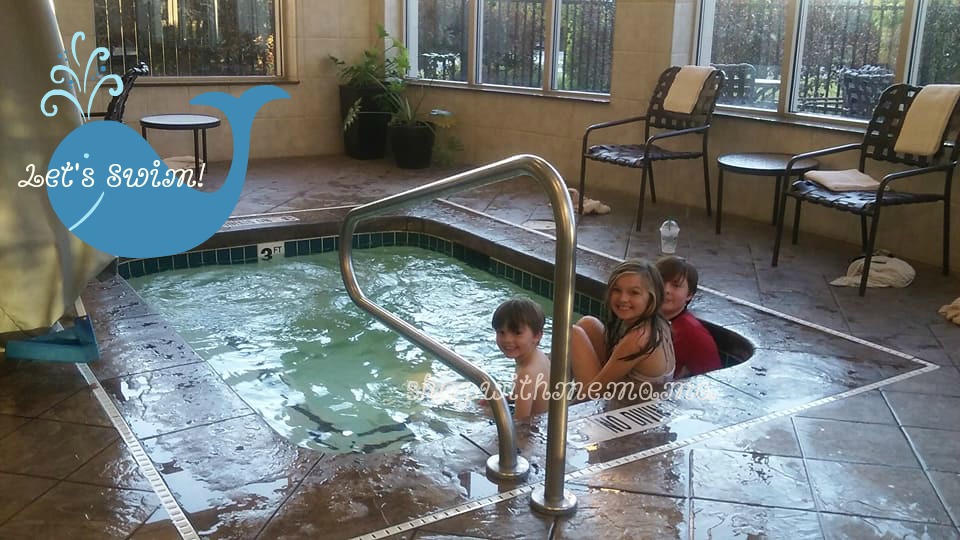 What I really liked about the swim area was that there is an area where you can go outdoors! If I got too hot in the pool area, I just stepped outside on their outside patio that is fenced off and there were table and chairs out there too. That was really nice. The only thing I forgot was the swim floats for my little one, so I watched that boy like a hawk in the water.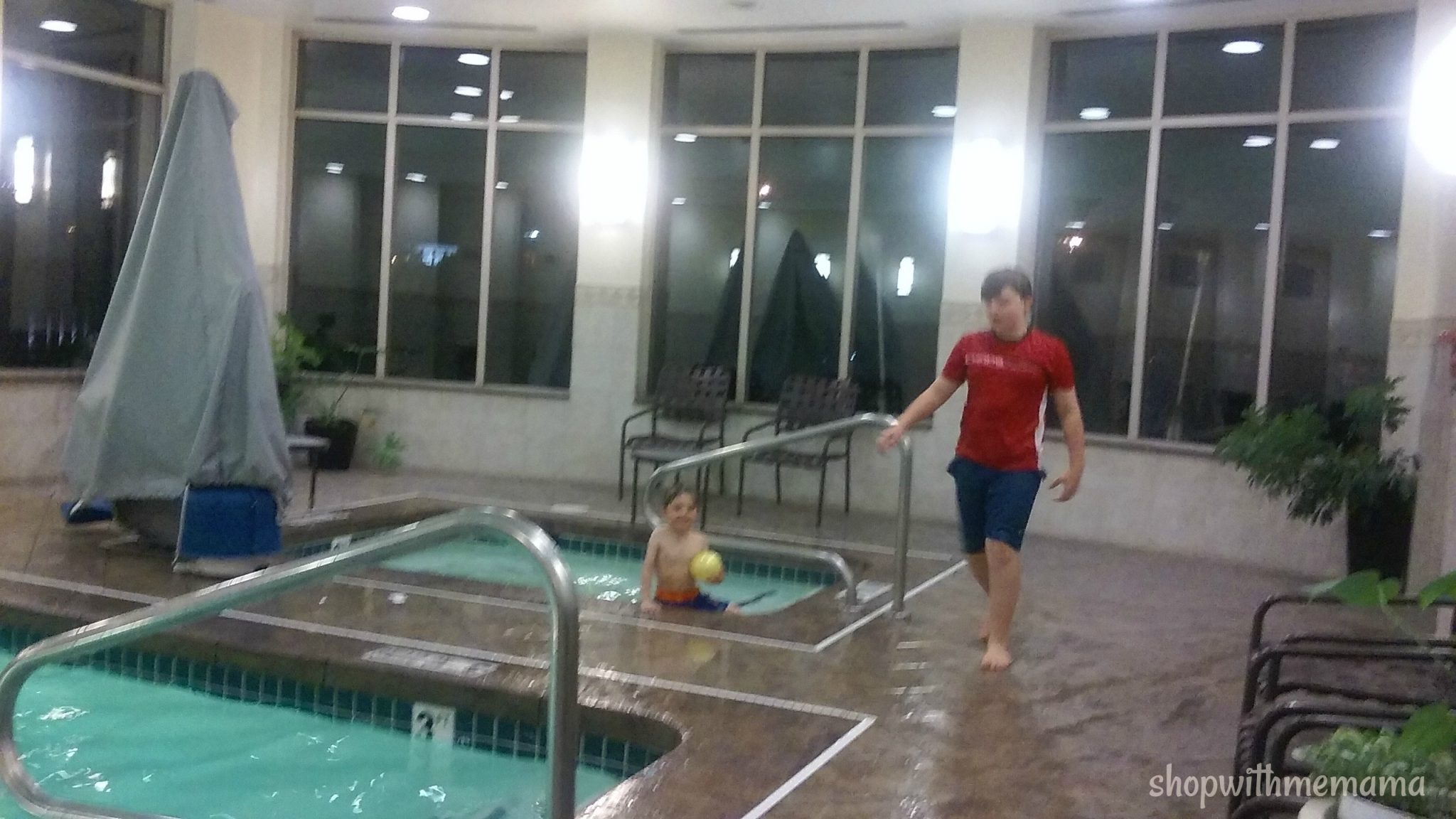 The workout room had nice workout equipment and mirrors as well as arm weights and things like that. It was also air conditioned and there was a door from the workout room that went into the pool and spa area. The workout room had windows looking into the pool and spa area and if you wanted to, you could pull down the blinds in the workout room for more privacy.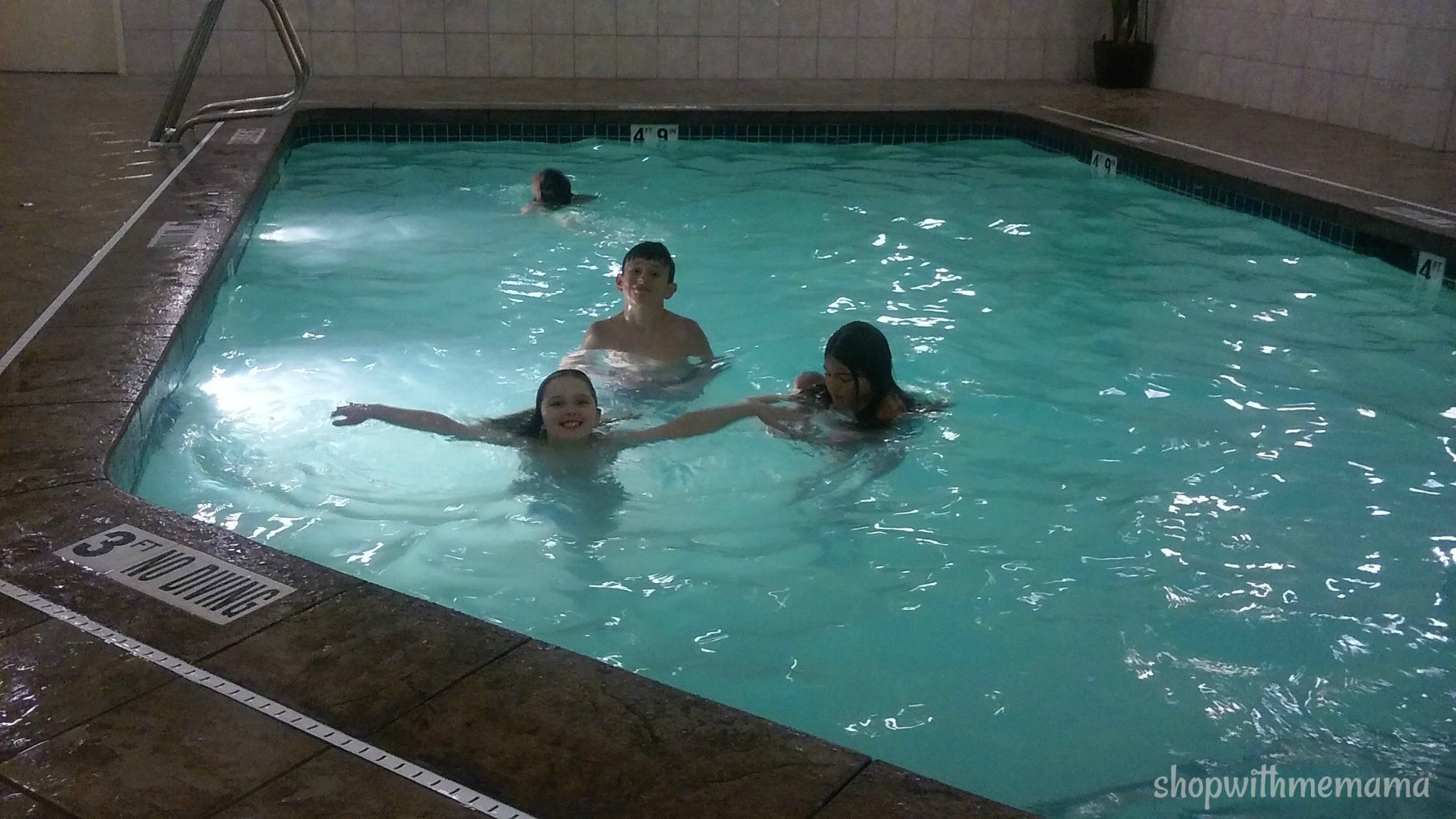 The hotel also has a laundry room which was so nice to find out. Around day two of our stay, I needed clean clothes and the laundry room was much appreciated! I was able to buy laundry detergent at the front desk in their 'pantry' area.
The pantry area at the front desk was used a lot by us! It is open all night and you can just go in there and buy snacks, drinks, frozen foods, laundry detergent and other things. You can either pay for it then or have the front desk put it on your room tab. We did both.
This hotel also has meeting rooms for your special events and they have a business area where there are computers for your use. Lots of great amenities at this hotel.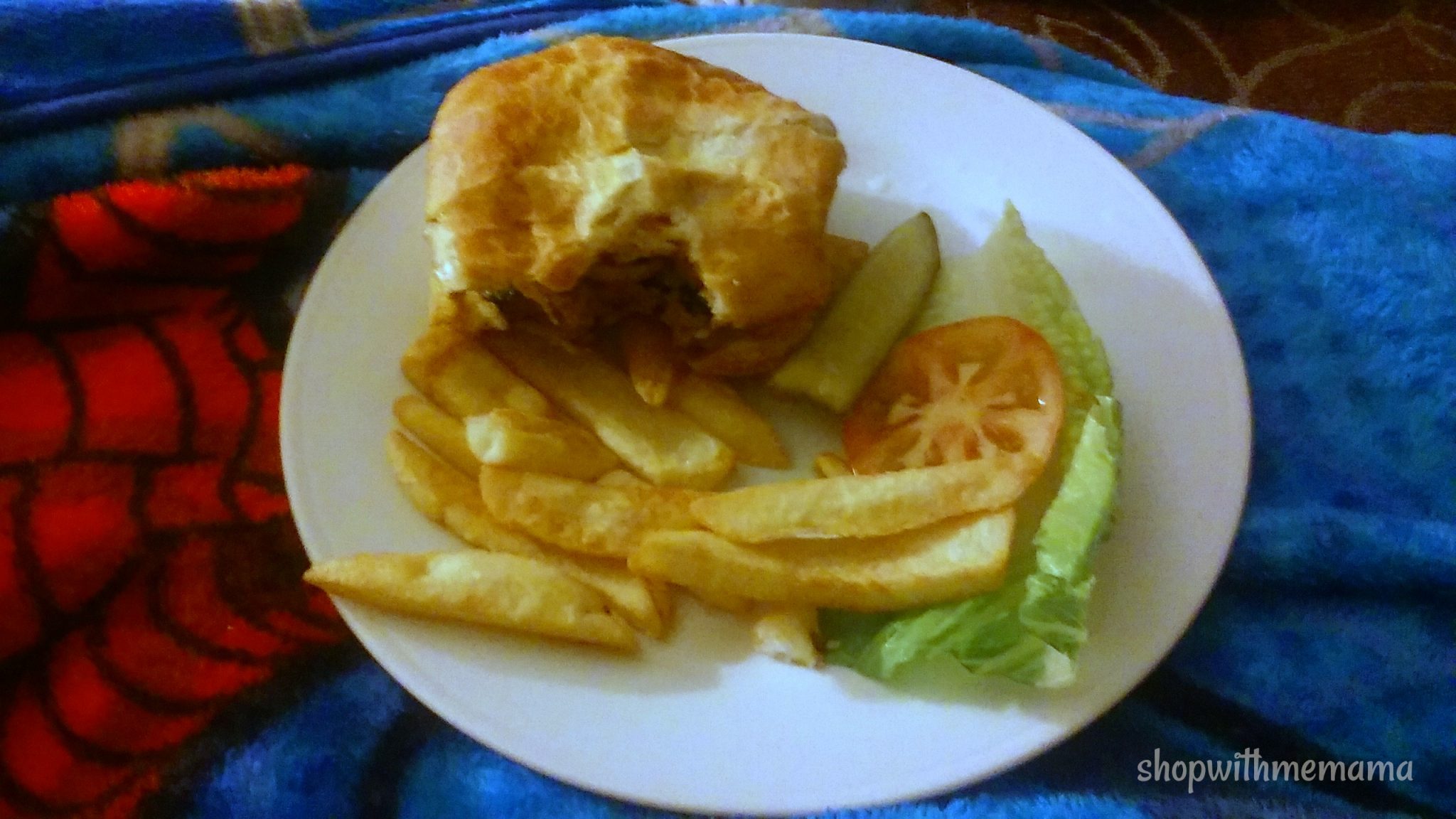 The first night in, we ordered room service. It was delivered quickly and it was hot and delicious. We all enjoyed hamburgers, fries, and some drinks. YUM.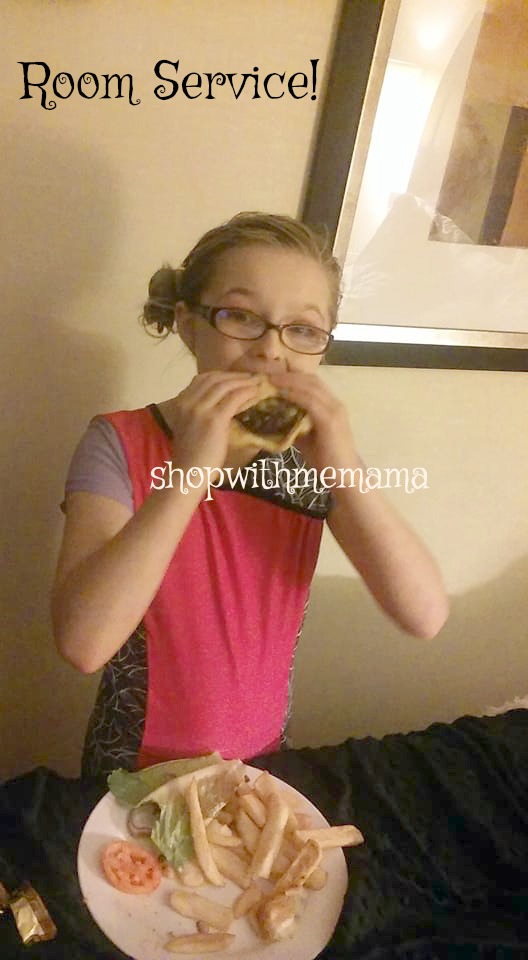 The next morning we went down to the restaurant for breakfast. Since this hotel has a restaurant, there is no free breakfast you have to pay for it but it was so good. You could order anything and eat it in the restaurant part or you could bring it up to your room.
We had dinner in the hotel restaurant the second night. It was not packed and was very comfy for us. Our food and drinks were brought to us with little wait time and the food was delicious! The waitress was so nice and treated us really well.
Housekeeping came by every day but we did not get housekeeping in our room during our stay, we never do. But, we were offered fresh towels, and other things when needed. The housekeepers were very friendly and sweet. They always tried to make sure we were happy.
When we were leaving, the checkout process was even quicker than the check-in process. I turned in our keys and we were on our way. We had a wonderful stay and experience at the Hilton Garden Inn located in Sandy, Utah. We will definitely be back that is for sure!
What Hotel Should I Stay At In Sandy Utah?
Definitely the Hilton Garden Inn! If you do stay there or have before, I would love to know!
Win
One lucky person is going to win a free one-night stay at the Hilton Garden Inn in Sandy, Utah! Yay!
Rules
The contest is open to US 18+. Giveaway will end on July 30, 2017, at 11:59 PM MT. The winner will have 48 hours to confirm their win after I email them, or a new winner will be chosen. I am not responsible for lost or stolen mail.