In this post, we will talk about how you can start a t-shirt printing business from scratch. If you are passionate about fashion, design, and entrepreneurship, then keep reading! Starting a t-shirt printing business from scratch can be a rewarding and lucrative endeavor for you, transforming your creative ideas into wearable art.
Custom t-shirts, widely recognized as a medium of self-expression, provide an excellent opportunity for you to penetrate the dynamic fashion industry.
How To Start A T-Shirt Printing Business From Scratch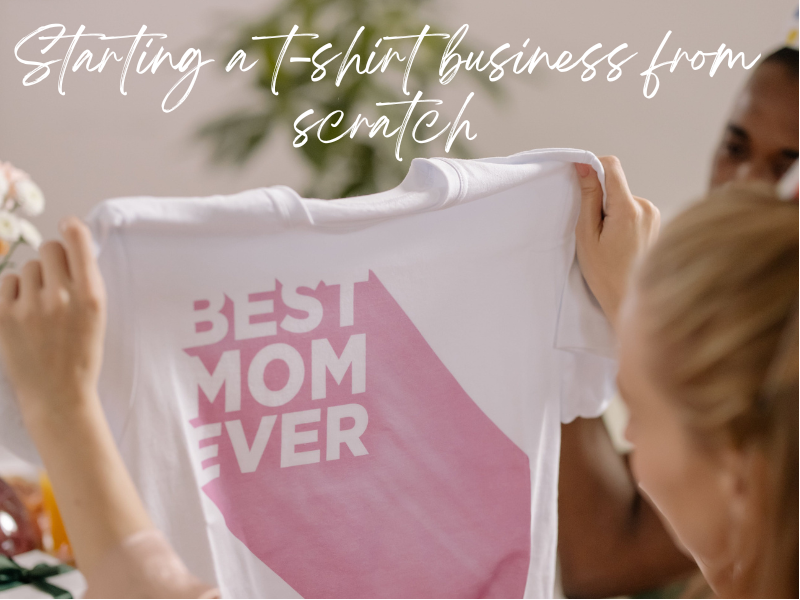 This guide will navigate the crucial steps to launch your t-shirt printing business, from market comprehension to design perfection and brand establishment.
Below, are some helpful steps to get started:
Steps To Start A T-Shirt Printing Business
Launching a custom t-shirt company demands careful consideration and strategic planning. Here are the feasible steps you can undertake to establish your business from the ground up successfully:
Establish Your Business Strategy
Creating a successful strategy is vital for any new enterprise. When devising a strategy specifically for t-shirt printing businesses, you need to contemplate three key factors:
A robust strategy involves cautiously selecting your t-shirt printing business's range of products. This encompasses the choice of various t-shirt styles, colors, and sizes that'd appeal to your target audience.
An efficient strategy encapsulates how your t-shirt printing services will be delivered to the customers. This requires deciding whether your business will primarily function through an online platform, a physical store, or a blend of both.
Understanding your target audience is pivotal in shaping your business strategy. By acquiring insights into their needs and desires, you can position your t-shirt printing business as the premier choice for catering to their style and self-expression needs.
By carefully considering these three aspects within your business strategy, you can lay a solid foundation for your t-shirt printing venture and increase the likelihood of achieving long-term success.
Market research is indispensable for setting up a t-shirt printing operation. It offers valuable insight into customer needs and the competitive scenario.
The market research process involves collecting data on competitors, customers, target markets, services, and products, enabling entrepreneurs to understand their potential customers better and identify gaps between what the current market offers and what they can deliver.
Surveys are an excellent method for collecting feedback from potential customers regarding their preferences. Focus groups, meanwhile, provide a more comprehensive understanding of customer opinions.
Interviews with industry experts impart insight into trendy t-shirt styles, and competitor analysis offers information on pricing strategies and product offerings.
Drafting a comprehensive business plan is critical when launching a t-shirt printing operation. It provides a structure and roadmap for the business.
A business plan should include the company's mission statement, objectives, resources, competitive advantages, target market, and pricing strategy.
Moreover, it should present a detailed breakdown of expenses associated with setting up the business, like equipment, marketing, and personnel costs.
Finally, a well-crafted business plan should encompass projected revenue growth over time, facilitating decisions related to resource allocation and investments.
Acquire Equipment And Materials
Procuring the necessary equipment and materials is critical for initiating a t-shirt printing operation.
The basic equipment needed for starting a t-shirt printing business includes a heat press, which transfers the printed graphic onto the shirt.
In addition, you'll require an inkjet printer or a direct-to-garment (DTG) printer for transferring digital images onto transfer paper. This paper is then used with the heat press to transfer the image to the shirt.
A vinyl cutter can come in handy for creating graphics from sheets of heat transfer vinyl as well, which are then applied to shirts using the heat press.
Besides that, you should consider other supplies like blank shirts, transfer paper, and ink when planning a t-shirt printing business.
With high-quality supplies and dependable equipment, you can ensure that customers receive top-notch products every time they order from your business.
Suppliers provide the materials needed to manufacture a product, so it's crucial to have access to quality items at competitive prices.
Achieving this requires research and networking with multiple vendors who can offer different types of fabrics, inks, and other supplies necessary for custom printing designs onto apparel.
To build an effective supplier network, t-shirt printer owners should explore different options regarding products offered and the prices charged. Researching industry trends can help identify reputable companies that supply quality materials at reasonable costs.
And joining trade associations or visiting trade shows can create opportunities for establishing partnerships with new suppliers.
By taking advantage of such resources, entrepreneurs can develop better relationships with reliable vendors to ensure their businesses succeed in the long run.
Create Designs And Artwork
Crafting unique designs and artwork is a critical step in the t-shirt printing process, allowing entrepreneurs to create distinct products for their customers.
Developing an individualized visual style and aesthetic is essential to stand out from competitors. This can be achieved through a variety of methods, such as:
Researching current fashion and design trends that will appeal to your target audience;

Creating original artwork or engaging with freelance designers who specialize in specific styles; and

Gathering feedback through focus groups or surveys on existing designs or prototypes of new ones before investing time into creating final versions.
Creating professional-looking artwork requires knowledge of graphics-making software programs to create vector illustrations.
Using these programs effectively will make it easier for entrepreneurs to bring their ideas to life and develop great-looking designs for their product lines quickly and efficiently.
Explore Printing Techniques And Processes
Now, it's time to explore different printing techniques and processes. Understanding these techniques is essential as they'll determine how much you can charge for each printed shirt you'll be putting up for sale.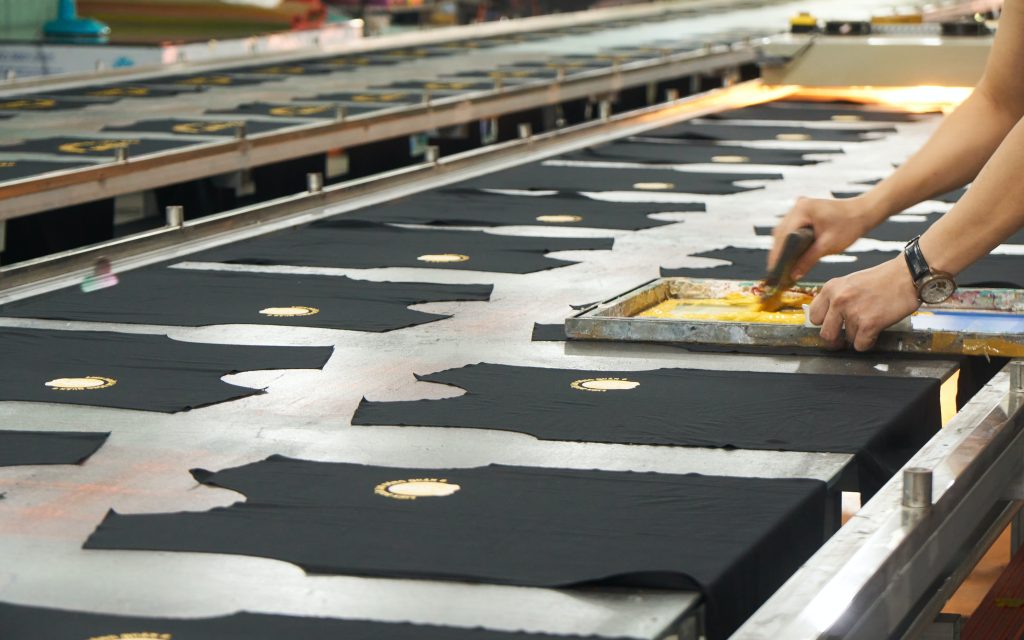 The most common method of t-shirt printing is screen printing or silk screening. This technique involves using a mesh screen to separate an image onto a garment with ink that gets pushed through the mesh openings when pressure is applied.
The screen printing technique can be used to make multiple prints at once, making it an economical choice for businesses needing to produce large quantities of shirts quickly and efficiently.
Heat transfer printing is another popular t-shirt printing method that involves transferring an image from paper to a garment using heat and pressure. It allows for detailed images with vibrant colors, though it may not last long compared to others.
Implement An Efficient Order Management System
Implementing an efficient order management system is essential to monitor and control the entire production process from initial order entry to product delivery. Henceforth, an effective order management system should accomplish the following:
Accurately track customer orders with ease;

Automate daily tasks such as invoicing and shipping notifications;

Allow customers to check their order status online;

Provide real-time updates on stock availability; and the like.
In addition, the program should provide visibility into customer orders, current inventory levels, and the status of each job within a single platform.
Provide Excellent Customer Service
By providing excellent customer service, t-shirt printing operations can ensure customers are satisfied with their product and experience.
This is a key factor in any business, as it encourages repeat customers, increases word-of-mouth referrals, and builds the reputation of the company.
When responding to inquiries, it's vital to provide all relevant information clearly and concisely so that customers have everything they need to make an informed decision about placing an order.
Communication should continue throughout each production stage post-order placement so that customers are informed about what's happening and when they can expect delivery. Finally, once their t-shirts have been delivered, a follow-up ensures product quality and delivery service satisfaction.
Develop An Online Presence
Establishing an online presence is essential for t-shirt printing operations to promote their services and reach potential customers successfully.
A dedicated website will allow a business to showcase its products, provide information about the company, and offer customers an easy means of ordering merchandise.
To boot, social media accounts should also be established on popular platforms to further engage with customers and build brand recognition.
Lastly, optimizing a website for search engines can increase visibility by allowing users to find the business more easily when searching for related terms.
With the abovementioned information, hopefully, you can launch a t-shirt printing company that's bound to be a success.
Starting a t-shirt printing company from scratch requires creativity, strategic planning, and meticulous execution. You can carve a niche in the competitive fashion industry by understanding the market, identifying your target audience, and offering unique, high-quality products.
Take the leap, harness your creativity, and embark on this exciting entrepreneurial journey. Turn your passion for t-shirt printing into a rewarding business venture where individuals and organizations can proudly wear your designs!
Do you have anything you want to add to my helpful post about How To Start A T-Shirt Printing Business From Scratch? If you do, please leave me a comment below!