Learning to use wood chips in a Masterbuilt electric smoker is part art, part science, and all fun! Practice makes perfect, so dive into your favorite smoked recipe with these helpful tips for using wood chips the right way. In time, your food will be oozing with that wood-fired, smoky aroma and natural seasoned flavor only wood chips can achieve!
*This post includes my affiliate links
How To Use Wood Chips In Your Masterbuilt Electric Smoker
Step 1
Before starting your electric smoker, check to make sure there are no obstructions to the ventilation or leaks in the door. Wear and tear from being stored outdoors causes metal and rubbers to warp over time. A worn seal on your smoker door will leak valuable smoke, and poor ventilation will prevent the necessary combustion for generating smoke.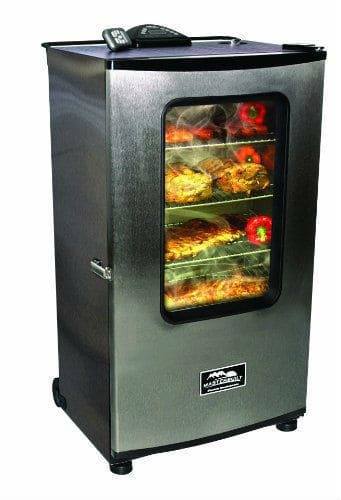 Investing in a smoker cover will go a long way to preserving the life of your electric smoker. You might also want to check out some of the most popular Masterbuilt electric smokers, known for durability and amazing smoked masterpieces!
Step 2
Load 1 cup of wood chips into the wood chip tray or loader. Side-loading units such as the MES 130 B Digital Electric Smoker or the Masterbuilt 30" inch have a slide-out loader. You can remove the loader and fill it to capacity.
Step 3
Reinsert the loader or wood chip tray into the smoker and turn the handle to the "Unload" position. This will cause the wood chips to fall neatly into the wood chip tray, positioned just above the unit's heating element.
Step 4
Turn your electric smoker on and set your desired cooking temperature. Don't add your food to the smoker until your smoker has had a chance to heat up. The preheating stage should take 20 – 30 minutes, depending on the climate.
If you've been storing your electric smoker in a cold, uninsulated garage, preheating will allow your smoker time to generate a sufficient, stable cooking temperature.
Step 5
After 20 – 30 minutes have passed, check the internal temperature of your smoker. There may be a variance of +/- 20 degrees, depending on external factors such as windiness.
Strong winds can blow through the smokestack or chimney as well as the ventilation, cooling the internal temperature, or in some cases fueling combustion for wild temperature swings.
Masterbuilt smokers are engineered to perform even in subzero temperatures, but it's a good idea to use an external oven-friendly thermometer, in addition to the temperature gauge on your smoker.
You'll have greater accuracy at gauging the cooking temperature so you don't overcook your expensive cut of meat. Ever tried baking with an electric smoker? You might be interested in these smoke-flavored Baked Recipe Ideas For Your Electric Smoker.
Step 6
If you're satisfied with the temperature, it's time to add your meat! Your cooking racks should be greased beforehand to make cleanup easier. Or you can use outdoor grill mats to help make cleanup a cinch!
Generally, 1 cup of wood chips will last 4 -5 hours. Continue to monitor your smoke levels without opening the smoker door. Add a handful of wood chips every 4 hours or so until the cooking time is completed.
Can I use Wood Chunks or Pellets In My Masterbuilt Smoker?
Using wood chunks for fuel in your Masterbuilt smoker is not a good idea. When it comes to producing a smoky aroma that your meat will absorb, the right kind of wood is just as important as the right temperature setting. The wrong kind of wood produces too much smoke, leaving behind creosote residue that's unhealthy for consumption.
Avoid using wood chunks, electric smoker pellets, or wood chips with the bark still on them. Bark makes great fuel for a campfire but not for smoking meat. Pellets are specifically designed for use in pellet smokers and can cause wild variances in temperature if used in your Masterbuilt electric smoker.
Nervous about using the wrong kind of wood in your smoker? You might find "How To Choose The Right Wood Chips For Your Electric Smoker useful.
Is Thick White Smoke A Good Sign?
Billowing thick white smoke from your smokestack chimney means the wood chips are burning too quickly. The ventilation in your Masterbuilt smoker is designed to support low and slow cooking.
Hey, if smoking meat with wood chips in an electric smoker was easy, everybody would be doing it, right? Seriously, though, there's nothing more rewarding for a grill lover or aspiring pitmaster than achieving that elusive balance of smoke and wood in a tender cut of brisket, or moist pulled pork dripping in bbq sauce.
Some Helpful Tips For Perfectly Cooked Meat:
*Season Your Meat
*Bring Smoker to Temperature
*Add Water and Wood
*Add Meat to Smoker
*Baste Your Meat to Prevent Drying Out
*Apply Finishing Sauce
If you are looking for an AWESOME recipe for your Masterbuilt Electric Smoker, then you NEED to grab the recipe for these delicious smoked jalapeno poppers! YUM!
Good luck with your next smoked recipe, and have fun experimenting with your Masterbuilt electric smoker! I hope these tips on wood chips in a Masterbuilt electric smoker help you!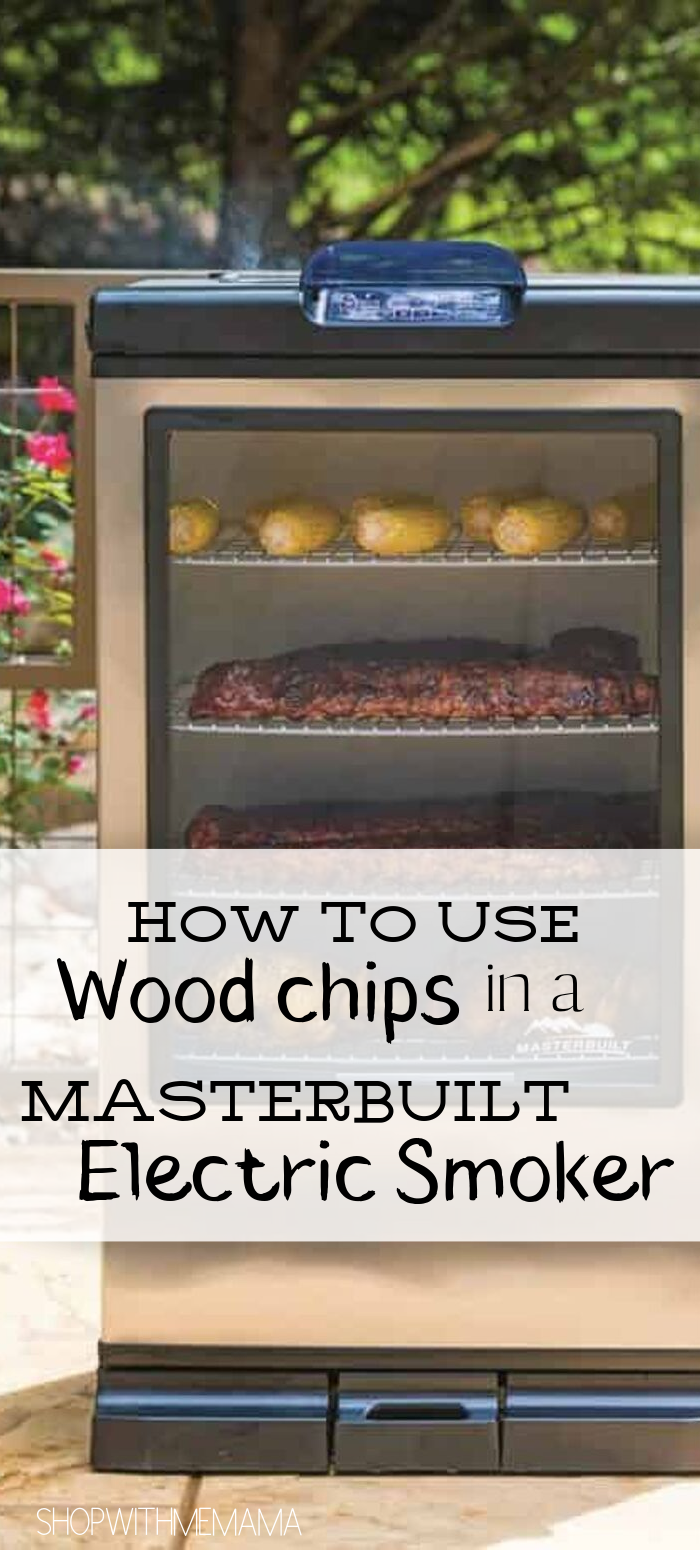 Are you going to be doing any outdoor entertaining this summer? Thanks to good old COVID-19 I am not sure we will be. However, the people who live here need to eat, so we will definitely be doing some smoking! How about you???