Have you heard of or have ever used outdoor grill mats when using your barbecue? If not, you NEED to start using them! They are not only a lifesaver, because clean-up is a CINCH, but they help cook your food to perfection!
Last night, was our first time using our copper Outdoor Grill mats on our Traeger grill. Usually, when we use our Traeger we have a huge mess afterward, and cleaning up is not fun! However, by using our grill mats on the grill, our grill was left clean and we did not have to clean up any messes! It was wonderful!
I received a box of these amazing copper Teflon fiber roast sheets and a bake mat set. They come in a box of 5 non-stick copper Outdoor Grill Mats. They are reusable, easy to clean and great for use on your gas, charcoal, or electric grills!
*Outdoor Grill Mats Are A Life Saver! Grill mats received. This post includes my affiliate links.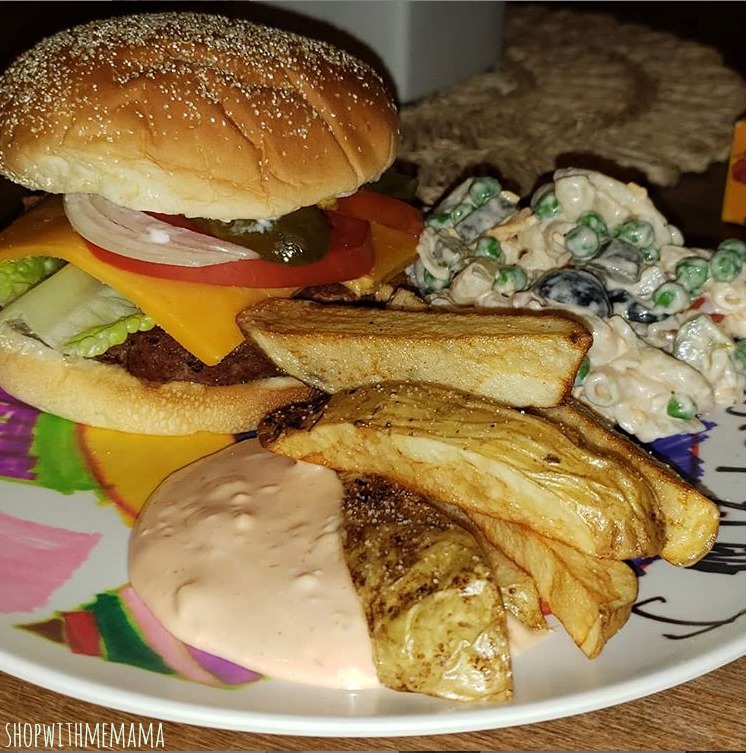 Why You Need These Outdoor Grill Mats!
*FDA-APPROVED Barbecue Grill Mat – 5 Pack Ptfe papers are made from 100% PFOA-Free materials and premium PTFE-Fiberglass coating, with no PFOA or other dangerous chemicals! Certified as safe by the FDA approved! makes your meal healthier when cooking on your BBQ grill with our professional grade!
*100% NON-STICK TEMPERATURE RESISTANT & WATER REPELLENT MATS –These Outdoor Grill Mats are heat resistant up to 500 degrees Fahrenheit and 100% non-stick, meaning you can grill and cook without worrying about grease and stains. The BBQ mat also keeps small food from falling through the grates and keeps your grill sparkling clean! these barbecue cooking mats are made of heat-resistant technologically advanced materials that look similar to a plastic mat, however, it will not burn.
*REUSABLE & DURABLE EASY TO CLEAN AND TRIM FOR CONVENIENT USE –BBQ grill mat can be utilized many times on both sides and cut to fit perfectly into your grill, oven, stove, pans, cake tin, etc.
*MULTI-PURPOSE PTFE (TEFLON) SHEET – Teflon sheets can serve as a barbecue grill mat, nonstick oven liners, baking mat, or cooking mat, Perfect for any grill including as Char-Broil, Weber, Porcelain, Charcoal, and even Infrared Grills. They can also be cut to fit your particular grill or oven perfectly. Grill meat, vegetables, fish, shrimp, pizza, and even pancakes, bacon, and eggs!! Perfect for those nasty campgrounds or park grills!
*QUALITY GUARANTEED! – The company guarantees that its mats are made from the best quality materials.
*Warning: do not let grease accumulate due to the risk of a grease fire.
Since yesterday was Mother's Day, my hubby and kids grilled up some absolutely DELICIOUS hamburgers on our Traeger grill! My husband was very impressed with these copper Outdoor Grill Mats and said as soon as he put the copper grill mats on the grill, the meat started sizzling immediately and he thought the meat cooked way faster.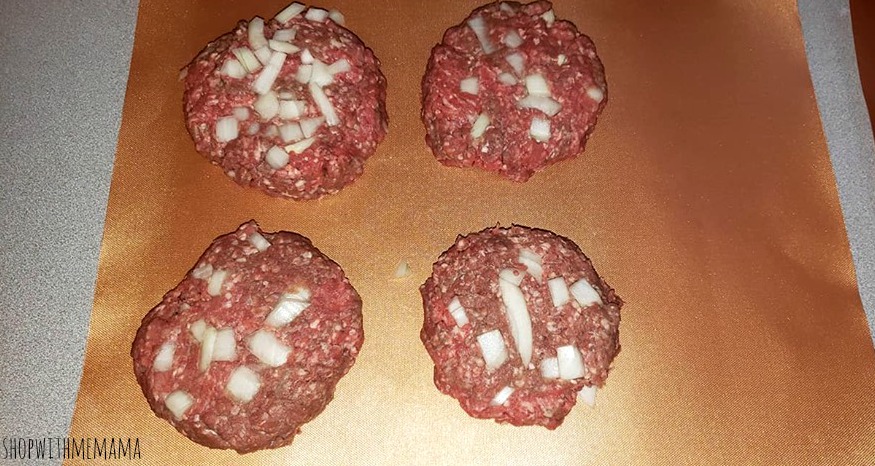 We loved using silicone brushes to marinate our hamburger meat. You simply put the marination on the brush and swipe the brush on onto your meat! Makes putting sauce on your food so easy to do!
Since we did not have to worry about any messes or food falling through the grill, my hubby was also able to cook up some fried eggs on the grill to put on our hamburgers too! I can't wait to sautee onions, mushrooms, and other yummy food on our bbq grill mats! I have a lot of yummy ideas for grilling this summer thanks to my new copper Outdoor Grill Mats!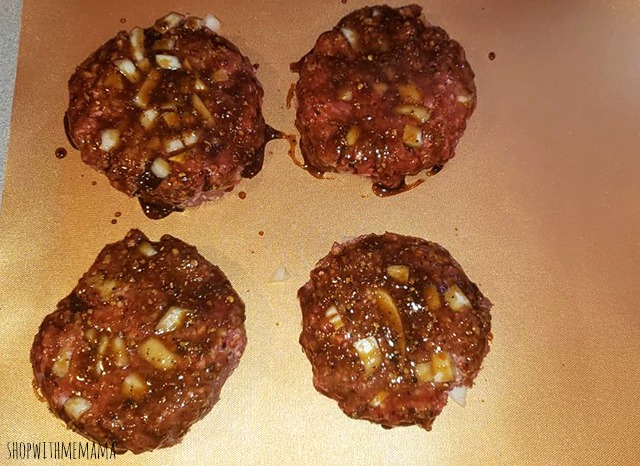 In addition to the yummy hamburgers we grilled up, I also made my delicious pasta salad that is so good you won't believe it! And, my Mother-in-law fried homemade french fries in our fryer! Oh, my goodness, last night's dinner was SO good!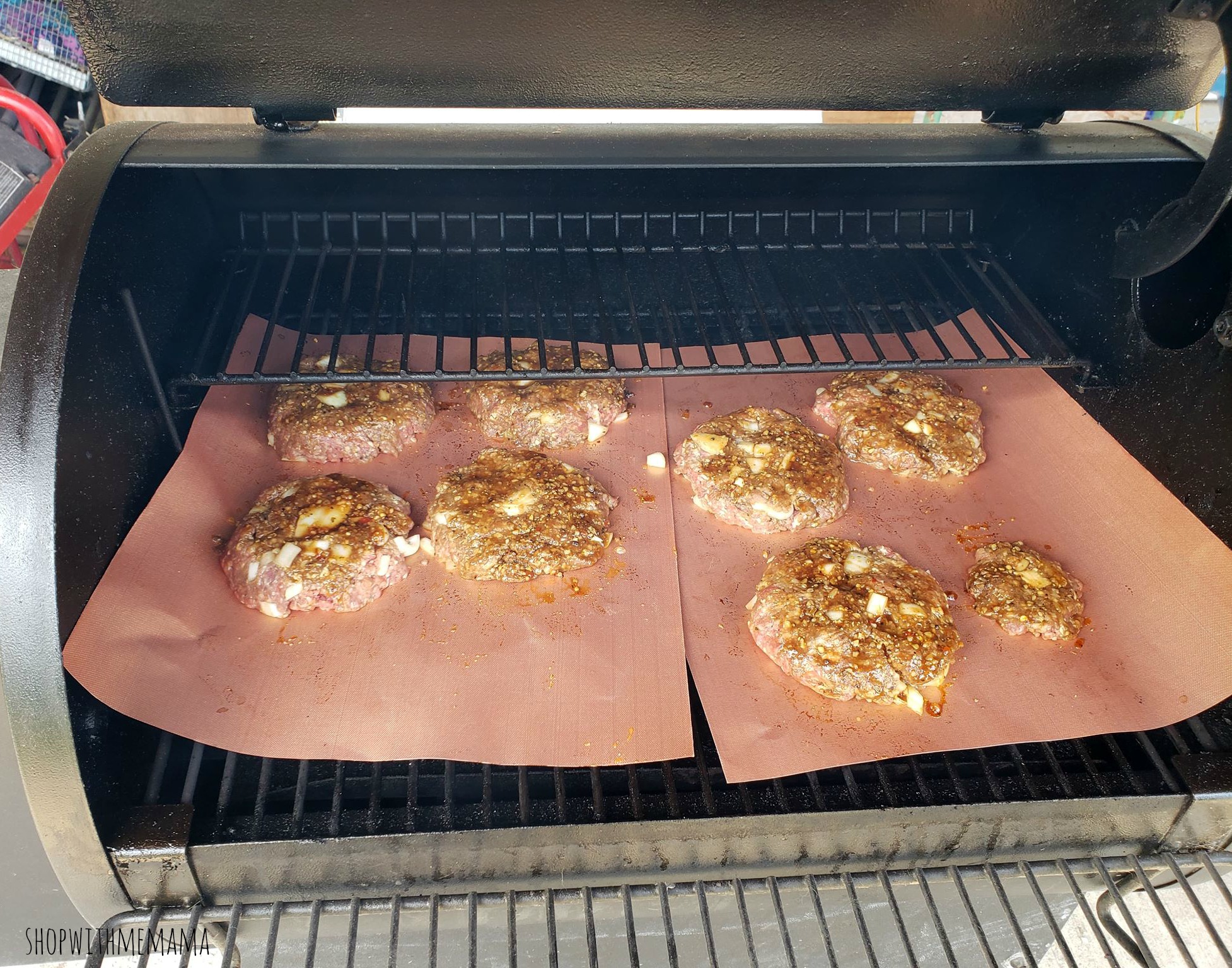 Outdoor Grill Mats Are Safe To Use!
It's 100% safe to use, FDA approved, and FREE from any harmful chemicals that might seep into your food. The BBQ Outdoor Grill Mats are the perfect grilling, Baking, and Cooking accessory for everyone who loves the fresh grilled flavor.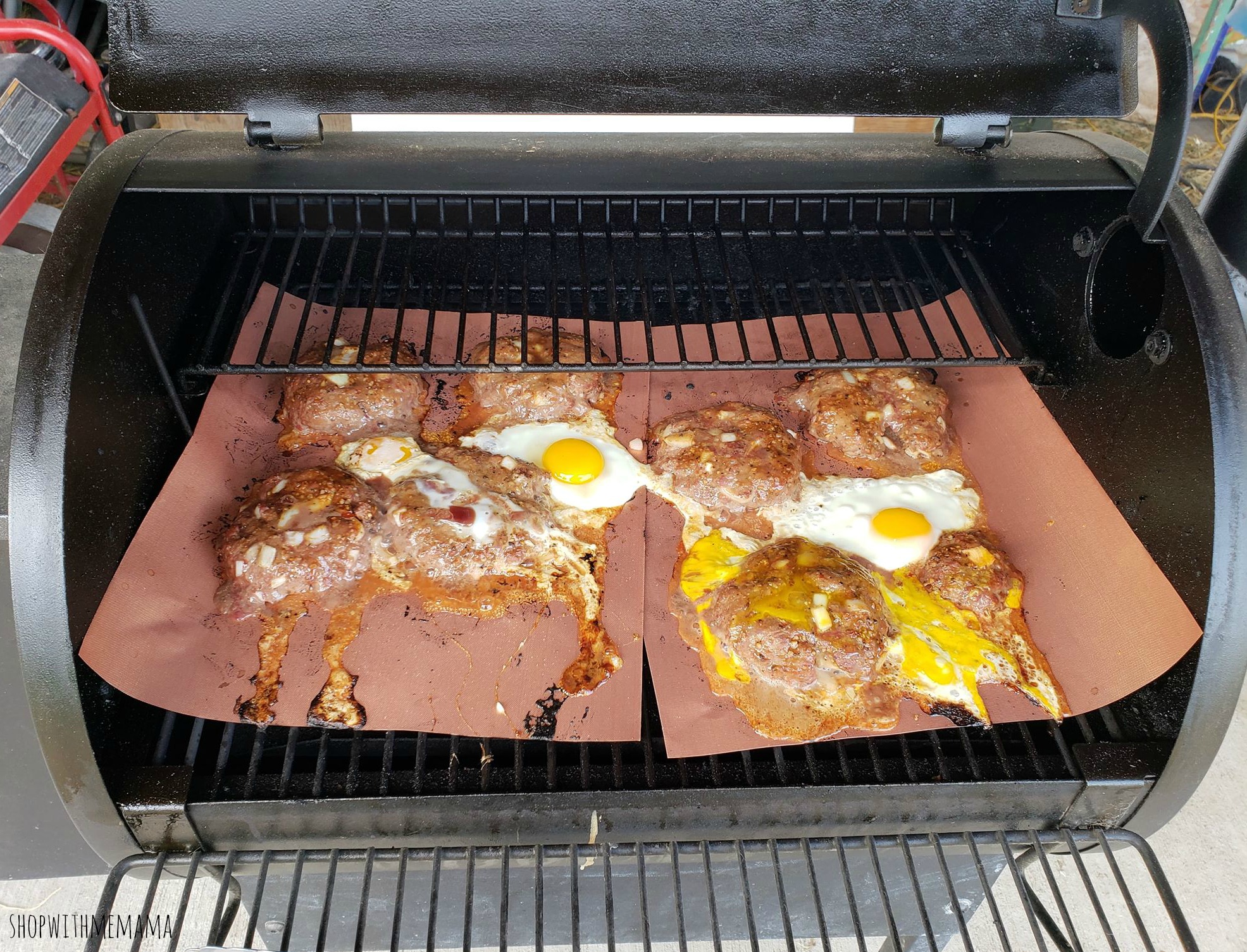 Outdoor Grill Mats Make Grilling, Baking, and Cooking Easier!
Instead of BBQ sauce causing food to stick and become mangled or burnt, it will flip over easily to remain intact, and cook to perfection.
This results in better tasting food but also makes cleaning up afterward far easier and less time-consuming. It will not retain or transfer tastes or odors between uses.
It is said that you can easily get 4-5 uses from each grilling mat, which is really nice because we grill a lot during the summer months! I hate cooking inside during the summer because it is just too hot!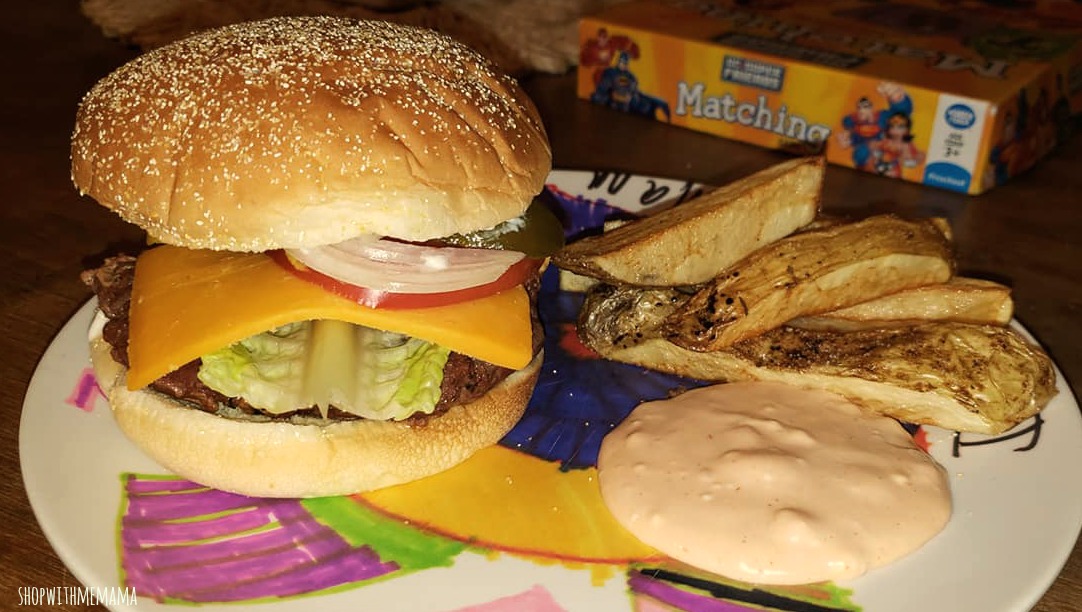 Tips for Maintaining Your Outdoor Grill Mats:
Store mats flat or rolled up in storage for small space. Don't fold it! You don't want to cause creases in the grill mats. Simply clean the mats with warm soapy water. Miracle BBQ Grill mats adopt PTFE material, Non-stick, which are extremely easy to clean, and Dishwasher safe!
Warning:
*Do not let grease accumulate due to the risk of a grease fire.
*Use mats at low-medium heat settings (300°F – 400°F).
*To avoid scratching, only use wood, plastic, or silicone utensils.
*Do not use sharp stainless steel or metal tools to avoid scratching.
*Don't use a scratchpad or abrasive brush while cleaning mats.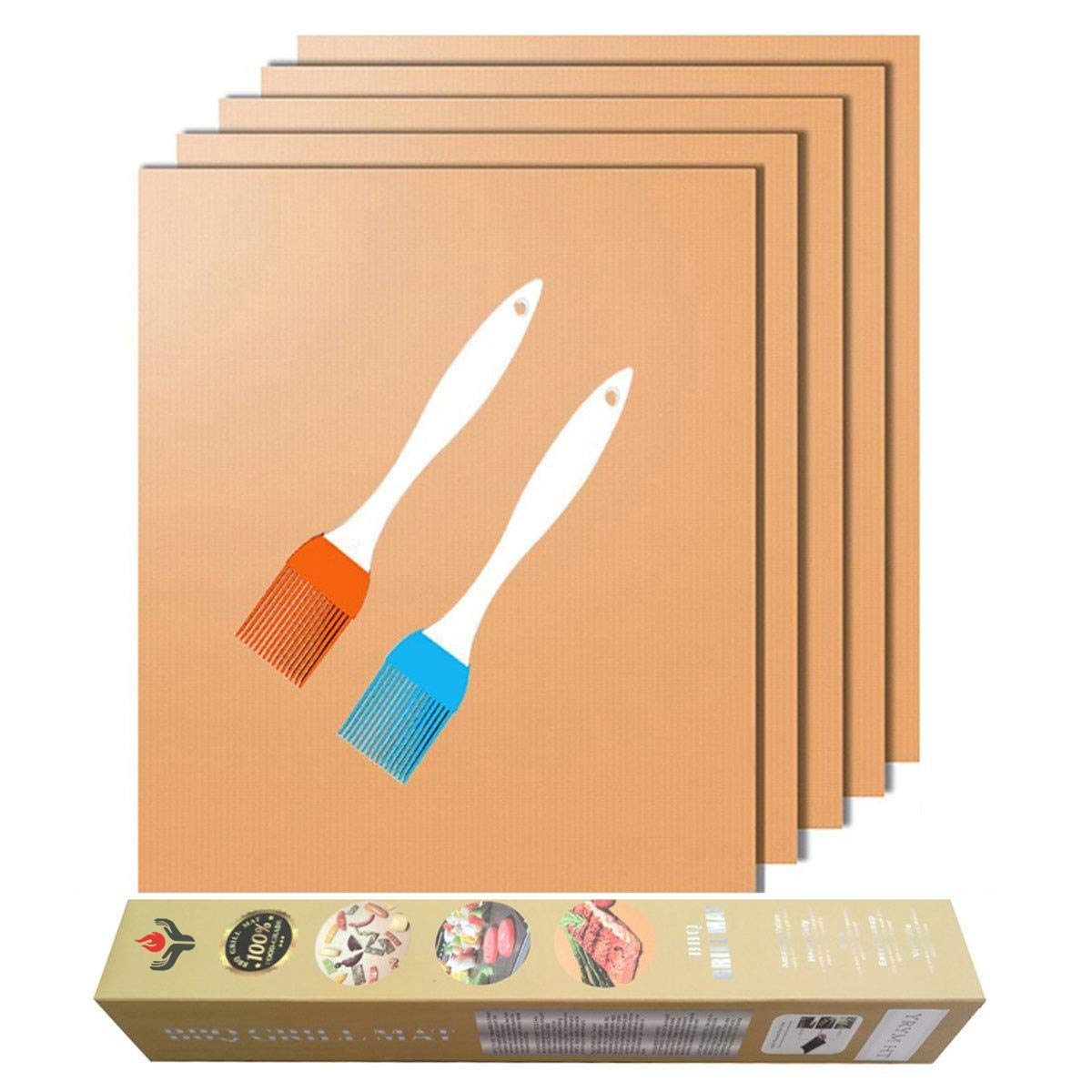 What is included in the box?
5 * Cooper Grill Mats
2 * Silicone brushes
Buy
You can purchase these copper grilling mats online at Amazon.com. They retail for $12.97 for a box of five.