Have you ever used an air fryer? Do you own one? If you answered no to both, you need to try an air fryer! They are awesome and are great for cooking more healthier! I made homemade french fries in the Cuisinart Air Fryer Toaster Oven, and they turned out SO good! Less oil, and just as good!
I received a Cuisinart Air Fryer Toaster Oven from Riverbend Home to review last week. I have already used it several times and I LOVE it. I have used air fryers before, but I like this one the best because it can stay out on your counter and you don't need to put it away in a cabinet! Because it is also a toaster oven/oven, this has multiple uses and so it just stays put on the countertop!
*This post includes my affiliate links. Product received, opinions are my own.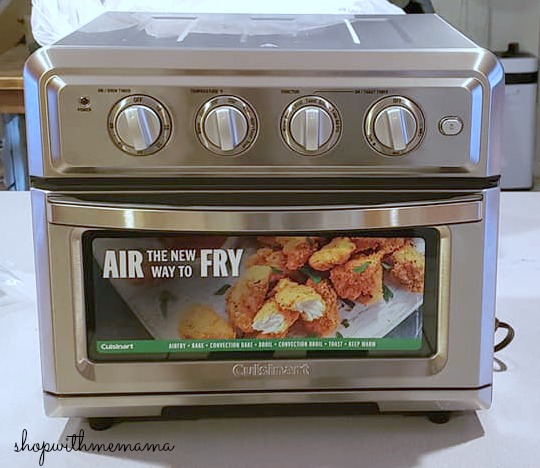 And, it is GORGEOUS. Yep, I love the look of it! It is modern and looks SO good on my kitchen counter! I got it in Stainless Steel to match my kitchen, but it also comes in Black Stainless and Copper Classic too! All of those colors are beautiful!
What Is So Special About The Cuisinart Air Fryer Toaster Oven?
For starters, it is an air fryer AND toaster oven in one. You can cook in it, broil, bake, warm things, AND toast! And, of course, you can air fry in it! And, it is beautiful! It has so many features!
This unique kitchen workhorse is actually a premium full-size toaster oven with a built-in air fryer. That means it not only bakes, broils, and toasts, it also lets you air fry right inside the oven. Air frying, which uses powerful ultra-hot air, is a healthier way to prepare delicious fried favorites, from wings to fritters to homemade french fries to shrimp!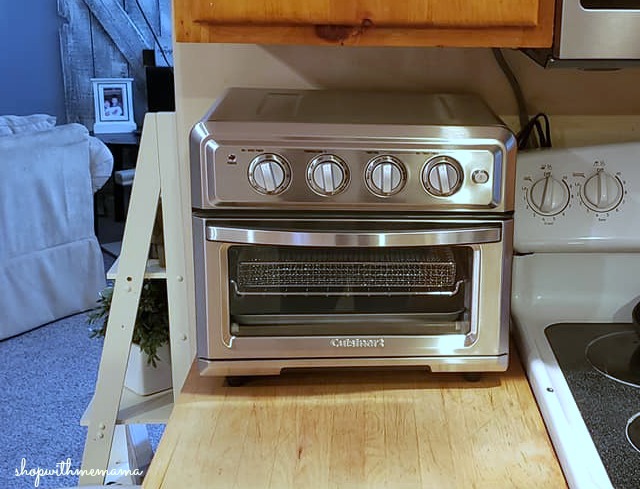 Check Out The Features:
1800 watt
7 Functions: AirFry, Convection Bake, Convection Broil, Bake, Broil, Warm, Toast
0.6 Cubic Foot Interior With Light
Large enough to AirFry up to 3lbs, toast 6 slices of bread, bake a 4lb chicken or 12″ pizza (11″ Pizza Stone sold separately)
Adjustable Thermostat
60 Minute Timer/Auto Shutoff
Toast Shade Selector-Timer
Nonstick Easy-Clean Interior
Includes: Oven Rack, Baking Pan, AirFryer Basket
Whisper Quiet Operation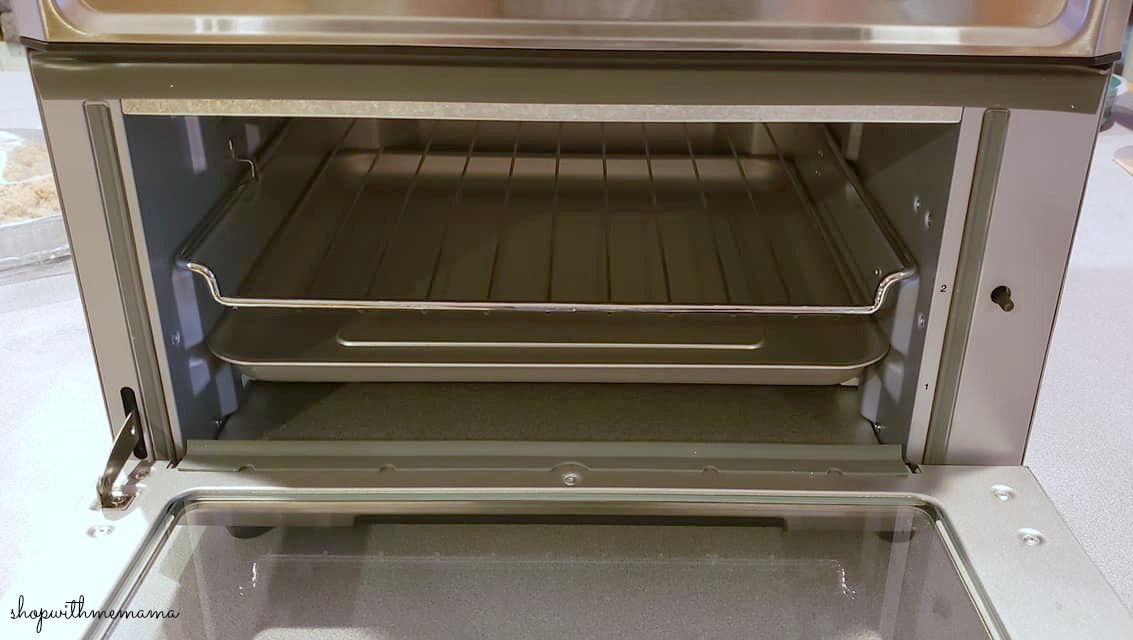 Enjoy the crunch without the calories and messy cleanup, with the AirFryer Toaster Oven!
So far, I have toasted bread in it and made several batches of homemade french fries in it. I am going to be trying another recipe in it this weekend. I am thinking of making pork chops in it. There are SO many things I can make in the Cuisinart Air Fryer Toaster Oven! I also can't wait to make my delicious cream cheese and chicken crescent rolls in this!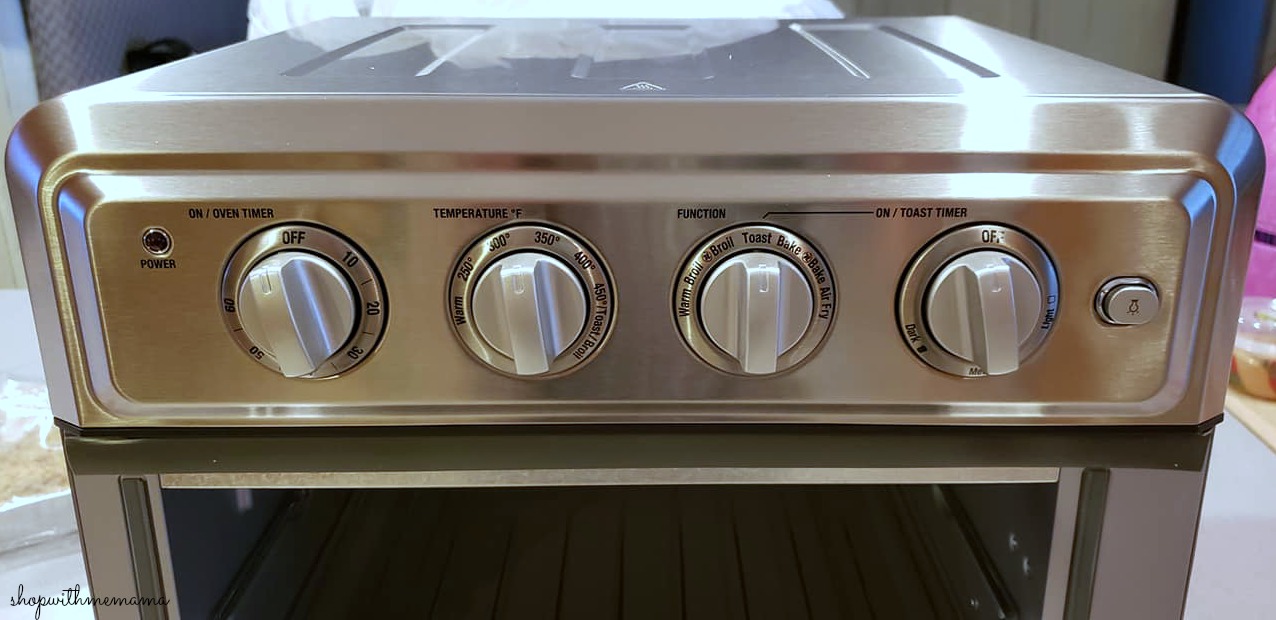 New To Air Frying?
We all have to start somewhere! If you haven't tried an air fryer yet, you don't know what you're missing. You get all the nice crispy crunch on the outside, deliciously melty insides, and none of the added calories from greasy oils.
The Cuisinart Air Fryer Toaster Oven is a great space-saving appliance and you no longer need to clutter your counter with a toaster, a toaster oven, and an air fryer. You can easily free up your counter space with this one excellent kitchen appliance!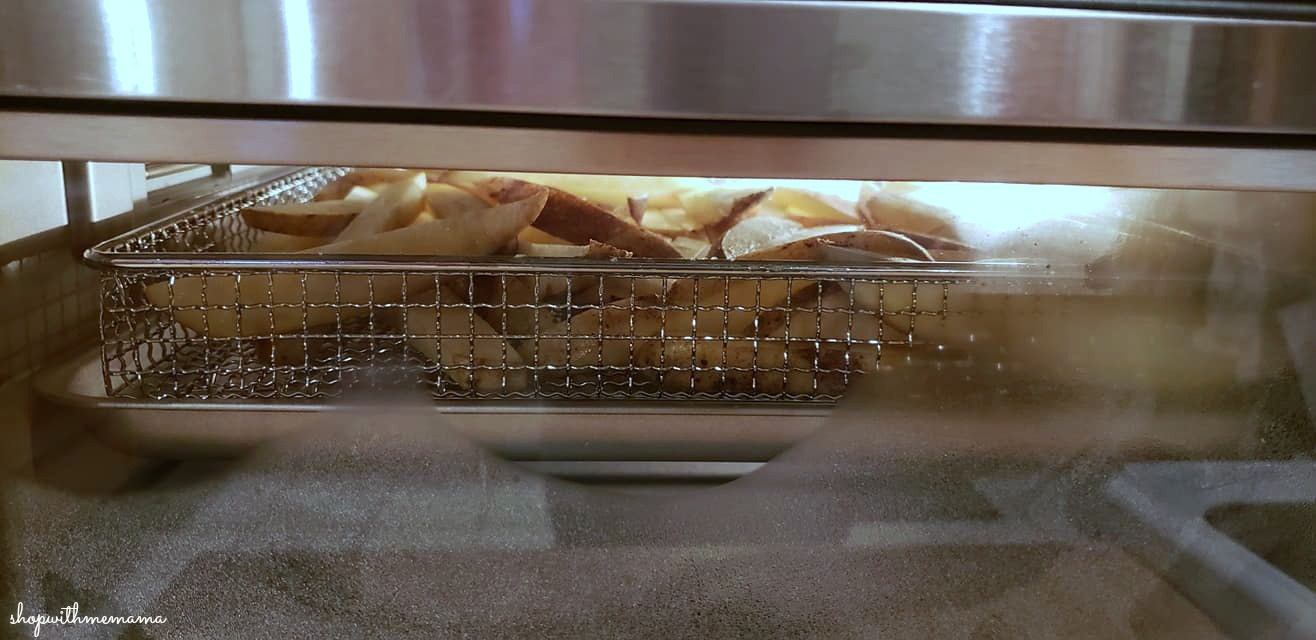 Homemade French Fries In The Cuisinart Air Fryer Toaster Oven!
So, making homemade french fries is something that we do a lot. We love potatoes (hey, we live in Idaho!) and so I am always putting together a potato-something dish! But, homemade french fries are my family's all-time fave!
They are simple to make and not messy AT ALL thanks to the Cuisinart Air Fryer Toaster Oven!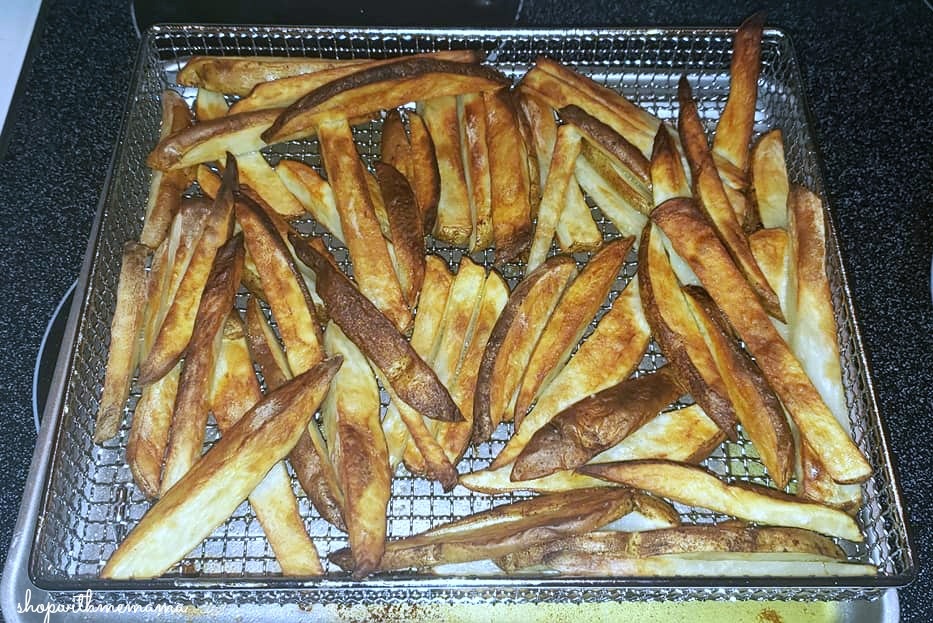 Ingredients:
6 large potatoes, sliced the long way
Kosher Salt
3 TBS of Olive Oil
Any other seasonings you like on your fries
Directions:
Put the sliced potatoes into the air fryer basket
Sprinkle Kosher Salt over cut potatoes (and other seasonings if you choose to do that)
Drizzle Olive Oil over the cut potatoes
Mix the cut potatoes around a bit and then even them out so they can air fry evenly
Place the air fryer basket into the baking tray and place it into the Cuisinart Air Fryer Toaster Oven
Turn the knob on the Cuisinart Air Fryer Toaster Oven to 'Air Fryer'
Turn on the Cuisinart Air Fryer Toaster Oven for 15-20 minutes (I air-fried mine for 20 minutes)
Once the timer goes off, use hot pads to pull out and serve immediately! They are SO good and crunchy!
When the Air Fryer is on, it is a soft hum sound. Not loud at all. And, clean-up is easy. Since it is all non-stick, cleanup is truly a breeze. I washed the air fryer basket and the baking tray in hot water with soap and then let it air dry. I think those pieces can go in the dishwasher, but I like to handwash mine.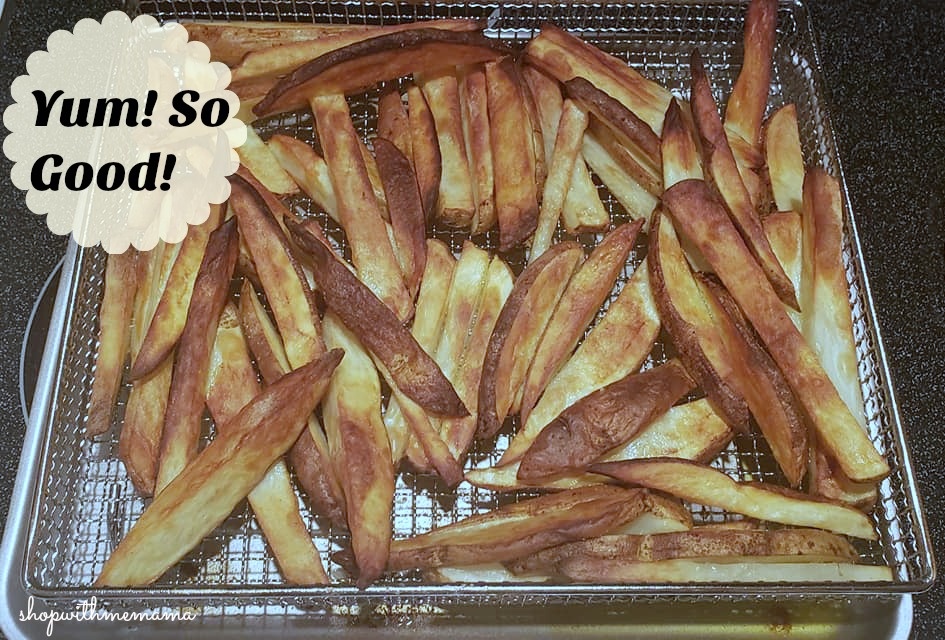 I then wipe out the interior of the air fryer/toaster oven with a damp rag. Then dry it with another towel. I am just particular about splatters (which there weren't really any at all!) and that is why I choose to wipe it down after using it each time.
If you want to watch what you are cooking/toasting/baking/air frying, etc., you can turn on the inside light and watch it cook! This is fun for the kids especially if you are baking some treats!
Here Are The Specifications:
LWH: 15.50″ x 16.00″ x 14.00″
UC Weight: 21lbs
UC Cubic Feet: 3.249 lb
UC LWH: 18.12″ x 21″ x 14.75″
MC Quantity: 1
MC Weight: 21lbs
MC Cubic Feet: 3.390
MC LWH: 21.250″ x 18.375″ x 15″
Buy One!
I know you want to learn more or possibly buy one of these amazing appliances, so here is a link to Riverbend Home, where you can purchase one. They retail for $199.00.
Shop The Sale!
Right now, you can get 10% off the Cuisinart Air Fryer Toaster Oven & Compact Air Fryer Toaster Oven at Riverbend Home! Just use code: airfry10 at checkout! This offer is good until 3/16/20! Grab yours today!