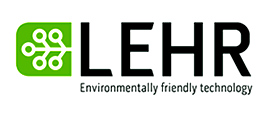 I had the wonderful opportunity to try out (well, my husband had the honors ;)) the new Detachable Curved Shaft Propane Powered Eco Trimmer by LEHR. Let me first say, that this trimmer is amazing! Not only does it run on Propane for its fuel (yep, no gasoline or messy mixing anymore! Yea!), better for the environment, better for you! I am very excited to use a different attachment on it, like the Expand-It Tiller Attachment (Model UT15550), so that I can rotatill my flower beds and use this next year to rotatill a spot for my vegetable garden! It fits all standard brand attachments!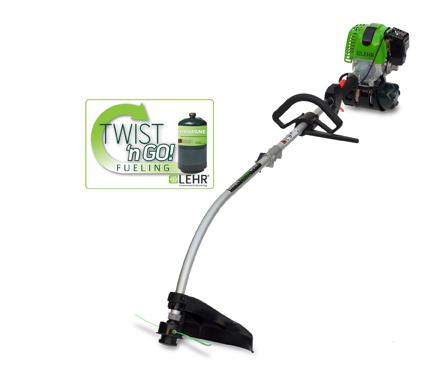 It is so simple to attach the Propane, you just twist and go, literally, it is that easy to do. My husband was thrilled that it is very easy to start too. No more breaking your back or ripping your shoulders out of socket to get it started, those days are over! We live out in the country, and our house has a ton of over grown areas that needed to be trimmed down. My yard and around the house it so neat and clean looking now, I love the way it got the job done. The propane tanks last for about 2 hours, which was just enough time to do our property. They are not spendy to buy and you can pick them up at any hardware store. LEHR recommends removing the propane tank between uses and when storing.
OK, now it would not be right if my husband got to do all the work, right? So, I did go out and do a patch of grass myself just to see hands on how it felt and cut. It was not heavy, and was very easy for me to maneuver. (Gosh, now that my husband knows I can do this, I might be in trouble.. :)) The LEHR trimmer weighs about 15 lbs, perfect for me!
The LEHR Story (taken off their site):
The ideas behind LEHR Incorporated were born during a series of long, cold nights spent converting gasoline engines to run on propane aboard the research vessel the Sea Surveyor at work in the North Sea. Having already used propane to power small engines on several other ships in his years at sea, Captain Bernardo Jorge Herzer CEO and founder of LEHR knew he had something. "Propane is just safer, more efficient and more reliable," said Captain Herzer, "that's why we used it on our ships." Five years later, with corporate offices, and an R&D center at its "green" headquarters in Los Angeles, California, LEHR is now a groundbreaking leader in the research and development of environmentally friendly technology. "The color is actually LEHR green," says Captain Herzer, the architect of the company's commitment to developing products whose manufacture, usage and disposal produce the least amount of pollutants and leave the smallest carbon footprint possible. Utilizing a patented proprietary technology similar to what was developed at sea, LEHR's first generation of lawn and garden tools is powered by propane, for home and commercial use. Fueled by the safer, cleaner and more reliable propane, LEHR products are designed to replace their gasoline burning counterparts and to stem the overflow of harmful pollutants that they produce. "We are an environmentally friendly technology company," Captain Herzer continued, "and propane is the absolute best alternative fuel solution we've found so far."

LEHR's mission is a reflection of Captain Herzer, its founder and spiritual driving force. Commissioned to do environmental research in the North Sea, he found a barren underwater desert completely ravaged by the technology used by the commercial fishing industry. Awestruck by the power that humans have to destroy their own environment and with his first child on the way, Captain Herzer knew he had to do something.

Aboard ship, portable gasoline powered generators drive everything from air compressors to scientific test equipment to running lights. Gasoline is dangerous to use, difficult to store and the carbon monoxide fumes it produces can have a devastating effect on the well being of a ship's crew. Galley stoves are powered by cleaner burning propane. "Why not the generators?" thought Captain Herzer. A great idea but, at the time, small generators that ran on propane were not being commercialized. Undeterred, Captain Herzer funded his own research. With desire, determination and an unwavering belief in the project, just 2 ½ years later, Captain Herzer found a way to make small, commercial engines run cleaner and more efficiently on propane. Patent applications were filed and LEHR was born.

Captain Herzer began researching potential applications for this breakthrough technology. Upon learning that traditional, gasoline powered lawn and garden tools, like a gas trimmer or a weed whacker produce as much as 30 times more hydrocarbons than a typical automobile in an hour of use, LEHR adjusted direction immediately and set its sights on lawn and garden tools. Inspired by the birth of his son, Captain Herzer knew this was where LEHR could make a difference by marketing better, safer, healthier and more efficient products, like a propane powered grass trimmer whose very use would have a positive impact on the environment.
By replacing traditional old technology lawn and garden tools with cleaner, greener alternatives, LEHR is helping to preserve our environment now and for future generations. "I can see, a time, in the not too distant future where all our gardens will be gasoline free," says Captain Herzer. At LEHR…that time is now.

ABOUT LEHR LEHR Incorporated (www.golehr.com) is dedicated to a cleaner planet through environmentally friendly technology. LEHR's lawn and garden tools are powered by propane, delivering all of the performance customers expect with none of the problems and inconvenience associated with the use of gasoline-powered lawn and garden tools. The LEHR family of products utilizes a patented technology, which ensures that they are the cleanest, greenest and most reliable tools on the market today.
So, would my husband and I recommend the LEHR Trimmer? You bet we would. Anything that is better for the environment, works great and does not break your back to start, is good in our books. I even had my Dad come over to the house and he got to try it out too!
PROS:
Propane is the fuel
Easy start
Light enough for me to use it
Propane lasts up to two hours
It is better for the environment
Is attachment ready and can use any standard brand attachments
Cuts very wells
As for the Cons, well, I really don't have any! LEHR also has a blog, so go and check that out and follow them if you are not already!
BUY IT: It is available at many stores including; Home Depot and Sears under the Craftsman label just click HERE to locate a store nearest you.
---
---
---
"Thank you so much, Penny at LEHR's, for allowing me to review this wonderful, eco-friendly product!"