*A Low Noise Dog Grooming Kit was received. This post includes my affiliate links.
Does your dog hate having his/her hair clipped? I know my dogs do! They get so paranoid and yawn a lot when they see me pull out the dog grooming kit! Poor things!
However, I was recently sent a low noise dog grooming kit and things have changed, for the better! Now my dogs do not hate being groomed. They are well-behaved and sit while I do my thing!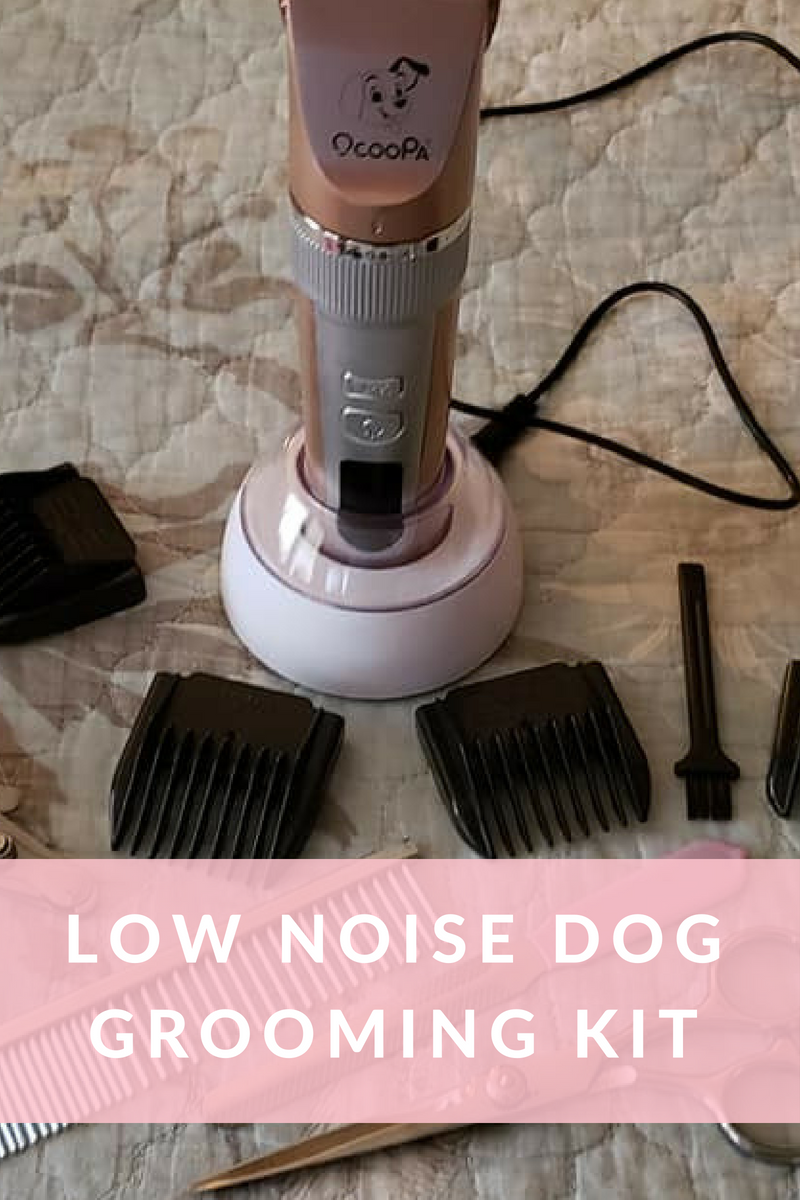 The OCOOPA Dog Grooming Kit, includes comb, scissors, nail clippers, nail files, guide combs and a cleaning brush. You can make a beauty for your pet, by the way, let it has clean nails and beautiful hair.
Low Noise Dog Grooming Kit Features
The low noise dog grooming kit is simple to use. The dog grooming kit has extra thick ceramic blades to collocate with a thin blade for alternative use and can shave rolls, straight, thick, thin, thick and sparse hair.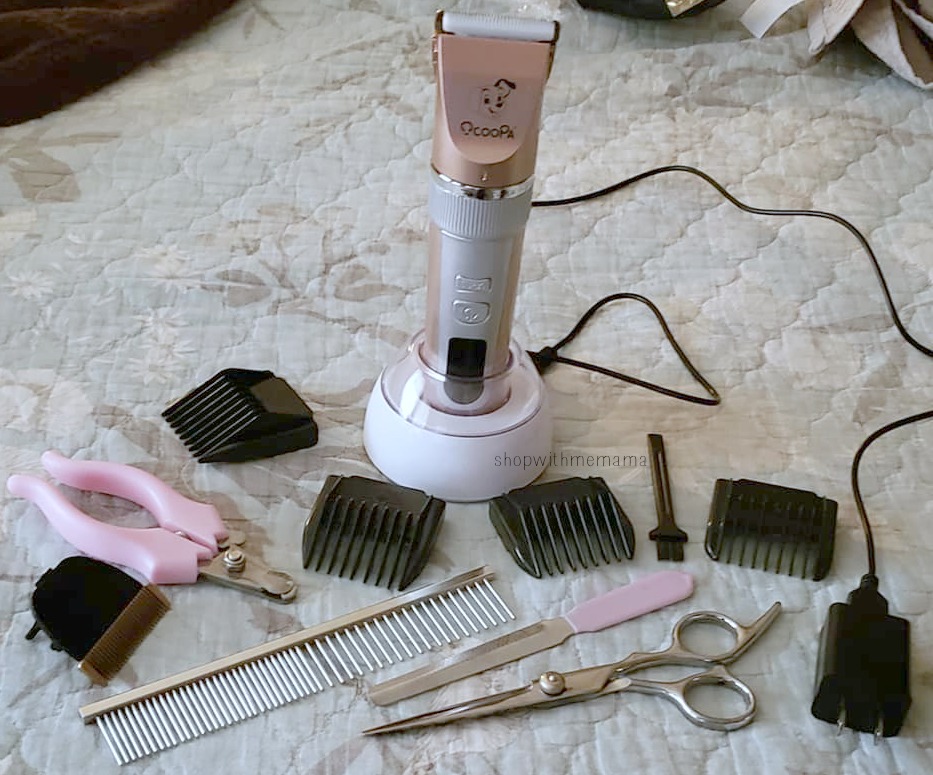 General electric clipper noise value is 50bd-60bd. With 50 bd, even if your pet is sleeping, you are able to trim and groom your canine. The Clippers are on a 360°charging seat, and connecting the USB cable, the electric clippers will start charging easily. These clippers have high and low speeds (6000BRP/7000 BRP).
Extra Accessories
This dog grooming kit comes with an adapter, charging cable, and 360°charging seat. Make it easy for you to charge anywhere and enjoy a good charging experience. I love the little convenient bag it comes in too! So nice for when you are traveling and going to dog shows. It keeps everything in place.
There is also a 24-month warranty so you will have peace of mind when you purchase this dog grooming kit. I loved that it came with a warranty because you never know what can happen later on.
This is a great dog grooming kit and I like how quiet it is when I use it on my canines. The clippers feel strong and are easy to use. The clippers are great on my moving dog. No cuts or scrapes from using it. I like the accessories that come with this low noise dog grooming kit. The nail clippers are great. The metal stainless steel comb is strong and great for helping to comb through your pet's hair so you can trim/cut it. The hair scissors are sharp and durable.
So funny, the first dog we used the clippers on, he turned onto his back and just laid back and enjoyed his hair being trimmed! He was SO relaxed (see pic below!). We did not have to trick our dogs with a dog treat because they were already so relaxed!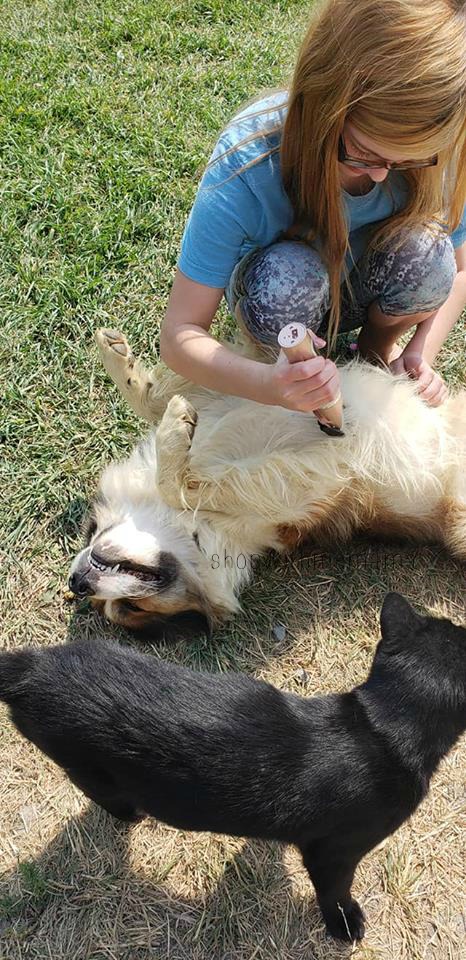 Our second dog we used it on sat up and/or stood and just closed his eyes. I could tell he was relaxed and feeling great! He was not trying to run away or get away from us! I love these clippers! Now just to wash these dogs and blow dry them!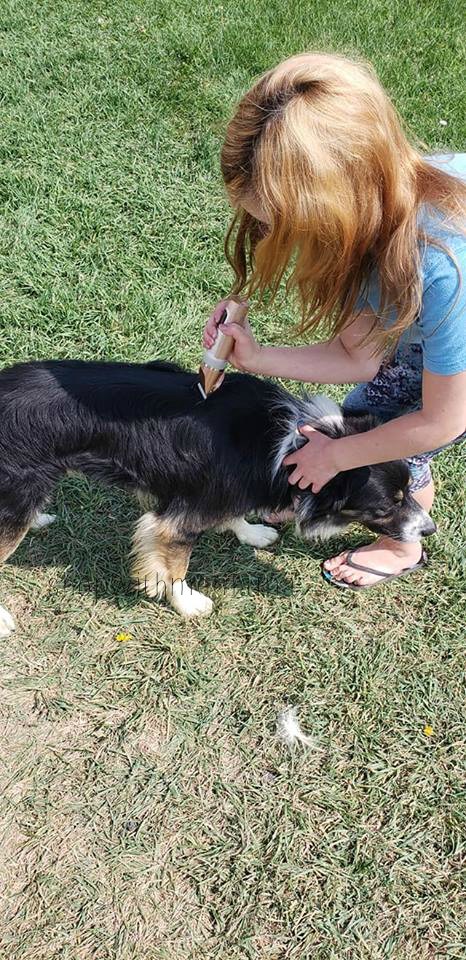 Coupon Code!
Here is a 40% off the dog grooming kit on Amazon! Use the coupon code: 39SFL6MI for 40% off this kit!
Buy
You can purchase the low noise dog grooming kit on Amazon.com. It retails for only $34.99 but if you use the 40% off coupon code above, you will get it for so much cheaper! Go now because the coupon code will expire on August 15, 2018!!
Win
One lucky person is going to win this low noise dog grooming kit! Yay!
Rules
The contest is open to US 18+. Giveaway will end on August 31, 2018, at 11:59 PM MT. Winner will have 48 hours to confirm their win after I email them, or a new winner will be chosen. I am not responsible for lost or stolen mail.