Are you into luxurious essential oils? I am a big fan of essential oils and love experimenting with them! Nothing is better than natural, right? And GuruNanda has an assortment of these wonderful and luxurious essential oil roll-ons that I wanted to share with you today! We love how easy they are to use!
*This post includes my affiliate links
The Luxurious Essential Oil Roll-Ons From GuruNanda just made their debut and they are amazing. GuruNanda came out with their new Kissed Exotics Collection and I was very excited to check them out! However, now they don't carry these roll-ons anymore and so I have found other brands that do! We love the ease of roll-on essential oils, it really makes our life a bit easier and who doesn't love easier??
Essential Oil Roll-Ons
The new Kissed Exotics Collection from GuruNanda, includes five luxurious essential oil roll-ons with a wealth of aromatherapy and wellness benefits in a single, elegant box.
GuruNanda is a leading farm-to-consumer purveyor of essential oils sourced from the purest botanicals and the world's top growers. The delicate yet powerful essential oils featured in this giftable set can be used to inspire euphoria, calm the mind, open the heart, and defy age.
These Essential Oil Roll-Ons can also be used as natural perfumes thanks to their breath-taking aromas. Best of all, Exotics roll-ons require no mixing, diluting or diffusing; each roll-on is portable and ready to use! I like to carry a couple in my purse for on-the-go use!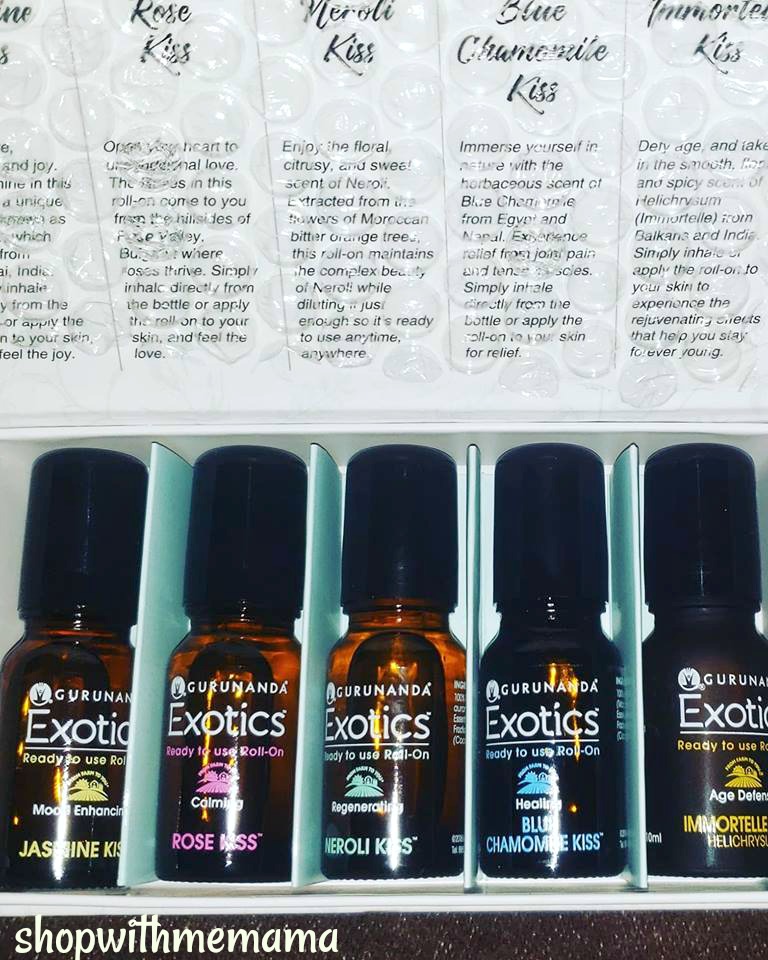 Essential oils are good for SO many things! For one, I love diffusing my essential oils in my ultrasonic diffuser! I do this year round and not only does it help my home smell good, but it also can help me and my family breath better (eucalyptus essential oil is great for that!) and other great benefits!
In a warm bath. This is one of my daily routines and I love it. I will add a few drops of Lavender Essential Oil to my bath water and just relax in my bath for 1/2 hour. This is MY time to unwind from the long, exhausting day filled with loud kids and work! It really helps make me feel more relaxed and gets me ready for bed.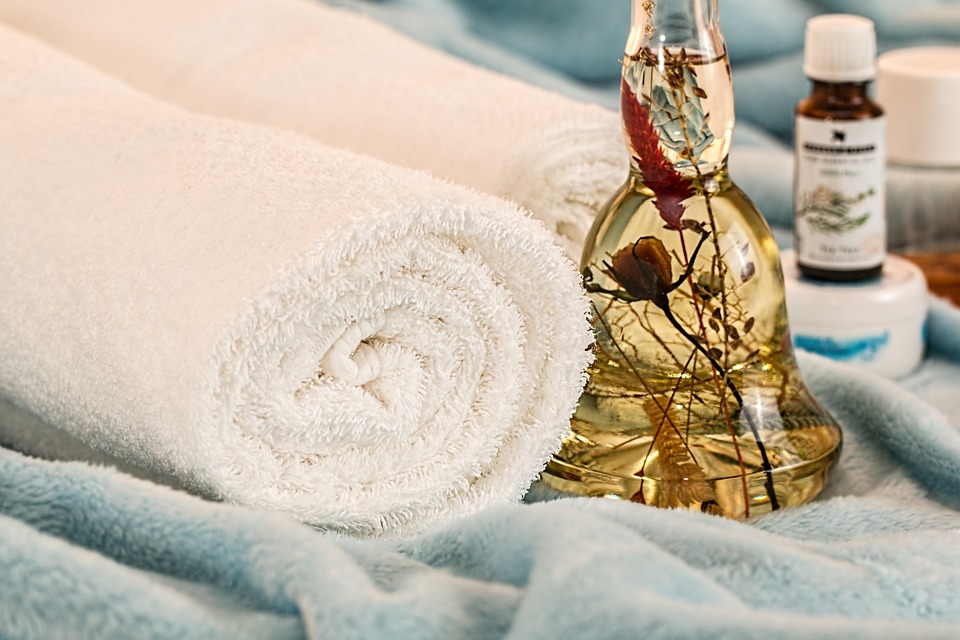 Diffuse Them! I LOVE diffusing my essential oils. Diffusing Essential Oils into your air can help tremendously with stress, cold/flu and just making you feel better, overall. I use anywhere from 3-5 drops of essential oils in my diffuser, add the water and turn it on.
Cuts And Scrapes. Instead of using other household first aid care products, I will use Essential Oils on my kids, hubby and my cuts and scrapes and canker sores. We mainly use Tea Tree oil, but we also will use lavender oil, Rosemary, and clove.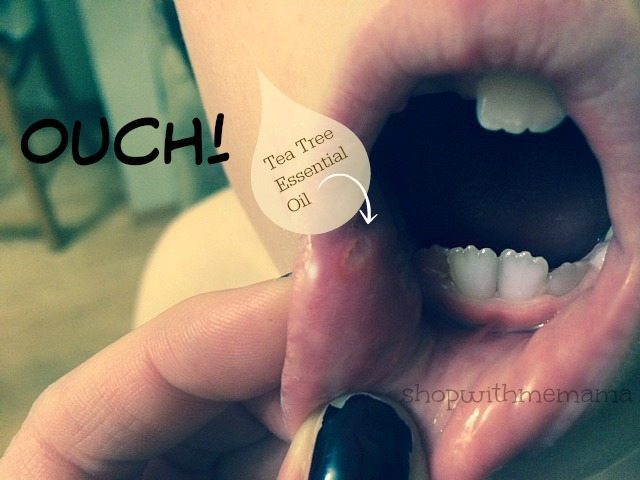 Help With Allergies. We tend to have a lot of seasonal allergies around here. Lots of sniffles, runny noses, sneezing, itchy and watery eyes and more! I hate it. But by using frankincense and lavender on your palms, then holding your hands up to your face and inhaling deeply, this helps to relieve itchy eyes and throat. It really works, try it!
Make My Own Natural Insect Repellant for the summer months. This DOES work. I never buy insect repellant anymore, we make our own with essential oils. I combine a drop of lemongrass essential oil, 1 drop of citronella essential oil and 1 drop of eucalyptus essential oil with one teaspoon of coconut oil and mix it really well. Then, apply this natural bug spray and rub on your skin!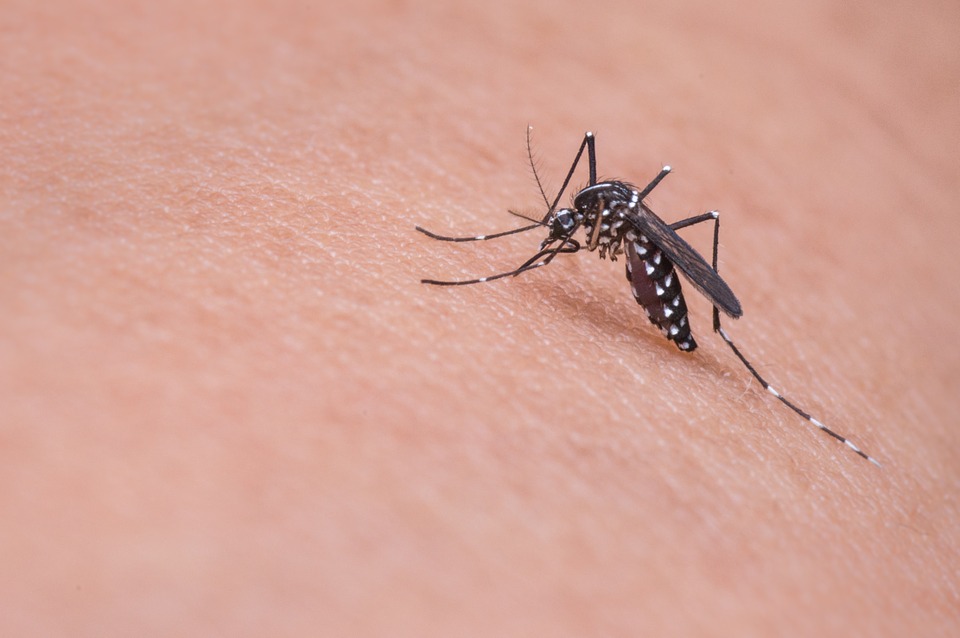 See? There are SO many ways to use essential oils! Why not give them a try? You have absolutely NOTHING to lose. I have even made body scrub and soy candles using my essential oils!
I love love love the new Luxurious Essential Oil Roll-Ons From GuruNanda. The Kissed Exotics Collection makes applying essential oils so dang easy! I can apply essential oils from anywhere!
About The New Kissed Exotics Collection Essential Oil Roll-Ons :
Their Premium KISSED COLLECTION set is the perfect gift for anyone who is in love with Aromatherapy and Essential Oils. This set comes with 5 Beautiful Exotic Kiss Roll-Ons (Neroli Kiss – Blue Chamomile Kiss – Immortelle Kiss – Rose Kiss – Jasmine Kiss)

ORIGIN: Nepal/Egypt, Morocco, Bulgaria, India, and Balkans. They source their farms where the plants are indigenously grown. This ensures the greatest therapeutic strength.

THERAPEUTIC PROPERTIES: Healing – Rejuvenating – Regenerating- Enhancing – Relaxing – Calming – Toning – Sedative

AROMA: Chamomile is known for its floral aroma and often used as the main ingredient in bedtime tea. Neroli is known for its floral aroma and often used as the DIY Deodorants, Perfumes and Room Sprays. Rose is known for its highly fragrant floral aroma that uplifts the mood and provides a euphoric atmosphere. Jasmine is known for its highly fragrant floral aroma that uplifts the mood and provides a euphoric atmosphere. Helichrysum is known for its sweet aroma.

They offer a 100% Satisfaction Guarantee. They can offer a satisfaction guarantee because of their rigorous quality control. Every oil is gcms tested for quality and purity. They test every batch in-house and with an independent 3rd party laboratory. They do this because they believe their customers deserve the highest quality oils.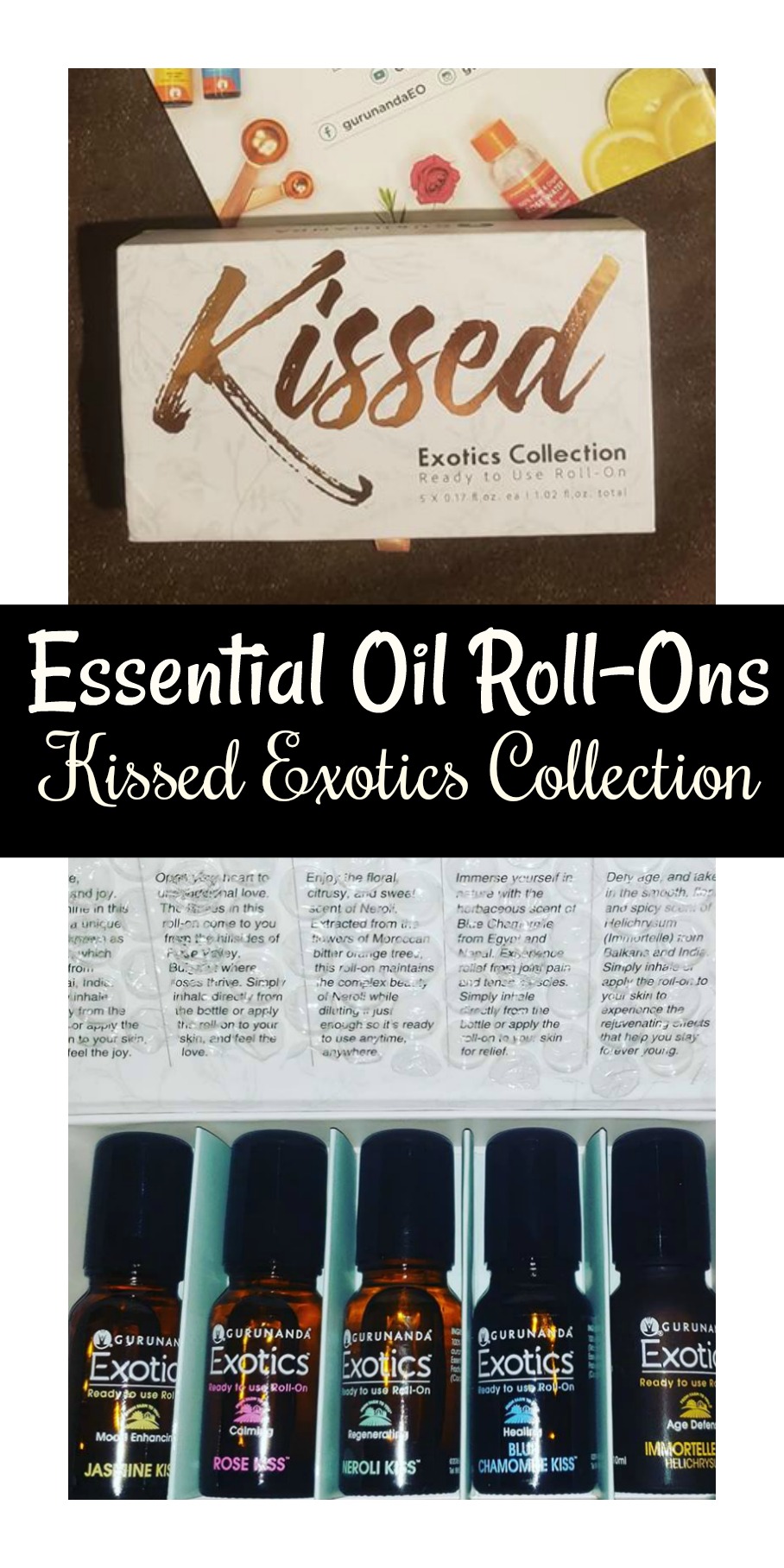 Try GuruNanda Therapeutic Grade Essential Oil Roll-Ons if you've appreciated products by ArtNaturals, doTERRA, Radha Beauty, Natrogix, Majestic Pure, Lagunamoon, Artizen, Healing Solutions, or Plant Therapy.
Buy
You can purchase Luxurious Essential Oil Roll-Ons From GuruNanda, The Kissed Exotics Collection online at Amazon.com. The collection retails for $49.99. This would also make a perfect Christmas gift for a loved one who enjoys natural products!
Win
One person is going to win the Luxurious Essential Oil Roll-Ons From GuruNanda, The Kissed Exotics Collection!
Rules
The contest is open to US 18+. Giveaway will end on October 23, 2018, at 11:59 PM MT. Winner will have 48 hours to confirm their win after I email them, or a new winner will be chosen. I am not responsible for lost or stolen mail.