Do you love to drink almond, cashew, or other nut milk? Then you NEED to know about the Nutr Nut Milk Machine! This machine is AWESOME and turns raw nuts into milk, in under 10 minutes! I was SO impressed by the whole process that I wanted to share it with you all! Check out my video to see the Nutr Nut Milk Machine in action and see how easy it is to make fresh, homemade nut milk at home.
*This post includes my affiliate links
Nutr Nut Milk Machine
A fresh glass of plant-based milk can be as simple as nuts and water and made in a matter of minutes. Really. When you're looking for a plant-based milk maker for your kitchen, Nutr lets you make your own, very quickly. Why waste money at a grocery store when you can make your own tasty milk beverages? Groceries are becoming more and more expensive, so invest in this little nut maker machine and start saving your money. The nut milk maker is perfect for a variety of drinks—including nut and plant-based milk, coffee creamers, hot drinks, smoothies, and more!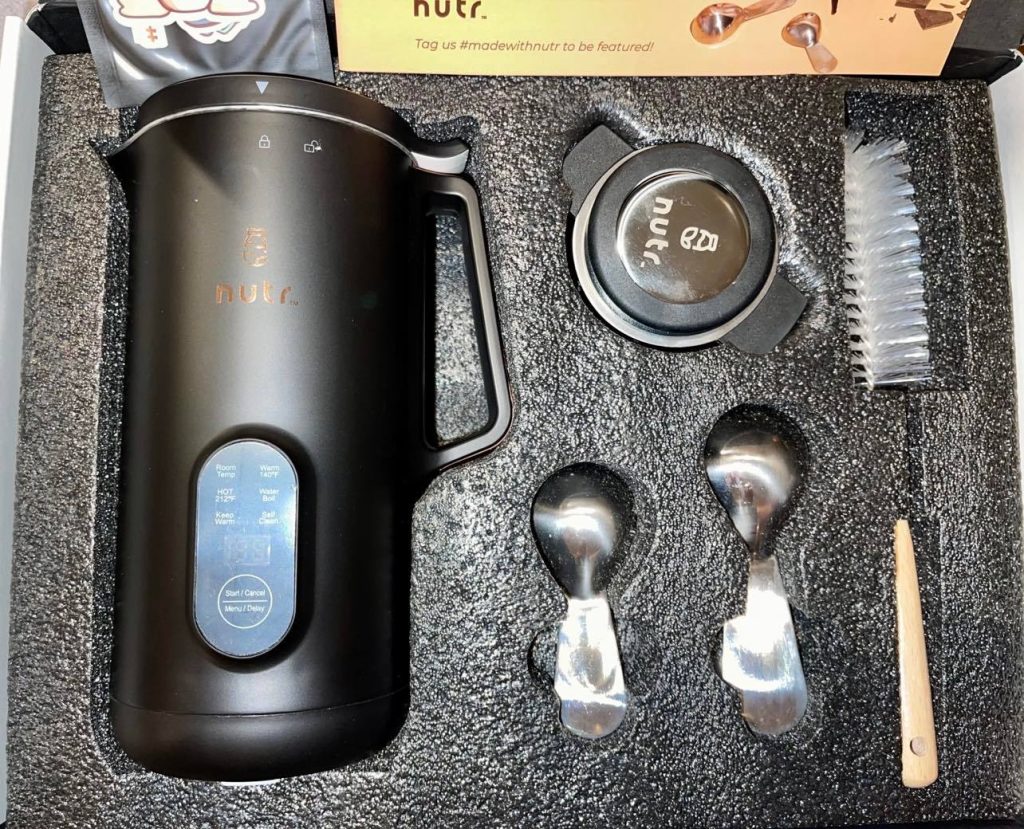 If you're looking to create a more sustainable planet for the future, let the nut milk maker support your mission! Nutr will plant a tree for each one of our machines sold. How cool is that??
How Does the Nutr Nut Milk Machine Work?
With these 3 easy steps, and at the push of a button you will have homemade nut milk. Yep, it is that easy! This nut milk machine is Designed to work with a variety of ingredients, this nut milk machine creates a tasty, creamy milk everyone at home will love!
Step 1:
Simply add 1 scoop of preferred nuts. A singular nut, seed, or grain will do – or a blend!
Step 2:
Fill the Nutr Machine with water between the min and max line, based on your preference of creaminess and quantity.
Step 3:
Choose the temperature (hot, warm, room temp) and blend for a few minutes! To remove the pulp, pour the milk through the provided strainer – or enjoy your milk with the nutritious pulp!
That is IT!!!
I made fresh homemade almond milk and was SO very impressed with not only how fast it was made but the quality and taste of it! Next time, I will experiment a bit and add a touch of vanilla extract to it for a little taste. It also comes with a helpful cookbook with recipes on some very delicious ideas on how you can make your nut milk! So helpful!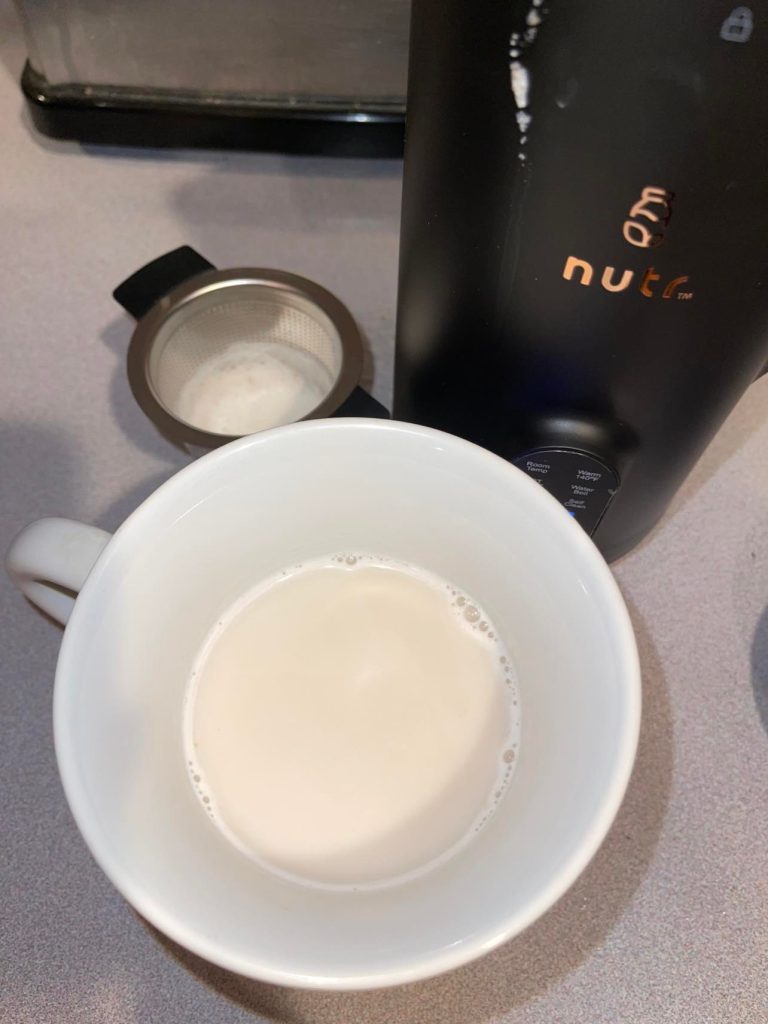 What Does The Nutr Milk Machine Come With?
– Nutr Machine
– 2 stainless steel measuring scoops
– Stainless steel filter that fits in any size cup (with a cap/rest to avoid mess)
– Cleaning brush for the machine
– Recipe book to create your own nut milk
Why Nutr
Powerful blades for better-tasting & creamier nut milk
Versatile uses for nut & plant-based milk, plus smoothies and food recipes!
3 heat & blend settings (room temp, warm & hot)
Compact for your counter to make a fresh, single serving of milk
A more sustainable option by ditching the emissions-heavy dairy industry and store-bought milk cartons.
Living healthy made easy, know exactly what your nut milk contains!
The Nutr Nut Milk Machine comes in black with rose gold accents or white. I received the black one!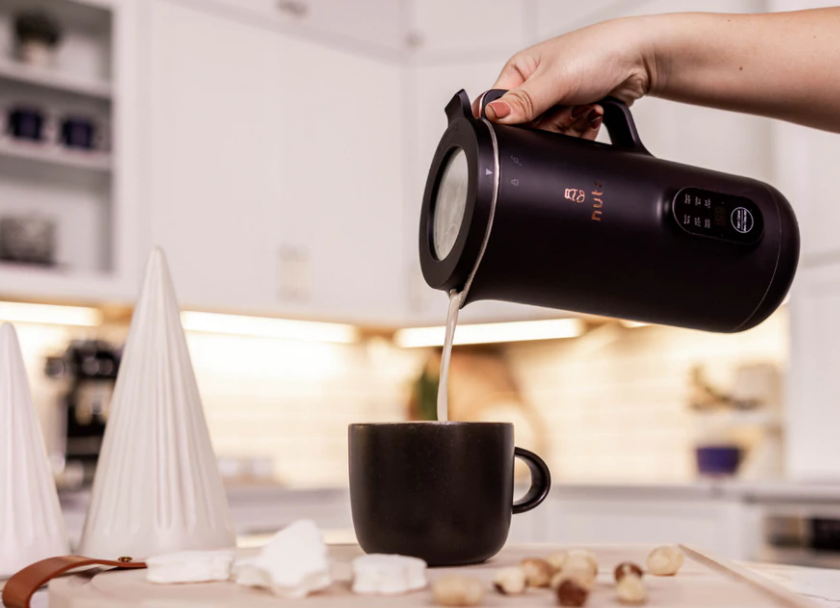 Buy
You can purchase the Nutr Milk Nut Machine online at thenutr.com. It retails for $169.
Shop the Living Collection of Bottles, Jars and Mugs at TheNutr.com
Win!
One person is going to win a Nutr Nut Milk Machine, yay!
Rules
The contest is open to US 18+. The giveaway will end on April 24, 2022, at 11:59 PM MT. The winner will have 48 hours to confirm their win after I email them, or a new winner will be chosen. I am not responsible for lost or stolen mail. By entering this giveaway you are giving me permission to share your email with the sponsor/brand.