The information and prize pack have been provided by General Mills through MyBlogSpark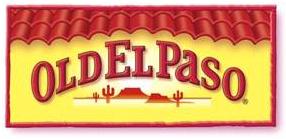 Who doesn't love a good ol' fiesta right in their kitchen? So many people host that 'Taco Tuesday' and we are no exception to that rule! We love our tacos, soft tacos and more! YUM!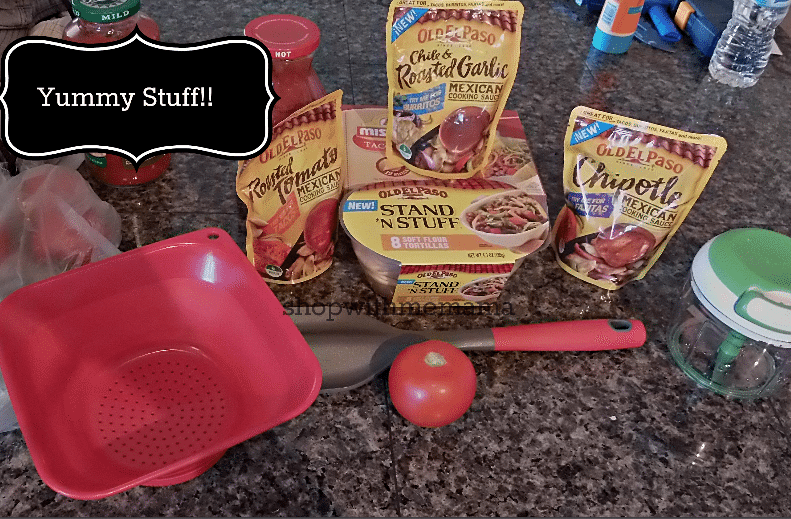 With summer here and people not really wanting to cook too much, tacos are a great choice! They are super easy to make, require not much cooking and they feed an army of humans!! Love it 🙂
I received a delicious gift package from General Mills through MyBlogSpark! It contained the following goodies in it:
* 1 container of new Old El Paso
Stand 'N Stuff
Soft Tortillas
* 1 of each flavor of new Old El Paso® Mexican Cooking Sauces – Chipotle, Roasted Tomato, Chile & Roasted Garlic
* Collapsible colander
* Veggie chopper
* Chop turner utensil
* $10 gift card to buy additional taco ingredients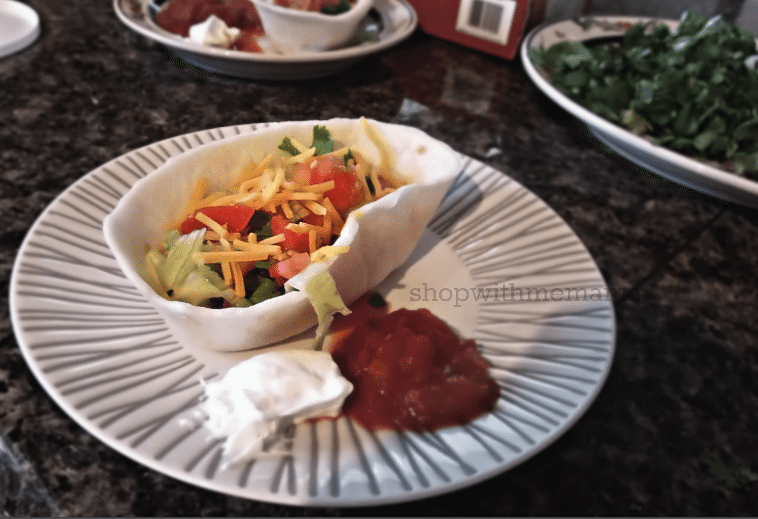 So, a few days ago, I got super busy on preparing a taco Tuesday to remember, for my family! And, guess what? It was a HUGE success 🙂 Yay!!!
I absolutely love me a good soft taco and the Stand 'N Stuff Tortillas
 are PERFECT for me!!! They are a soft flour tortilla that stands up (duh!) and you can stuff them super full and the still will stand up!! You can put them in the oven to warm them up and then stuff 'em with all the taco goodnesses you can think of!!
I also used the Old El Paso Mexican Cooking Sauce, Roasted Tomato, in my ground meat that I cooked. I love the flavor of it and the fresh flavor it brings to my tacos! Very good. I have only tried this sauce though, I have yet to try the others that I received.
I also have to talk about the Chop Turner Utensil that this kit came with.. BEST invention EVER, seriously. It chops up your ground meat sooo well and is easy to do! No more getting my hands soiled with raw meat, because I have to use my hands to break up that meat. I was/am really happy with this utensil!
On the other hand, the veggie chopper that this kit came with sucked 🙁 It would not chop a thing and the blades were sooo flimsy that it fell apart! So, I used my handy-dandy sharp knife! Oh well!
Family taco night just got easier!
Introducing Stand 'N Stuff® Soft Flour Tortillas and Mexican Cooking Sauces – two new products from Old El Paso® that add fun, versatility and convenience to your dinner routine.
Stand 'N Stuff® Tortillas  are so easy to fill, hold, and eat that your kids might even leave less food on the floor!
Stand 'N Stuff® Tortillas make it even more fun to spoon in your favorite fillings.
New Mexican Cooking Sauces bring you complex Mexican flavor that would take days to make from scratch, delivered simply via roasted vegetables and traditional Mexican spices. These versatile cooking sauces taste great with your favorite meats or veggies, and are perfect for traditional Mexican meals or for adding a Mexican flare to other recipes.