This article is all about how to use body scrubs and get the softest skin EVER! If you're looking for a new way to exfoliate your skin, look no further than OSD Beauty's vegan body scrubs! Their body scrubs are made with natural ingredients that will remove dead skin and leave your skin feeling soft and smooth.
They carry two yummy scents to choose from, so you can find the perfect one for you. Don't miss out on these amazing products and get the softest skin ever this summer and beyond!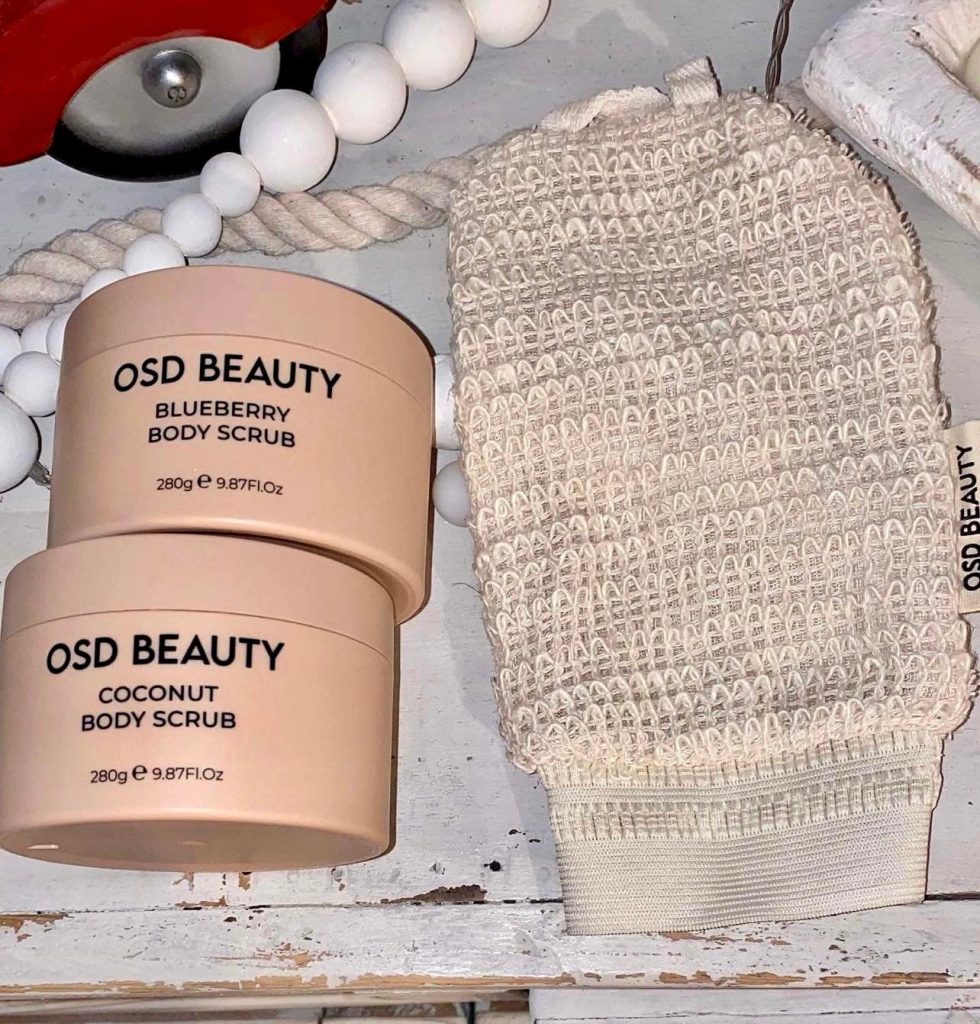 I received both of OSD Beauty's body scrubs and they are absolutely wonderful! YOu can tell when I REALLY love a product because I can't find enough words to describe how much I love them! This is one of those products!
I wish they made more body scrubs in different scents because I would buy them ALL. Right now, they have their body scrubs in two different scents; Coconut and Blueberry! Oh my word, they are AWESOME!
Polish away dull skin with their vegan products! OSD Beauty body scrubs exfoliate dry, dull skin revealing your softest skin ever. I use this EVERY night and my skin has NEVER been this soft, EVER. I am not just saying that either, it is true. They are such great exfoliation products!
How To Use Body Scrubs
This is a salt-based body scrub and this is how to use body scrubs:
– You can either wet your skin in the shower or bath OR you can put it on dry skin while in the bath or shower. I like using it on DRY skin because it seems to really get my skin SOFT and exfoliated.
It is harsher this way but it will definitely get your skin SOFT and will exfoliate any dry skin or leftover self-tanning cream.
If you use it on damp skin, then it kind of foams up a bit and still exfoliates really well and your skin will be just as soft as using it on dry skin! It is great for both
– Apply a generous amount of scrub to your skin, using circular motions. I even use these body scrubs on my face! My face is SO soft! Of course, if you are prone to breakouts, then do a patch test and see if it makes you break out. But, I have not broken out yet!
– Rinse off the scrub thoroughly
-When you get out of the bath or shower, only pat your skin dry. That way, you keep all the natural oil from the body scrub, on your skin! It is like you put body oil on (but not greasy AT ALL).
You don't need any body lotion at all when you use this body scrub because it makes your skin SO dang soft! My hubby can't keep his hands off my skin because it is so soft lately! You will have such smooth skin!
*Use body scrubs a few times a week to remove dead skin cells and improve the quality of your skin from head to toe.
My daughter has sensitive skin and she uses this body scrub too. So, if you have sensitive skin I am guessing you can use it too! I would say it works on whatever skin type you may have. Maybe do a patch test first just to make sure it doesn't bother your skin!
Get a Perfectly Sunless Tan!
Since I use sunless tanner allllll the time, I always need to exfoliate the day of using my sunless tanner. This body scrub is the BEST one I have found so far that not only exfoliates my skin for that perfect sunless glow.
BUT also puts moisture into my skin so that when I do put on my sunless tanning mousse, my skin won't dry out and my sunless tan will be even because there is no dry skin hanging on my body! I get the BEST sunless tans EVER because of this body scrub!!! I have perfectly prepped skin for my sunless tan! Love it!
Cruelty-Free Body Scrubs!
All of OSD Beauty's current products (and upcoming ones!) are not and will not be tested on animals which I loved to find out! Their product, packaging, and manufacturers are and will be absent animal ingredients too. I was so pleased to learn this because I really love this brand so much!
OSD Beauty Coconut Body Scrub!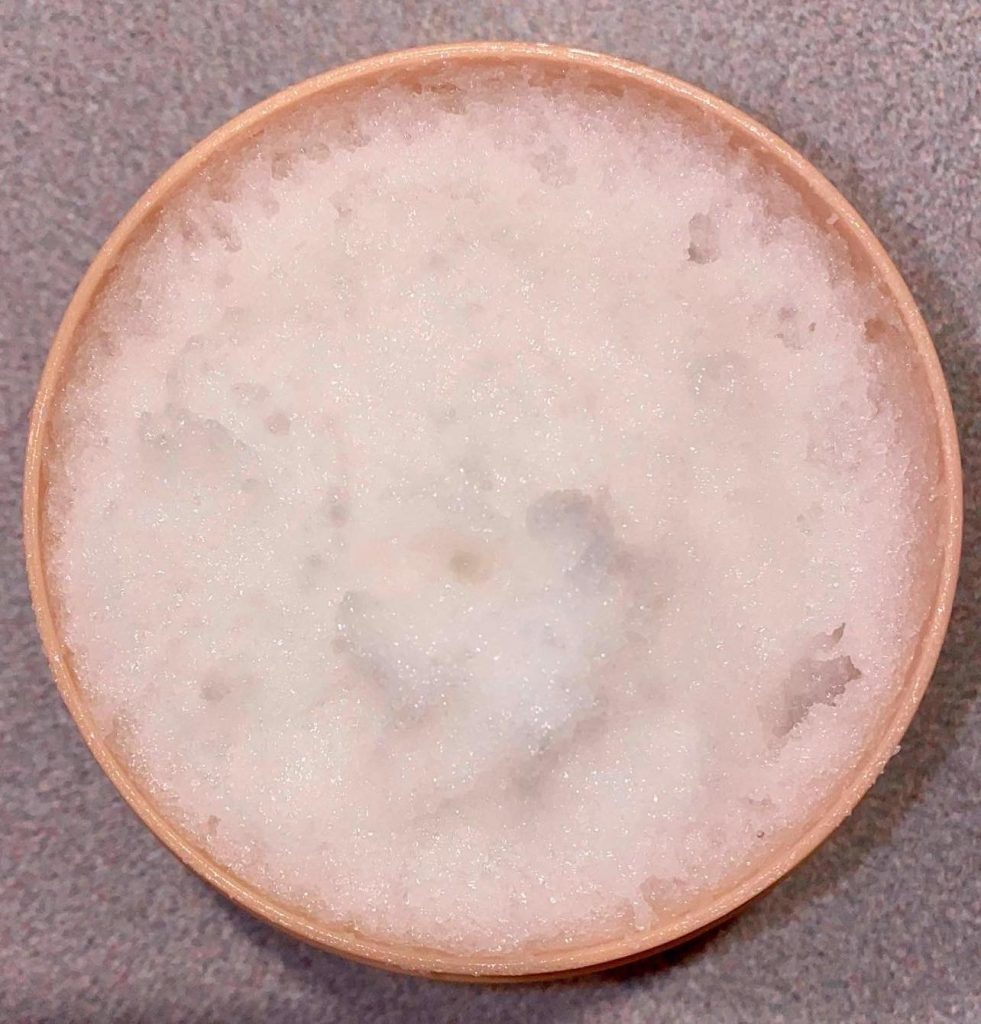 Coconut body scrub exfoliates your skin, promoting better metabolism, and cell regeneration. Coconut oil rich in antioxidants moisturizes dry skin and helps keep skin flexible. This body scrub smells so good just like I am on the beach in Hawaii surrounded by coconut trees!
Calendula and other plant extracts promote skin tightness, which reduces day-to-day damage, and it increases hydration within the skin which soothes the look of the skin. Gently exfoliate, removing dry and dead skin cells while promoting fresh, healthier, and younger-looking skin.
OSD Beauty Blueberry Body Scrub!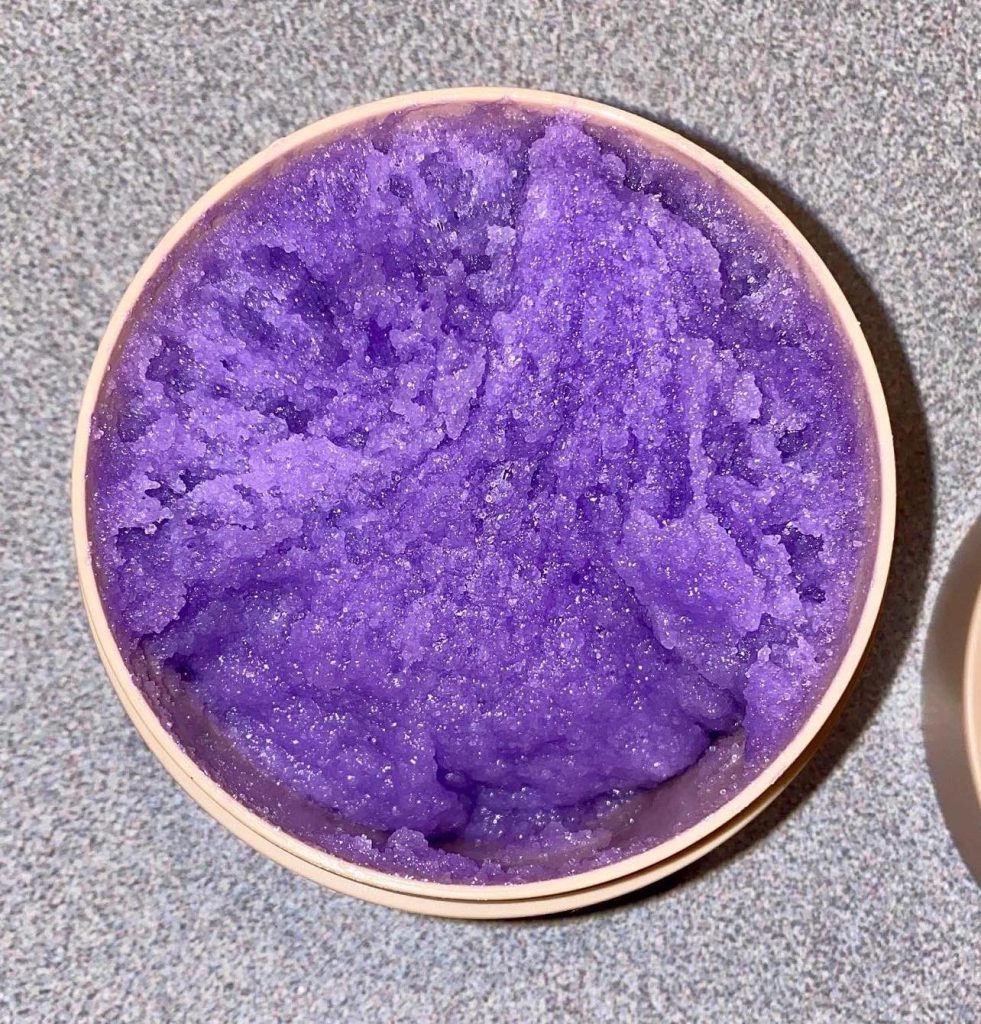 Their Blueberry Body Scrub has an invigorating mix of sea salt and nourishing oils to boost skin luminosity and smoothness. Antioxidant-rich blueberries can help soothe damaging inflammation, preserve skin health, and prevent the signs of skin aging.
The rich, precious oils such as blueberry seed oil and jojoba oil make it perfect to nourish and soften skin. Leaves your body looking and feeling younger and fresher than ever before. This blueberry body scrub smells just like fresh blueberries! OMG, I just love this sea salt body scrub so much!
Of course, I am almost out of both body scrubs so I am going to buy them both again because I literally can't go this whole summer without this body scrub, it is that good. I NEED this stuff now! It is truly the best.
Body Scrub Exfoliating Mitt!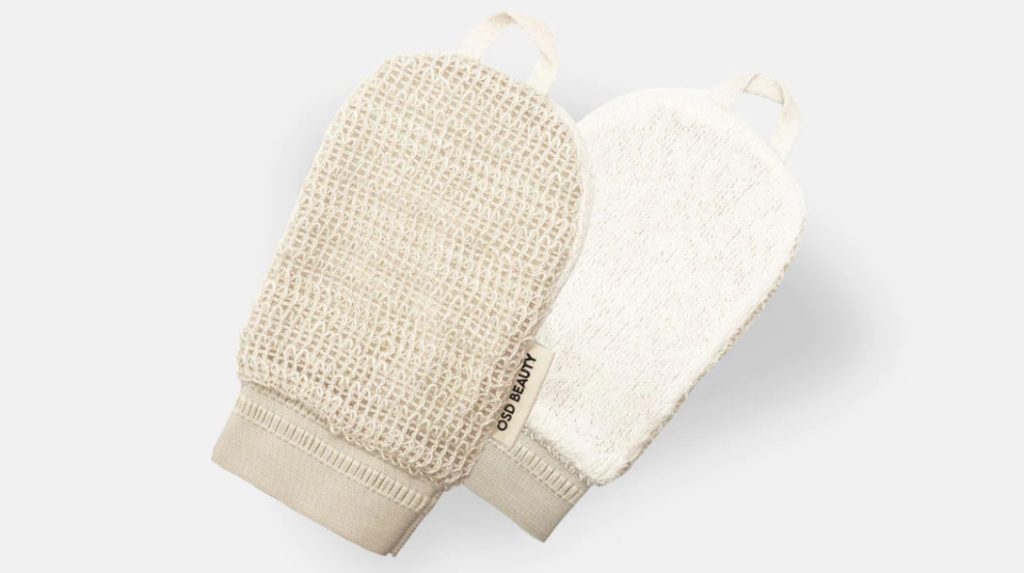 I need to talk about this exfoliating mitt too! I can't leave that out! This exfoliating glove gently scrubs away dead skin cells revealing soft, smooth, and beautiful skin.
Pair with one of the body scrubs for an experience like no other! If you only need a gentle cleanse, use the micro-fiber side. Need a deeper cleanse that day, go for the exfoliating side! This glove paired with the body scrubs will literally leave your skin SO SOFT. I cannot recommend these products enough!
These OSD exfoliating body scrubs seriously need to be in your daily skincare routine and body care routine this summer and beyond! If you want the softest skin you have ever had, I highly recommend buying and using these body scrubs! I promise you will thank me later!
All About OSD Beauty
OSD Means 'Only Skin Deep'. They want to change the meaning behind the word 'beauty'. They believe self-care of the body is mental, emotional, and physical. Beauty is not only a physical concept but a mental and emotional one as well.
Self Care requires all three! While taking care of your outer appearance you are able to treat your mental and emotional state too. When loving yourself, you shouldn't have to choose between internal or external beauty. OSD Beauty wants you to choose both!
OSD Beauty wants to empower all of its customers by letting them take a moment of ease and think about what's important and that is YOU!
Shop!
You can purchase the OSD Beauty Coconut Body Scrub or their Blueberry Body Scrub online on their website: OSD Beauty. The body scrubs retail for $24.00 each. The exfoliating glove retails for $6.50. I can't wait for them to come out with more scents of body scrubs because I will buy them ALL!