*Product was received, however all opinions are mine. This post contains my personal affiliate links.

Now that my kids are a bit older, they like to do fun and daring things, sigh. They love playing outside and they love going on adventures in our fields.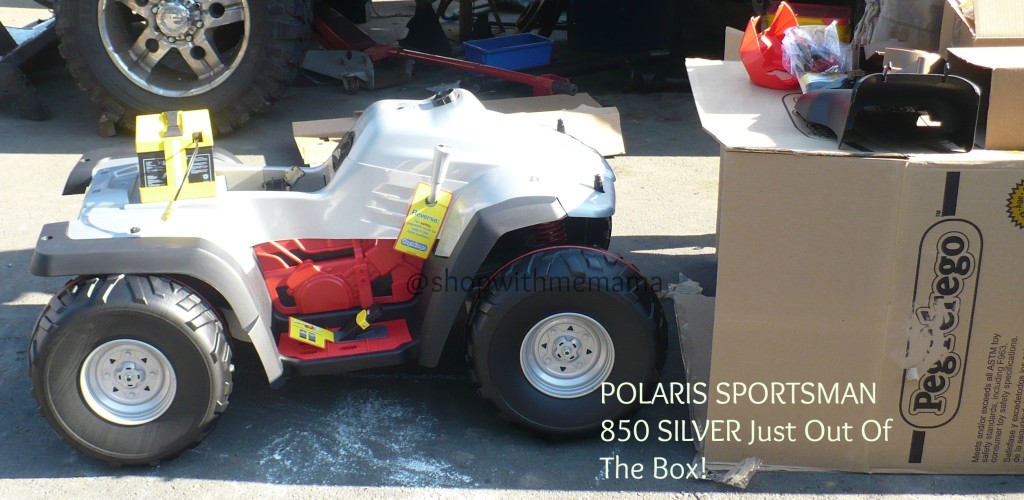 Sometimes, the terrain is too harsh (LOL) and they get tired and don't want to finish their adventures. They have brought their bikes a few times, but that also gets quite tiring as then they have to push their bikes up the hills and that is NO fun! Especially on these last few hot summer days!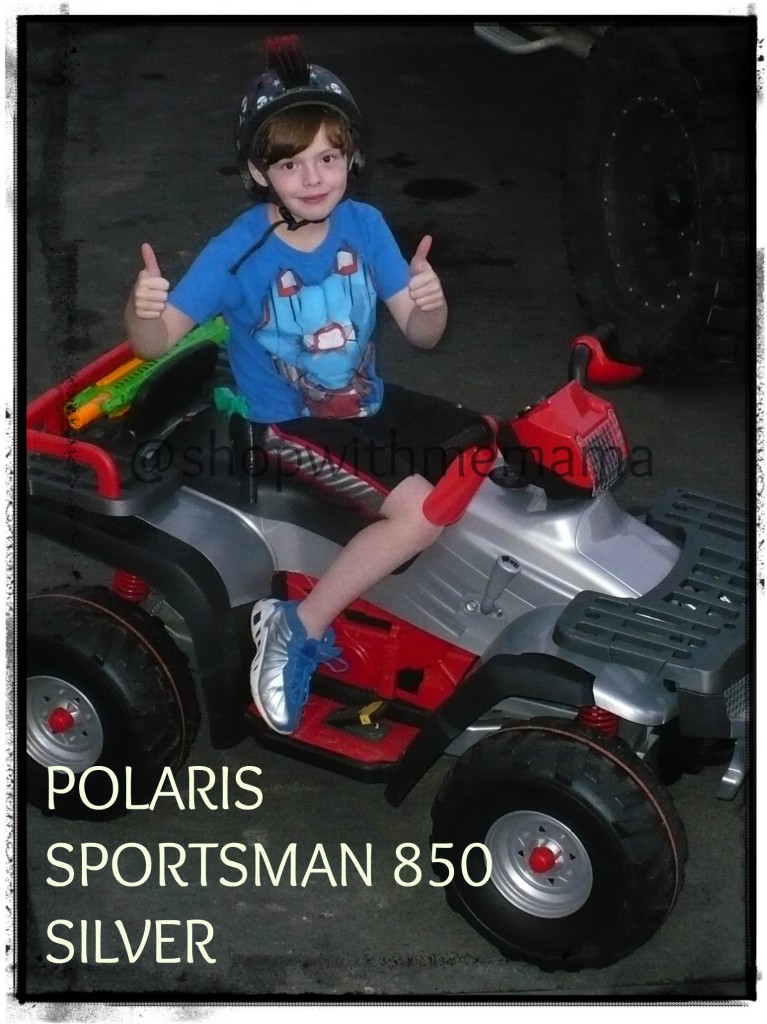 So, when I was asked to review the Peg Perego Polaris Sportsman 850 ATV in Silver, heavens, I literally jumped at the chance! I knew my kids would be sooo excited to have this for their many adventures!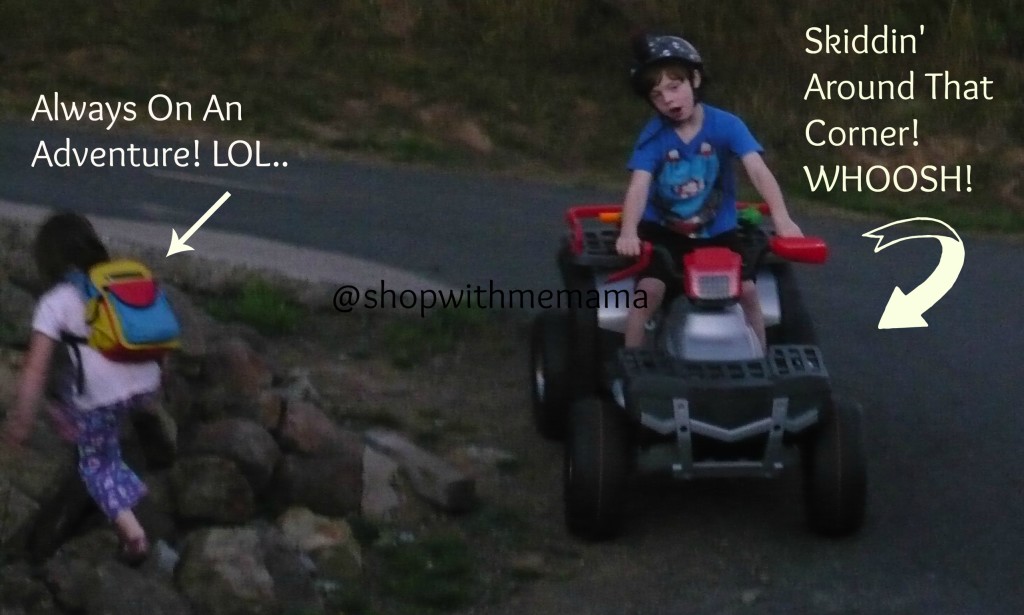 When this arrived, my kids had to wait until daddy got home to assemble it. You have to put some things on it and the stickers and that is something I left up to my hubby. Then of course you have to charge that battery! My kids waited, but oh so impatiently!!!!! When it was finally ready for them to ride, they were more than ready to take it for a spin!
I love how the Polaris Sportsman 850 has a place for a second person to ride with the flip-up rear seat. Having two kids, I NEED to be able to have two of everything OR a place for a second child to ride OR I will have fits and crying/screaming fights, sigh. So, knowing that this had a seat for an extra person was perfect! My son and daughter take turns riding each other around the yard and into the fields of adventure! When their friends come over, they ride them around too! This goes 3½ to 7 mph on grass, dirt or hard terrain.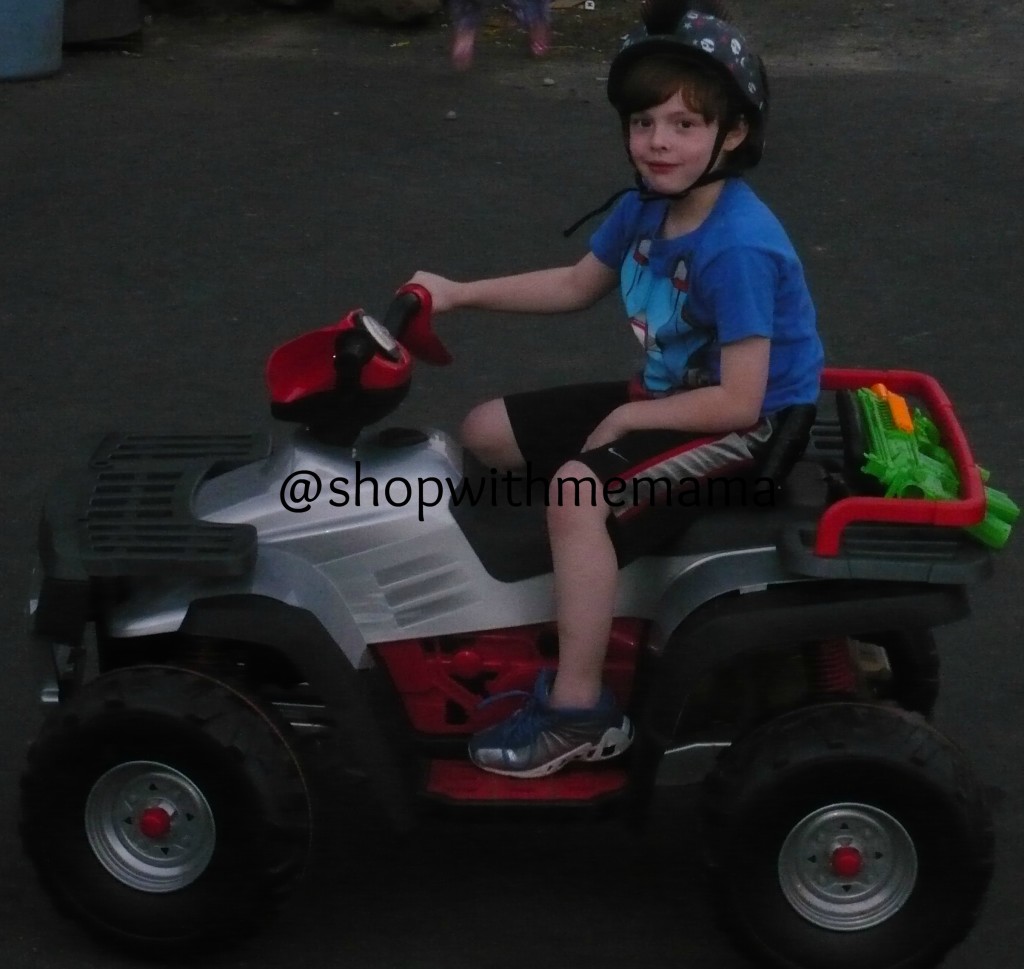 We also have a steep, paved driveway that my kids LOVE to go flying down (gives me a heart attack EVERY time, sigh..) and then at the end, they turn the handle bars and make it skid sideways… UGH. Fun for them, not so much for ME.
The Peg Perego Polaris Sportsman 850 Silver really has some power to it. It goes up hills with ease and flies down hills perfectly. My kids ride this ragid and so the battery life lasts about 1 hour of full on riding, before it starts to die down. Then the I hook up the battery and charge it so they can do it all again!
The battery compartment is under the seat and it is a very tight fit for the battery. So you kind of have to wiggle the battery around in order to get it into the right area. I have pinched my finger a few times doing this, but now it is easier and my son can put it in. Maybe we loosened it up? Not sure.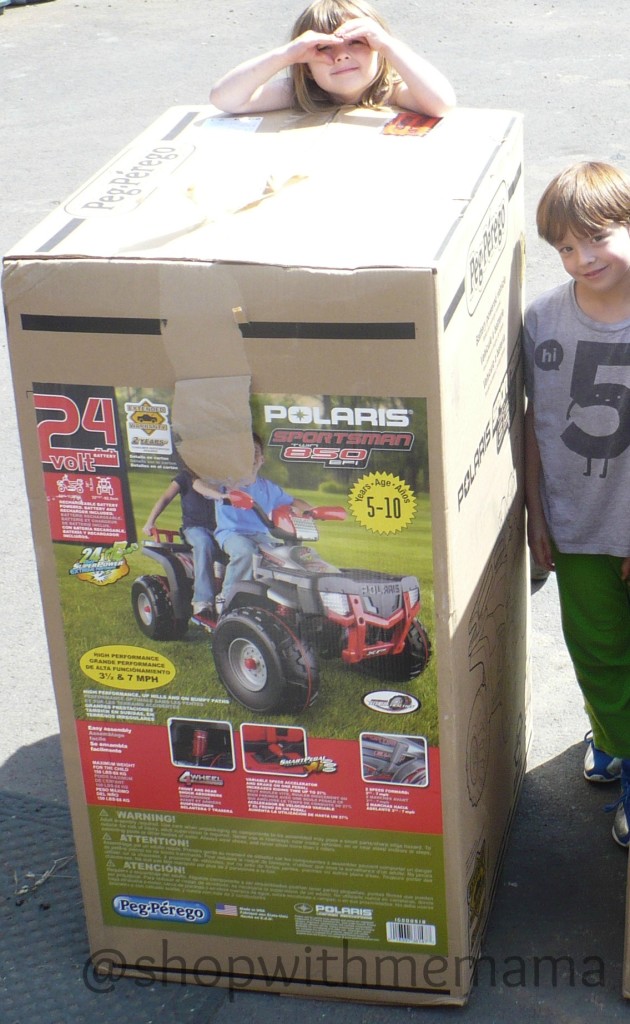 Your child can easily go forward or backwards using the lever on the side of the Polaris. It can easily be switched from  3½ to 7 mph, with that same lever. Everything is easy to reach and my kids have been having a blast on this!!
This is really very cool and man I wish I had this when I was a child! I remember BEGGING my parents for a simple pedal car when I was young!! I never got one, so I had to resort to mowing my dad's ride on lawn mower, to feed my fantasy!! LOL..
POLARIS SPORTSMAN 850 SILVER FEATURES:
High Performance Special High Performance Rechargeable Battery Powered ATV.
2-Speeds 3½ to 7 mph on grass, dirt or hard surfaces (7 mph lockout for beginners).
Reverse Switches easily to reverse mode, just like the real deal.
SmartPedal variable speed accelerator for control and longer riding time (increases riding time by up to 27%).
Wheels Super traction wheels with Red Line Nitrile traction bands; designed to perform like real ATV tires.
Suspension 4-wheel shock-absorbing suspension.
Add a Friend Flip-up rear seat for 2nd passenger.
Storage Luggage racks front & rear.
Power Up 24-volt rechargeable battery and charger included.
Weigh Capacity Can hold up to 150 lbs.
Extended Warranty Free 2nd year Warranty extension with consumer participation.
Made in USA 


WEIGHT AND DIMENSIONS

32.5″ x 52″ x 30″ (W-L-H)
77.5 lbs.
One of the Red Line Nitrile traction bands came off of the rear tire, when my kids were skidding around, so hubby had to put it back on. Other than that, this is a great ride on toy for your child/children!!
Buy
You can purchase the Peg Perego Polaris Sportsman 850 ATV, by visiting Peg Perego online and locating a store near you! They retail for $599.99. You can also purchase it on Amazon.com
!