Are you looking for a free family-friendly streaming service without advertisements? Then you need to check out ROKit Flix! Why? Because ROKiT Flix is a streaming service that is free and does not have any ads at all. It is safe for all ages and is the first of its kind.
It is changing the way people experience entertainment, especially for families and young people. The service includes 2D animation, motion comics, and AI features that are part of the ROKiT Storybook collection.
What Is ROKit Flix?
ROKiT Flix has a different approach compared to other streaming services, as it is not trying to compete with major streaming platforms. Instead, it aims to provide a creative outlet that offers free, safe, and educational content for anyone who has a mobile device! Super cool!
ROKiT Flix aims to offer a safe and enjoyable streaming experience for people of all ages around the world. They are also committed to providing educational and faith-based content. The team is passionate about ensuring that all the content they create and stream is family-friendly and safe for children.
They carefully review and vet everything to give parents peace of mind and make their lives a bit easier. This is such a breath of fresh air! Not having to constantly worry about what my little 10-year-old is watching. I love ROKit Flix so much!
ROKiT Flix's initial launch comprises various types of content, including 2D animation, motion comics, and ROKiT Storybook. The 2D animation features inspiring heroes and captivating stories such as "Oh No, Nolan!" and "Fiona Fatale." Motion comics bring beloved characters and stories from previous decades to life, such as "Atomic Mouse" and "Little Eva."
ROKiT Storybook is a collection of AI features that offer a library of educational content. It includes shortened versions of well-known literary works and stories, including a version of the Bible and works of Shakespeare that can be enjoyed in under five minutes.
ROKiT Flix has not only created an AI version of the Bible but has also devoted two years to animating and producing it. The service covers all the stories in the Old Testament, and the New Testament is currently in production, with plans to release it later this year, offering over six hours of faith-based content.
In addition to this, ROKiT Flix is planning to unveil more content in the upcoming weeks, including 3D animation, public domain motion comics, ROKiT Animation All-Stars, and ROKiT Radio Theater, among others. Users can look forward to a diverse collection of content from ROKiT Flix.
ROKiT Flix is a part of the ROKiT family of companies and is the first streaming service in the world to offer ad-free and fee-free content that is unique and innovative.
It is also home to one of the world's largest libraries of public-domain comics. For more information on ROKiT Flix, visit their website at www.rokitflix.com or www.rokitstudios.com.
I hosted a family movie night that was sponsored by ROKit Flix! We had a blast! It was so much fun! We got my sister over and her kids too!
We watched such a good movie and we got to do it all outside! The weather was perfect too! Ahh, the last days of summer! I will miss those warm summer nights! We all will!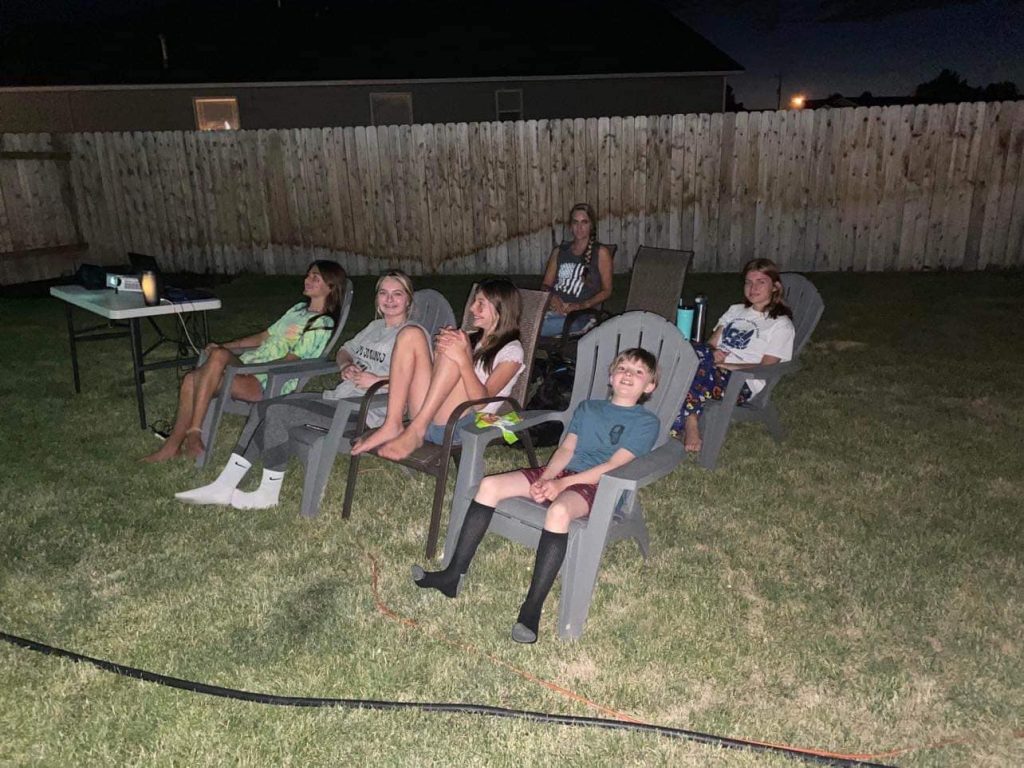 We were sent the following goodies for our outdoor movie night:
*Projector
*ROKit Solos Smart Glasses: These are SOOO neat! We were all fighting over who would be wearing them! So we took turns! These awesome Bluetooth Smart Glasses with audio have little speakers in them, magnetic charging, built-in mic, and man they are neat! Talk about a fun addition to the already amazing package that ROKit sent us!
*Yummy Snacks
*Projector screen
Get ROKit Flix!
You can get ROKit Flix on:
You can even purchase ROKit Flix apparel! So fun!
Win!
One lucky person is going to win their very own ROKiT Flix family-movie night kit too! This kit is valued at OVER $500!!! WOOT!
What is included? See below!
*Movie Projector
*Movie Snacks
*Movie Projector Screen/stand
* ROKiT Solos Smart Glasses
Rules
The contest is open to US, 18+. The giveaway will end on September 25, 2023, at 11:59 PM. I am not responsible for lost or stolen mail.