Moms are superheroes that don't wear capes. They have a way of relinquishing their comfort and pleasure to their family. They are experts at prioritizing their happiness even at the cost of letting go of their own desires. They dedicate their present and future to their family and work tirelessly to foster the well-being of their children.
To all the moms out there, we salute the selfless love and devotion with which you take care of your family. But, amidst all your duties and responsibilities, don't forget that you too are entitled to relax and enjoy the little pleasures of life.
A Busy Mom's Guide To Self-Love And Indulgence
The way you love your family, shower a little love on yourself too. Here's your guide for self-love and indulgence minus the guilt.
Disconnect from the world for some time
Motherhood always keeps women on their toes. You get so engrossed in catering to the needs of your children that you tend to lose connection with your inner self.
Try to reconnect with yourself through meditation. This deeply spiritual practice will give you a better sense of your existence, identity, and inner peace, refreshing your spirits in the process. Whenever you get time, early in the morning or before bed, just sit in silence and let your mind escape from the endless duties and chores.
Along with responsibilities and endearment, motherhood also brings residual fats from childbirth, constant caretaking, and a busy sedentary lifestyle. Getting back in good shape by shedding all the bulges and love handles will set you free from body negativity, and also build body strength and endurance.
There are ample gyms and yoga studios scattered everywhere in New York where you can spend some time getting fitter. And if you are too busy to take even one hour off from your duty, wake up a little early and go for morning walks.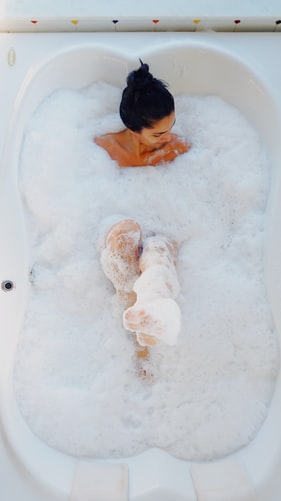 When motherhood knocks on the door, bathing becomes synonymous with quick showers. Do you even remember the last time you had a long, warm, and relaxing bath?
Once every week, pamper yourself with an unwinding soak in the bathtub. Create a serene mood by lighting your favorite scented candles, playing your favorite music, and placing your favorite flowers near the tub. Take out your favorite bath salts and essential oils to rejuvenate your senses.
And, don't try to rush out of the bathroom. Spend some time alone. Take a nap, read a book, or sip some wine.
Book an appointment in a massage parlor: A Busy Mom's Guide To Self-Love And Indulgence
You carried your child for nine long months, went through the excruciating labor pain, watched your body transform, and experienced the unwelcome consequences of the war your hormones fought inside your body. And now that your child is out and happily growing in this world, you need to take a breather.
If you are in New York, consider yourself lucky to have the best spas around you. Book an appointment at any of the NY massage parlors, and enjoy the most exemplary and overwhelming form of self-indulgence.
Opt for a full body massage and let the masseuse siphon tenderness, pain, and stiffness from your body.
We understand that being a mother is a round-the-clock duty, but you shouldn't let your responsibilities overthrow romance.
If you can't go out on a date, plan a home date with your husband. Put your kids to sleep, slip out in the garden, on the terrace, or the porch, and dine under the open sky and twinkling stars. You can even dim the lights in the dining room and have a candlelit dinner.
Make sure you look your best for your date.
Motherhood is a perpetual duty. But, of course, you are allowed to take some time off to indulge in fun because you deserve it.
PIN IT