Are you preparing for that unforgettable moment when you will exchange vows with your spouse and seal your love with a wedding ring? You see, Shopping for Your Wedding Rings Online is not without its challenges. The last thing you want is to regret the rings you will wear for a lifetime. But don't worry; we've got a solution!
In this article, we will take you through the ten important things you must know before shopping for your wedding ring online.
Shopping for Your Wedding Rings Online
From choosing a reputable online retailer to knowing your ring size to comparing prices and options, let's see how best to navigate shopping for your wedding rings online: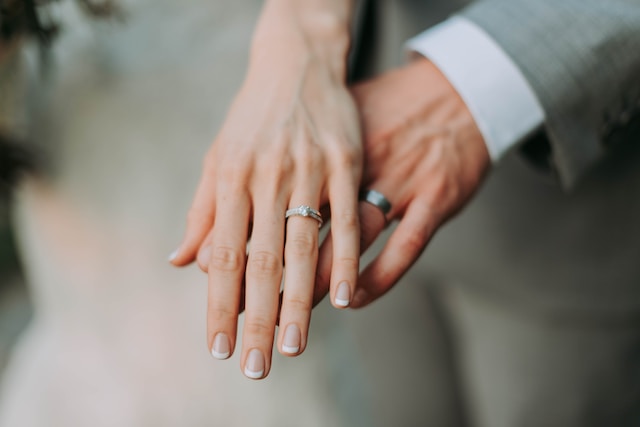 Reputable Online Wedding Ring Retailers
When venturing into online wedding ring shopping, the first and most crucial step is selecting a reputable online retailer. Look for well-established companies with positive customer reviews and a proven track record of delivering high-quality wedding rings.
Check mensweddingbands.io to see a list of durable men's wedding bands you can order online for your special day.
Your Budget
Setting a budget is paramount when shopping for wedding rings online. The variety of rings available can be overwhelming, and having a budget in mind will help you narrow down your options. Your budget will also guide your choices in terms of wedding ring materials and design.
The Four C's Of Diamonds
A Gemological Institute of America (GIA) certificate provides you with essential information about a diamond's quality – including its four Cs – karat weight, cut, color, and clarity, which significantly impact its quality and, consequently, its price.
*Karat stands for the weight of the diamond. It depicts size and larger diamonds are typically more expensive.
*Cut stands for shape and proportions. How well the diamond has been cut affects its brilliance and sparkle.
*The color stands for lack of color. Diamonds are graded on a scale from D (colorless) to Z (light yellow or brown).
*Clarity stands for the presence of inclusions – the number and visibility of internal flaws or inclusions within the diamond.
The Right Wedding Ring Metal
Wedding rings come in various metals, each with its unique characteristics. Popular choices include gold, platinum, silver, titanium, tungsten, palladium, and many more. Consider factors like durability, color, and hypoallergenic properties when selecting the metal that suits you both.
Your Ring Size
Getting the right ring size is crucial to ensure that your rings fit comfortably. You can visit a local jeweler to have your ring size measured or use online resources and guides provided by jewelry retailers.
Customer Reviews
Before finalizing your purchase, read customer reviews and testimonials about the specific ring you are interested in and the online retailer. This can provide valuable insights into the quality and overall satisfaction of previous buyers.
Retailer's Return Policy
No matter how careful you are in selecting your rings, there's always a chance that they may not meet your expectations. Familiarize yourself with the online retailer's return policy to ensure you have the option to exchange or return the rings if needed.
Comparing Prices
Don't rush into making a decision. Take your time to compare prices and options from different online retailers. This can help you find the best deal and the perfect wedding rings that align with your budget and style preferences.
Wedding Ring Retailer's Certification
For diamond wedding rings, ensure that they come with a reputable certification – such as one from the Gemological Institute of America (GIA). This certification guarantees the authenticity and quality of the diamond.
Payment Methods Used By The Retailer
Last but not least, prioritize secure payment methods. Online transactions involve sharing sensitive financial information, so make sure the retailer provides a secure payment gateway to protect your information.
Benefits of Shopping for Your Wedding Rings Online
Shopping for your wedding rings online offers several benefits that can make the process more convenient and enjoyable for you. Some of these advantages are:
Variety And Selection Of Wedding Rings
When you shop online, you have access to a vast array of wedding ring styles, materials, and designs. You can explore different options without being limited to what's available in a physical store.
Convenience And Accessibility
Online wedding ring shopping allows you to browse and make purchases from the comfort of your home or wherever you have internet access. This convenience is especially valuable if you have a busy schedule.
Customization Options
Many online jewelers offer wedding ring customization services that allow you to create a personalized wedding ring that perfectly matches your preferences. You can choose everything from the metal type to gemstones and engravings.
Ease Of Research
You can thoroughly research different wedding ring materials, gemstones, and designs online. This knowledge empowers you to make a well-informed choice that aligns with your preferences and budget.
Saves Time
You save time and energy by avoiding the need to visit multiple physical stores. You can efficiently explore numerous wedding ring options and finalize your purchase at your own pace.
Potential Challenges of Shopping for Your Wedding Rings Online
While shopping for your wedding rings online can be convenient, it's essential to be aware of potential challenges that you might encounter. Some of them are:
Lack Of Quality Assurance
Ensuring the quality of the wedding ring you want to buy can be more challenging online. You won't have the opportunity to physically inspect the ring before purchasing, which can lead to concerns about its craftsmanship and materials.
Inconsistency In Determining Sizing And Fit
Determining your correct ring size can be tricky when shopping online. You might receive a ring that doesn't fit perfectly, which can lead to the hassle of resizing or exchanging it.
Impossibility Of Seeing And Trying The Wedding Ring Before Purchase
Unlike in a physical store, you can't touch, feel, or try on the wedding ring when shopping online. This makes it harder to assess the ring's texture, weight, and comfort.
Poor Color Accuracy
The color representation of rings in photos may not always match the actual product. You might receive a ring that looks slightly different from what you expected.
Shipping And Delivery Delays
While online retailers strive to provide timely delivery, unexpected shipping delays can occur. This can be especially concerning if you have a set wedding date.
Prolonged Return And Exchange Process
Dealing with returns or exchanges can be more complicated online. You might face challenges related to return shipping costs during the process of returning or exchanging the ring if the need arises.
Impersonal Customer Service
Online customer service may lack the personal touch of in-person interactions. You might find it challenging to get immediate assistance or advice from some online wedding ring retailers.
Do Online Wedding Ring Purchases Come With Any Extra Fees?
Yes, when you are buying your wedding rings online, it's essential to be aware of potential additional costs. These costs can vary depending on the retailer and your location, so it's a good idea to carefully review the details before making your purchase.
One common additional cost is shipping fees. While some online jewelry stores offer free shipping, others may charge a fee for delivery. Be sure to check the shipping options and costs during the checkout process, so you're not caught off guard.
You should consider any applicable taxes. Depending on your location and the retailer's policies, you may be required to pay sales tax or other local taxes. These taxes can add to the overall cost of your wedding rings, so it's wise to factor them into your budget.
To avoid surprises, carefully read through the online retailer's terms and conditions and check for shipping fees and tax information.
By doing so, you can ensure that you have a clear understanding of the total cost of your wedding rings before you finalize your purchase. This way, you can confidently select the rings that fit both your style and your budget.
Can You Customize Your Wedding Rings When Shopping Online?
Absolutely! When you are shopping for your wedding rings online, you have the opportunity to customize them. This means you can create rings that are uniquely yours, tailored to your specific preferences and style.
Many reputable online retailers offer easy-to-use customization tools that allow you to choose everything from the metal and gemstones to the design details. So, if you have a specific style in mind for your wedding rings, online shopping gives you the freedom to bring it to life.
Shopping for wedding rings online can be a convenient and enjoyable experience if you are armed with the right knowledge.
You can make informed decisions and find the perfect rings for your wedding by choosing a reputable retailer, understanding diamond quality factors, setting a budget, and considering ring customization options, among other factors.
Remember these ten important things mentioned in this article and your online wedding ring shopping experience will be smooth.