*This post is brought to you by Schoola, the best place to buy discounted kids clothes all while give back to schools in need. Click here to learn more about Schoola. Click here to see what people are saying.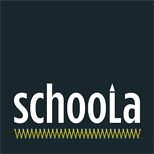 Being a Review Blogger, I do get lots of products to check out. But, we do not keep ALL of the things we review. Why? Because if we did, my children would feel entitled and spoiled and would not want for much. That is NO good. No good at all. I want to raise children that are thankful and appreciate all they have. I also want them to have compassion and to think of others.
I grew up ALWAYS wanting to give give give. I STILL do this. My children see this and though my son is still a bit stubborn when it comes to giving this to others (or sharing, sigh), he is working on it. My daughter on the other hand? She is JUST like her mama 🙂
Schoola turns adorable outgrown clothes into money for your child's school programs
What I am getting at, is that it is important to teach my kids to give and feel good about it, then to always receive. So, throughout the year (especially around Christmastime!!) we give. I fill up HUGE trash bags of toys, clothing and more and I give it away. My kids help with the process, so they see what I am doing and learn from it. They ask questions and I tell them that we are giving these things to people who need it more. People who don't have many clothes for their children or toys for their little ones to play with. My kids 'get it' and they actually enjoy finding things they no longer need or play with.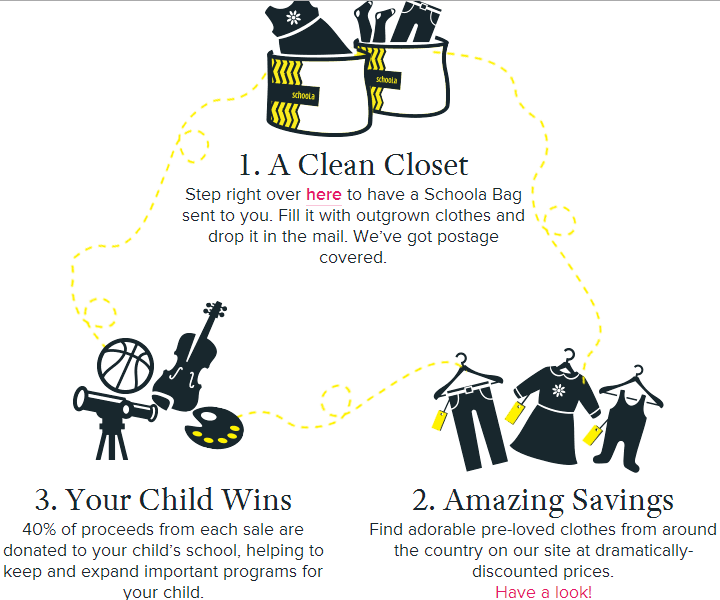 I joined a campaign that I thought is awesome! It is about helping a school in need! We chose  Yick Wo Elementary! This campaign is "20 Days of School" Adopt-a-School and focuses on "adopting" a school who would greatly benefit from additional funds to bring or bolster creative programs! I read through the schools and thought that Yick Wo Elementary would be a great one to spread the word about!
This is made possible through Schoola. In case you're not familiar, Schoola is an online consignment store dedicated to recycling brand-name children's clothes, with a portion of the proceeds going to schools in need. The innovative new program – which saves parents money and gives back at the same time – has been heralded by Fox News, the LA Times, Forbes and Parenting Magazine!!
So, every time you shop on Schoola (for every transaction that is tracked via MY unique referral code), Schoola will donate $1 to the school I selected to support! I am so excited to be able to help and I hope you will help us too, but shopping on Schoola (for school clothes at great prices!!), through my unique URL!
Another Way You Can REALLY Help Out!!
Request a Schoola donation bag! For every person who requests a Schoola donation bag via MY unique referral code, Schoola will donate $1 to the school I selected to support (Yick Wo Elementary). PLUS – when you  donate the clothes and fill out the school information, $2 of every $5 made will go back to the school YOU chose to support. Win/win!! Woot!
About The School I Chose:
Yick Wo Elementary – Goal: $25,000 to fund an art program
Art can be one of the most important parts of a young student's life. It teaches kids that it's okay to be creative and take risks at school—not just in the art room, but in math, languages, and every other subject they study. The educational benefits of an art program are well-known, but it's still not covered by most public school budgets. The parents at Yick Wo Elementary make sure that their school's students have art class anyway, and Schoola is forming a community to help them do it!!
I think art is VERY important and wanted to support this particular school, because of that. I always enjoyed art class at my schools and learned SO much from creating art! I would never want a child to have to do without an art class, because it was not in the school budget.
Ready to give back too? Great! Just
visit Schoola
and get started today! Thank you in advance, for your help!! I am sure the kids will appreciate it too!