Have you been wanting to learn how to play the guitar? My oldest son and daughter have been wanting to learn but, we live in a really small town and no one here teaches guitar lessons. They were so bummed about that. However, we found an alternative! It is the Chordbuddy and it is the easiest way to learn guitar. Both of my kids have learned SO much from using the Chordbuddy!
*Product received. Opinions are my own. This post includes my Amazon affiliate links.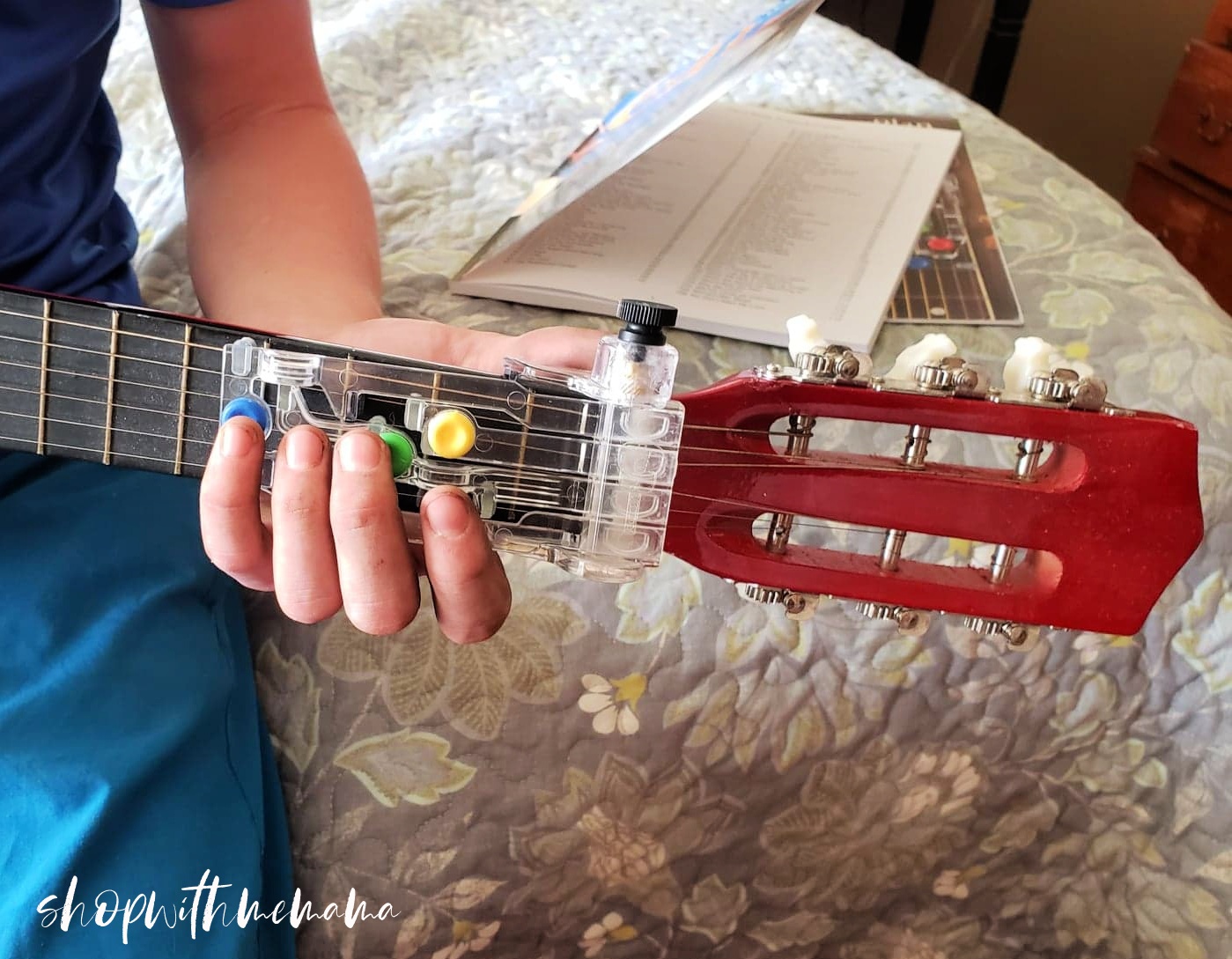 What Is The Chordbuddy?
If you have tried to play the guitar before, it is NOT easy! Some people are naturals but most people are not and have to learn how to play the guitar. The Chordbuddy helps you with this. Music is so important in our lives and having my kids learn to play the guitar is amazing!
Simply attach Chordbuddy to almost any guitar and use the color-coded tabs to start playing. It will teach you strumming and picking techniques while the ChordBuddy helps you with the chord formations. You can remove the tabs one by one, as you learn the proper finger placement for each chord. When all the tabs have been removed, you will know how to play the guitar!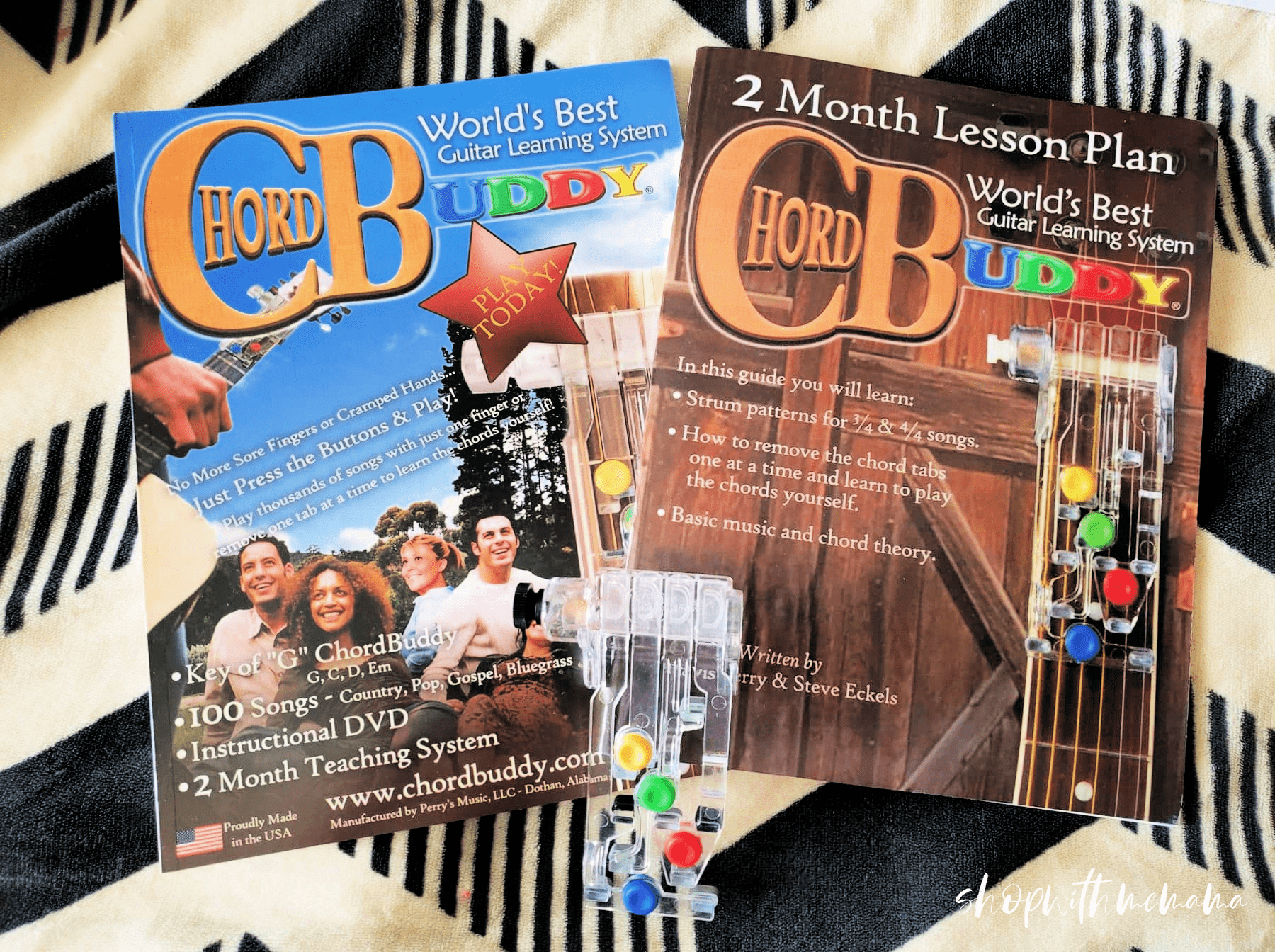 The Chordbuddy also teaches you how to hold your guitar, tune it, and maintain your guitar. The Chordbuddy starts by teaching you to play 6 songs. Then you'll discover special tricks to improve playing. Finally, the color-coded tabs can be removed one at a time so you can form chords on your own. It's that simple!
The Easiest Way To Learn Guitar!
This truly is the easiest way to learn guitar, hands down. My oldest son and my daughter have learned SO much. My son has been using Chordbuddy for about 2 months and my daughter has been using it for 1 month. They have each come so far with their guitar playing. I have never been more impressed with a product!
We received the ChordBuddy Guitar Learning System. More info on it, below:
Package Includes:
ChordBuddy Device for non-classical or Spanish "Classical" ( Classical will be over 2″ wide at the nut and have usually some nylon strings)
Instruction Book
FREE APP/LESSON PLAN
ChordBuddy Songbook with over 100 Songs
Each package includes the ChordBuddy as well as for instructions on how to properly attach the device to your electric or acoustic guitar. The lesson plan and FREE APP work together so you can learn at your own pace on your own schedule.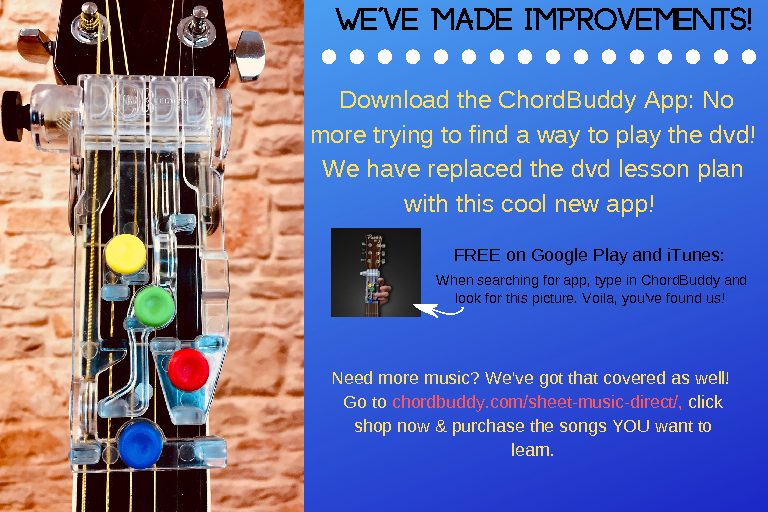 The ChordBuddy Songbook includes over 100 songs and shows you how to play them with and without the ChordBuddy. The color-coded ChordBuddy songbook includes many hit songs from the past and present including hits from country, bluegrass, gospel, and rock-n-roll genres.
To ensure that the Chordbuddy will work with your guitar, you will need to do the following:
Measure across the neck at the nut (the white bar between the frets and the tuning pegs), it should be around 1 3/4″ (1 ½" minimum and 1 7/8" maximum) and from the nut to the 3rd fret should be approximately 4″.
ChordBuddy for non-classical guitars works with both left and right-handed guitars! The "right" and "left" handed ChordBuddy will work with full size, 3/4 size, and 5/8 size guitars.
If you have a classical and/or Spanish guitar (any guitar with a neck width of more than 1 7/8″) you'll need to make sure to select the "Classical" version ChordBuddy.
ChordBuddy will not work on half-sized (or any guitar with a neck width of less than 1 1/2″) (children's) guitars. or 3/4 size guitars.
ChordBuddy will only work on a six-string guitar.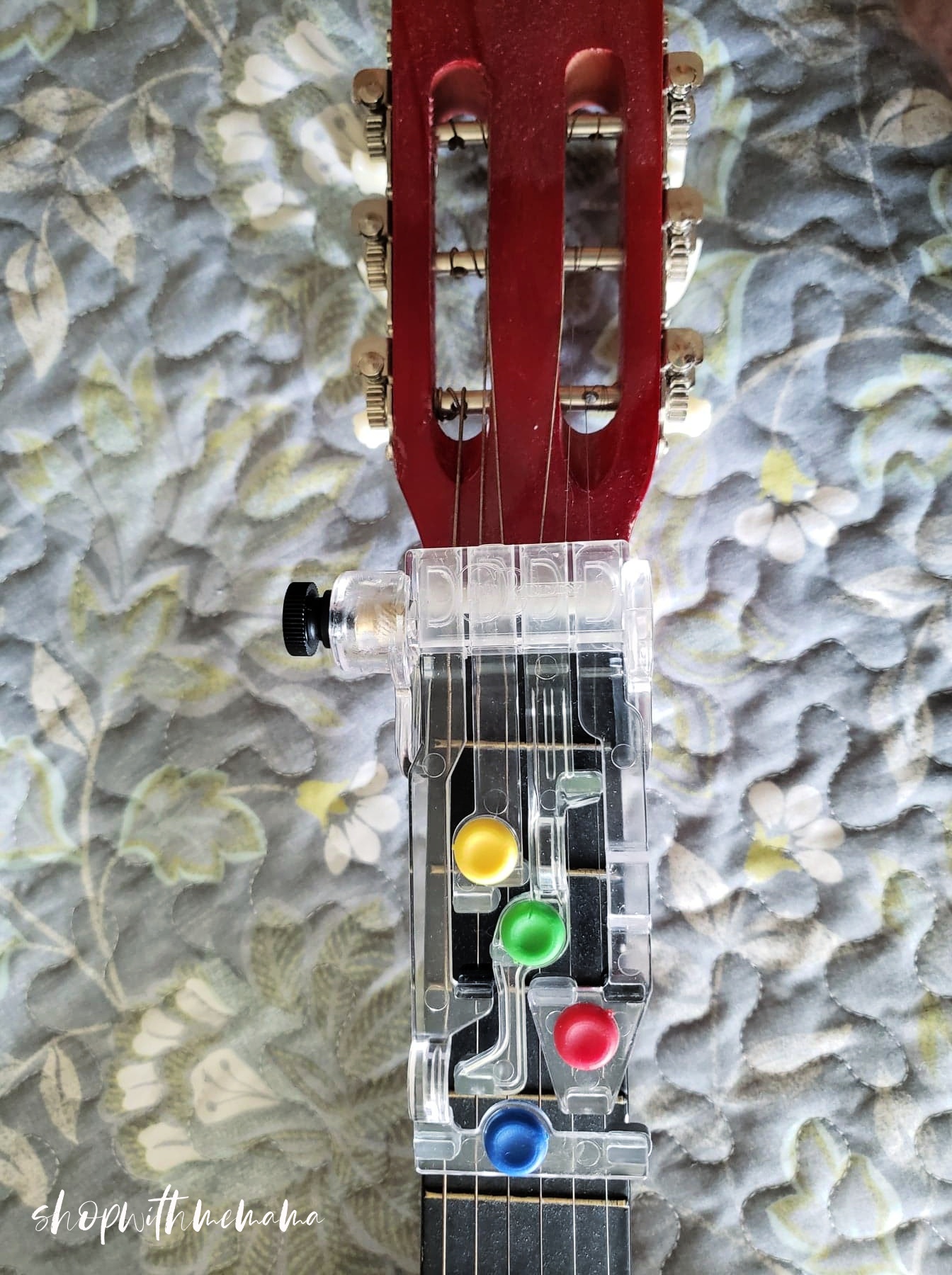 **Note: If you strum with your right hand and the biggest string is on the top; it is a right-handed guitar and you need a right hand ChordBuddy. If you strum with your left hand and the biggest string is on the top; it is a left-handed guitar and you need a left hand ChordBuddy.
My kids LOVE the color-coded music books. They can easily see which string they need to strum quickly! I think I will learn to play the guitar next. I already know how to play the flute so I might as well add the guitar too, right?
Buy
You can purchase the Chordbuddy online on Amazon.com or at https://www.chordbuddy.com/. The Chordbuddy Learning System retails for only $49.95.
Get Social!
Connect with Chordbuddy on Twitter, Facebook, Youtube, Instagram, and Pinterest!
PIN IT