The Oreck Vacuum has always held a high standard vacuum with me. Though I was never able to afford one, I always have to opt for the cheapies and then they break right away or have no suction, so this was a real treat being able to review The Oreck XL Platinum Pilot Vacuum Cleaner!
*This post includes my affiliate links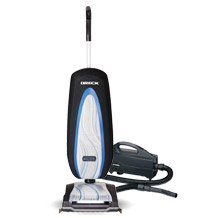 Oreck XL Platinum Pilot Vacuum Cleaner
Some asked me if I went on a cleaning spree with my new Oreck. Well, yes, of course, I did! I had to and actually wanted to! Who would not want to vacuum every part of their carpet with a vacuum like this in your home?
I have never really minded vacuuming in the first place, but this machine is just WOW. I am not saying this because I received it for free, I am saying this because it is TRUE.
When I opened up the box and a big box it was, I was a bit confused. There are quite a few pieces that need to be put in their place, but it is just mainly the hoses and extra attachments that make it look that way. Fairly easy to put together.
It only took me 20 minutes and that was because my little kids were running off with the hoses and parts that I needed to put this Oreck together!
Otherwise, it probably would have taken 10 minutes had I been alone. Now, I could not believe how LIGHT this vacuum is, wow. I picked it up with my pointer finger, yep, my pointer finger! No more breaking my back with vacuums, ever! It is only 10 lbs!!
Once all put together and standing upright, I was very excited to get the show on the road 🙂 Oh, I did want to mention that it also comes with a handheld vacuum! A total plus. I seriously had no idea that it came with that too!
Oh, I am excited as one can be right now, about a vacuum 🙂 So, at first, when I had it all plugged in, I was searching and searching and searching some more for the pedal that allows the vacuum to come down so that you can start vacuuming.
Even my husband had to search the vacuum, to no avail. It was my husband who said, go get the manual, LOL. So I did and immediately figured it out.
It does NOT have a pedal, you just simply put your foot on the top of the vacuum and gently pull the vacuum handle down, that is it!
The first room I vacuumed was my dining area. The lightness and smoothness of this machine are just amazing really. A feature I noticed too when I was in the middle of vacuuming is that it has two powers on the handle. One is powerful, but the second one is super powerful! This machine just keeps getting better.
I love noticing new things about a product as I use them. Nothing is like hands-on learning! It features a re-engineered, powerful, pile-lifting roller brush that moves through the carpet easier and cleans better than ever.
The New Pilot pulls out deeply embedded dirt, dust, dander, and pet hair. All from a vacuum that weighs just a little more than a gallon of milk!
The all-new Oreck Platinum Pilot with 360° Glide has a unique ball-joint and pivot connection that easily guides the vacuum where you need it to go, easily! And this puppy turns on a dime! It makes it great to get around furniture and in hard-to-reach spots.
Another feature that I found out is that it lays almost flat to reach UNDER your furniture!! Love it! You can also use this effortlessly on your stairs.
Features of The Oreck Pilot Vacuum Cleaner taken off their site:
*IntellaShield™ Antimicrobial Protection (This is an anti-microbial agent built right into key points of the vacuum that inhibits the growth and reproduction of bacteria, mold, and mildew – in and on the vacuum. It works even when the vacuum is turned off – which helps create a healthier clean.)
*Dual Speed (The two-speed switch in the handle makes it easy to start and stop the motor – with no stooping.)
*Ergonomically-designed handle (easy-to-use handles help with arthritis and Handle has earned Oreck the Arthritis Foundation® Ease-Of-Use Commendation for its innovative strain-free, ergonomic no-squeeze handle.)
*Furniture-friendly design
*Simple above-the-floor cleaning (The 5 lb. Ultimate Handheld Vacuum with hypo-allergenic filtration and 8 attachments tackles all above-the-floor jobs. It easily cleans stairs, furniture, ceiling fans, molding, bookshelves, curtains, drapes, and everything else up high.)
*Extend the life of your carpets & rugs
*HEPA-filtration, odor-fighting, no-mess disposable vacuum bags
*Direct Suction (With Direct Suction, the Pilot produces 102 mph airflow, delivering dirt straight to the vacuum bag. Most bagless vacs move dirt through a convoluted maze of tubing, which requires a larger motor. The Oreck's smaller, more energy-efficient motor uses 1/3 the electricity of many other vacuums.)
So, as you can see this vacuum pretty much has everything you need to make your home very clean! And boy do I love mine 🙂
So, my take? I like this vacuum. Yes, I did get a bit confused and it did take me a while to find the way this vacuum goes down so that I can vacuum.
But a quick glance in the manual and I had it. This is a lightweight vacuum and can pivot around anything. It is easy to handle and cleans like you would not believe.
Some dislikes? The only thing I could find on this machine that maybe I would have liked was that a retractable cord would have been nice.
I tend to not usually have time to nicely wind up my cord after vacuuming and I just like the ease of being able to step on a button and have the cord whip back into the machine and I am done.
But, my husband said to me, and it made me think "It is just one more thing to wear out and break". So he likes the manual hand wrapping of the cord ourselves. You know, he might be right. And with a vacuum this nice, I want to take good care of it.
Buy It!
The wonderful Oreck Pilot Vacuum Cleaner, is no longer available, unfortunately. So you can find other great options on the Oreck on Amazon.com!
If you are looking for a good carpet cleaner, click that link and read my review!