*This post includes my affiliate links.
With school out and Summer camp drawing nearer, it is best to be prepared, for everything including the dreaded "lice" outbreaks. I remember when I was in elementary school and we would have to line up for the school nurse to check out our heads for lice, yuckos! I, luckily, never got it, but some of my class mates did, and had to be sent home for treatment. Grab the The Robi Comb: Stop Lice!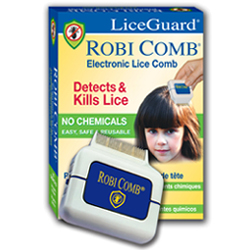 Always frightened me to no end, thinking that I could get lice. So happy I never did and hope to heavens my kids don't either. But, if they do, I can always treat it with the Robi Comb .
The Centers for Disease Control and Prevention says an estimated 6 million to 12 million infestations occur each year among children 3 to 11 years of age. Contrary to popular belief however, head lice do NOT take a summer vacation. Lice is equally as prevalent at summer camps as they are in school districts.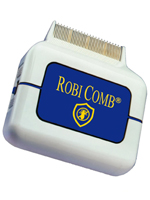 So, as you can see, being prepared for anything, even lice, is essential!!!  The Robi Comb product from LiceGuard was recently recommended as a "must-have natural product for children" on NBC's Today Show by Melissa Foss, editor of the Fit Pregnancy and Natural Health publications.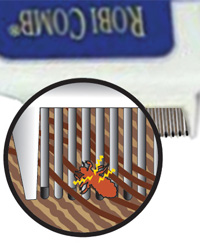 Detects Lice – Just comb through dry hair
Destroys Lice on Contact
No Chemicals / Non-Toxic
No Mess, No Gels, No Oils
No Odor or Fragrance
Use Anywhere and Anytime on Dry Hair
Reusable and Economical
A Bit About the Robi Comb (taken from the Press Release):
The Robi Comb
is a non-evasive electronic lice comb powered by a single AA battery that detects and destroys lice on contact simply by combing it through dry hair. When the Robi Comb's metal teeth touch lice, the lice get zapped, die and then get combed away. Unlike chemical treatments, the Robi Comb can be used as often as you like and can be used repeatedly by the entire family. The Robi Comb lets you know by an audible signal whether or not head lice are present, so it can be used to detect an infestation as well as treat it. In fact, many school nurses are now using the Robi Comb for exactly that reason. School nurses report that Robi Comb is able to find lice which they have missed when checking visually.
Buy It!
You can purchase the Robi Comb
is available for purchase on Amazon.com. It retails for $21.94.