SWAGTRON's New Kids Hoverboard Brings the Party with Light-Up LED Wheels! Have you seen it yet? It is so cool and my kids have been having a BLAST with it! This new kids hoverboard puts the other hoverboards to shame! It is THAT cool!
If your kids have not experienced the hoverboard yet, now is the time for them to experience one! It took my kids about 5 minutes to get their balance and start going strong on the SWAGTRON kids hoverboard. It is THAT easy to ride! Me on the other hand? Goodness, I fell off! However, it was a super funny site, so we all had a good laugh! HA!
*Product received. This post includes my affiliate links.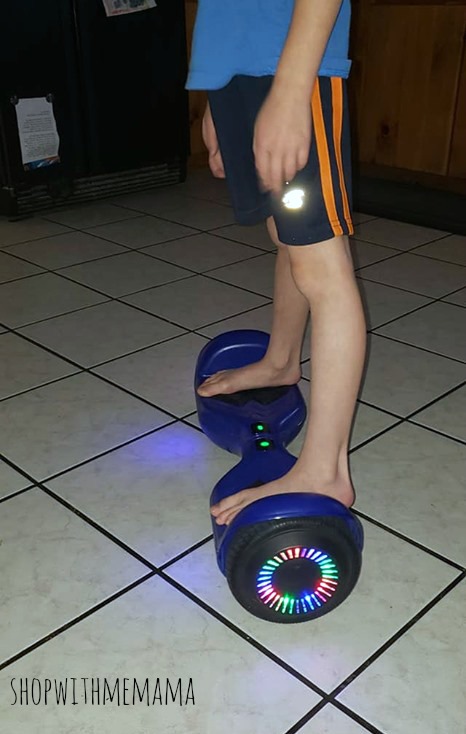 SWAGTRON Kids Hoverboard
This can be used indoor or outdoors. We are having it strictly indoors right now because of the weather in Idaho. Ya, it is already winter temps! In fact, we have already had some snowfall! I love this weather, so I was excited about the snow! The cold though? Not-so-much!
So, the SWAGTRON hoverboard is indoor for now. Next summer, I am sure that will change! My kids ride the SWAGTRON hoverboard EVERYWHERE in the house! Gah! In the kitchen, through the living room, into the hallway and through every bedroom! I was impressed that they can get through the bedroom doors so effortlessly! It takes talent folks and my kids can do it quite well! LOL.
Now, when we first received this, my kids quickly unpackaged it. Thank heavens it was already charged, so my kids all took turns riding the kids hoverboard around the house. My oldest rode it first, then my daughter, then my youngest. They were pretty good at taking turns! And, it helped that I set the timer for each child to ride it for 10 minutes each. That certainly helped with the no fighting part of this fun!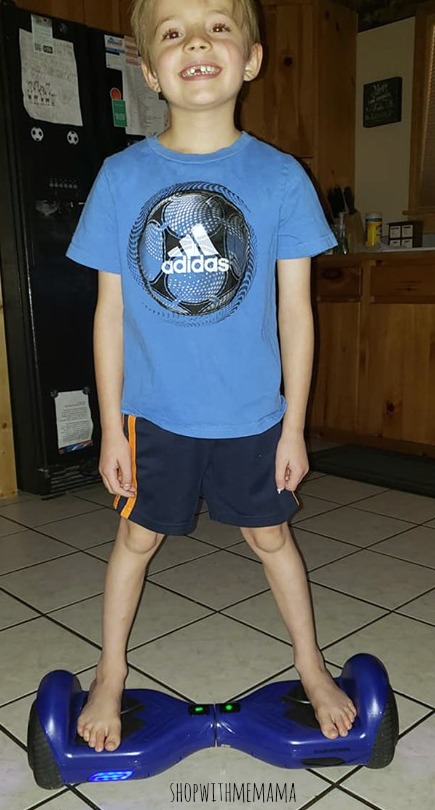 The SWAGTRON hoverboard is stationed in my oldest son's room. And when my kids are done riding it around the house, they dock it there so it can fully charge. The SWAGTRON kids hoverboard is a smooth ride. It glides over our carpet, area rug and tile effortlessly. My kids go so fast! It made me nervous at first, but now I am so used to it. I cook dinner in the kitchen and my child will glide by me really fast. So fun!
Everything about the Twist Remix is designed to enhance the adventure and I love that. There are helpful movement indicators that tell people around you that you're turning left, right or coming to a stop. The built-in indicators let you keep track of battery life and system diagnostics. And if the sun calls it quits before you do, the LED headlights will light your way back home!
SWAGTRON® is the most trusted name in kids hoverboards, and they introduced the Swagboard Twist Remix, which is this awesome all-new hoverboard for kids that brings the party to YOU! It has 6.5-inch multicolor light-up LED wheels and they are SO cool looking!
I was embarrassed to learn that this is a self-balancing hoverboard (a balancing scooter is the best!) because I just could not get the hang of it! But, my kids sure did and very quickly! The self-balancing technology makes this kids hoverboard easier to ride for all skill levels! Just turn it on and the Twist Remix will automatically level itself so stepping on and off is easier than ever (except for me! Ha!). This smart balancing function smooths out the learning curve, making it easier for newer riders to learn proper balance and riding technique.
Thanks to 500 watts of total power, this kids hoverboard can cruise up to 7 mph!!! And, it can scale inclines up to 30 degrees! So. Much. FUN! I can tell that the battery is really strong and powerful because it can keep up with my three kids. They all ride this kids hoverboard daily and on multiple occasions throughout the day. So, with this hoverboard being able to stay powerful and keep up with my kids, I know it is a good kids hoverboard and one that I highly recommend.
Watch The Swagboard Twist Remix Kids Hoverboard in ACTION!!!
The SWAGTRON kids hoverboard is built with an impact-resistant ABS polymer casing and non-slip rubberized footpads. The SWAGTRON kids hoverboard, the Twist Remix, is capable of supporting riders up to 220 lbs and is durable enough to last for miles (of smiles!). It weighs only 22 lbs, is kid-friendly and is pretty easy to carry from one ride to the next. It can be paired with an official SWAGTRON Swag bag for even greater portability.
SWAGTRON has awesome kids hoverboards, but they also have balancing scooters and a pretty nice selection. They have affordable scooters and hoverboards which is really nice. Some kids hoverboards are SO expensive, but the SWAGTRON hoverboards are affordable.
If you are okay with only the basics, then this kids hoverboard is not for you. However, if you like all the bells and whistles then this hoverboard IS for you! With the SWAGTRON Twist Remix hoverboard, you are getting not just any kids hoverboard! You are getting an awesome, speedy hoverboard your kids friends will want to get too! And, as I said above, this hoverboard is AFFORDABLE!
The SWAGTRON Twist Remix Hoverboard has a lithium-free battery and is protected by SWAGTRON's SentryShield Quantum multilayer battery protection (protection plan for parent's peace of mind!). And, like all SWAGTRON hoverboards, it is fully UL2272 certified for battery and electrical safety. This system delivers multilayer protection against overvoltage, overcurrent and short-circuiting.
SWAGTRON Twist Remix Features;
*Multi-color light-up LED wheels
*LED headlights
*Movement indicator lights
*Self-balancing technology
*6.5-inch wheels
*Dual 250-watt motors
*7 mph max speed
*4-mile range
*30-degree climbing capacity
*5.5-hour charge time
*Max rider Weight: 220 pounds
*Product weight: 22 pounds
*Solid rubber tires
*Colors: black, blue, red
We choose the blue colored SWAGTRON Hoverboard but they also come in black and red too! So, something for you to take into consideration when purchasing one for your child for Christmas 😉
My kids are so funny when they ride this hoverboard! As you can see in the video above, my youngest rode by a toy on the floor, swiped it up and kept going! Gosh, it really is easy to ride (for my kids, not for me!). This makes ME want to try again on this hoverboard. I know it is not hard to do it, my kids showed me that!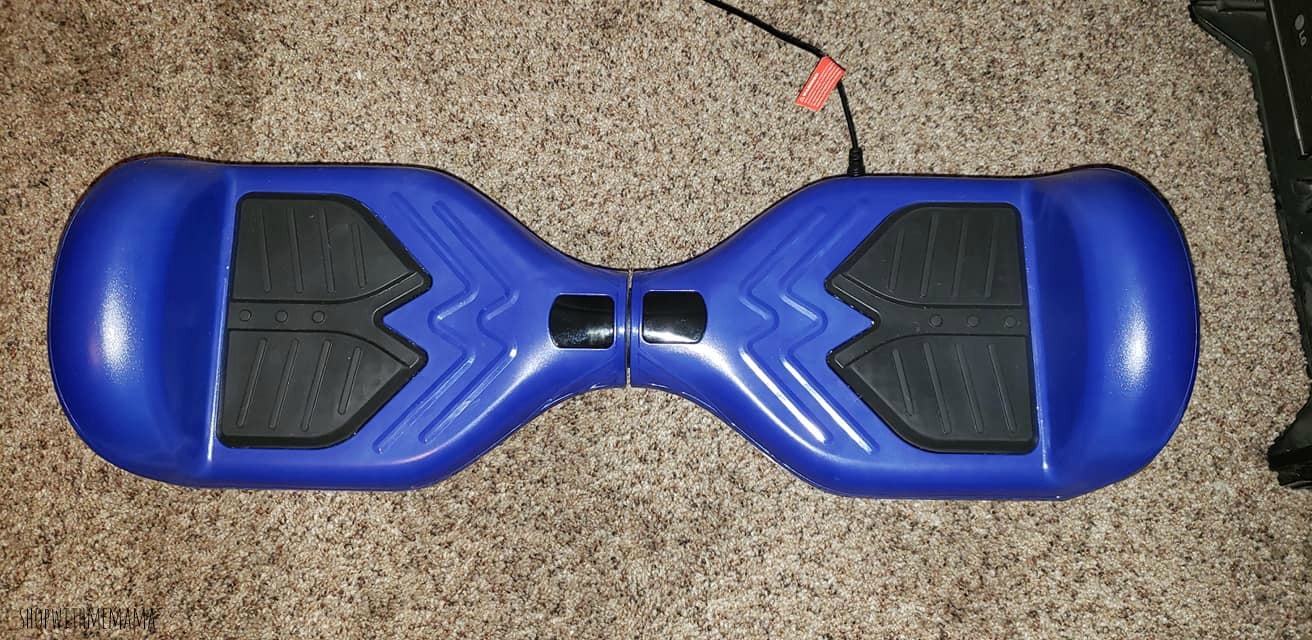 About SWAGTRON:
SWAGTRON is the industry leader in light electric vehicles, having evolved as the forefront brand in its category. SWAGTRON was celebrated for being one of the first brands of electric rideables on the scene to offer UL certification for electrical and charging safety. SWAGTRON continues to expand and improve its line of innovative rideable products to make micro-mobility solutions accessible to everyone. Learn more at Swagtron.com.
Shop!
You can grab up one of these awesome kids hoverboards online at Swagtron.com! You can also purchase it on Amazon.com! They retail for only $129.99!
Win
Yes, one lucky person is going to win a Swagboard Twist Remix Hoverboard of their very own! Yay!
Rules
The contest is open to US 18+. Giveaway will end on November 4, 2019, at 11:59 PM MT. Winner will have 48 hours to confirm their win after I email them, or a new winner will be chosen. I am not responsible for lost or stolen mail. By entering this giveaway you give me permission to share your email with the brand.
PIN IT!