Wondering how to run a business from home? There is so much information about it out there that it can become very overwhelming for someone just starting out.
Starting a Home Business should be as easy as just saying, "I want to own my own Business right"? No, unfortunately, it is not that easy. There are a lot of different things one needs to think about before making the jump and proclaiming, "I own my own business".
We have put together some tips that will help you not only start the blueprint for your own company but will help you limit your costs too. Check out my tips on how to run a business from home. I hope it helps you!
Tips On How To Run A Business From Home
Step 1: Write Down Your Dream Business And Do Your Research
Can this type of home business be done at home? Is it the type of business that can start at home and progress into something bigger? If you can answer yes to both of these questions, then your work from home business may become a reality.
Step #2: Will Your Home Sustain Your New Business?
Look at your home with fresh eyes. Do you have the space to have a home office? Do you have a spare bedroom? Do you have a garage that you could convert? If you don't own your own home, check with the landlord to see what their requirements are.
If you do have space, you will need to think about the cost of renovating it. Is it ready to go? Will it need just a new coat of paint? Of will it be a whole remodel?
Step 3: Does Your County Allow Businesses to Be Ran From Home?
Make a phone call to your county's planning department or head over to their website to see if your location will require a permit, licensing, or other types of legal paperwork filled out before you begin.
Step 4: Figuring Out A Budget For Your New At Home Business
The idea that you will have no expenses when starting a business is not true. You may have renovation fees, licensing fees, supplies such as a computer, desk, basic office supplies, internet fees, business phone expenses, taxes, cost of an accountant, professional fees, insurance fees for a home-based business, and let's not forget the energy costs. Here is a helpful and free budget planning printable for you.
Step 5: Figuring Out The Utility Cost For A New Business
Why utility costs? I know you are thinking why you would figure in your utilities into your business expense.
Let me put it to you this way. If you currently work outside of your home, your current utility bills are based on you being gone all day; not running a business at home and having your computer run all day, having heat or air to keep you comfortable through the day or having lights on in your office all day.
Just like when you are comparing cell phone plans or even food at the grocery store, you need to become savvy with comparing energy plans. Talk to the energy providers in your area. Compare the Market to help reduce your energy costs, like this Australian example.
Compare the tariffs. Can you choose different providers? Do they allow you to have a pre-set budget each month? Do they reimburse you if you use less than the budgeting amount?
Free Business Checklist!
Below is a free starting a business at home checklist. Click the picture and print it off so you can get on your way to starting your new business at home! Yay!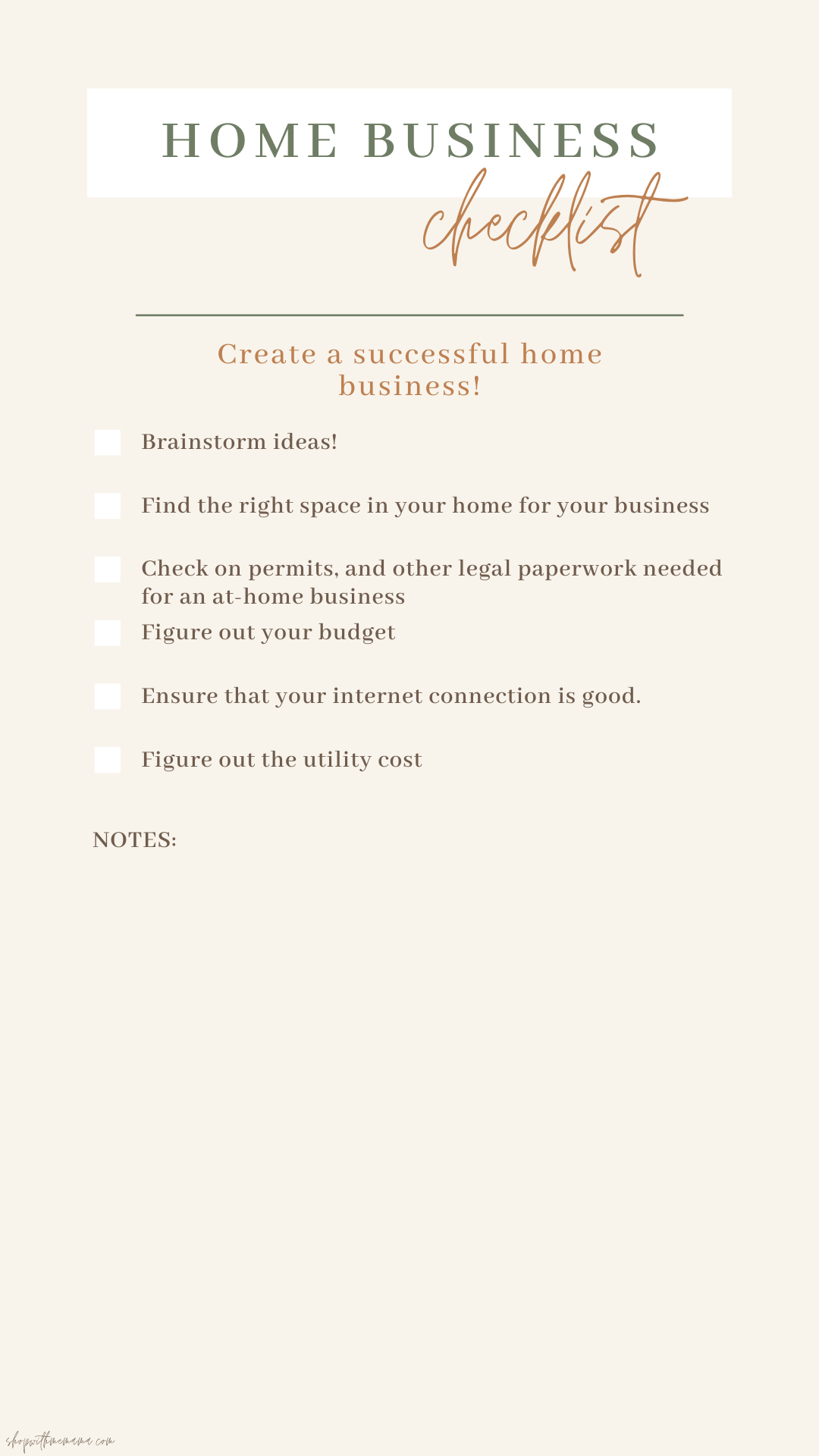 These are just a few general tips to help you on your new journey on starting your own home business. Are you starting a new business or have a new business up and running? Do you have anything you want to add to this article? If you do, please comment below. Thank you!
PIN IT