*What Should I Put In Baby's First Easter Basket? This post includes my Amazon Affiliate links.
What Should I Put In Baby's First Easter Basket?
When my little ones had their first Easter, I just put together cute little Easter baskets for them. Nothing too extravagant, but just simple things that they could use.
Maybe a rattle, stuffed animal, pacifiers, teether ring, or little snuggly blankie. But sometimes it would have been nice to have a list to go by or ideas to go by. So, MAM has three essential products, to put in the baby's first Easter Basket!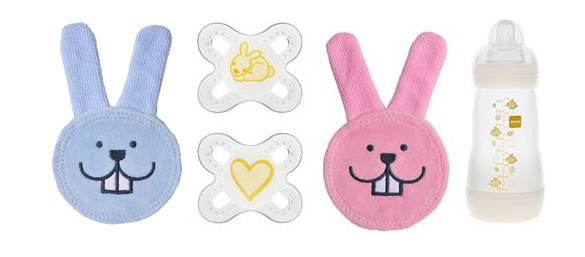 MAM's Oral Care Rabbit (So dang CUTE!)
Bunny Start Pacifiers
9 oz Anti-Colic Bottles
Totally cute, right?! I know!!! My little one is teething like crazy. He has two bottom teeth with another one coming in and two top teeth with another breaking through! Poor little love chews on everything! So he will definitely be getting a teether in his Easter basket this year!
Buy
For more information about MAM products and to buy them on Amazon.com.