I just wanted to share with you, since I have not posted an update on my pregnancy in a while! I Am 20 Weeks Pregnant!! The U/S (ultrasound) went well, the baby did NOT cooperate with the tech and was balled up the whole time making it so hard to get the pictures she needed to get. Hopefully, I don't have to go back for another U/S. Sex of baby still undetermined…YAY! 😉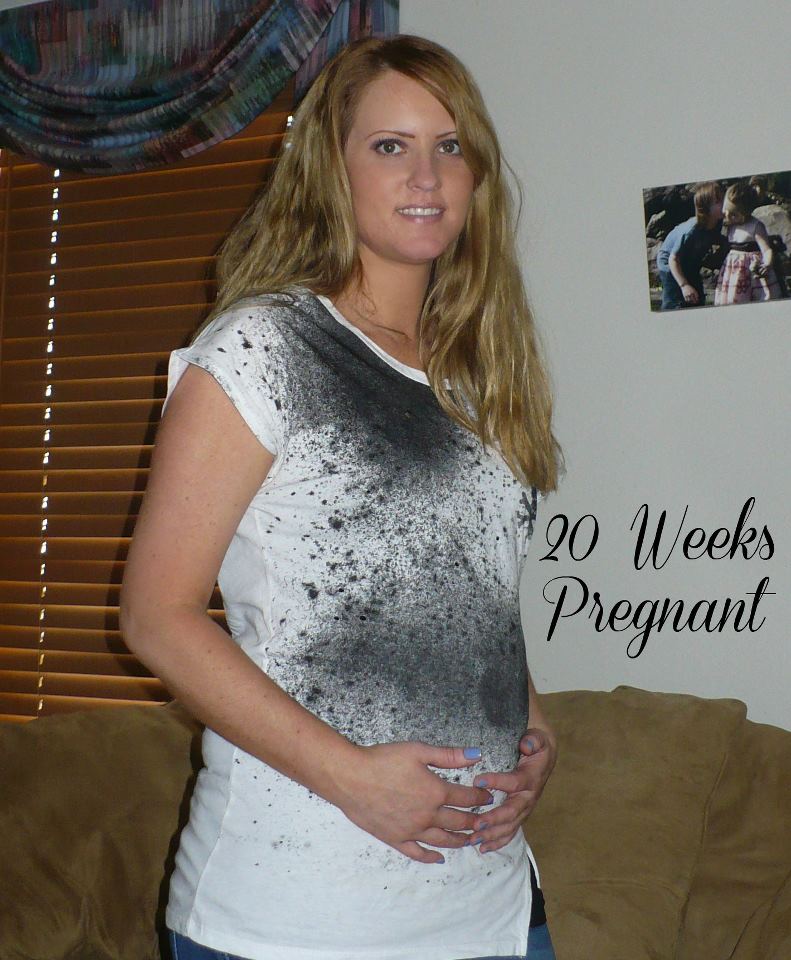 So now you know how big I am getting! Baby kicks, but they are few and far in between. Can't wait until I feel him/her every day!!!! At 20 weeks pregnant, my baby is moving EVERYWHERE and I absolutely LOVE it.
How Big Is A 20 Week Baby?
Well, that is a great question! You're 20 weeks pregnant, so you're in month 5 of your pregnancy! Only four more months to go! WOOT! Your baby weighs around 10 ounces and the baby's height from crown to bum is about 6 1/2 inches! Baby is growing, yay!
Your baby can move around and has been for a while! There is still a lot of room in your tummy for baby to grow, obviously! So, the baby can really move around in there! Do you feel him/her yet???
This is the time you will be able to find out your baby's gender! This is an exciting time. However, we chose NOT to find out the gender this time around!!!! Usually, this ultrasound is scheduled for anytime between 18 and 22 weeks.
20 Weeks Pregnant Symptoms to Look Out For:
*Heartburn and Indigestion
*Headaches
*Faintness and/or dizziness
*Leg Cramping
*Swelling in legs and/or ankles. I ALWAYS get this and my feet and ankles (cankles) are SO swollen from this point until I deliver
*Belly button pushes out at around 20 weeks pregnant (mine never did)
Always ask your doctor if you are concerned about any new condition you experience during pregnancy. You can NEVER be too safe!!
Preparing your home for a new baby doesn't have to be difficult. Now is probably the time to start ordering things for your new little one and to start creating the nursery (if that is what you want to do!).
All of my babies, when they came home from the hospital and up to 2 years, slept in my room with me. We are a co-sleeping family, however, we always used safety first when it came to our newest littlest ones!
If you know someone who is newly pregnant or 20 weeks pregnant, feel free to share this fun article with them! Thank you!!!