April Showers Bring Batman Powers! My little boy absolutely LOVES to play in the rain. We live in Washington state, so as you can all imagine we get a TON of rain all the dang time! Warner Bros. Consumer Products and Washington Shoe Company are unleashing the ultimate Bat-gadget this rainy season with a rain collection inspired by the favorite superhero, Batman!!
*This post includes my affiliate links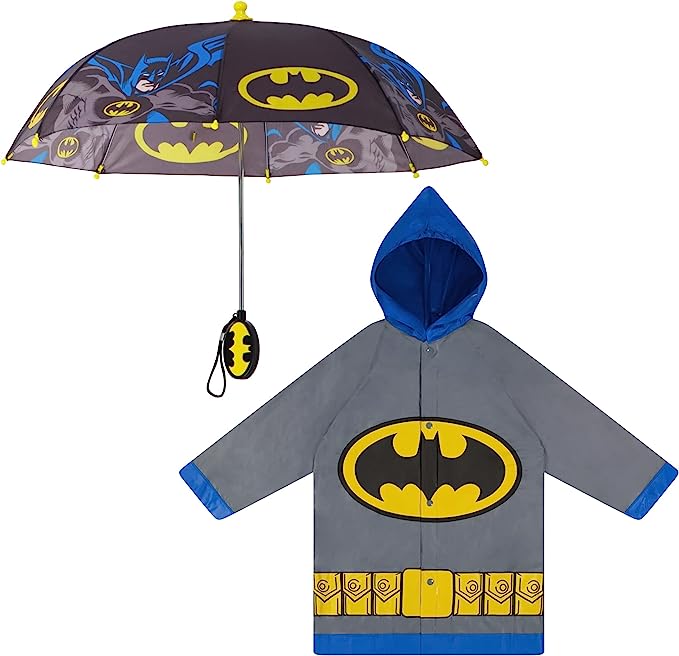 April Showers Bring Batman Powers!
My son was very excited when he was sent an adorable Batman rain slicker, boots, and umbrella to use out in the rainy weather!
Now these are no ordinary hooded rain slickers, boots, and umbrellas, they are Batman Themed and they are absolutely adorable!! My son loves them 🙂
My daughter was a tad jealous, but I made up for that later 🙂 My son immediately put on his new raincoat, and boots and opened up that umbrella!
The coat, boots, and umbrella are very quality made. The raincoat is strong and thick and the cape on the coat is detachable, though my son has yet to allow me to take it off. The umbrella has no sharp edges and is easy to open for the little ones. The boots are well, rubber of course and very strong too. All quality made.
And of course, when my son was taking a nap, his little sister QUICKLY put it on herself and then said "Mommy Look!" I was laughing so hard because I have never seen her move so fast to put something on, she was determined, LOL!
And of course out in that Washington rain, UGH! And wanted to say that this raincoat glows in the dark, well parts of it do! So cool!
So, these raincoats, boots, and umbrellas are where it is at! LOL! My son wears this all the time in the house, outside, and to the store, he will not take it off!
Buy It!
The Batman-themed collection includes boots, an umbrella, and a raincoat (total approximate retail value of $102.95). This collection is available on Amazon.com.
---