Oh my goodness. I received the absolute BEST glam box in the world, about 2 weeks ago! It is called the Best Beauty Finds Glam Box and it is filled with FULL-size products for an awesome price! No samples in this box, only full-size products! What can I say? This was one of the best product reviews I have had in a while because when it comes to anything beauty? I am swooning!
Now, just to let you know, everything inside of the Best Beauty Finds Glam Box retails for OVER $2400! Not lying, I looked up each product! You get the Best Beauty Finds Glam Box for ONLY $99! And the best part? I absolutely LOVE everything inside this glam box! EVERYTHING. This is NOT a subscription box, you just buy it once (or a few times if you love it as much as I do!).
*This post includes my affiliate links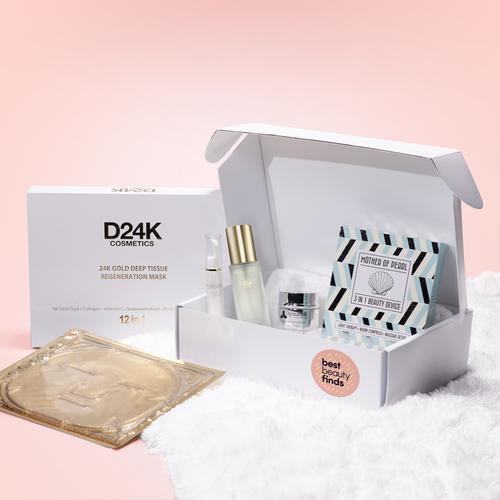 So, What Is Inside The Best Beauty Finds Glam Box???
Oh, just some wonderful skincare goodies! See them below!
*24K Gold Meteorite Powder Anti-Aging Magnetic Mask
*Prestige Targeted Spot Brightener with White Pearl Complex Treatment
*Deep Tissue 24K Gold Regeneration Mask (1 Year Supply)
*HEXALIN™ Expression Corrective Cream (I received the cream, in the picture above, it is the serum)
*Mother of Pearl 3-in-1 Light Therapy Facial Device
Now Let's Talk About The Products~
*First off is the 24K Gold Meteorite Powder Anti-Aging Magnetic Mask. This is COOL!!!!! So cool! My daughter and I had some fun with this one! This is an intensive treatment that magnetically extracts all your skin's aging and dulling toxins. It works hard to smooth, exfoliate, and even out your skin tone. After using this, your skin will be illuminating, radiant, silky, and oh so smooth! This mask contains plasma properties to help reverse the skin's aging process, reducing the appearance of fine lines and leaving your skin looking more youthful. Here is a similar one that is cheaper on Amazon.com.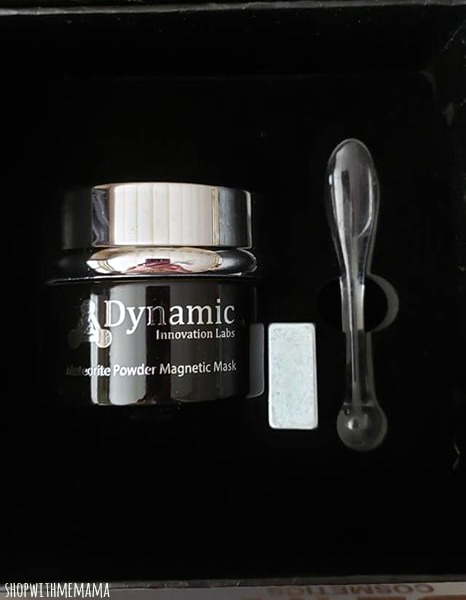 The fun part…
The fun part of this mask was taking it off with the magnet!! So cool to see it in action and actually pull it off of your skin using the magnet it comes with! You cover the magnet with tissue paper and go over the mask and the mask will peel off onto the magnet! Once the mask is off your face, your face will have a bit of gold on it. Just rub it into your skin using a circular motion then rinse it off with warm water and pat your face dry!
I can't wait to use this again tonight! So entertaining and so good for my skin! My skin feels so soft and supple after using this magnetic mask! My skin literally looks at least 3-5 years younger each time I use this. The 24K Gold Meteorite Powder Anti-Aging Magnetic Mask retails for $595 (I kid you not!!!) however, on Best Beauty Finds, it retails for $19.99!
*Next? The Prestige Targeted Spot Brightener with White Pearl Complex Treatment. I NEEDED a really good spot brightener because I have a couple of darker spots I noticed on my temples and I want to get rid of them! I hate them and they make me look elderly! No thanks! So, I have been using this every night for about 1 week or so, on my temples and a bit on my forehead. I want my face to be brighter and get rid of those age spots, so I will let you know how it goes with this. But, so far, the darker spots on my temples are starting to fade already, so this is very encouraging and exciting! Stay tuned for more results, soon!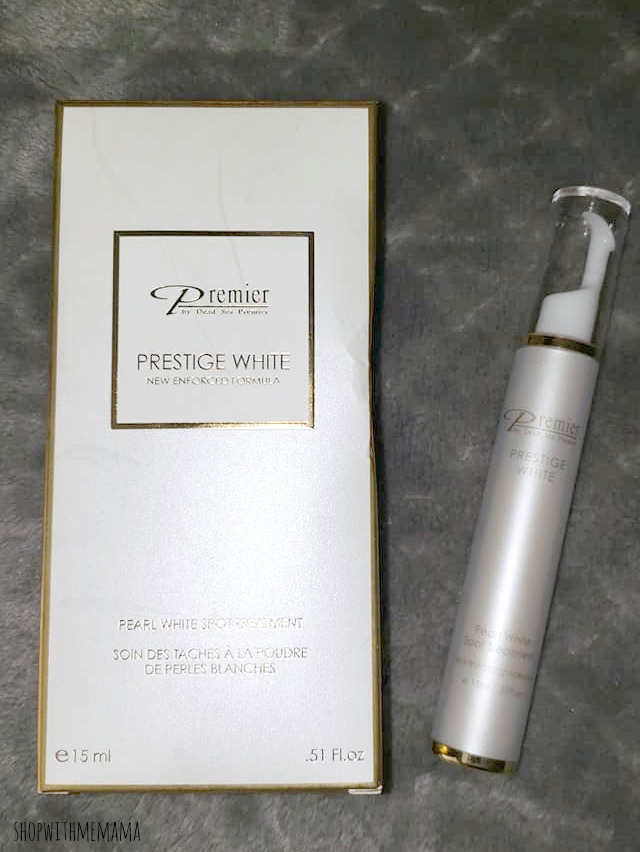 What They Say It Does…
An intense brightening spot treatment to help minimize areas of discoloration and improve skin clarity. This applicator is designed and composed to be able to repair particular dark spots chosen for a spot-on treatment. This retails for $299 for 60ml (true!) however, Best Beauty Finds has it for only $39.99.
*The Deep Tissue 24K Gold Regeneration Masks are super fun to wear too 🙂 They look a bit 'scary' when the mask is on your face, however, it is worth it! After about 10-20 minutes of wearing this gold mask, you take it off and rub in the remaining liquid still on your face. This is to be used 4 times a month, so once a week, pamper yourself!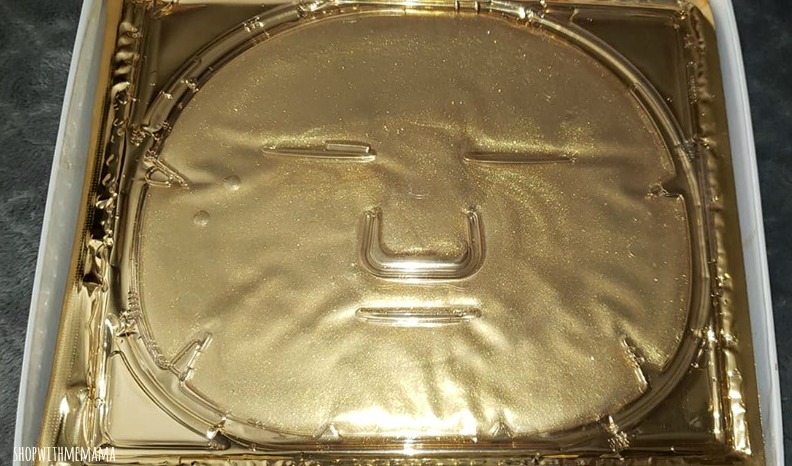 My daughter and I each used one the other night. We were giggling at each other because we looked so silly! The D'Or 24K 12-in-1 Facial Mask has only the best ingredients that are all from natural origins, the compositions of which are very close to that of the human skin tissue.
With high-density plant collagen and 24K gold mask releasing technology, the ingredients can be quickly absorbed by the skin and deliver a brightening, moisturizing and pore-tightening effect. Our face was SO SO SO soft after using these masks! The package contains 12 masks. This retails for $795 (again, not kidding!) however, Best Beauty Finds has it for only $59.99!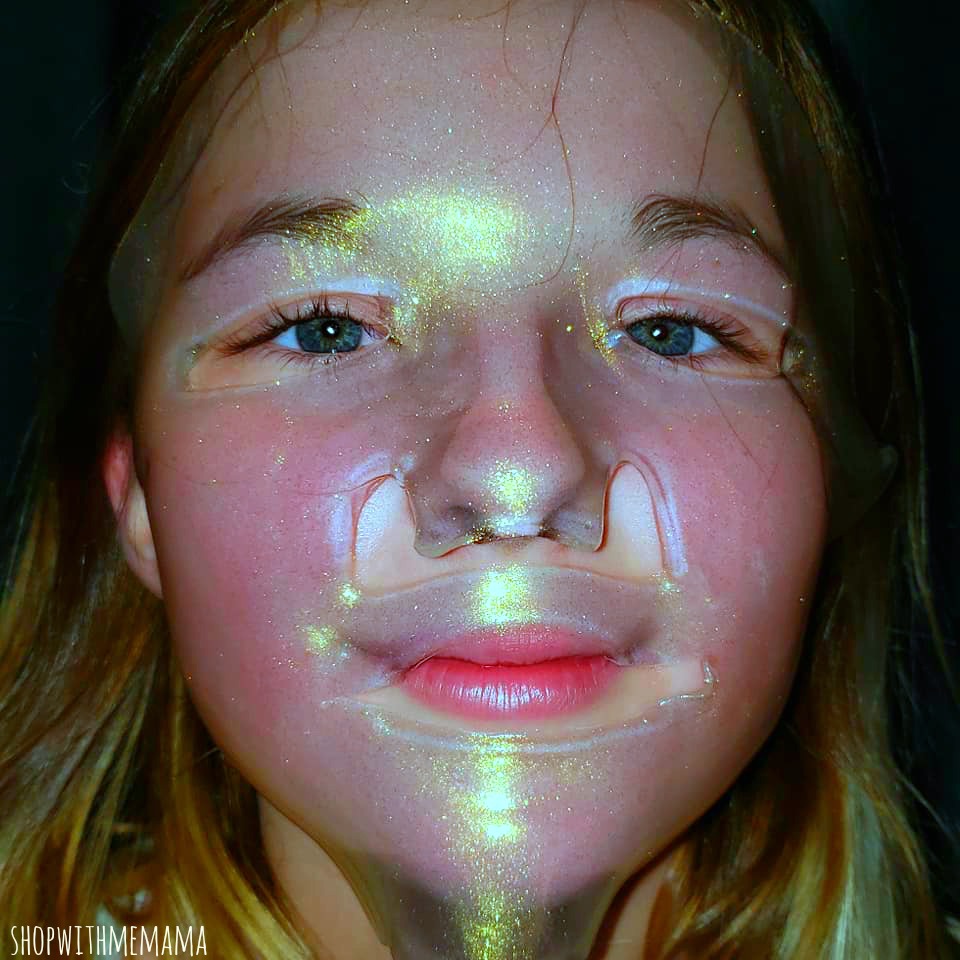 *HEXALIN™ Expression Corrective Cream. This cream is based on a revolutionary technology called HEXALIN: which is a composite of six peptides, proteins, and natural plant amino acids, all of which assist with diminishing facial expression lines and tightening skin. I have been using this every night for the past week or so. I use this after I do any treatments on my face or after I wash my face for the night. I use it on my neck and chest area too.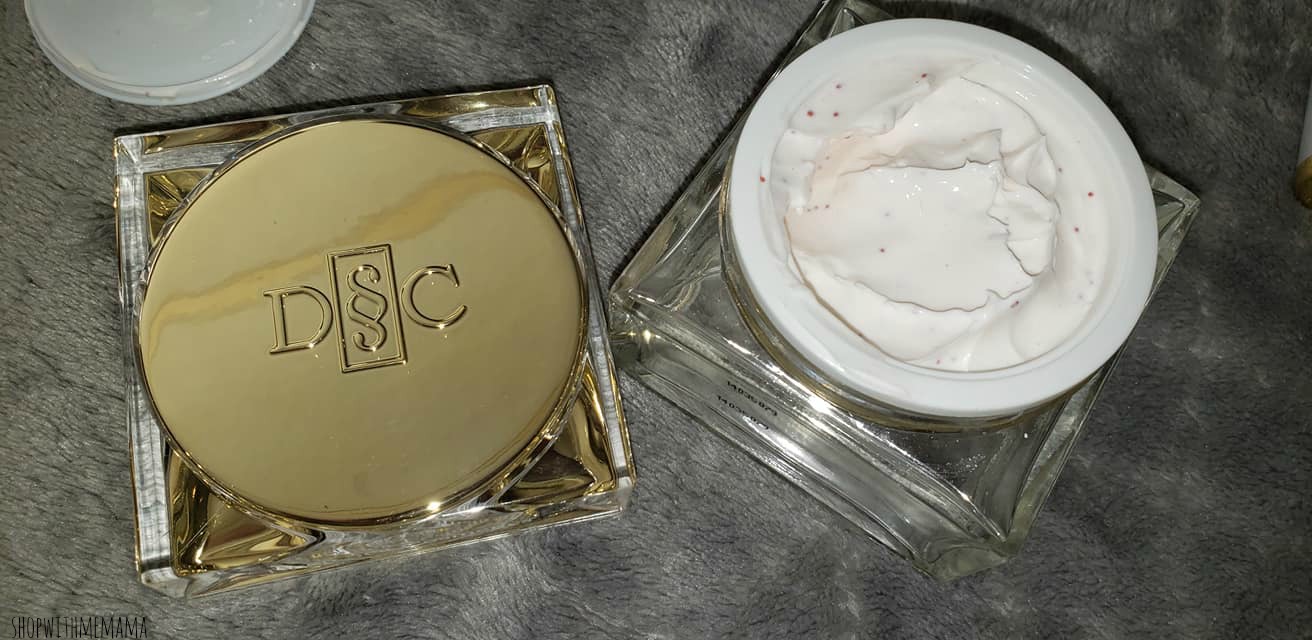 It is infused with highly concentrated vitamins that actively treat your skin's texture to reveal a tighter, smoother, and younger look in just a few short weeks. This new ground-breaking product will give your skin a firmer appearance, lifting with youthful radiance. My skin already is feeling really soft from using this and the other products I mentioned above.
This cream really makes my face soft-looking/feeling. I love how it absorbs into my skin like my skin is drinking it all up! My fine lines are not so fine anymore, thanks to this wonderful skin cream! My face and neck area are loving it so much!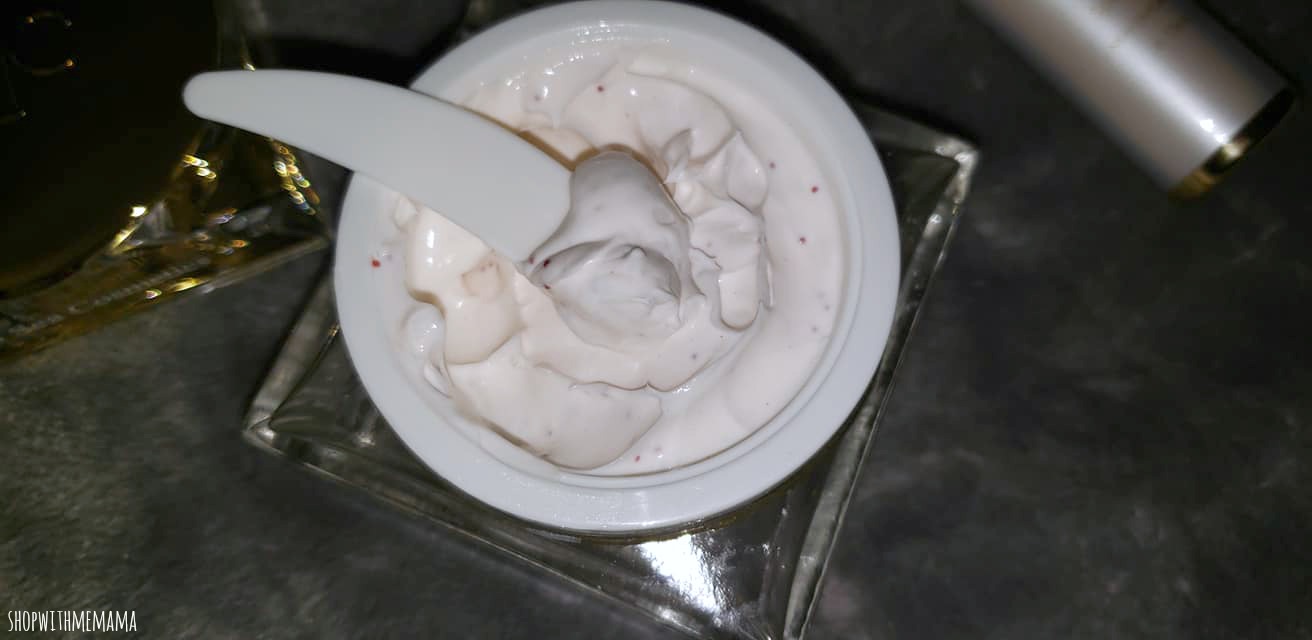 This formula contains a soy blend and light diffusers that work together to naturally even out skin tone and texture. It also prevents future damage with broad-spectrum protection from the sun's UVA (responsible for premature lines and wrinkles) and UVB (which causes dangerous sunburns and skin cancers) rays. This is Hypoallergenic and okay to use on delicate skin. The HEXALIN™ Expression Corrective Cream retails for $825 (yep!).
*Mother of Pearl 3-in-1 Light Therapy Facial Device. This is really a neat little anti-aging gadget to have around. I like it because it fits in your hand and you can easily bring it with you when you travel. Easy peasy. You can get similar light therapy devices on Amazon.com. I also LOVE using my Trophy Skin Red Light Therapy Device for my skin!
What does it do?
This little device helps to treat those pesky fine lines and wrinkles. I am starting to see more of those lines and so this anti-aging gadget is being used twice a day for the last week! I will keep you updated on whether or not I see any difference, stay tuned.
Description
Faceology's Mother of Pearl 3-in-1 Light Therapy device treats wrinkles, and acne and promotes circulation all at once! Whether you suffer from Wrinkles, Signs of Aging, Acne, Oily or Dry Skin, this cutting-edge Mother of Pearl device is a perfect addition to any skincare routine!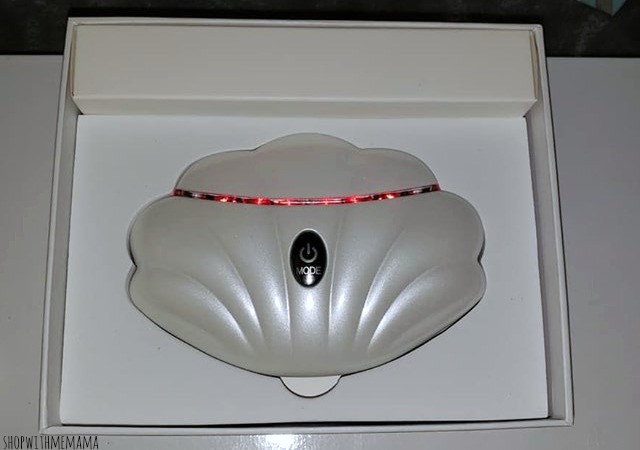 Benefits:
Vibrations promote blood circulation, treating wrinkles and fine lines
Red light therapy decreases acne and is also known to treat scars and stretch marks
Gentle yet powerful vibrations assist in making your go-to skincare products absorb deep into the skin, making them much more effective.
Heat therapy eliminates toxins, fighting acne & future blemishes by cleaning deep within pores
Portable and compact design that is perfect for on-the-go!
Firms & tones skin to restore youthful vitality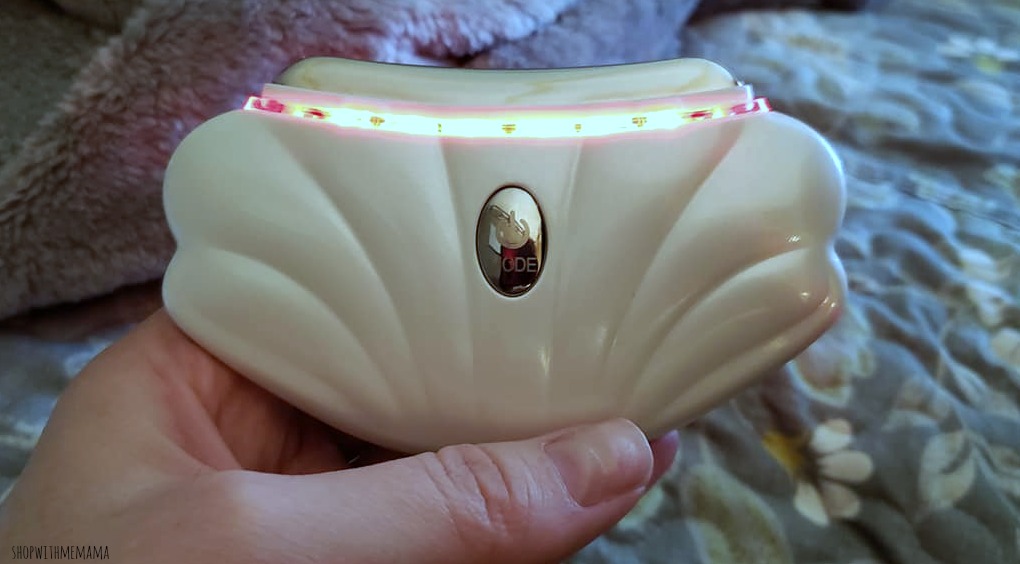 I am using this on my face and neck area. This little anti-aging device is rechargeable and comes with everything you need to get started and start looking less wrinkly 😉 It is easy to hold in your hand and lightweight too. The way the device is shaped makes using it a breeze! I am thankful that this little device is already starting to help out my wrinkles. It really gives me peace of mind knowing that this IS working! So excited to use it more for longer and see how it makes my skin look and feels! It retails for $169.
I know some of the beauty products above are way too much and out of most people's budgets, but that is why I offered a few cheaper suggestions above! I know I could NEVER afford those beauty products that is why I enjoy reviewing products and sharing them with you on my blog. That is the only way I could ever enjoy these expensive products!