I am compensated for this post by Bing Rewards, but opinions are my own.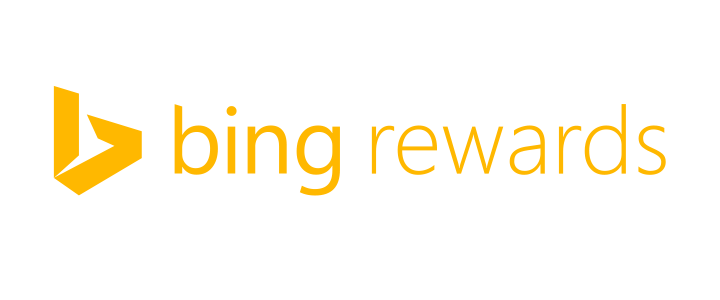 I am finding that whenever I use a certain credit card of shop at a certain place, companies are offering more and more incentives for their customers. I am really liking this pattern!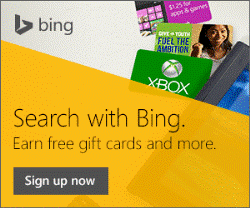 Bing Rewards is another one and it sounds really neat. I am so excited to share with you all that if you become a member of Bing Rewards you can earn credits towards things! It is fun to do, too! I am already on the computer all the time anyways (hey, it is my job!), so why not sign up for Bing Rewards and earn credits for the searches I do every day! It adds up quickly for as much as I search for things on the internet, every day! Might as well be rewarded doing it 🙂
Why Do I Want To Sign Up For Bing Rewards?
Well, there are plenty of great reasons, but I will outline some for you, below!
Bing Rewards lets you earn credits for searching on Bing, or trying new features from Bing or other Microsoft products/services. Bing Rewards credits can be redeemed for a variety of fun rewards like shopping and dining, gaming and charities.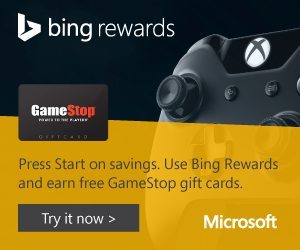 Also, every 7 to 8 weeks, the Bing Rewards team launches a fun sweepstakes campaign that allows all you wonderful Bing Rewards members, to enter for a chance to win great prizes such as $500 gift cards to Nordstrom, Sephora (oh that would be NICE!!) or GameStop! Also for tablets, Xbox prize packs including games and consoles and even trips to the Super Bowl!!! Woot! You search everyday. Now Get Rewarded!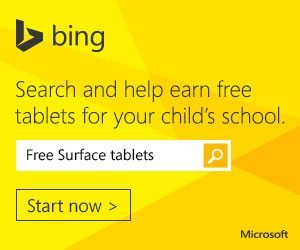 Bing in the Classroom!
What is Bing In The Classroom? Just another great program Bing Rewards is doing! Through Bing Rewards, members can donate credits to the school of their choice to help earn free Microsoft Surface tablets! So wonderful!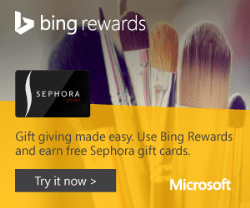 How Do I Sign Up?
Easy! It is free to join Bing Rewards. You can learn more about Bing Rewards by going to www.bingrewards.com and join today! Plus, you will get 20 BONUS CREDITS when you sign in with your existing Microsoft account (Outlook, Live, Skype, Hotmail or Xbox accounts), or create a new Microsoft account! So neat!
Are You Signed Up With Bing Rewards? If You Are Not, Will You Be Signing Up?