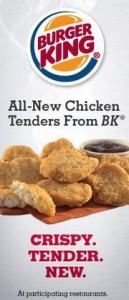 I am sure you have all heard about Burger Kings Tender Nuggets, right? If you have not, well you will hear about it from me first then! Woot!
Burger King has some great nuggets that are super juicy, tender and all around delicious! The Chicken Tenders are not dried out or half chicken and half "something" else. They are really good and me and my family really like them!

Right now on Facebook, Burger King is letting  YOU pick your "Tender 8". Meaning, you get to pick 8 of your friends to share the new crispy tender nuggets with. You will get a coupon for a FREE coupon for FREE Chicken Tenders. All you have to do, is invite 8 of your friends to do the same! Everyone will get to experience the yumminess of the new Burger King Chicken Tenders! Win win situation!
Disclosure:
I was sent product for this post. All opinions are my own, thanks!