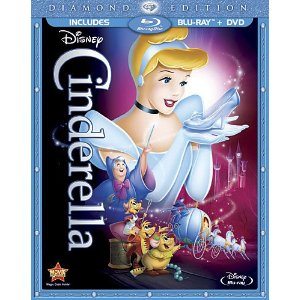 The magic is in the air, once again, as Disney transforms its classic fairytale to all new Blu-ray heights for its royal diamond edition debut, on October 2nd!!!! Are you excited yet??
I know we were! I was able to grab a copy to check out with my two babies and we LOVE this. Well, heavens, we have always loved Cinderella and now we get to love her and the movie all over again!
"A Dream Is a Wish Your Heart Makes," and at the stroke of midnight, October 2, 2012, dreams around the globe really will come true when The Walt Disney Studios opens its prestigious vault to release one of Walt Disney's most timeless and beloved masterpieces of all time, "Cinderella," in the highly anticipated Blu-ray™ Diamond Edition Collection!!!
The Blu-ray high-definition has enhanced pictures and sound and makes this classic movie even better than before (if that is even possible?). We loved watching this movie together. Oh the memories it brings back to me! Our favorite part is when Cinderella turns into the beautiful princess in her gorgeous sparkly gown and then gets into her awaiting pumpkin/coach to carry her to the ball!! Oh it is so magical!
The "Cinderella: Diamond Edition," with its spellbinding storyline, memorable music, unforgettable characters and spectacular animation, sparkles like never before with a wide-array of bonus features that extend the viewing experience for the whole family to enjoy including never-before-seen material, family friendly interactive activities, games and more!
"Cinderella: Diamond Edition" will be offered for purchase in several distinct packages – a collector's 6-Disc Jewelry Box Set (Cinderella Blu-ray + Cinderella 2: Dreams Come True Blu-ray/Cinderella 3: A Twist in Time on a single Blu-ray + Cinderella DVD + Cinderella 2 DVD + Cinderella 3 DVD + Cinderella Digital Copy Disc), a 3-Disc Blu-ray Combo Pack (Blu-ray + DVD + Digital Copy), a 2-Disc Blu-ray Combo Pack (Blu-ray + DVD), and High-Definition Disney Digital.
Special Features Include:
• "Tangled Ever After Animated Short
• Behind the Magic: A New Disney Princess Fantasyland
• Diane Disney Miller Intro
• Personalized Digital Storybook: Bibbidi-Bobbidi-You (Disney Second Screen Experience)
• The Magic of the Glass Slipper: A Cinderella Story
• DisneyView
• Classic DVD Bonus
Stay Connected!
To learn more and stay updated please follow on Twitter, Facebook and YouTube! 
About Cinderella:
Everyone orders Cinderella around: her cruel stepmother, her awful stepsisters — even the big clock in the church tower tells her when to start another day of drudgery. But they can't stop her from dreaming, and Cinderella has faith that someday her wishes will come true. When an invitation to the royal ball arrives, Cinderella is sure her time has come — until her stepsisters, with the encouragement of Lady Tremaine, tear her gown to shreds. Just when Cinderella believes all is lost, her Fairy Godmother appears, and with a wave of her wand and "Bibbidi-Bobbidi-Boo," transforms an ordinary pumpkin into a magnificent coach and Cinderella's rags into a gorgeous gown, then sends her off to the Royal Ball. But Cinderella's enchanted evening must end when the spell is broken at midnight. It will take the help of her daring animal mice friends and a perfect fit into a glass slipper to create the ultimate fairy tale ending.
Buy
You can purchase Cinderella at Amazon.com!
Disclosure:
I was sent product to checkout. All opinions are mine. The Amazon.com link is my personal affiliate link, thanks!