This post has some great products for Easter Basket Ideas for Everyone! Easter is a fun holiday. Yes, there is a reason for this holiday and we understand that. But, it is also a fun holiday for my kids. We enjoy coloring our Easter eggs the night before Easter and awaiting the Easter Bunny! I make a yummy dinner and delicious Easter bread, and we all sit around our dinner table and eat together (which doesn't happen as often as it should!).
The kids usually go to bed at a decent hour, because the Easter Bunny likes to come early! He hides the eggs and leaves little gifts for the kids. You know how it goes… family members can be hard to shop for. What gifts do they like?
I try to leave little gifts for my kids in their Easter baskets. From candy to toys, there really isn't a right or wrong way. This year I hope to leave more little toys and things and not-so-much candy.
My kids don't need a bunch of candy that is for sure! I wanted to share some 'Easter Basket Ideas for Everyone' with you. I found some really cool educational, fun, and inspiring toys that I am sure any child would love to find in their Easter basket on Easter morning!
*This post includes my affiliate links.
Easter Basket Ideas For Everyone!
For Toddlers:
RV Camper Set from Green Toys: Time to hit the road! The Green Toys™ RV Camper Set is loaded up and ready for an adventure! This colorful, 3-in-1 vehicle playset has something for everyone, featuring a pick-up truck, spacious camper, and sport boat with its very own trailer. Play with them individually, or link them all together for two feet of fun!
And don't forget the accessories – two characters, two chairs, a picnic table, and a camping stove round out this 10 piece set with endless narrative play possibilities. Great for indoor and outdoor play, the super-safe design has no metal axels or exterior paints, or coatings.
Made in the USA from 100% recycled plastic with no BPA, phthalates, or PVC. Packaged with recycled and recyclable materials printed with eco-friendly inks. For ages 2 and up. MSRP $29.99 Avail on Amazon.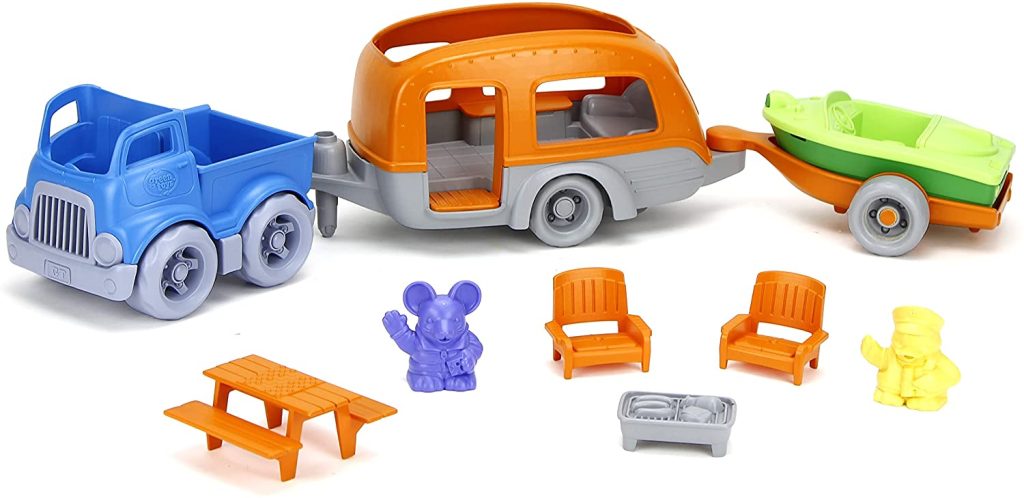 Glove-A-Bubbles Bunny! These are so cute and lots of fun! Get ready to wave and play! Kids simply remove the bubble pouch from the glove and pour one of the two bubble solutions into the pouch. Dip the glove into the bubble pouch. Wave your glove back and forth and watch tons of delightful bubbles form instantly, right before your eyes.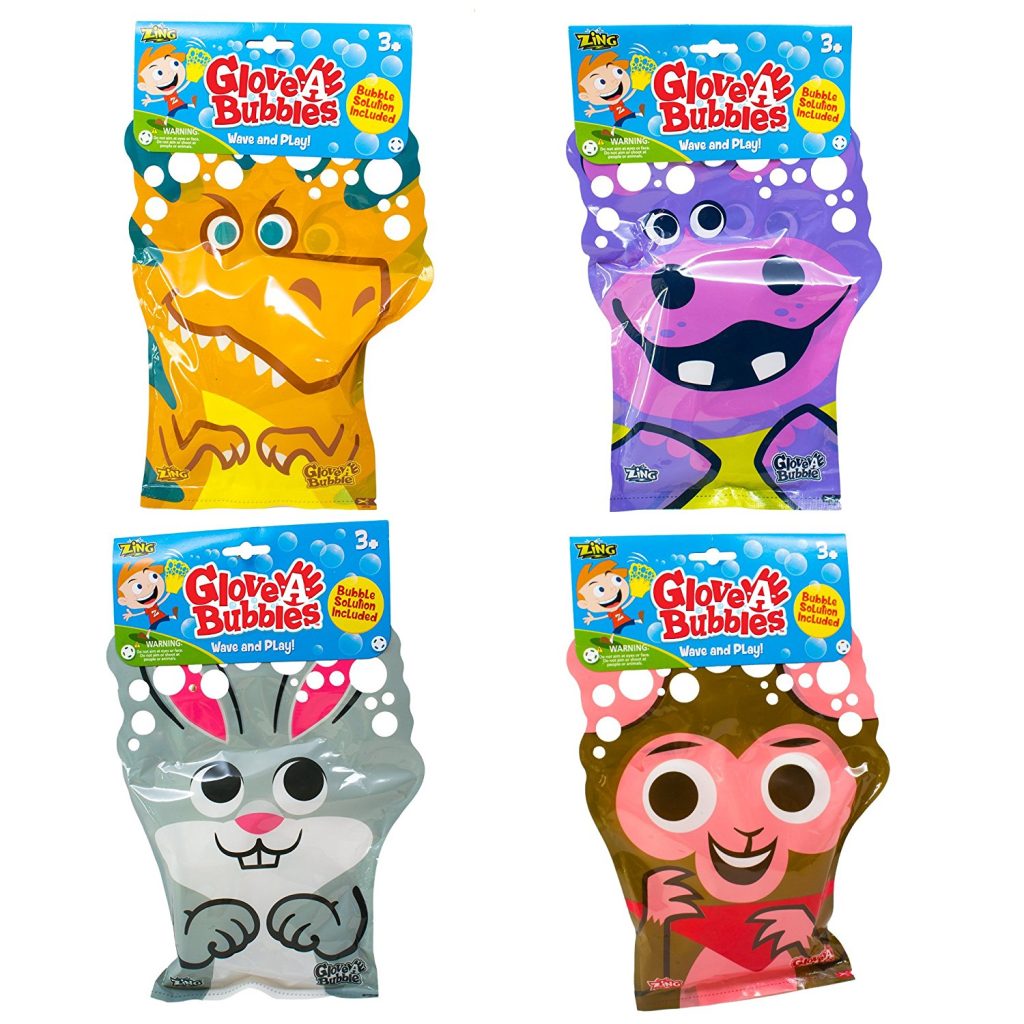 Never-ending bubbles for never-ending fun! Glove-A-Bubbles come with one glove and two packs of bubble solution. The pouch is also re-sealable and refillable. Glove-A-Bubbles come in eight different animal-themed gloves, including lion, alligator, hippopotamus, elephant, dinosaur, panda, bunny, and monkey. There's a Glove-A-Bubble for everyone! Retail for $2.99 each!
For Tweens
BubbleLick. These are edible bubbles! Talk about FUN for everyone! Bubble Universe is the company with premium BubbleLick flavors that are super fun, tasty, and the safest bubble solution ever made, so safe you can lick them! Bubble Universe uses USA-made, food-grade, USP, FDA-approved ingredients that taste so good, with four flavors: Milk Chocolate Chip, Juicy Watermelon Splash, Glazed Cinnamon Roll, and Carnival Cotton Candy! YUM.
For Everyone!
Easter Bunny Cupcake Kit from Sweetology!
Their Cookie and Cupcake Decorating Kits are delicious fun for everyone! Each kit comes with fresh-baked cake and cookies and is made from scratch with vanilla buttercream. Choose a theme and you will receive buttercream in sealed professional piping bags. No mess. Or, if coloring outside of the lines is your vibe, color charts are available. Sprinkles, candy, and edible decor top off all of the fun!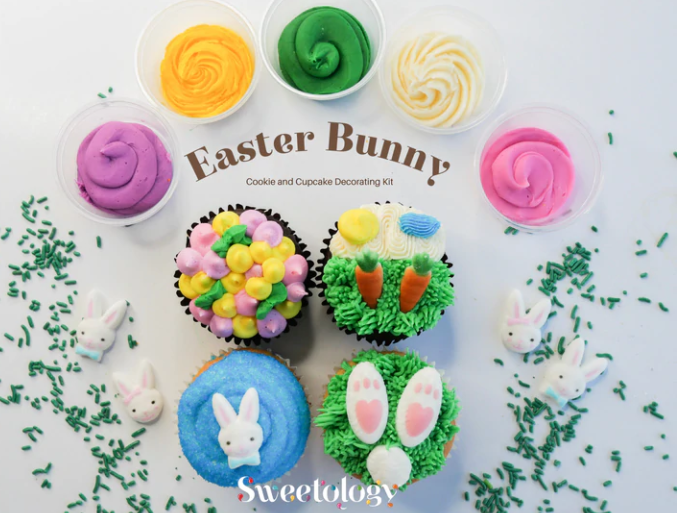 We are receiving one of the cupcake kits and I can't wait to share them with you all! Can't wait! My kids and I will have so much fun together doing this! This would be a perfect Easter basket filler OR a fun activity to do with your kids on Easter or before! Order yours today to ensure delivery before/by Easter!
Here is a 10% discount code for you! Just use the coupon code: Easter10 at check out!
Sugar Plum!
Hop on over to Sugar Plum and take a peek at these must-have Easter basket gifts. All of Sugar Plum's delicious gourmet treats are lovingly handcrafted and made from their bakery and kitchen in Kingston, PA, by mother and son team Frann and Neil Edley using locally sourced ingredients whenever possible.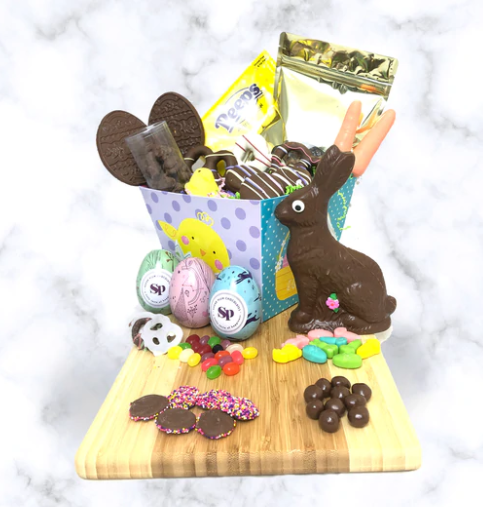 Surprise your favorite little bunny with this whimsical chocolate Easter basket, featuring an assortment of Sugar Plum favorites! From candy and chocolate to pretzels and peeps, this basket is a true Easter feast.
Included are:
1 8oz Milk Chocolate Bunny
2 Egg Nonpareils Pops
2 Carrot Pops
1 4oz Jelly Beans
1 4oz Chocolate Gummy Bear
3 collectible Easter Egg Tins
2 Easter Mallows
1 Yogurt-covered Pretzel
1 5oz Party Bark Mix
Peeps
Sugar Plum has so many Easter goodies for the whole family! Check them out and be sure to order SOON for Easter delivery!!
JiMMYBAR!
The JiMMYBAR! is a keto-friendly snack that is SO yummy! Jimmybar is regarded as the innovation leader in functional snacks, makers
of protein bars, and Keto Pudding with Functional ingredients like immune-boosting fruit, Collagen, and Turmeric Keto-friendly. In a crowded and popular category, JiMMYBAR! has built a company that is on-trend, fun, innovative, and meaningful.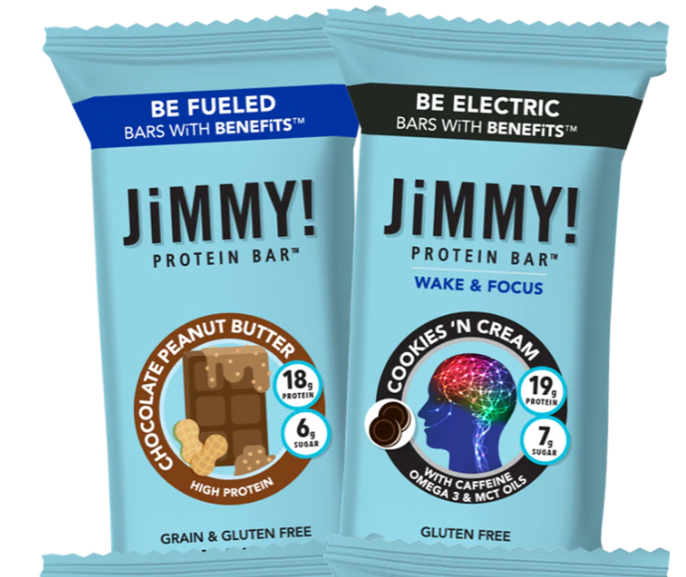 JiMMYBAR is a family company with a well-known co-founder Chef, Annette Del Prete and their protein bars can be found in over 13,000 stores within 7 countries in stores such as *Costco, Sams Club, Circle K, Wawa, BJ's Wholesale*. During covid, JiMMYBAR launched a first-to-market Keto Pudding which has helped Americans shed their quarantine weight while eating a super-rich and decadent pudding.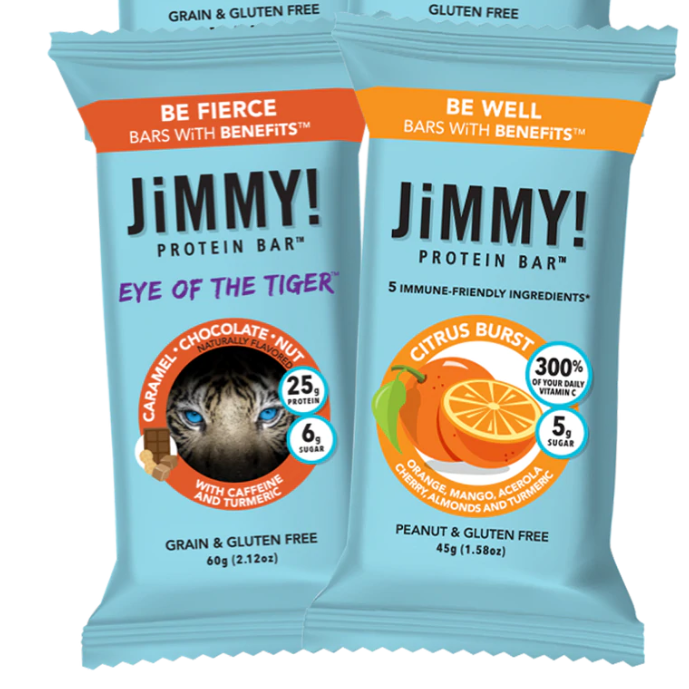 I absolutely LOVED these bars and could not get enough of them. I love how much protein they have in them too! My whole family loved them! These are definitely going to be a staple in our pantry for a quick and healthy snack at home or on the go!
MarieBelle Chocolates
All of MarieBelle chocolate products are handmade from the highest quality single-origin cacao resulting in rich complex flavors not commonly found in chocolate. Their chocolates are all handmade by passionate chocolate artisans.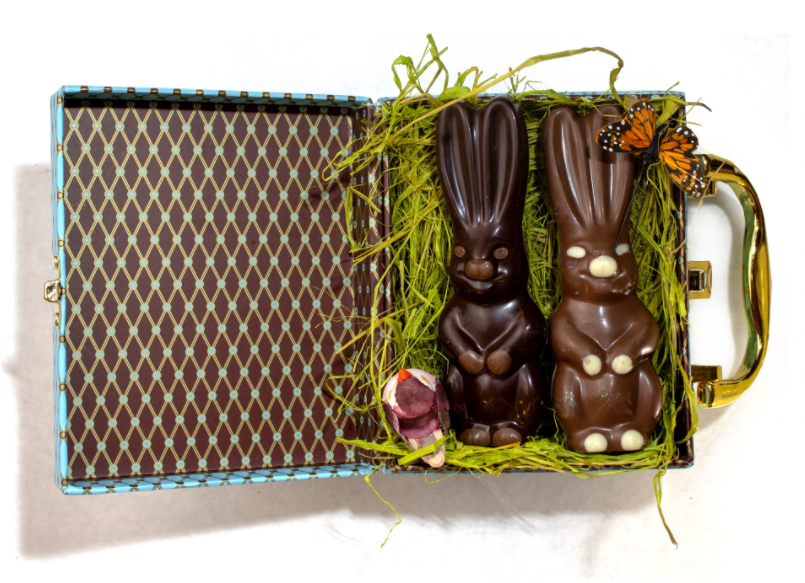 They have some REALLY cute and yummy chocolate for Easter! You can check out their Easter chocolates and even if you can't order before Easter, just remember, chocolate is appreciated any day of the year! You don't need a special occasion to nibble it up! MarieBelle Chocolates would make a wonderful and yummy addition to your Easter baskets this year!
Bell's Cookie Co.
Don't forget the cookies! Nostalgic tastes are one of the main reasons for the creation of Bell's Cookie Co. Now they are on a mission to be the number one choice for cookies and sweet treats. Their cookies are already the pride of Washington, recently voted the best in the state, but you don't have to live there to enjoy these perfectly crunchy and gooey creations.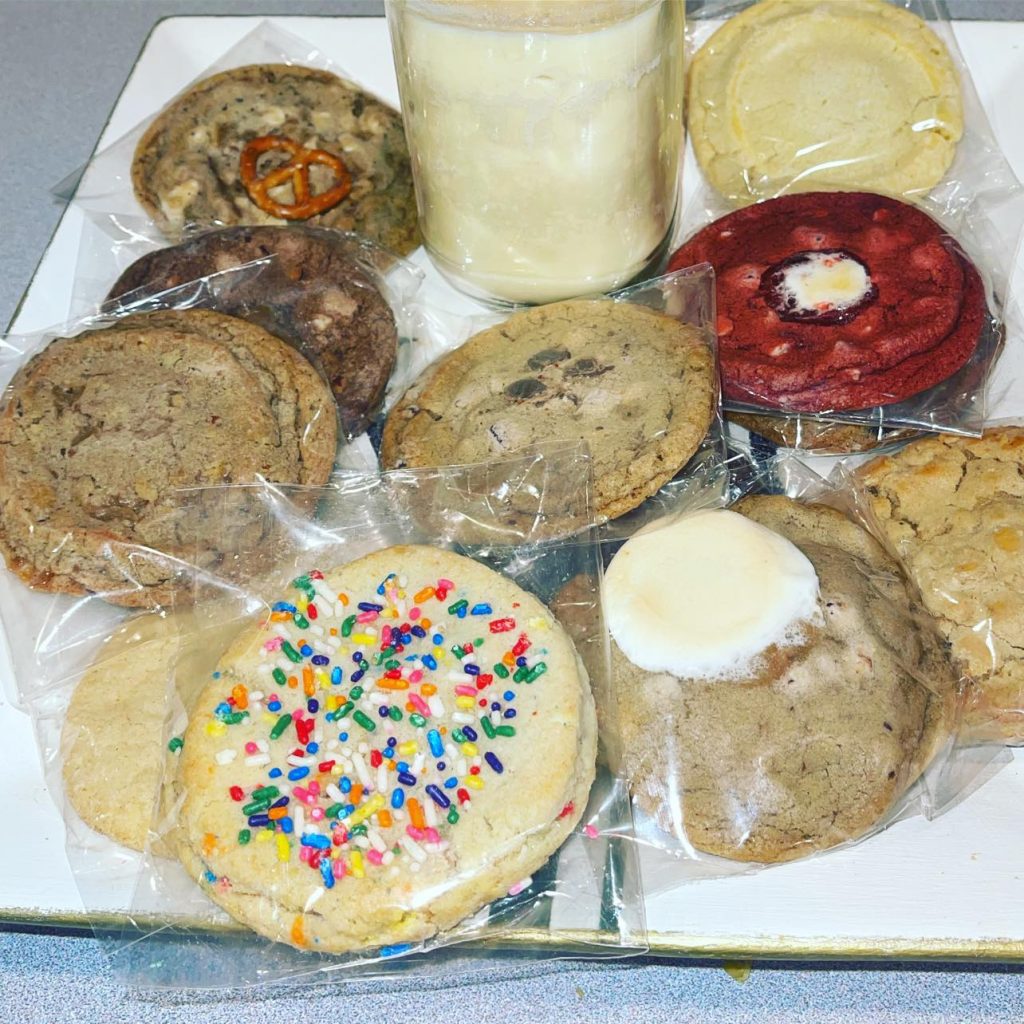 The family-owned cookie shop delivers nationwide with their cookies individually wrapped to remain fresh and boxed to never arrive crumbled. With 12 traditional and unique flavors, you'll just have to try them all to see your new favorite.
These cookies literally tasted like I cooked them myself! They were SO soft and yummy! They tasted fresh and each one was just so delish! Price: One Dozen Cookies $36, Box of 8 Cookies $28.
Rule Breaker Snack's new Strawberry Shortcake Bites
The Rule Breaker Snack's New Strawberry Shortcake Bites are the perfect addition to any Easter Basket – especially for those looking for a break from the traditional chocolate treats, and parents who are looking for plant-based, gluten-free, or nut-free options for their kids. These delicious bites feature creamy white chocolate chips, a delectable soft-baked texture, and of course sweet strawberry flavor and are just perfect for an Easter egg hunt or family picnic outside!
The new Strawberry Shortcake Bites are available in a 4 oz. bag for $3.99 SRP on rulebreakersnacks.com, amazon.com, and at independent retailers.
Zeno's World's Most Famous Taffy
With 101 flavors to choose from, everyone is sure to find some they love. Zeno's taffy is perfect for your Easter Basket Goodies guide, with flavors ranging from the classics like vanilla to banana, and the wild like a pickle to chili pepper.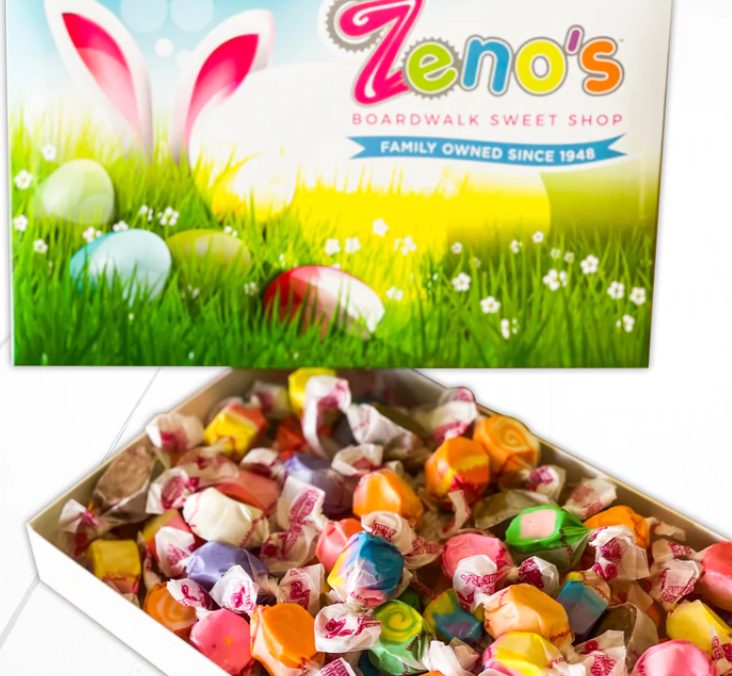 Are you looking for something sweet to give your peeps this Easter? With Zeno's Easter Taffy Box of Taffy, you'll receive a decorative box loaded with a variety of mouthwatering flavors that will have you hopping for joy! Their Classic Mix contains the most popular Taffy choices from their collection of more than 101 World's Most Famous Taffy™ flavors. One pound of our delicious Saltwater Taffy contains approximately 65-70 pieces! YUM!
Stuffing Easter Baskets with candy is a thing of the past. Put fun, educational, and inspiring gifts in those Easter baskets this year! What would you add to my list of Easter Basket Ideas For Everyone?