*This post includes my affiliate links
Have you ever wanted to do a little food exploration with your kids? Are your kids interested in eating different foods from around the world and learning about them? My kids love learning about other cultures and trying different foods, it is fun! With eat2explore your child can now do just that! Keep your kids learning at home and while they cook with you! So fun and a great bonding time with your littles.
This holiday season give the gift of world exploration with eat2explore! eat2explore is not just about putting another meal on the table; it's about carving out time for family, learning tangible cooking skills, exploring world cuisine & cultures, and cultivating sustainable consumption habits at an early age!
eat2explore is the only award-winning experiential cooking kit that is designed to bring cultural education alive through the exploration of food and world cuisines! You can easily subscribe (cancel ANYTIME!)and you will receive a new adventure every month. Each box includes recipes, shopping lists, educational and fun activities for you and your child to do together, and all the hard-to-find spices and sauces that make each meal unique!
Food Exploration with eat2explore!
Get started by selecting your box! Decide how often you want to receive your exploration of food box. You can also mix and match from their growing collection of countries or choose one of their preselected continent packages and save some money! You can also choose whether you want it Gluten-free or choose a vegetarian option.
With eat2explore You Can:
*learn and experience a new country and culture through their local food
*create lasting memories together as a family
*help your children develop the critical life skill of cooking, and promote confidence while exploring the geography, math, science, and social studies through food
*discover the health benefits of unique ingredients and different food combinations. Choose from gluten-free/vegetarian boxes and substitute local ingredients.
*enjoy your experience on your own time, using ingredients to fit your needs. Boxes may be purchased around your curriculum's schedule.
*expand your child's palate and increase culinary curiosity while exploring cultural foods with hands-on meal preparation
Each explorer box includes the following:
*3 recipe cards
*essential spice/sauce/grain mixes
*shopping list for fresh ingredients you may not have at home
*Country explorer brochures
*Educational activity sheets
*fun cooking tools
*collectibles (passport, country sticker, flag pins)
Deals Going On!
*eat2explore is having a Black Friday sale that is still going on right now! Save 25% with the code: BFCM25 for a limited time only!
*Nov 1 – Dec 31 – Holiday Explorer Bundle – a bundle of e2e cookbook, WBE & WBG, (Apron, map, knife) $99.95 (value $132.50 – 25% off)
*12/1 – 12/31 use code HOLIDAY20 to Save 20% off all subscriptions
*Nov 1 – Dec 31 – Continent Gift Bundle – a bundle of 5 boxes by continent + apron + map + knife + gift box $175 (value $215 – 20% off)
*Giving Tuesday – Nov 29 – Double your impact on Giving Tuesday! eat2explore will increase donations by an additional 20% of proceed (from 20% to 40% of proceeds)
*Order by December 12th to get your order by Christmas!! FREE shipping!!
*Sign up for their newsletter and receive 10% off your first order.
Share And Earn Rewards!
Share eat2explore with your friends! They'll save $10 on their first order and you'll receive a $10 off code valid on your next purchase of $20 or more!
Buy
Subscribe or buy a gift for someone this holiday season! Get started here!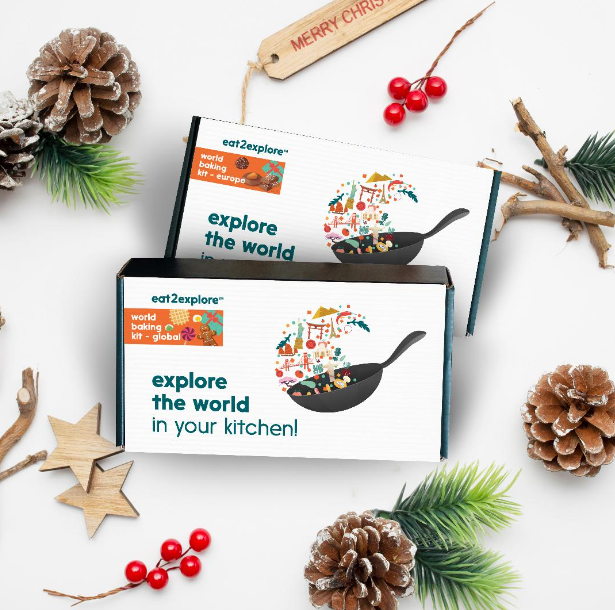 Win!
One lucky person is going to win eat2explore World Baking Kits – Europe and Global! Yay!! (value $70)
Rules
The contest is open to US 18+. The giveaway will end on December 13, 2022, at 11:59 PM MT. The winner will have 48 hours to confirm their win after I email them, or a new winner will be chosen. I am not responsible for lost or stolen mail.