Fundraising Ideas for Schools can be fun, creative and engaging. Yes, school fundraising can go beyond selling cookie dough, candy, candles and wrapping paper. I've been there, and I understand the pain of having to sell candy to people who don't want to buy, or who purchase products from you as a favor.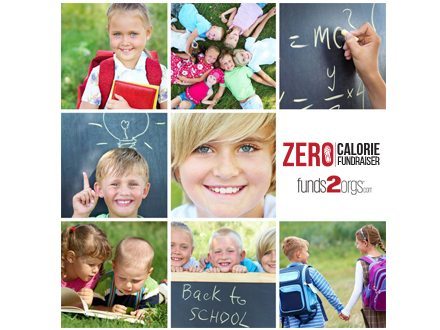 Fundraising Ideas for Schools
When my daughter was a little girl I dutifully sold candy. Want to know a little secret? I was a professional salesman in the footwear industry and even I didn't like selling candy to friends and family who didn't want to buy.
My family, friends, and colleagues at work didn't want to buy candy they didn't need. They didn't want the extra calories and sugar in their house. But, they always dutifully helped me out and bought the candy and cookie dough as a favor to me.
Many, who were parents, were already buying and selling candy for their own kids' school fundraiser. So, this became a quid pro quo. I would sell them candy they didn't want for my daughter's school fundraiser. And then I would have to buy candy I didn't want or need from them.
Years later I established Funds2Orgs, one of the leading school fundraising companies in North America. This social enterprise combined my passion for shoes, with the needs of our U.S-based schools, youth groups and organizations for creative fundraising ideas, and the global need for shoes in developing nations.
Thousands of schools, youth, and athletic groups have partnered with us to collect gently worn, used and new shoes. Funds2Orgs issues a check based on the total weight of the shoes gathered.
A Zero-Calorie Fundraising Ideas for Schools
I've mentioned thousands have partnered with us and you can check out what people are saying about Funds2Orgs. We believe in giving our shoe drive fundraiser partners everything they need for success, which includes the following:
1.A team of professional fundraising coaches to help plan and guide each shoe drive fundraiser from start to finish.
2. The collection material for the shoes, including rubber bands and bags.
3. The marketing and promotion material needed for success, including a press release, weekly planner and other resources.
4. The shoes are picked up by one of our team of drivers.
5. A check is issued by Funds2Orgs within 2 business days of the shoes being processed at our depot.
Unique Fundraising Ideas for Schools (Global Impact)
The shoes are sent to developing nations to micro-entrepreneurs (small business owners) for inventory. Millions of families in developing countries live in poverty or even extreme poverty. Shoes collected in North America are re-purposed (given a new life) and sold for a profit by micro-entrepreneurs in their local communities.
Shoe drive fundraisers are a way to do something good for the environment. Did you know that over 600 million shoes are thrown in landfills across the U.S. each year? As those shoes decompose, they harm the environment and health because of the toxins they release. It can take as many as 80 years for a single shoe to decompose.
Funds2Orgs has worked with many schools and groups across the country helping them raise thousands in each easy fundraiser. We have a proven shoe drive fundraising solution that's helped so many raise money for education, youth sports and even to adopt children.
Do you think the time has come to learn about some new Fundraising Ideas for Schools or youth group?