In this blog post, I will be talking about how to get a natural-looking tan without the sun! Rebel Tan is the best self-tanner for those who want a natural-looking tan without having to expose their skin to the sun's harmful rays. Their organic, natural sunless tanning foam goes on streak-free and has a Kakadu Plum scent that will make you feel like you're on vacation! I love the scent!
With 90% naturally derived ingredients and 100% organic DHA, Rebel Tan is the perfect self-tanner for those who want to take care of their skin. Enriched with Vitamins A & E, their self-tanning mousse will leave your skin feeling moisturized, radiant, sunkissed, and looking its absolute summer best! Rebel Tan is the best way to get a natural-looking tan without damaging your skin!
*This post includes my affiliate links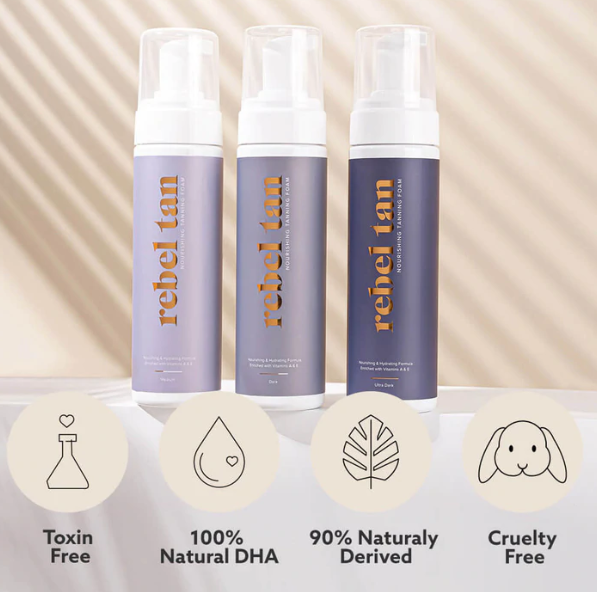 Rebel Tan: How To Get A Natural Looking Tan Without The Sun!
I received a bottle of their dark sunless tanning foam and had to use it the second it came in the mail! I have tried SO many sunless tanners in the past and I am always looking for the perfect sunless tanning product out there. So, I was THRILLED when this came in the mail and I just had to use it right away!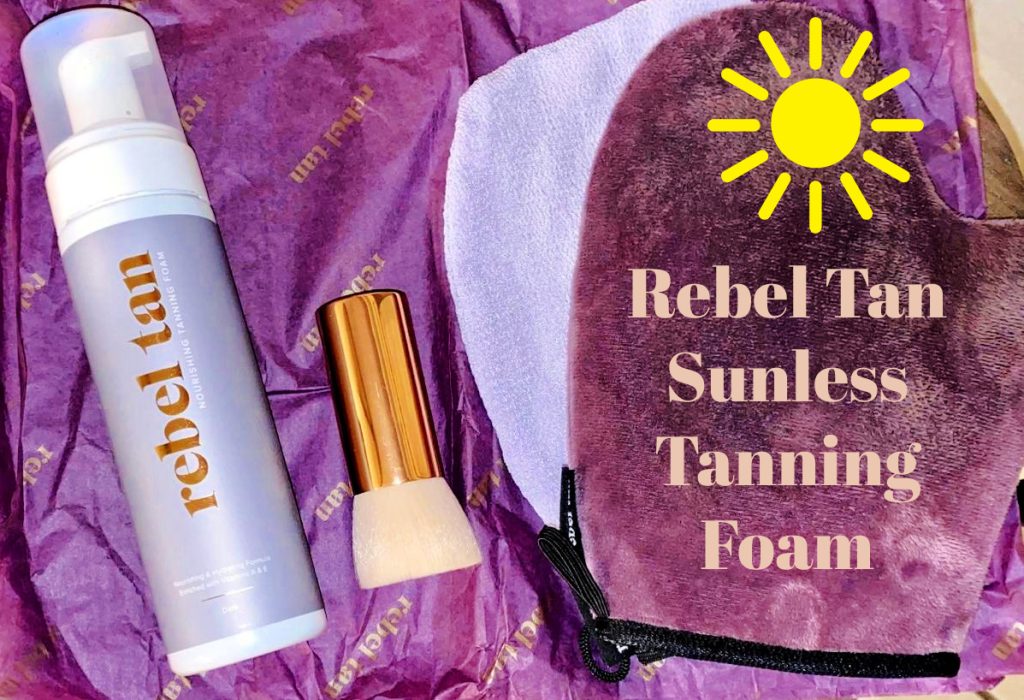 Prep Your Skin!
I always like to take a bath first and exfoliate my whole body with a really good exfoliator. I absolutely LOVE this one!! It works SO well to get my skin prepped and ready for a sunless tan! I use it with the Rebel Tan exfoliating mitt to really get my skin scrubbed good, especially on my knees, elbows, top of hands, and on my feet. It is SO important to exfoliate before using a sunless tanner! So, never skip this part!
After your skin is prepped (exfoliated), I like to shave my legs! I will also make sure my face is smooth too by using a derma planning shaver tool. I do this when I get out of the bath so I can see what I am doing haha! I shave off all the peach fuzz on my face and neck area. That way, it is super smooth and ready for that sunless tanning mousse!
Once I am exfoliated to the max and have super smooth skin from shaving, I will then use a tiny amount of moisturizer on my elbows, face, feet, knees, etc., so that I KNOW my sunless tanning mousse will go on smoothly and perfectly!!! This is another step that I ALWAYS make sure I do only because I want the most streakless sunless tan possible!
How To Get A Natural Looking Tan Without The Sun!
After my skin is fully prepped and I am feeling good about how soft it is, then I can start applying my sunless tanning mousse! I start with my feet and work my way up to my face. I pause in between each part to ensure that it looks even and nice. I love that Rebel Tan is colored so if you make a mistake you can quickly rub it in or take it off.
I use the sunless tanning deluxe velvet tanning mitt for my whole body and for the smaller spots, like the top of my hands, feet, and face, I use the Rebel Tan Vegan Kabuki Brush. By using that brush on the smaller areas, my sunless tans always turn out perfectly! It is all in the tiny details!
My daughter applied Rebel Tan Dark to one leg and left one leg natural. This is what it looks like RIGHT AFTER she applied the self-tanning mousse: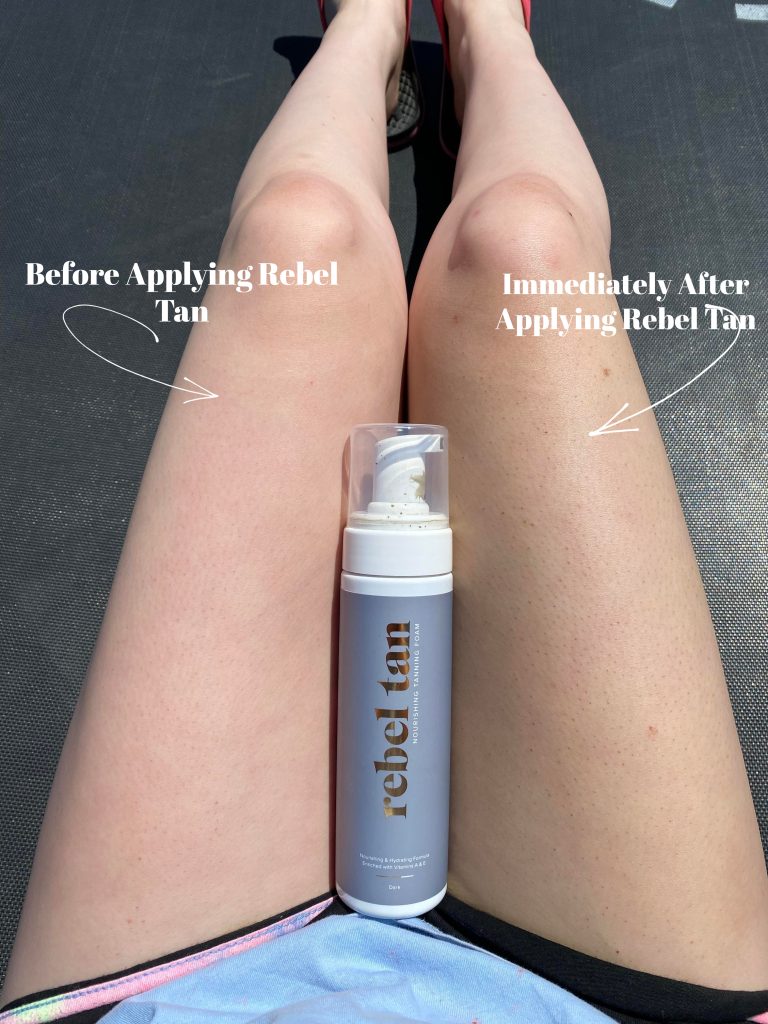 Tips
If you want a DEEP, dark, gorgeous tan, I recommend leaving the sunless tanning mousse on until the next day so that it sets into your skin and can develop overnight! I usually always do this! BUT, if you want a lighter, golden tan, you can wash off the sunless tanning mousse about 3-4 hours after applying it. That way, you will still have a tan, but it will be subtle and lighter (like you spent a day in the sun!). If you want an even deeper tan, reapply the sunless tanning mousse after 30 minutes for your first application! Easy easy easy!
To maintain your tan, you simply reapply the self-tanning mousse 5-7 days after your first initial application. My tan usually will last 5 days before I feel like I need to reapply it. Don't forget to follow the steps above, before EVERY application (after 5 days…) to ensure your sunless tan is streak-free and natural looking!
My Review For Rebel Tan
As I said above, I have tried EVER sunless tanning products on the market! Or, I thought I had before I learned about Rebel Tan! I am so glad that I did find Rebel Tan because it is one of my favorite of all time, sunless tanning mousses.
The picture below is the day AFTER I applied Rebel Tan Dark and before I took a bath: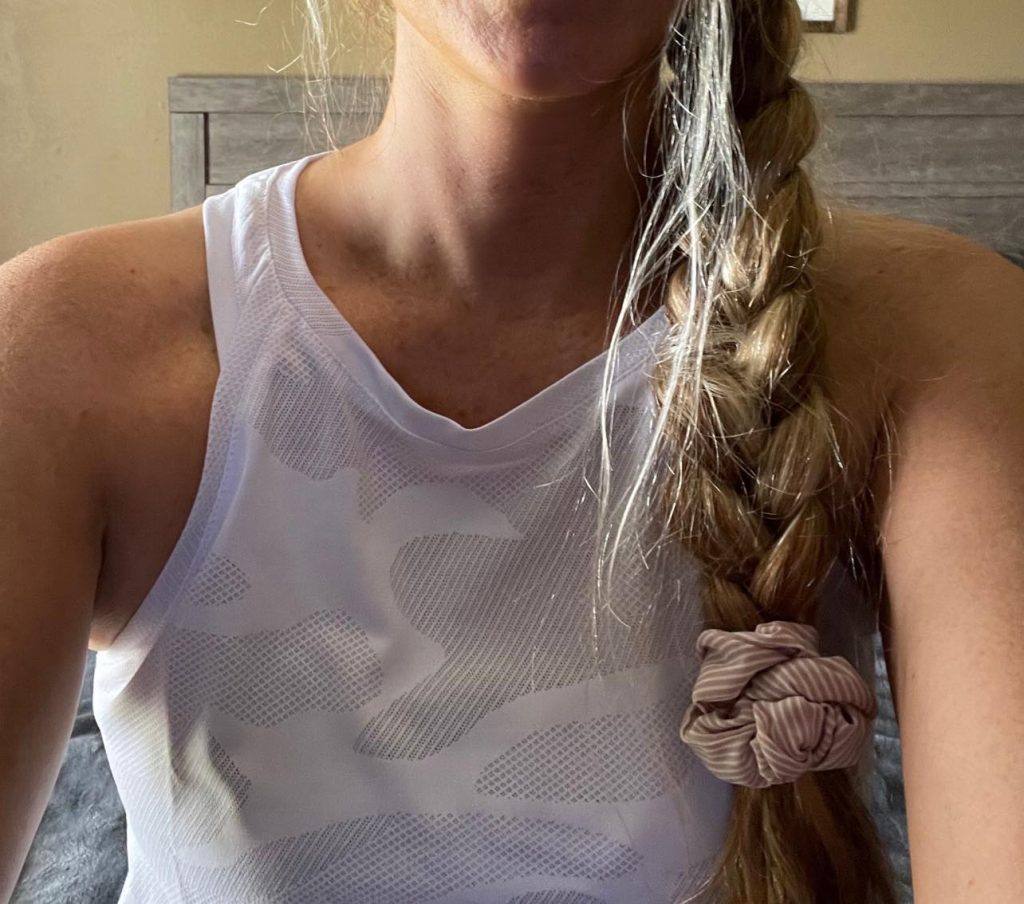 Why do I like Rebel Tan so much? I like it because not only does it not smell like other sunless tanners (when I apply and when it is developing), BUT it is the most moisturizing sunless tanning mousse I have EVER tried. Usually, self-tanning mousses will dry out my skin (hence why I have to use moisturizer before the application). However, Rebel Tan is very moisturizing and I thought that is amazing!
After I applied Rebel Tan sunless tanning mousse, my skin felt moisturized and it was kind of shiny from the moisturizer in it! My skin immediately looked more healthy and just pretty! I loved that! And, the color is really pretty too. It is a soft, sunkissed looked that I was looking for. It isn't harsh looking or blotchy, it is smooth on my skin and just pretty.
So tan and natural-looking the day after I applied Rebel Tan Dark (no stains on my feet!):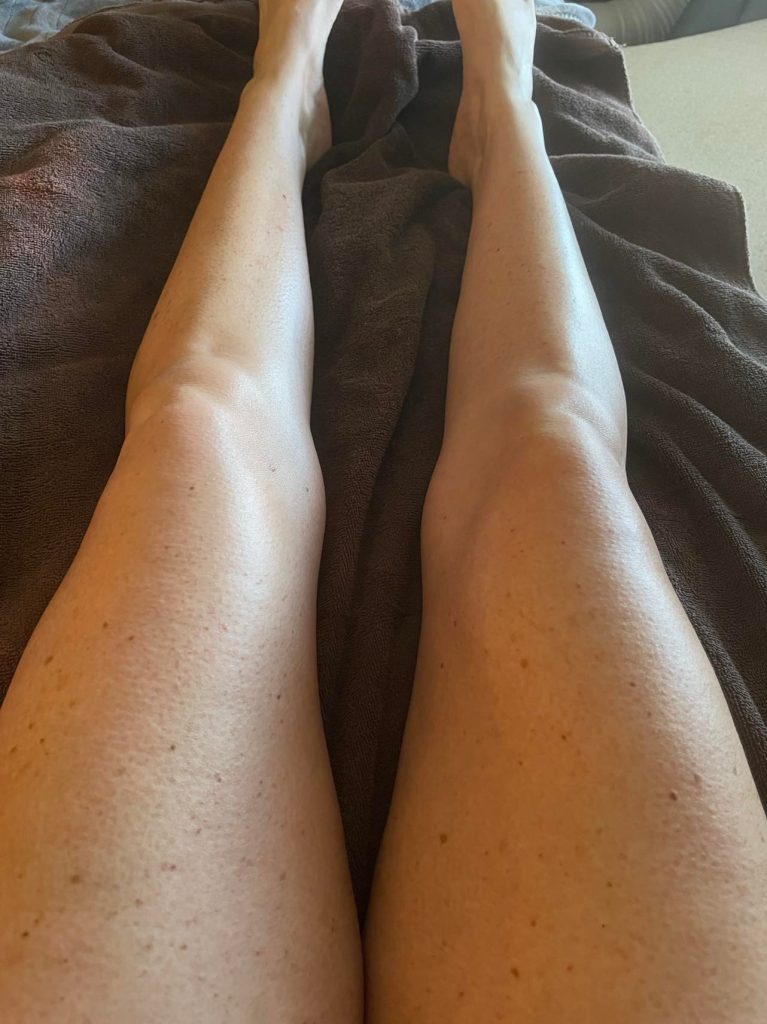 I left this on all night long (like I normally do with my self-tanners) and I never noticed a gross self-tanner scent that most of these sunless tanners give off when they are processing the tan. I was so pleased with that! My skin was SO sunkissed and TAN in the morning I felt SO confident and pretty 🙂 Whenever I have a tan I feel SO much better about myself for some reason! I looked like I had returned from a tropical vacation! I love it!
That night, when I took my bath, I gently use my favorite body scrub on my whole body. It took away the top layer of the sunless tan and left the most beautiful sunless glow ever! I felt SO damn good! My skin was SO soft and my whole body just glowed. I am so happy that I found Rebel Tan and will be using it all summer long. I can't recommend this sunless tanning mousse enough! Really, I can't!
What Are The Different Shades?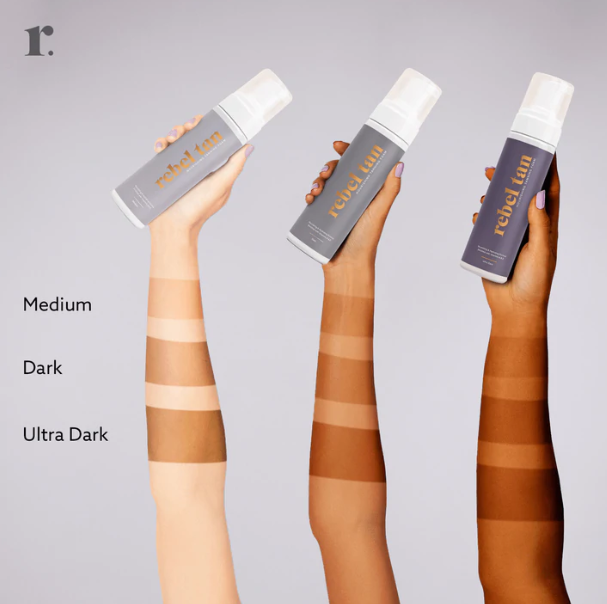 Rebel Tan has three different shades to choose from:
*Medium
*Dark
*Ultra Dark
I am using the Dark in the pictures above.
Why You Should Buy Rebel Tan
Your new favorite tan has arrived. Rebel Tan has perfected the holy grail of tans that ticks all the boxes:
*With 90% naturally derived ingredients, 100% organic DHA (active ingredient), and enriched with Vitamins A & E, it's damn good for your skin
*It smells good, is easy to apply (total tan newbies included), and goes on streak-free
*It looks natural (not orange) while being deep enough to give you that bronzed glow you're after
*Cruelty-free and PETA approved
Buy
You can learn more about Rebel Tan and buy their products by visiting them online at https://www.rebeltan.com/.
Win!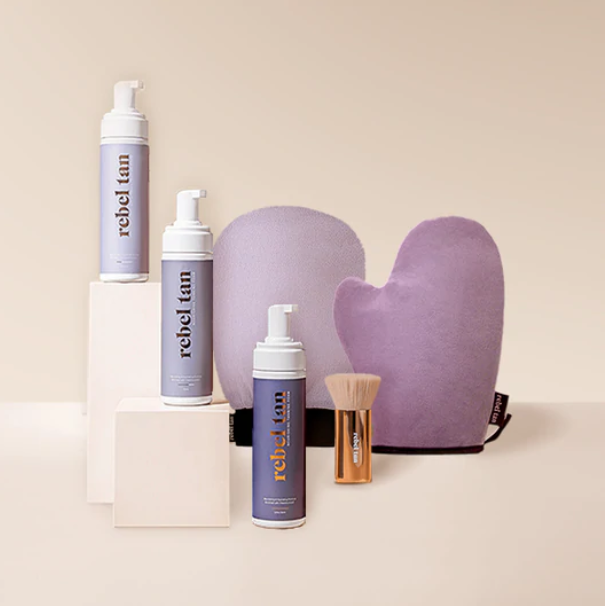 One lucky person is going to win the Rebel Tan Prep and Tan Bundle and the winner can choose which shade they want: medium, dark, or ultra dark!
The bundle includes the following products:
1 x Nourishing Tanning Foam (Choose your shade)
1 x Exfoliating Mitt
1 x Deluxe Velvet Tanning Mitt
1 x Vegan Kabuki Brush
Rules
The contest is open to US 18+. The giveaway will end on July 5, 2022, at 11:59 PM MT. The winner will have 48 hours to confirm their win after I email them, or a new winner will be chosen. I am not responsible for lost or stolen mail.