There are so many water bottles on the market so which one is best for you and your needs? I found the perfect water bottle for me. It is a half-gallon water bottle with a sleeve and it is so cute and perfect for me. The brand is Hydrin and they have a couple of other cute half-gallon water bottles with bottle sleeves too. I received the half-gallon sports water bottle with the snakeskin sleeve and ADORE it.
Half Gallon Water Bottle with Sleeve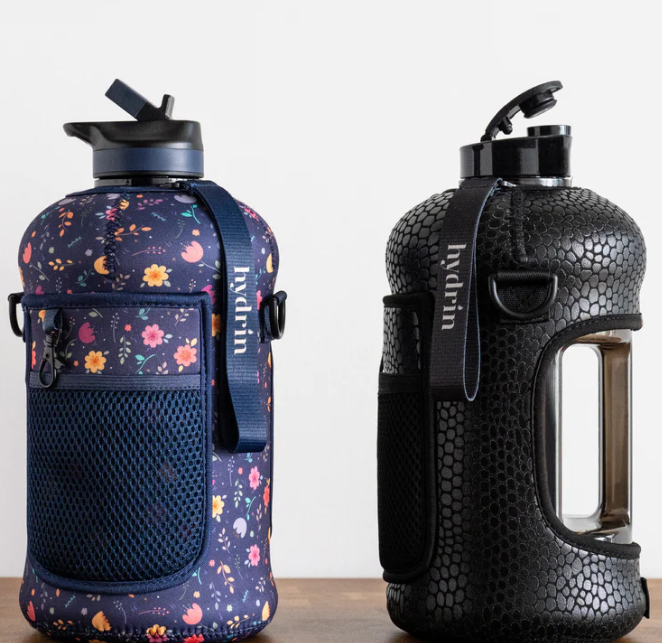 Now I can make daily regular hydration fun and cool again as I sip out of my super cool-looking water bottle! The hydrin water bottle with sleeve carries more than just water for you. This half-gallon (2.2 L) water bottle comes with a multifunctional sleeve that keeps your drink cold longer, while also allowing you to carry all the essentials with convenience and style.
Each water bottle comes with a 5mm neoprene sleeve where you can place your phone, car keys, and other small, important stuff you need for a bag-free day outside. Carry it hands-free by attaching the sling included. Keep it close to your body and never have to worry about leaving your Hydrin water bottle on a table in a beach-front cafe or on a bench in the park!
Perfect for Everyday Hydration Needs!
The Hydrin jug holds all the water you need to stay hydrated during your exercise. The 74oz water bottle has a wide mouth opening perfect for ice cube/workout supplements. The Hydrin water bottles come with a foldable straw lid and an extra flip lid.
Eco-Friendly and BPA-Free!
The Hydrin gym water bottle is leakproof, sweatproof, and lightweight. It is also made from the thickest and highest quality food-grade PETG plastic to make it durable for years to come. I prefer this water bottle over any of the water bottles I have had before (and I have had A LOT of them!!!). Even better than my gallon jug water bottle I have! I just love this one so much.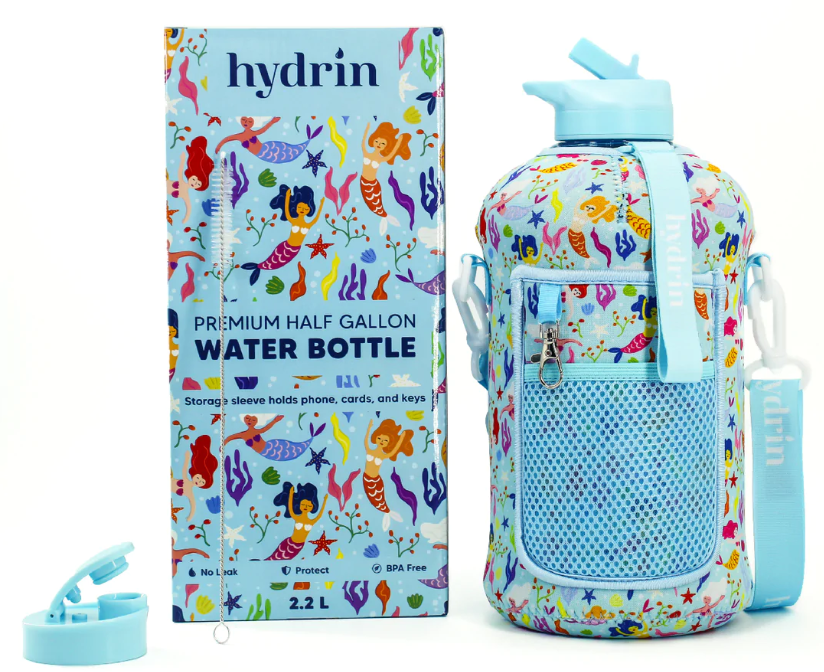 What Is Inside The Package???
It is always important to know what is inside the package you bought, right? Well, here is everything you need to know!
– Half a gallon (2.2L, 74 oz) water jug (100% BPS and BPA free & food safe)
– Extra flip lid
– 5mm soft neoprene storage sleeve with a key hanger, cell phone storage & utility pocket
– Strong long brush for cleaning your bottle
– Removable/adjustable shoulder strap
Whether you work out at the gym or work out at home, this gym bottle has you covered in the hydration department. I carry this h2o capsule with me everywhere I go. On errands, and at home, it is always by my side reminding me to drink my water!
What Makes Their Product Unique?
Hydrin is unlike any other water bottle on the market. It's designed to provide function and inspiration while making it easier for you to stay hydrated. Our one-of-a-kind bottles come with long adjustable straps and two pockets. Hydrin bottles are designed to look great while providing storage space to carry your essentials. Whether you use it as part of your daily exercise routine or the commute to work or school, we are confident you will never leave home without it again!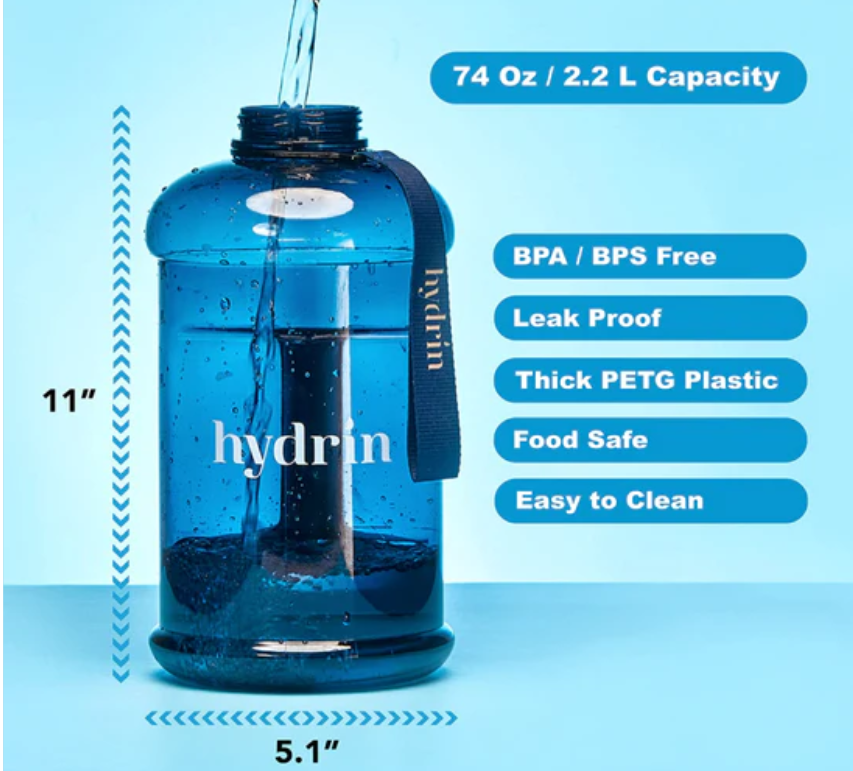 Some Questions You Might Have About The Half-Gallon Water Bottle With Sleeve
*Is the neoprene sleeve machine washable?
YES. The neoprene protective sleeve is machine washable. We recommend washing on cold with items of similar color. We also recommend taking off the carrying strap before washing!
*Is Hydrin Eco-friendly?
Yes. Made with food-grade PETG plastic. The mission is to help reduce the amount of plastic waste by offering a sustainable and reusable alternative to disposable water bottles.
*Is our bottle dishwasher Safe?
No, our bottles are NOT dishwasher-safe. We recommend hand washing with a brush, warm water, and soap. I clean mine with a bottle brush, dish soap, and warm water, daily. Easy peasy!
*How cold does it keep the water?
The 5mm premium neoprene protective sleeve is to eliminate water bottle sweat and keeps it cool and fresh for a few hours.
*What material are our water jugs made from?
We designed our water jugs with your health in mind. All of our water bottles are made from the highest quality food-grade PETG plastic & BPA free for more durability & long-lasting use.
*How much water does the Hydrin bottle hold?
Our water bottles can hold up to half a gallon of water (74 oz) or 2.2 liters!
*If you still have any questions, you can always contact Hydrin at [email protected]
Why Should Drink Water?
Water is essential for human life. Not only does it make up a large percentage of our bodies, but it's necessary for a variety of physiological processes. That's why it's important to drink enough water every day. But what are the benefits of drinking water? Let's take a look at a few below.
1. Drinking water can help you lose weight.
2. It can help improve your skin complexion.
3. Drinking water can help you consume fewer calories.
4. It can help relieve headaches.
5. Drinking water can increase your cognitive function.
6. It can boost your mood and energy levels.
7. Finally, drinking water is essential for flushing toxins out of your system.
If you don't like the taste of water, adding slices of lemon, lime, or cucumber can give it some flavor without adding any calories! And carrying around a cute reusable water bottle like the Hydrin half-gallon water bottle with a sleeve will make it more likely that you'll actually drink from it throughout the day!
I loved this water bottle so much that I included it in my Holiday Gift Guide for wellness and fitness gifts! You can check out my gift guide and do a little shopping while you are at it, for the holidays! Yay!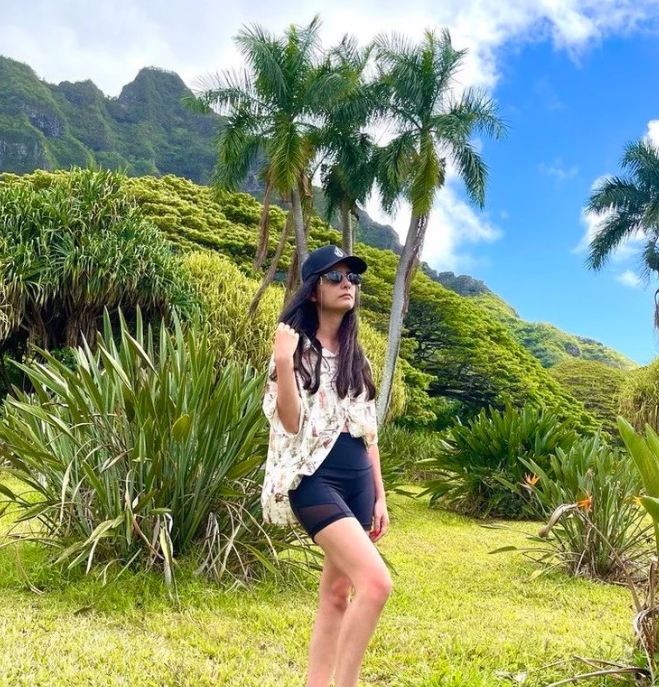 Meet the Founder of Hydrin!
Hydrin was inspired by my desire to find the perfect multi-function water bottle. I wanted something compact, and organized, that kept me hydrated and looked good when I carried it around. When I realized that I wasn't alone in my search, I knew it was time to bring my vision to life. I developed unique, sustainable, and functional water bottles for anyone who wants to hydrate and carry their essentials in one place. I love the products we offer and work hard to ensure our customers do too! – Sheila, Founder
The Hydrin Mission
Over 60 million plastic water bottles are thrown away every day. What we have created will aim to protect the environment by significantly reducing the amount of plastic dumped in our oceans and landfills.
Hydrin's driving mission is to help reduce plastic waste by offering a sustainable and reusable alternative to disposable water bottles. Together, we can contribute to a more eco-friendly environment while staying hydrated.
Shop!
You can purchase these amazing Half Gallon Water Bottle with Sleeve online at https://hydrinco.com/. The price is $48.
Plus, their water bottles come with a 12-month manufacturer defect warranty. If your Hydrin has any defects or manufacturing issues, it is covered by its warranty. (The warranty does not cover normal wear and tear, accidents, drops, odor, negligence, or misuse on the consumer's behalf).
They also offer FREE shipping to US and Canada with orders over $53.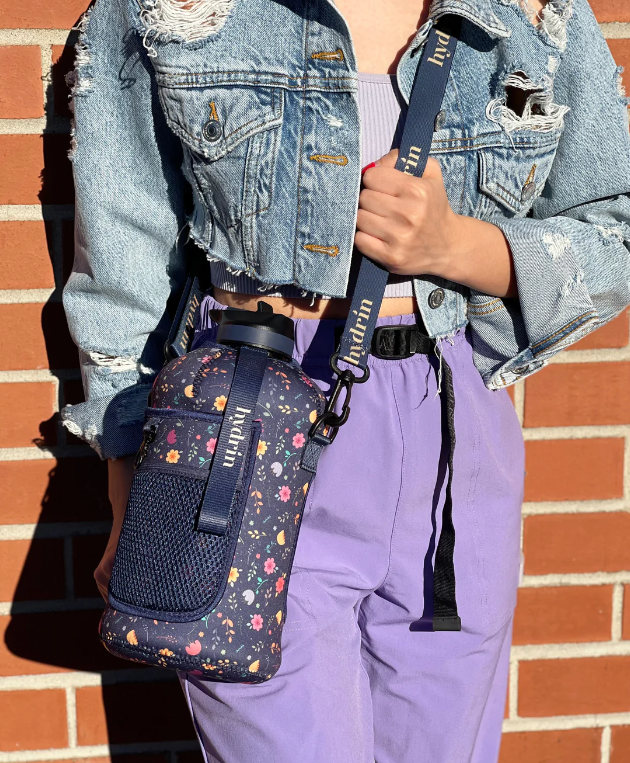 Win!
One lucky person is going to win the half-gallon water bottle with the floral sleeve! Yay!
Rules
The contest is open to US and Canada, 18+. The giveaway will end on November 24, 2022, at 11:59 PM MT. The winner will have 48 hours to confirm their win after I email them, or a new winner will be chosen. I am not responsible for lost or stolen mail.