All families crave a happy home environment to live, laugh, and learn. However, the prospect of transforming the property feels very daunting due to the perceived costs and hassle. Thankfully, it is possible to make a significant improvement without investing huge levels of time or money.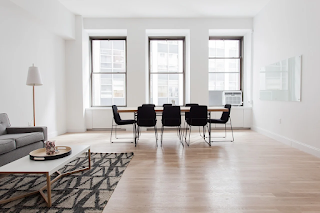 Here are five simple steps that can work wonders for the home, delivering better results for all the family.
1- Put Safety First
It will be impossible to enjoy the property to its full potential if you don't feel safe inside. Therefore, you must place a heavy focus on adding the right home security features to keep burglars at bay. If nothing else, it should put your mind at ease. If you have children, it will also be necessary to childproof the property. Because you cannot possibly expect to keep your eyes peeled at all times. A safer home is a happier home and must form the foundation for success.
2- Declutter
The clue is in the title, living spaces are for living. Therefore, it is important to avoid cluttered and claustrophobic vibes. Removing those tones is perhaps the quickest way to transform your home for the better. An affordable mobile storage unit will allow you to complete the process one room at a time to unlock the full potential of each space. It allows you to rethink your approach to interior design while leaving the property to feel bigger and better than ever before. It will leave you smiling.
3- Add Personal Touches
A little character goes a long way when designing your living spaces. Remember that you are designing a family home rather than a showroom and you won't go far wrong. Turning family photos into artwork is the obvious choice. However, you can look to use other items, like music memorabilia or messages that resonate with your family to decorate the walls. When they tell the story of your household, the overall impact will be far greater. In turn, you can feel far more comfortable.
4- Focus On Togetherness
The modern home has improved in many ways. One downside, however, is the fact that many households do not share family time like they once did. People are glued to their individual screens rather than spending time together. This is a great time to think about a home cinema, a garden patio, or other additions that will encourage more time spent together. We are spending more time at home than ever before, so it makes sense to create magical memories with your loved ones.
5- Invest In Your Bed
It's only natural that you want to consider the upgrades that improve your waking hours. However, you must not ignore the evening times. Investing in a better mattress is one of the smartest things you'll ever do. 10 Reasons Why Good Sleep Is Important – Healthline. A good night's sleep will improve your mood, energy levels, and appearance. The addition of a new duvet or thicker window coverings will certainly aid the cause. When combined with the other steps mentioned above, your home settings will be happier than you ever thought possible.