Yay! The weather is getting warmer and that means no more cabin fever!! Time to get outside and play! Keeping Kids Entertained Outdoors with Bubbles has never been so dang easy! Why? Because being outside is so fun! Having fun with your kids is a great thing to do!
Bubbles are one thing that never gets old. They are fun to blow and they are even more fun to chase and pop! There are so many fun bubble toys on the market, but below are two of our most favorite bubble toys for you to check out!
*This post includes my Amazon affiliate links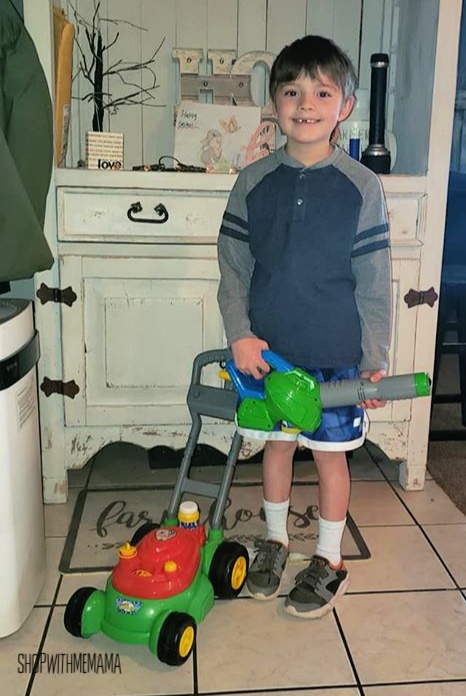 Keeping Kids Entertained Outdoors with Bubbles
Keeping kids entertained outdoors can be challenging, but not with the right toys and activities! Whether they are helping to mow the lawn or blow the leaves, Maxx Bubbles gives kids a fun new take on traditional bubble play! Made with a non-toxic formula, Maxx Bubbles is a safe outdoor activity that will keep kids engaged for hours!
Work just like mom or dad with the
Bubble N Go Mower!
The mower has mechanical gear sounds for more realistic play.
Just fill the included bottle with bubble solution, push the mower, and have fun with

bubbles

in seconds.
Rugged tires keep the mower rolling along across rough terrain
No batteries required when 'mowing' the lawn!
Available now at

Walmart
The Bubble N Go Mower is so much fun. My youngest had a blast racing the mower up and down our paved walkway outside. It produces SO many bubbles! Be sure to have extra bottles on hand OR you can refill the bubble bottle it comes with. You don't want to run out of bubbles when your child is having the time of his life! If you don't have extra bubbles then you can make your own. Here is a great DIY bubble recipe!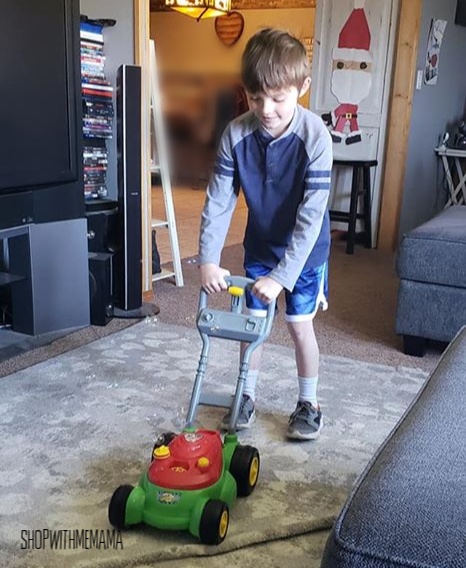 The Bubble N Go Mower doesn't require batteries and all you do is open up the little 'gas' compartment and pour in the bubbles. Then screw the cap back on and your good to go! Time to make some serious bubbles! Yay!
The next bubble-blowing toy is…
Help spruce up the garden using the
Bubble N Go Leaf Blower!
This adorable battery-operated toy leaf blower is a fun way to get kids up and moving.
With its realistic design and mechanical sounds, it helps to promote pretend play and encourages kids to use their imagination.
Just squeeze and hold the trigger to create a continuous stream of

bubbles.
Available now at

Amazon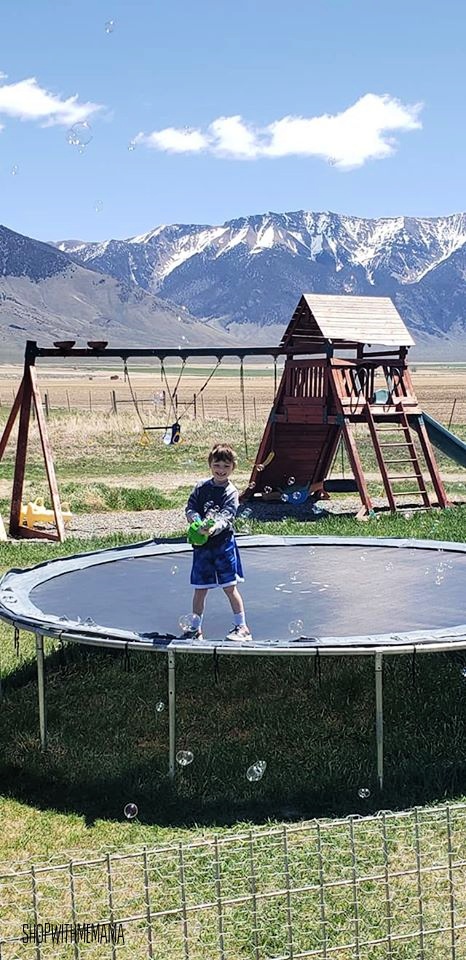 This does require 3 AA batteries (not included). Once the batteries are in, you simply take the bottle of bubbles, take off the lid and push it really hard into the hole where the bubbles go on the 'leaf blower'. Once you hear a 'click' it is in place and you are ready to start those bubbles going!
Please keep in mind that you will need to hold down the button on the leaf blower for at least 30 seconds before you will start to see any bubbles. I think it took ours a full minute before we started seeing bubbles, so just keep that in mind.
Keeping Kids Entertained Outdoors with Bubbles!!!
Also, DO NOT throw away the little bubble bottle it came with when it is empty! Those are hard to find bottle sizes and if you throw it away, you may not find another one that fits this bubble toy leaf blower. Like I said above, you can buy refill bubbles OR you can make your own (see link above).
Who Wants To Win?
YOU DO! One lucky individual is going to win the Maxx Bubble N Go Mower! Yay! Keeping Kids Entertained Outdoors with Bubbles has never be SO much fun to do!
Rules
The contest is open to US residents ages 18+. This giveaway will end on June 2, 2020, at 11:59 pm MT. The winner will have only 48 hours to claim their win or a new winner will be selected. I am NOT responsible for lost or stolen mail (DUH!).