I recently found out about Kind Laundry and was so intrigued by what they are all about and the eco-friendly laundry products that they sell. I have been wanting to cut down on waste and thought this would be the perfect brand to help me do just that. We use laundry detergent ALL THE TIME. It is ridiculous how much laundry detergent I go through each week! Ugh! I am always using my washer and dryer! When I decided to try Kind Laundry products, it was a breath of fresh air.
*This post includes my affiliate links
Their products are eco-friendly, not tested on animals and they clean my clothes just like other name-brand laundry products, if not better. I have been doing my laundry with only the Kind Laundry brand for the past week and I love that my clothes still smell fresh after being washed, they feel clean and they are so soft! Plus, I think using Kind Laundry, is much better for my washing machine. All the harsh chemicals can really deteriorate your washing machine. This brand is wonderful.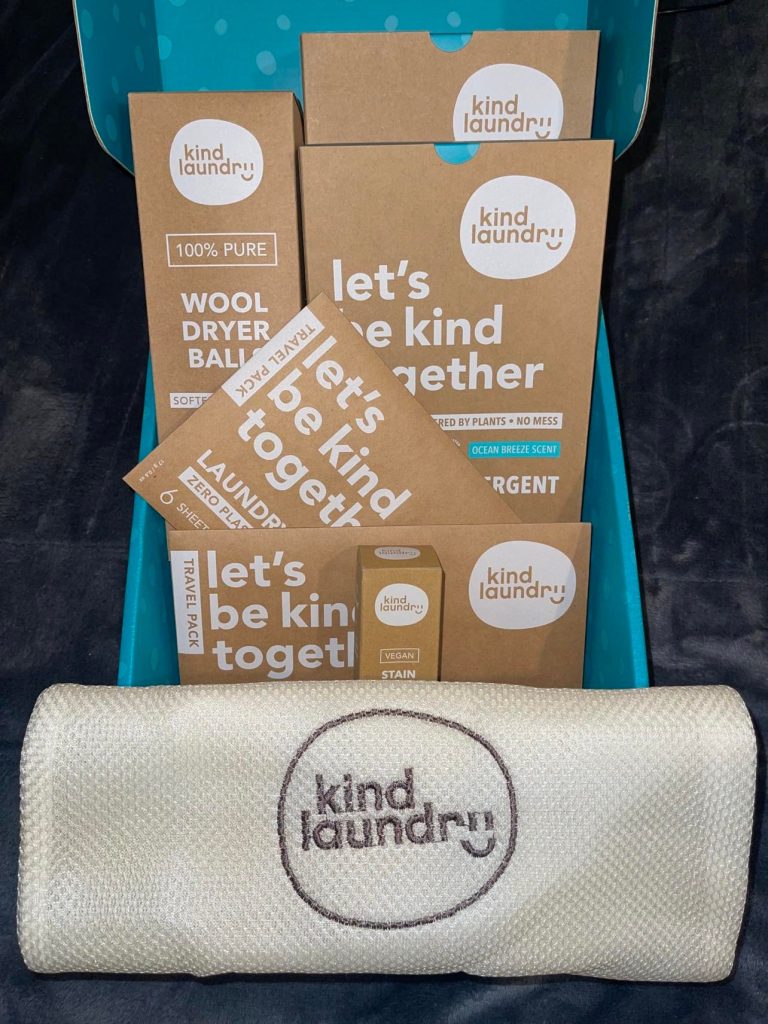 Kind Laundry Eco-Friendly Laundry Products
Kind Laundry Eco-Friendly laundry products are my new favorite laundry products to use when doing my family's laundry each day. Kind Laundry carries quite a few products.
Below are the ones I received to review: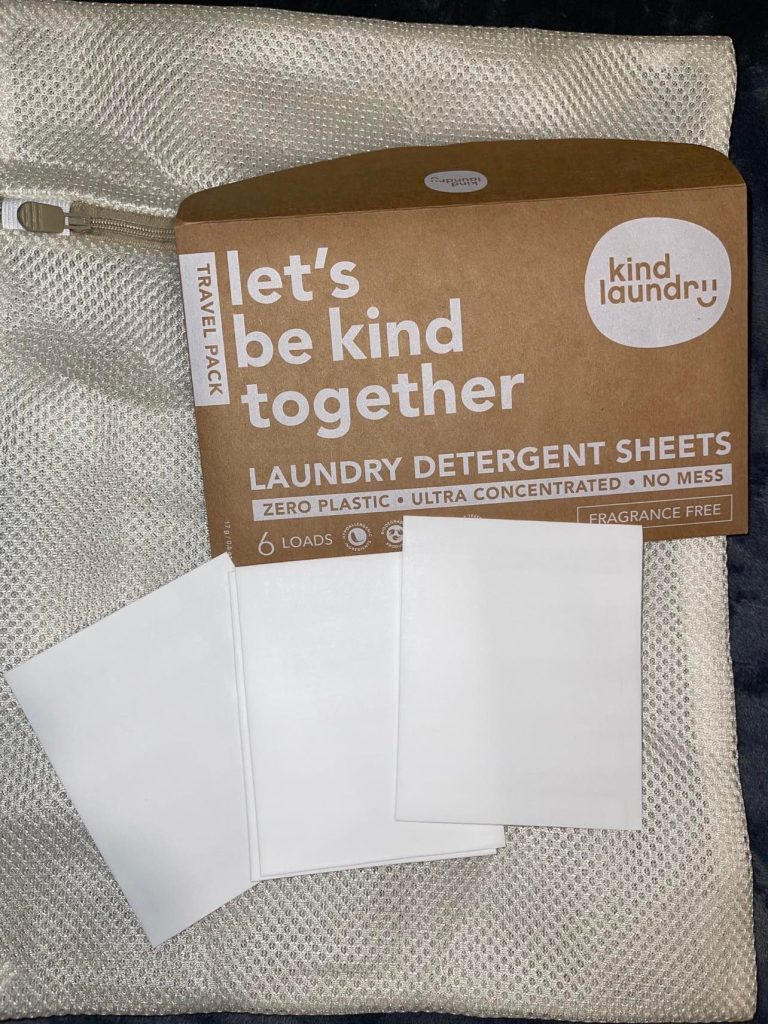 Eco-Friendly Laundry Strips: Kind Laundry strips is an eco-friendly alternative to the traditional liquid and powder detergents in the market. Its recyclable packaging has a dramatically smaller eco-footprint on the environment and helps you lighten your load on the planet.
Furthermore, the strong cleaning power of our laundry strips comes from mostly plant-derived formulas. This means it is also a gentler and safe alternative to synthetic, chemical-based detergents for you and your family.
I LOVE using these eco-friendly laundry strips in my wash! They dissolve very quickly in hot OR cold water and they clean my clothes really well. I feel good about using non-toxic products on my family's clothes and bedding, towels, etc. My kids have eczema and so avoiding harmful chemicals has been something I have been doing for a long time. You should be too!
Why Eco-Friendly Laundry Strips?
*Safer Ingredients
*Biodegradable
*Precut and Pre-Measured
*Travel Friendly
*Zero Mess
*Save Space
Fact: Did you know close to 1 billion plastic laundry detergent jugs are discarded annually, just in the U.S. alone? Less than 10% actually gets recycled and the remaining ends up in the ocean, landfills, and waterways or gets exported to poorer nations. At this rate, there will be more plastic in the ocean than fish by 2050*.
They have two options to choose from when buying Kind Laundry eco-friendly laundry strips. You can get scented (ocean breeze) or unscented. I received both of them and love them both!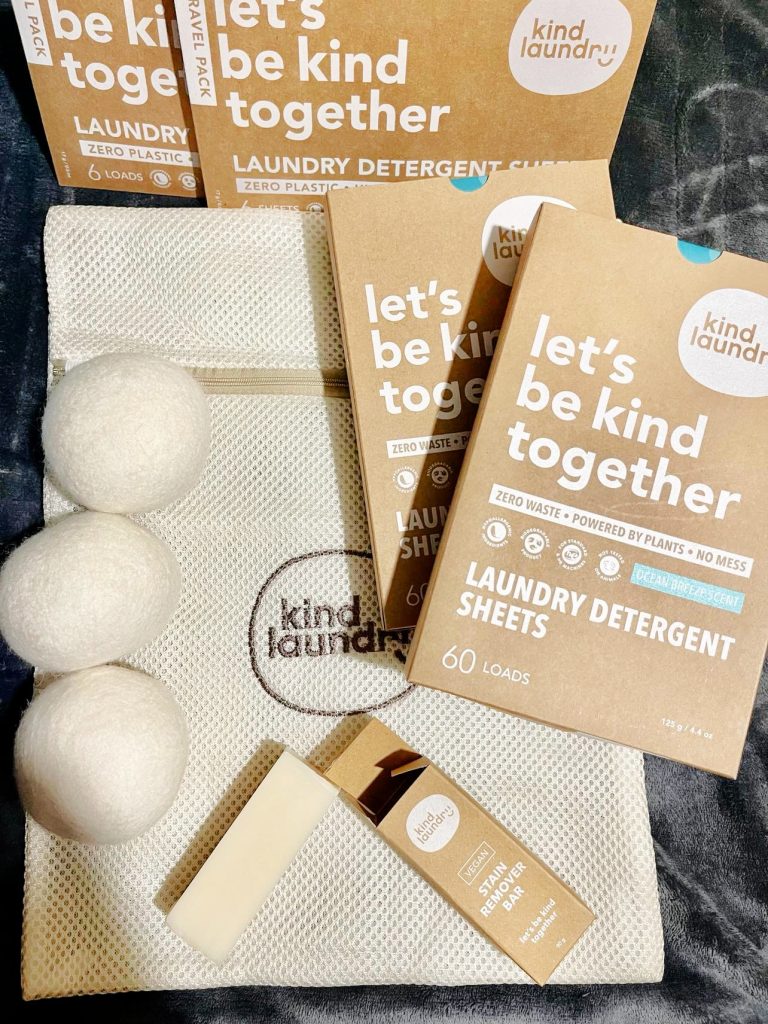 Kind Laundry Soap Sheets (Travel Pack): This contains 6 sheets for 6 loads of wash. This is perfect to take with you on vacation or visit friends and family.
We all know laundry on the go can quickly turn into a nightmare and that traditional liquid detergent is a pain especially to travel with! Even the powder detergent is a huge mess when you have to bring it with you on vacation. It's just not travel-friendly.
That's why Kind Laundry Soap Sheets are your perfect, lightweight, mess-free solution when it comes to doing your laundry on vacay. It comes in a slender, compact envelope, and they'll slip right into your bag and be there when you need them. And you don't have to worry about leaving them in freezing temperatures!
Made with zero-waste packaging and safer ingredients, their laundry detergent sheets are more eco-friendly than most conventional detergents out there. Goodbye, single-use plastic jugs and packaging! Hello, convenience and eco-friendly goodness!
How do Laundry Detergent Sheets Work?
Front Loader: Place all your clothes inside the washing machine and add the laundry detergent sheet on top of your clothes. Start the machine.
Top Loader: Place all your clothes inside the washing machine and add the laundry detergent sheet(s) on top of your clothes. Start the machine.
Hand Wash: Tear half a soap sheet and swirl it in a bucket of water until it dissolves. Hand wash your clothes as usual.
---
Vegan Laundry Stain Remover Bar: Grass, coffee, wine, or spaghetti sauce… our Laundry Stain Remover Bar can handle it all. And while it's tough on stains — it's gentle on your clothes, skin, and importantly, the environment! This plant-based, vegan formula includes no toxic chemicals. Kind Laundry uses zero animal by-products in their stain remover soap bar such as tallow (commonly found in soap bars).
Kind Laundry's Vegan Stain Remover Bar is perfect for traveling. It's lightweight and liquid-free, so it's easy to pack and won't make a mess in your bag. It's also safe for hand-washing your delicates in the sink or bowl for effortless stain removal. Their specialized formula uses natural surfactants to lift away the proteins and fats clinging to your clothes. Simple, painless, and chemical-free! And, it is Made in Ontario, Canada.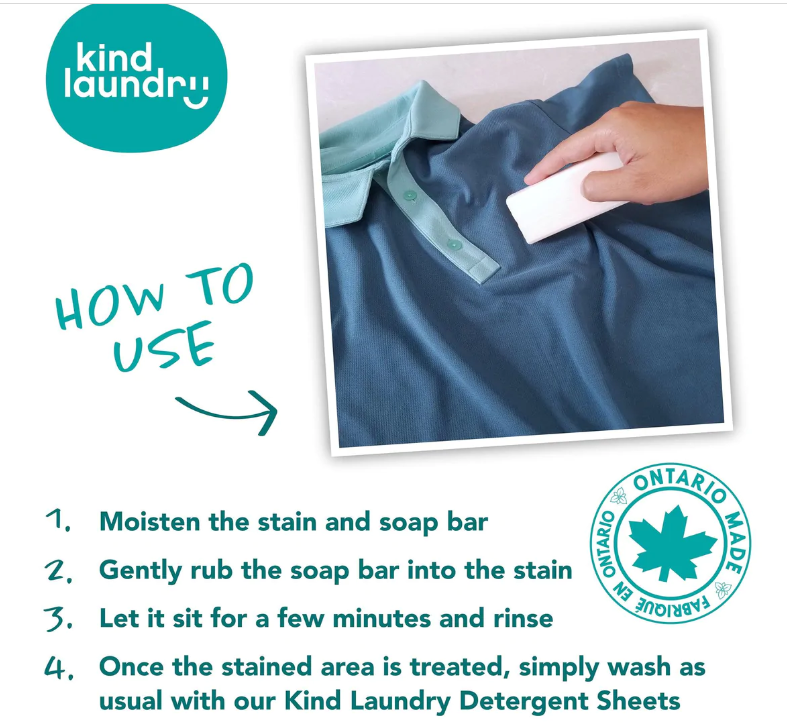 Why Choose Kind Laundry Vegan Laundry Stain Remover Bar Over Others?
✔ Gluten-Free
✔ NO animal testing
✔ Phosphate-Free
✔ Environmentally-Friendly
Kind Laundry Stain Remover Bar was made with three things in mind:
To be kind to the environment: their nontoxic formula comes in biodegradable packaging. To be kind to your skin: Just 5 gentle ingredients for peace of mind!
My oldest son gets a bloody nose a lot so there is always some blood to get out of his shirt or towels he uses. This vegan laundry stain remover bar gets out the blood and makes his clothes and towels look good as new. I love this laundry stain remover bar!
---
Kind Laundry Wool Dryer Balls: These are an earth-friendly, long-lasting alternative to synthetic fabric softener and toxic dryer sheets. These are also great for that static electricity we get! Zaps that away quickly leaving my clothes static free! I love that.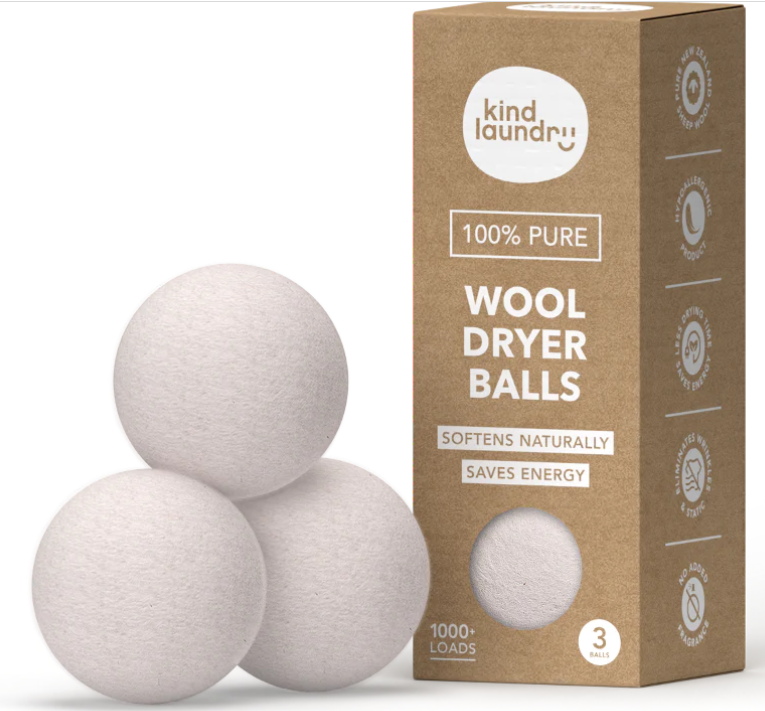 A sustainable swap that will:
*Naturally soften your clothes, reduce wrinkles, and prevent static cling
*Reduce drying time by up to 25% (And save on energy bills)
*Last for up to 1,000+ loads of laundry Lower your carbon footprint
Using the Kind Laundry Wool Dryer Balls has also been much better on my dryer too! My clothes are softer and my dryer isn't getting all that gross residue from dryer sheets in it. Win/win!
---
Kind Laundry Premium Mesh Laundry Bag: Protect your delicate items in the wash while letting the water and soap do their job! Use this washable mesh laundry bag to prevent pulling, tearing, and tangles, and extend the life of your clothes. The elastic sleeve for the zipper handle ensures your fabrics are fully protected from snags and tears.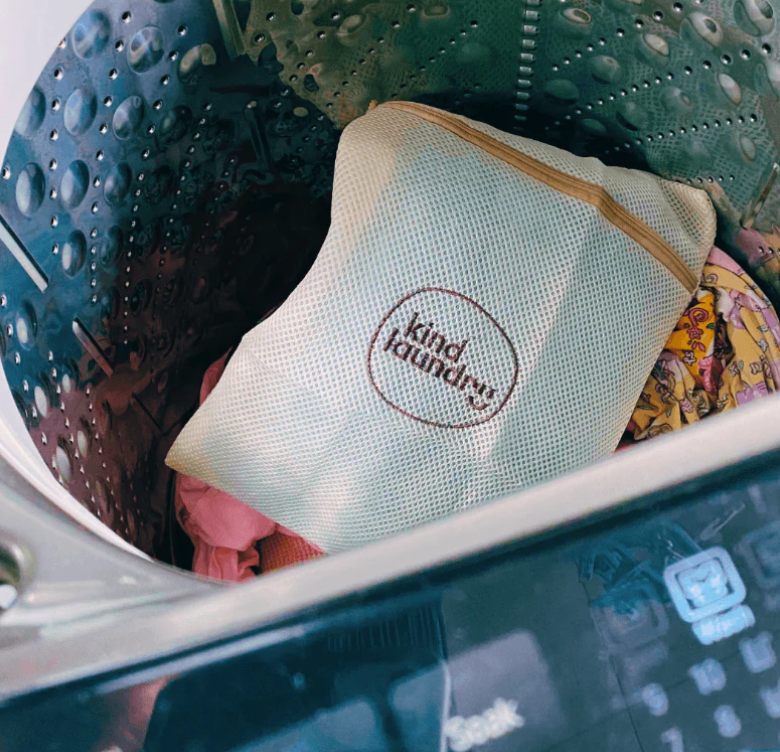 The Mesh Laundry Bag is perfect for:
• Protecting gentle clothing items such as lingerie, swimwear, and sweaters.
• Preventing wool, knit, and nylons from stretching or pilling.
• Keeping track of small items (like socks or baby clothes).
• Separating fabrics that shouldn't go in the dryer.
• Protecting decorative beading, sequins, or embellishments.
I love using this for socks! I haven't lost a sock in a week and I am THRILLED! I will never lose a sock again, yay!
Sales Galore!
Right now, Kind Laundry has quite a great sale going on! Be sure to check it out below:
Build Your Own Bundle – Save 15% on your custom bundle of 4 zero-waste cleaning products & Free shipping from 12/1/22 – 12/26/22 (excludes subscriptions & gift cards)!
Buy
You can check out Kind Laundry's eco-friendly products on their site!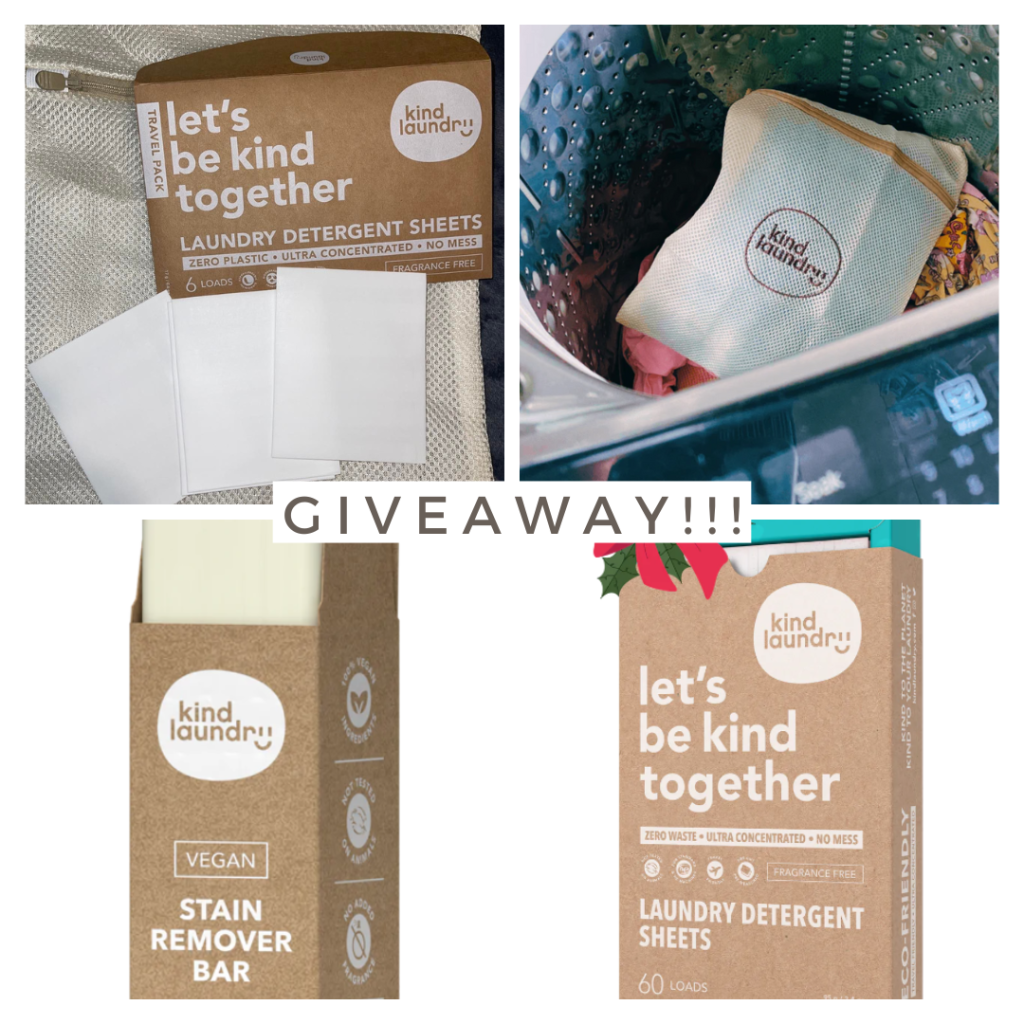 Win!
One person is going to win the Kind Laundry Bundle which includes the following products:
*1 Box of 60 Sheets
*1 Travel Pack of 6 Sheets
*1 Mesh Bag
*1 Vegan Bar Stain Remover
Rules
The contest is open to US 18+. The giveaway will end on December 15, 2022, at 11:59 PM MT. The winner will have 48 hours to confirm their win after I email them, or a new winner will be chosen. I am not responsible for lost or stolen mail.