This is my LMNT Electrolytes Review! If you're looking for a healthy, sugar-free way to get your electrolytes, LMNT is the perfect drink mix for you. Each packet of LMNT contains 1 gram of salt and absolutely no sugar, making it ideal for people following a low-carb or keto diet.
LMNT is also great for athletes and anyone who leads an active lifestyle. With its great taste and all-natural ingredients, LMNT is the best electrolyte drink mix on the market! I hope you find my LMNT Electrolytes review below, helpful!
Managing electrolytes is an absolutely critical part of successful dietary interventions. This electrolyte mix has everything you need and nothing you don't, making it the perfect choice for anyone looking to improve their health.
*This post includes my affiliate links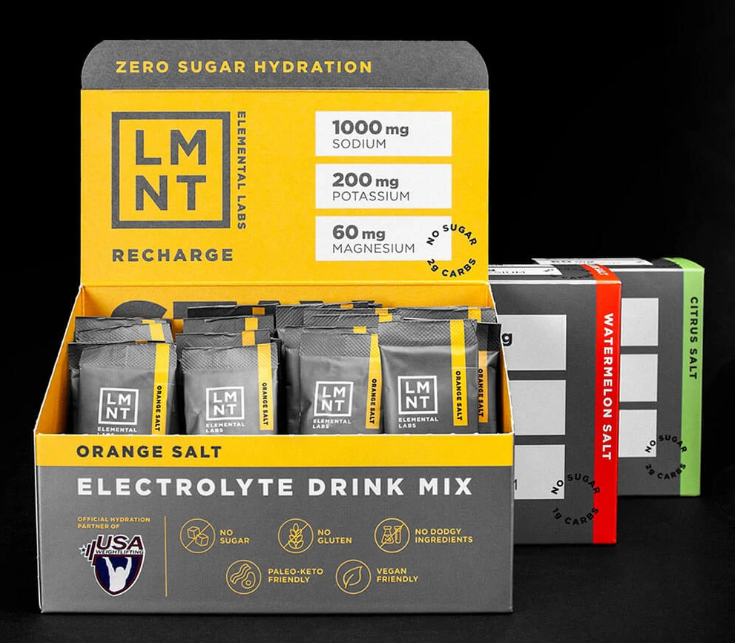 LMNT Electrolytes Review: The Best Electrolyte Drink Mix Ever?
I received a few boxes and packages of the LMNT electrolyte drink mixes and the first one I tried was the Citrus Salt. Guess what? I loved it. I poured the electrolyte powder into a glass of water and sipped it throughout my morning.
I was surprised at first at how salty it was (I LOVE salt!) and it had the perfect blend of salt and citrus taste. Since the first initial packet, I have been having a pack every day to help curb my migraines and just help me get in my electrolytes per day. I have tried almost all of the flavors and really like them. So far, so good!
I tend to get migraines a lot, so when I was researching migraines on Google one day, I came across the LMNT electrolytes drink mixes. I did a bit of research and it just made sense to me. Fast forward a week or so later and I am trying my first packet of drink mix.
I usually get a migraine right before my period or when I am ovulating so for me, it is hormonal. I just went through my first period and I did not get a migraine this time.
So, it could be a fluke OR it could be because of the LMNT electrolyte drink mixes! Time will tell and I will keep you all updated!
LMNT Electrolyte Drink Mix Flavors
LMNT has a variety of awesome-tasting flavors! I have listed them below, for you to check out! (see their ingredients below!)
Grapefruit Salt
Citrus Salt
Watermelon Salt
Orange Salt
Raspberry Salt
Chocolate Salt
Mango Chill
Lemon Habanero
Raw Unflavored

What Ingredients Are In LMNT?
It's simple: LMNT is a zero-sugar electrolyte drink mix, with everything you need and nothing you don't. Our ratio stands out: LMNT delivers a truly meaningful dose of electrolytes without the sugar, junky fillers, or artificial coloring found in other "sports drinks." Check out their article about them explaining electrolyte ratios.
How Many Packets Should I Drink In One Day?
You can drink one or two pouches a day. Some people prefer more and others prefer just one a day. Determining how many packets to consume daily is quite dependent on the individual.
First, it's important to note that LMNT is meant to supplement your electrolyte intake – it should not be your sole source of electrolytes in a day.
Although there is no one-size-fits-all approach, the clinical data demonstrates targeting 5-7g of sodium 1-3g of potassium, and 250-500mg of magnesium throughout the day from various sources, ideally from predominantly whole foods.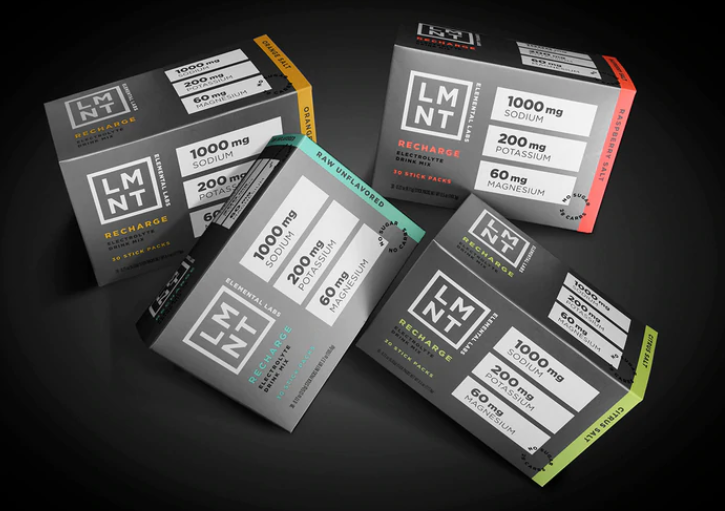 When Should You Drink LMNT?
The most common usage is first thing in the morning, and about 30 mins prior to a workout, high-intensity activity, or when mental clarity is at a premium.
A good thing to remember is when it comes to replacing lost electrolytes–preparing ahead of time is much better than chasing them afterward. I drink mine first thing in the morning! Drink LMNT electrolytes to feel your best each day!
Does LMNT Offer Discounts?
The INSIDER Bundle is the best way to get more salt for your buck: You buy three boxes and get the fourth one free! Yay! The Subscribe & Save option is also a great way to save some extra $$.
You can customize your subscription to meet your salty needs, and pause it whenever you'd like! They do not offer coupons or do holiday sales, because their INSIDER Bundle and subscriptions are available year-round.
LMNT is a great choice for anyone looking to improve their health. I hope my LMNT Electrolytes Review has helped you understand it better but if you still have questions, leave me a comment below and I will try my best to answer them! Thanks for reading my LMNT review!
Where Can You Buy LMNT Electrolytes?
You can purchase the LMNT Electrolyte drink mixes by visiting them online or checking them out on Amazon.com!