*Microfiber Comforter Set with Decorative Pillows was received.
I sure love my new Microfiber Comforter Set with Decorative Pillows! This comforter set comes with all you need to complete your bed. This comforter set comes with the 100% Soft Microfiber Polyester comforter, pillow shams, and decorative pillows! And, the price is perfect! No need to spend over $100 on a nice comforter set! Latest Bedding has a huge selection of bedding and home decor products that are priced just right.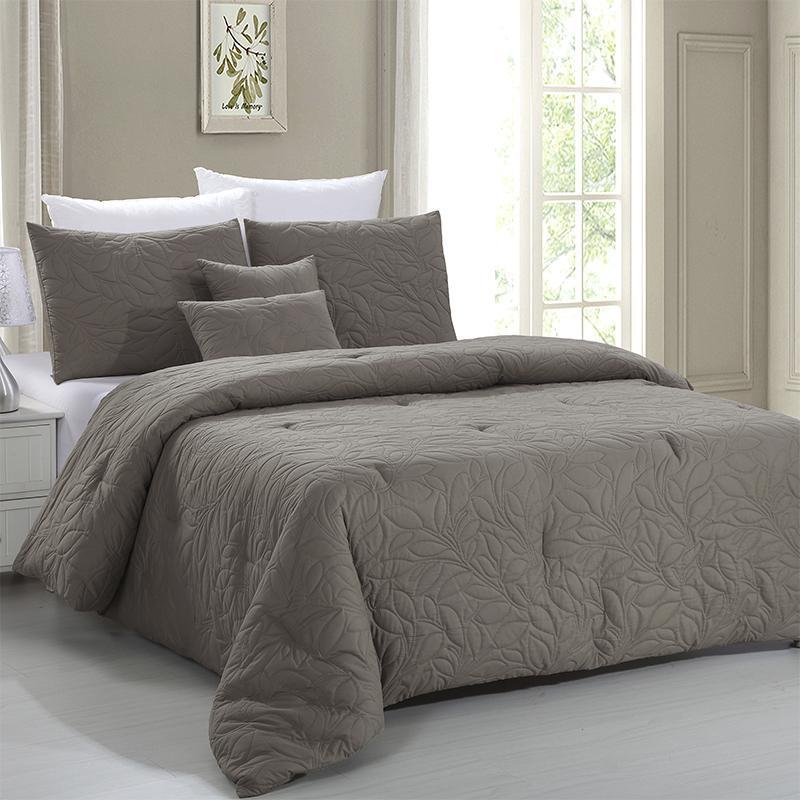 I had a hard time choosing which bedding I wanted but finally, I decided on the gorgeous and super soft Amrapur Nottingham Leaf Mocha 5-Piece Embossed Microfiber Comforter Set in King size! This gorgeous comforter set also comes in queen size. This comforter set comes in Mocha or Olive color. Both are so pretty!
Microfiber Comforter Set
Features:
*100% Soft Microfiber Polyester Fabric
*Fill: 100% Down alt Polyester
My Thoughts On The Microfiber Comforter Set!
This comforter is SO SO SO soft! I immediately realized this the moment my hand touched it. I just put it on my bed today, so I can't wait to sleep with it tonight.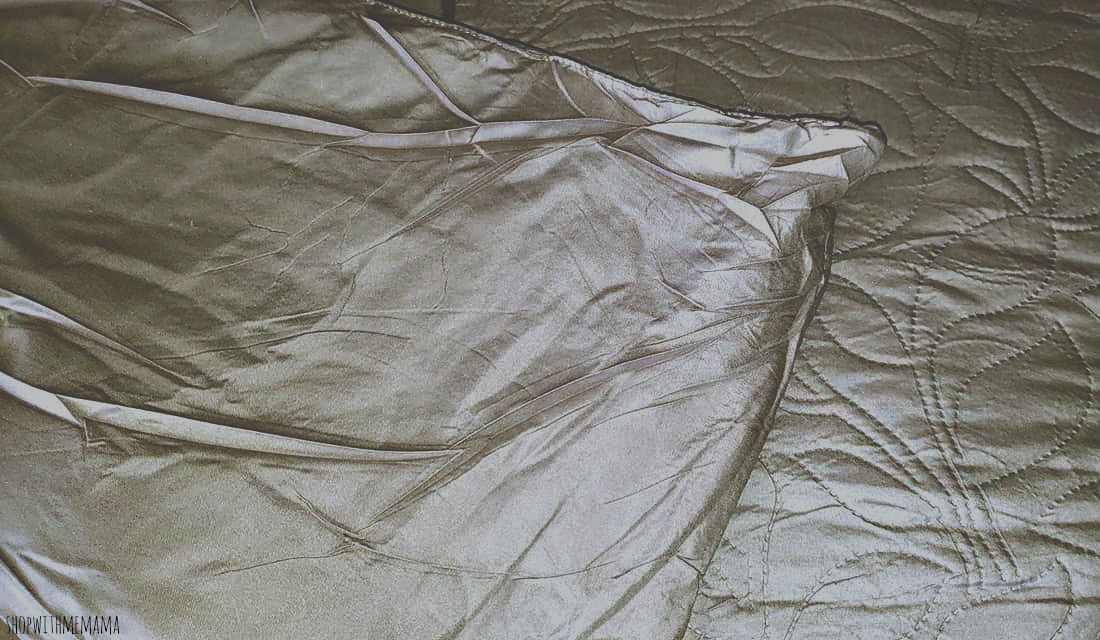 It is light feeling and is perfect for the spring weather we are having. But, it will also be warm/comfortable enough for fall/winter use too. The pattern on this comforter is pretty. I chose this comforter because of this pattern and the color (Mocha), which I just love because it is a color that will go with everything.
The Nottingham Leaf Mocha Embossed Comforter Set features a subtle embossed pattern that complements a variety of décors. Pillow shams and pillows feature matching embossed pattern.
Mom Want's A Comforter Set Too!
This microfiber comforter set with decorative pillows would make a great gift for mom for Mother's day! I am thinking about getting my mom one, maybe the olive colored one! Psst! They are having a Mother's Day Sale going on right now! Use code MOM25 at checkout for an extra 25% off of their Mother's Day Collection! Oh and FREE SHIPPING! Yay!
Dimensions
*Queen: One Comforter 88″ x 88″, Two Shams 20″ x 26″, One Decorative Pillow 12″ x 18″ and One Decorative Pillow 26″ x 26″
*King: One Comforter 104″ x 88″, Two Shams 20″ x 36″, One Decorative Pillow 16″ x 16″ and One Decorative Pillow 26″ x 36″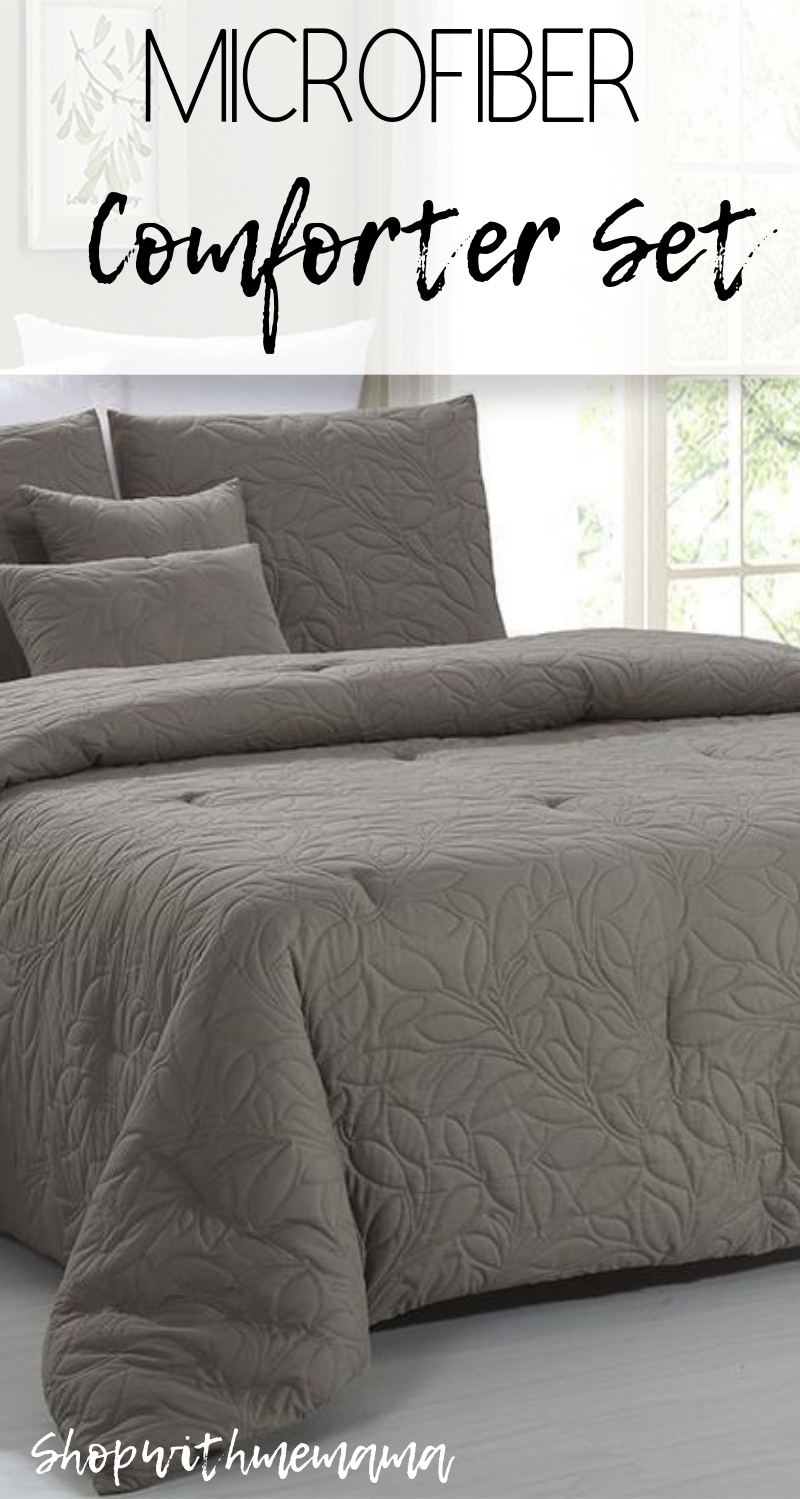 Latest Bedding has other bedding too! For your kid's bed/s to that guest bedroom! Twin beds, queen and king! There is something here for everyone in your home! Spring is here and it is time to 'spruce' things up a bit! Check out their rustic bedding, they have some really cute outdoor themes! So many options to choose from! They even have reversible comforters! I love their luxury comforter sets! So pretty and luxurious!
Shop!
Take a peek at their site at LatestBedding.com and see for yourself! They always have great deals going on and their prices are already low! Plus, they have a spring sale going on. Use code: SPRING10 to get an extra 10% off! Crazy good deals! Get your orders in!