I love it when I find companies that are natural and don't test on animals, don't you? Maple Holistics is a company that doesn't test on animals. They are a natural hair and skin care company. Plus, at the end of this blog post, you can find out How To Make And Use A Castor Oil Pack For Fertility if you are having trouble trying to conceive (yes, they really work!).
Maple Holistics is a company that specializes in natural and cruelty-free personal care products. They have a great selection of products to choose from. I was sent their Silk18 Shampoo and Conditioner. I was also sent a bottle of their Castor oil to try out!
I enjoy using the Silk18 Shampoo & Conditioner on my long, thick hair. My hair can be super annoying at times and gets pretty dried out, especially with summer here. This shampoo and conditioner duo helps my hair stay super moisturized and feel soft and nice.
*This post includes my affiliate links.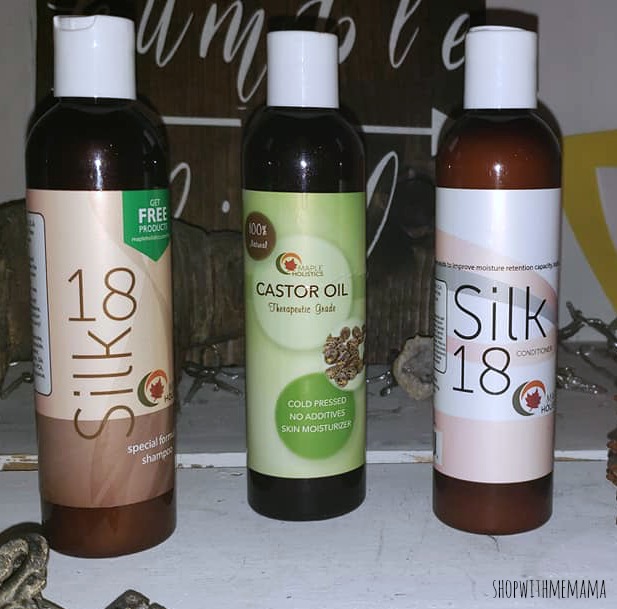 Natural Hair And Skin Care Products
The shampoo helps smooth my hair follicles and is infused with a rejuvenating blend of 18 silk amino acids which helps fortify hair follicles and strengthen my strands.
It also helps to prevent dryness, breakage, damage, split ends, and hair loss. The nourishing formula gently cleans your hair including dandruff, excess sebum, and any impurities. Your hair is left feeling refreshed and healthy!
The Silk18 Shampoo is enriched with argan and jojoba oil to add supreme softness and a luminous shine. This shampoo is sulfate and paraben-free making it great for all hair types, color-treated hair, and sensitive skin!
The Silk18 Conditioner is amazing too! Right after I use the Silk18 Shampoo, I then use the Silk18 Conditioner. It helps to tame any frizzies my hair has and leaves it super soft and manageable.
This conditioner has a blend of 18 silk amino acids and the silk proteins are enhanced with a nourishing blend of argan oil, shea butter, organic pomegranate, and jojoba oil.
This helps give your hair a softer, smoother, more lustrous look and feel. The natural vanilla extract gives your hair a sweet scent too! This conditioner is silicone and paraben free, just like the shampoo, and is safe for all hair types.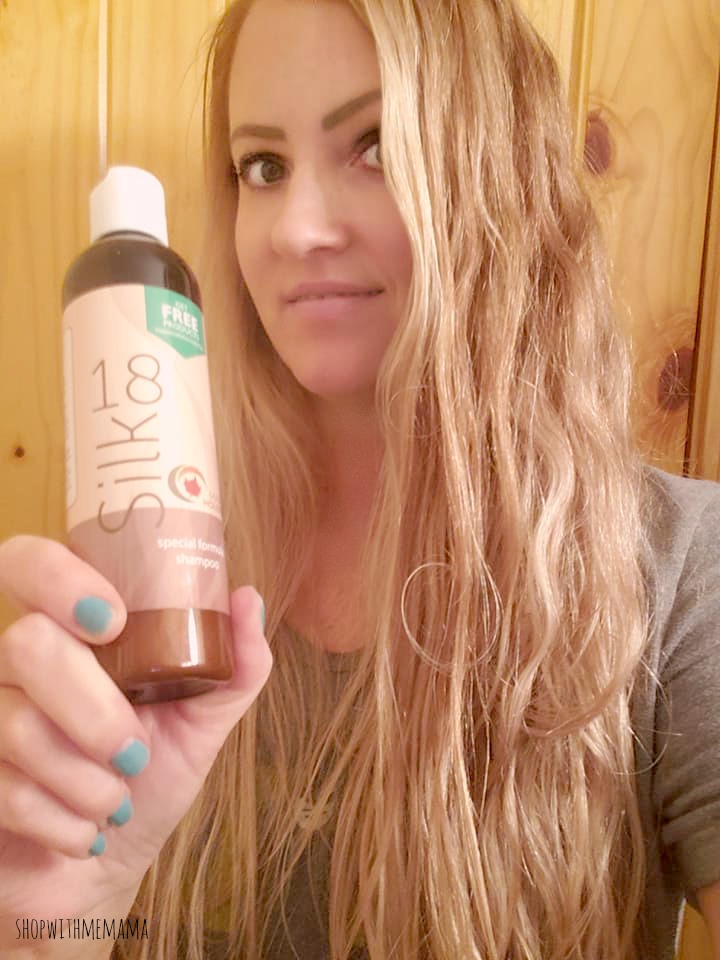 Castor Oil is great for MANY things! That is why I wanted to try it out! Castor Oil can be used on your eyelashes to help them grow longer, thicker and stronger.
It can also be used on your head to help grow your hair or help with hair loss. Castor Oil promotes thicker hair, eyelashes, and eyebrows.
It can Help Prevent and reduce the appearance of fine lines and wrinkles too. It also nourishes and strengthens your nails, soothes your scalp, and reduces dandruff. The Maple Holistics Castor Oil is Hexane-free, paraben-free and cruelty-free.
Castor Oil For Infertility?
Yes! Castor Oil can also help with infertility and is used to treat gynecological disorders related to infertility (like endometriosis, fibroids, polycystic ovary syndrome, and more!).
To use Castor Oil for infertility or for a disorder I listed above, please see below!
It is called Castor Oil Therapy For Infertility and it consists of using a warm, castor oil wrap over your abdomen. This helps to stimulate blood flow to your uterus and ovaries.
I only heard about this 3 weeks ago. I wish I had known about this sooner as I would have done this when I was trying to conceive. I had so many issues trying to conceive, so I tried pretty much anything and everything!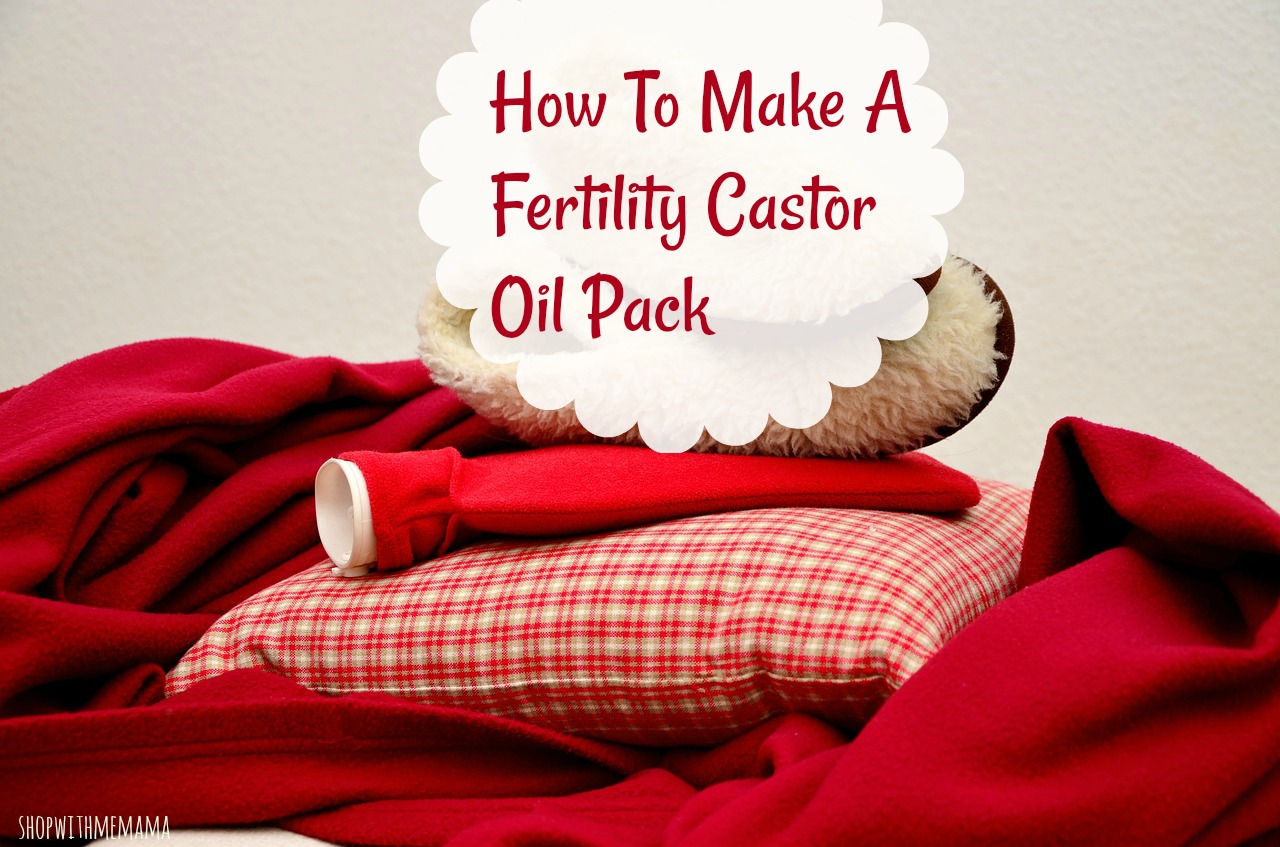 How To Make And Use A Castor Oil Pack For Fertility
Castor Oil Packs for fertility are fairly easy to make. You will need the following items:
*Piece of flannel or a small cotton towel
*bottle of castor oil
*piece of plastic wrap
*hot water bottle (or heating pad)
*cotton towel
Click the Image Below To Download And Print!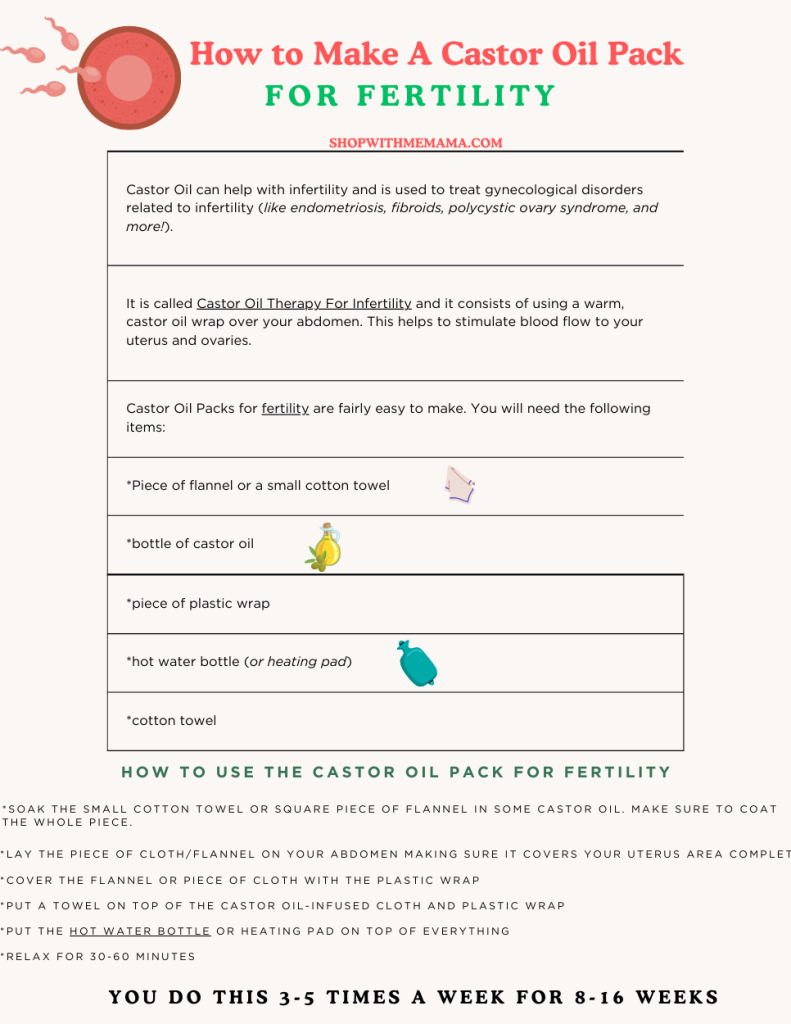 How To Use the Castor Oil Pack for Fertility
*Soak the small cotton towel or square piece of flannel in some castor oil. Make sure to coat the whole piece.
*Lay the piece of cloth/flannel on your abdomen making sure it covers your uterus area completely
*Cover the flannel or piece of cloth with the plastic wrap
*put a towel on top of the castor oil-infused cloth and plastic wrap
*Then, put the hot water bottle or heating pad on top of everything
*Then, relax for 30-60 minutes
You do this 3-5 times a week for 8-16 weeks
Maple Holistics has really great, Natural Hair And Skin Care products. They have a big selection to choose from.
*Always consult a medical practitioner or healthcare provider before starting anything as I am not a doctor
Buy
You can check out all the Natural Hair And Skin Care products from Maple Holistics by visiting them online at https://www.mapleholistics.com. You can also purchase these products on Amazon.com.
---
PIN IT!