If you're looking for a tasty fudge recipe, this rocky road fudge is one of my favorites! It is very easy to make, and tastes absolutely delicious! I remember when I was little my grandma would make us old-fashioned rocky road fudge!
My siblings and I would gather around her in the kitchen and help her make a huge batch of it! It always turned out SO good and I vouched to never stop making it for the holidays after she passed.
*This post includes my Amazon affiliate links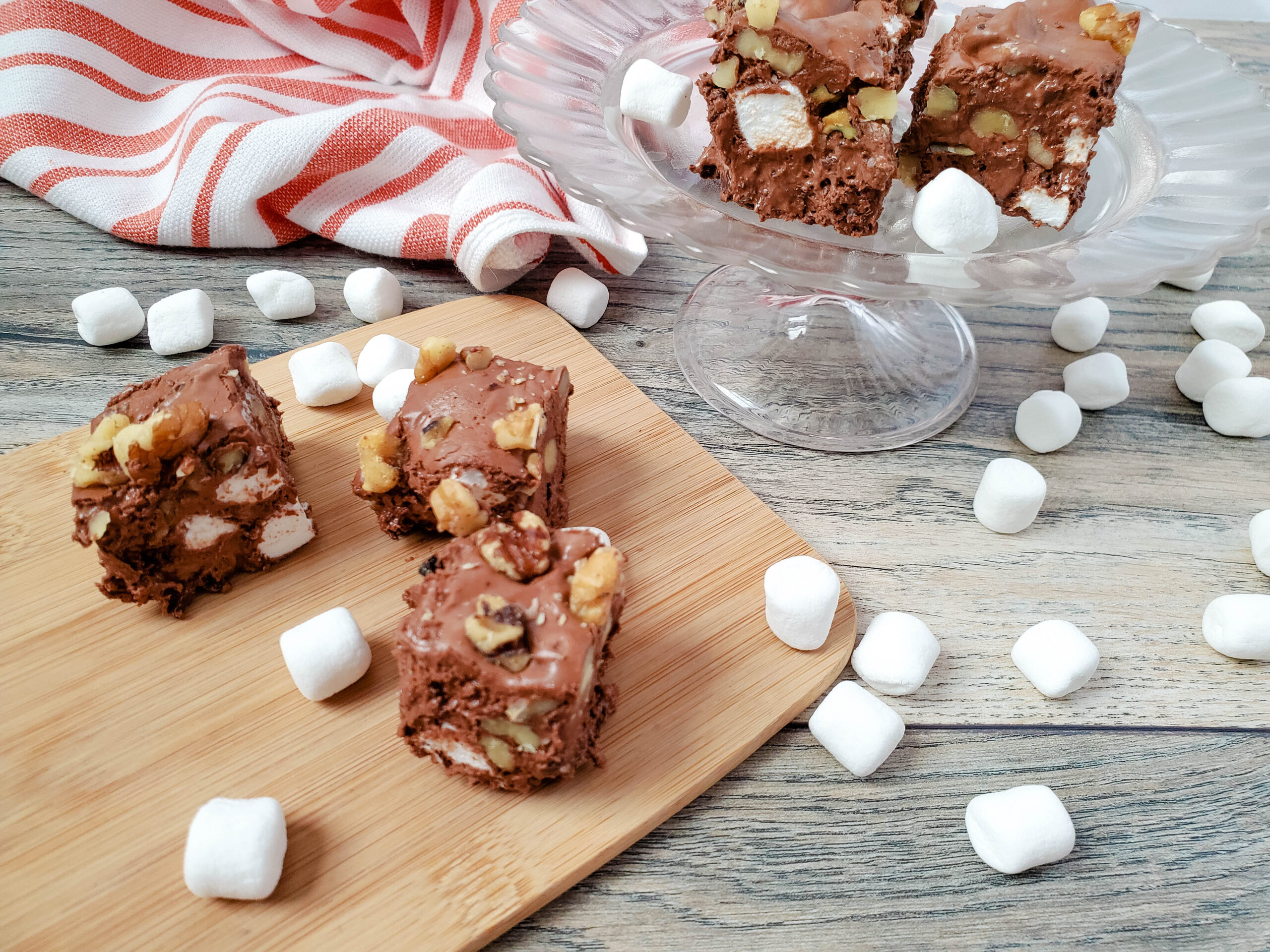 So, every year, when the holidays roll around, my kids and I gather in the kitchen and make our traditional old-fashioned rock road fudge! It is a great way to get my kids together and do something we all love!
Making your own homemade fudge is easier than you might think, which you will soon find out when you make this amazing rocky road fudge recipe at home. You can make this easy fudge recipe for your family to enjoy, or you can make it to share! We always make enough fudge to share with everyone!
Fudge makes a wonderful homemade gift for family and friends during the holidays, and yours would likely be appreciative of this sweet homemade treat! Simply line a cookie tin or decorative box (or make your own gift box!) with parchment paper, add some fudge, and decorate the outside with a ribbon for gifting. Easy peasy!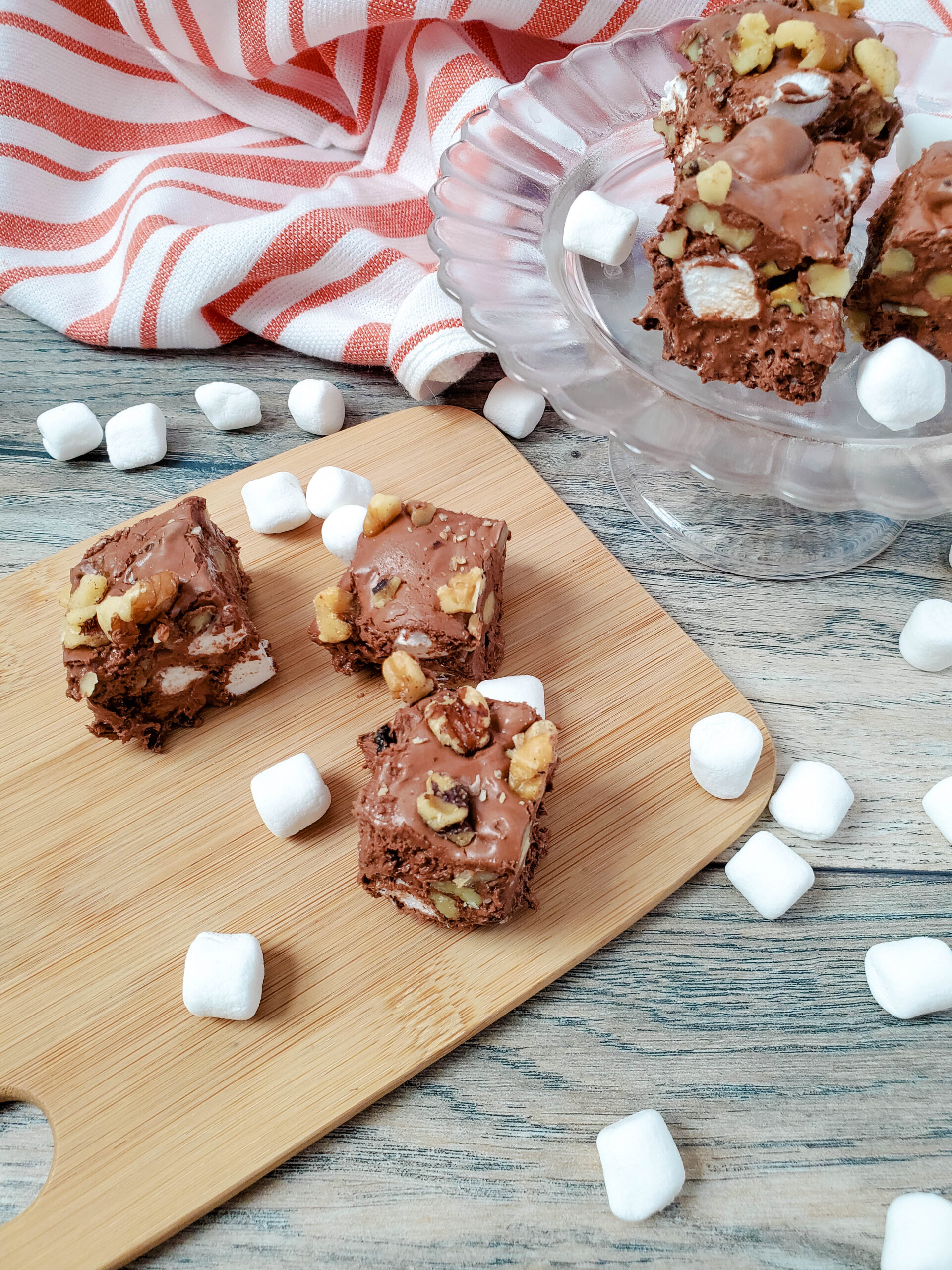 Old-Fashioned Rocky Road Fudge Recipe
Without further ado, below you will find all the ingredients you will need to create the BEST homemade rocky road fudge recipe EVER. I promise! YUM!
Ingredients to make old-fashioned rocky road fudge: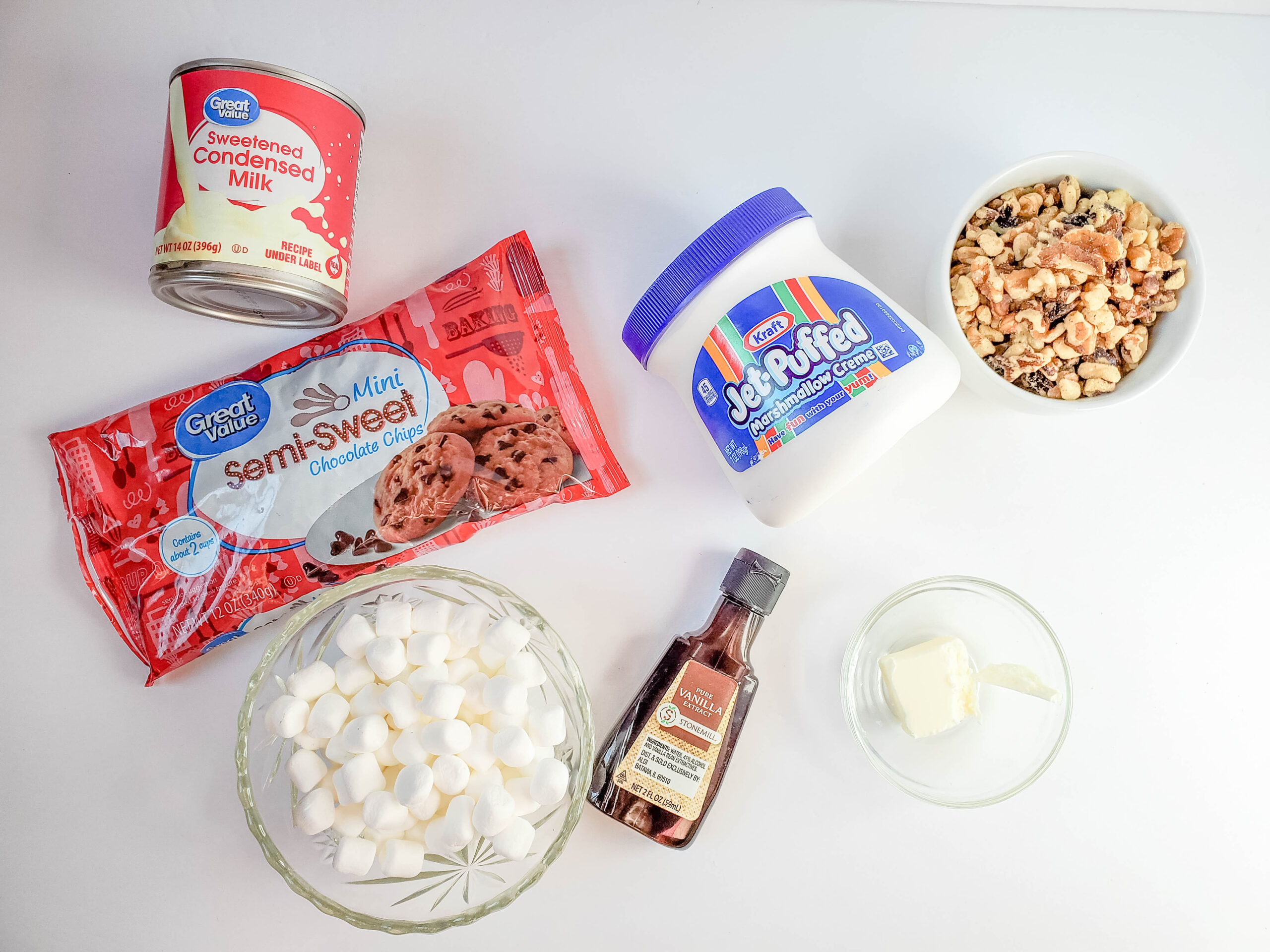 1 tbsp butter

1 tsp vanilla

14 oz jar sweetened condensed milk

1 cup chopped walnuts

1 cup mini marshmallows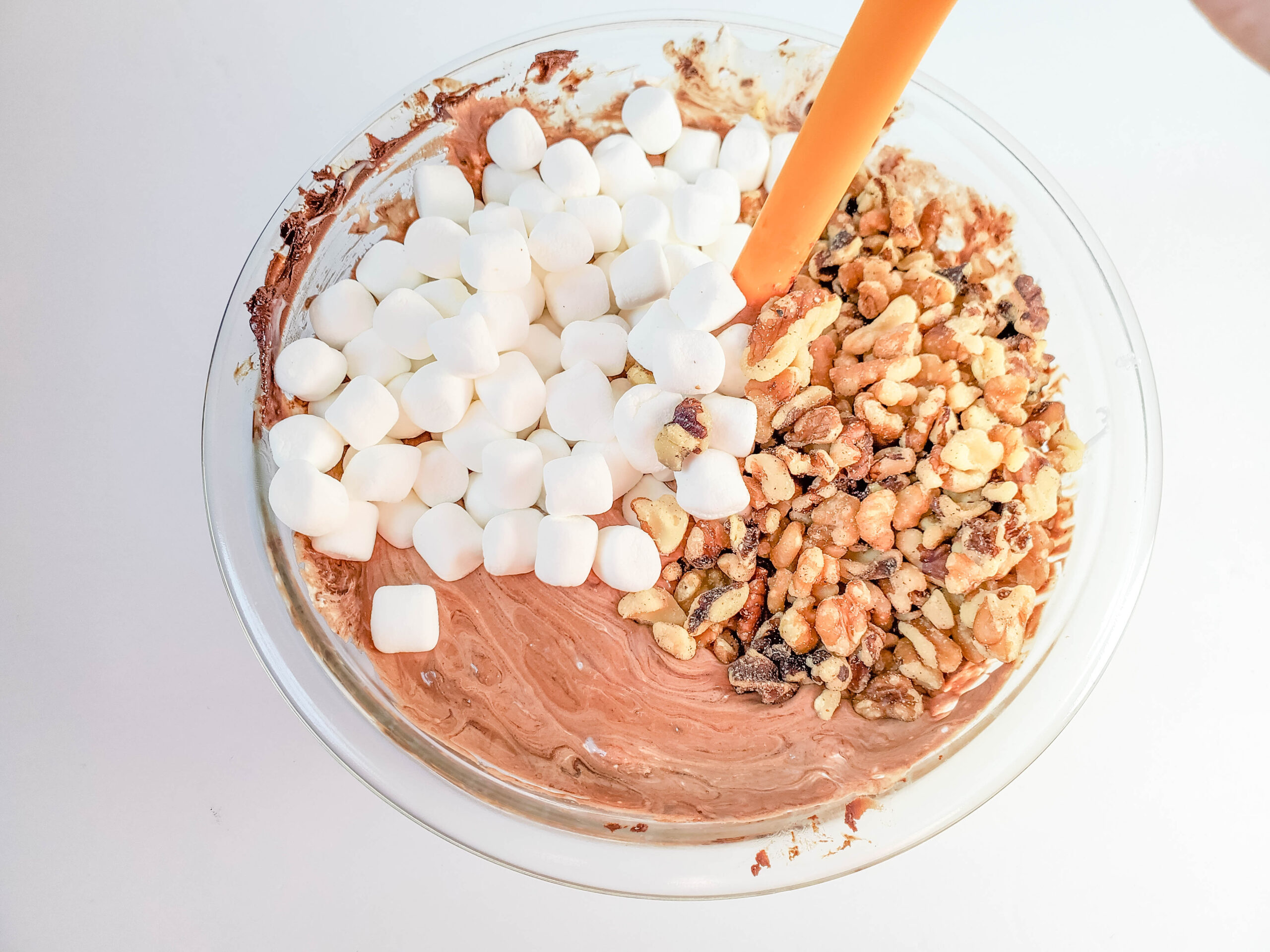 Directions to make old-fashioned rocky road fudge:
1. Line 9×9 inch baking pan with parchment paper.
2. Heat chocolate, butter, and vanilla until melted. You can use the double boiler method, or dump ingredients into a microwave-safe bowl, heating on high in 30-second increments, stirring between, until fully melted.
3. Add marshmallow fluff and sweetened condensed milk.
4. Stir well.
5. Add ¾ cup walnuts and marshmallows. Stir well.
6. Pour mixture onto parchment paper-lined baking pan, spread evenly.
7. Top with remaining walnuts.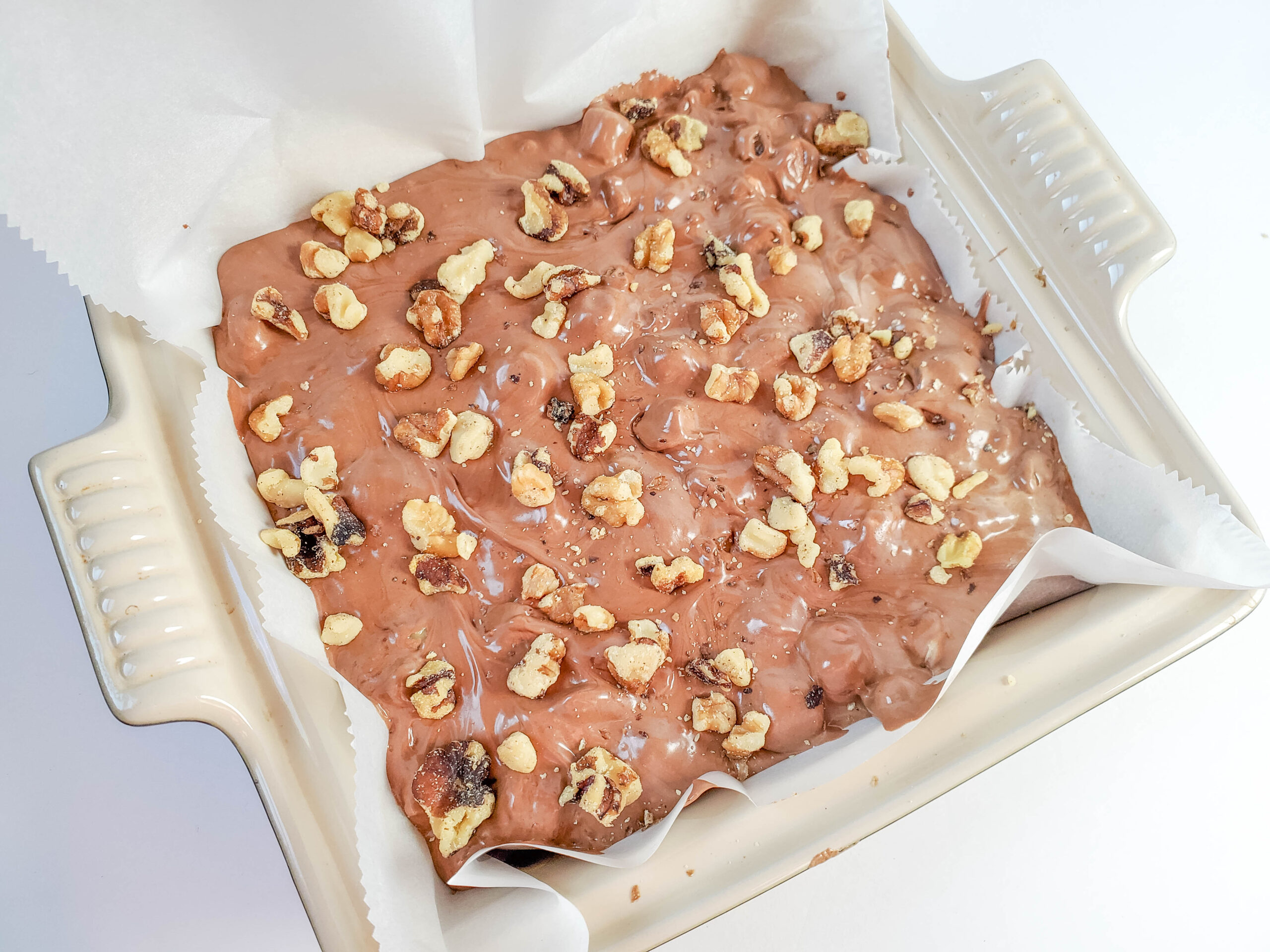 8. Cover with foil and refrigerate for at least 2 hours before cutting into 1-2 inch squares.
**Note: This is a very soft fudge recipe, so you may want to freeze for one hour before cutting, for a smoother cut. You may also want to store this fudge in the refrigerator.
I have other delicious recipes for the holidays too! Check out the following:
*Hot Chocolate Frozen Ice Pops (SOOO good!)
*Delicious Christmas Breakfast Recipe
*Stove Top Stuffing & Easy Chicken Bake Recipe
Or if you are looking for some fun ideas to keep your kids busy this holiday season:
*Edible Marshmallow Play Dough
*Make a time capsule for the new year
*Handmade Mint Poppy Seed Soap
PIN IT