My poor hubby has been suffering from foot pain for a long time now. It all started when he was in a car accident in his teens and now all the aches and pains are catching up with him. It sucks! One thing he is trying for his achy feet is red light foot therapy which is infrared light therapy for feet. He is willing to try anything at this point. We all know that red light therapy is good for your skin, but it is also good for pain management too.
Bright Health makes a red light therapy foot pain relief device that he has been trying for about a month now. Every time he sits down, he puts his feet on this pain relief device.
Red Light Foot Therapy: Infrared Light Therapy For Feet
The Bright Health Foot Relief device is specially designed for maximum energy output and maximum pain relief. Unlike a heating pad, infrared light therapy works below the skin's surface-reaching deep into tissues, stimulating cells and increasing circulation, oxygenation, cellular repair, and cellular reproduction.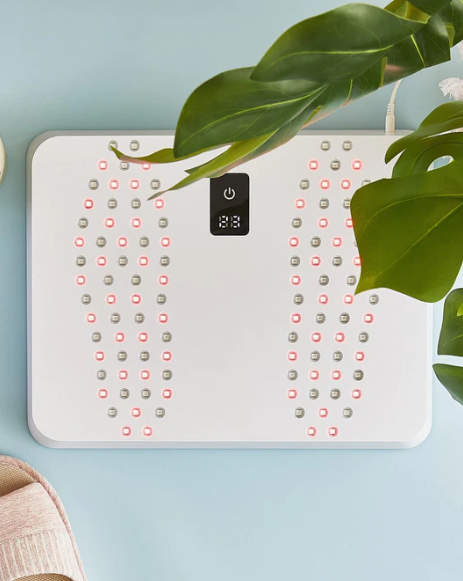 The LED light distribution allows the light to penetrate the entire foot while interchanging IR and Red LEDs to ensure the perfect therapeutic placement. The most innovative and effective way to treat your foot pain.
Features:
OTC Class II Medical Device
FDA Cleared Infrared and Red Light Natural Pain Relief
Uses 124 of the highest quality, medical-grade Infrared and Red Light LEDs to distribute the Red Light and InfraRed Light therapy.
Delivering the optimal light spectrum recommended for maximum therapeutic effect:

880nm Infrared Light (invisible to the human eye) combined with 660nm Red Light

A sleek angled design with a smooth finish
Benefits:
All-Natural and Drug-Free Pain solution
Assists with pain resulting from Arthritis, Neuropathy, Plantar Fasciitis, and Tendonitis
Accelerates healing, repairs tissue, and relaxes muscles
Enhances recovery from exercise or injury
Relieves general pain and stiffness in the feet
Safe for all skin types
*Note: Use while sitting or resting. The product is not intended to stand on.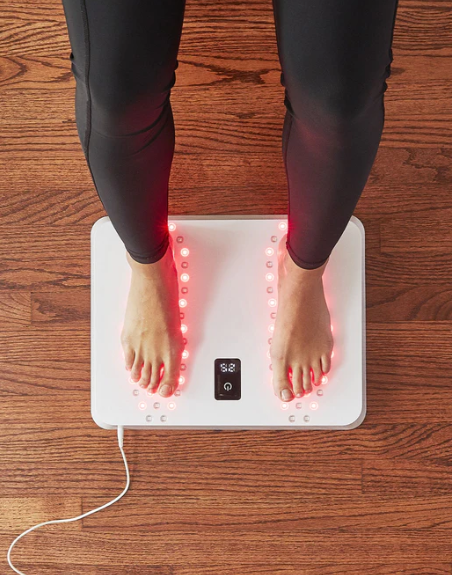 How To Use:
Do not exceed 3 20-minute treatments per day.
*Step 1. Plug the power adapter into an electrical outlet.
*Step 2. While seated place your feet on the device directly over LED lights.
*Step 3. Press On/Off to switch to turn on the device and leave the device over the treatment area for 15-20 minutes
*Note: You will only see the red LEDs light up when the device is turned on. The other LEDs are in the infrared light spectrum and cannot be seen with the human eye.
Please know that if you see RED lights while the device is turned on, the device is working.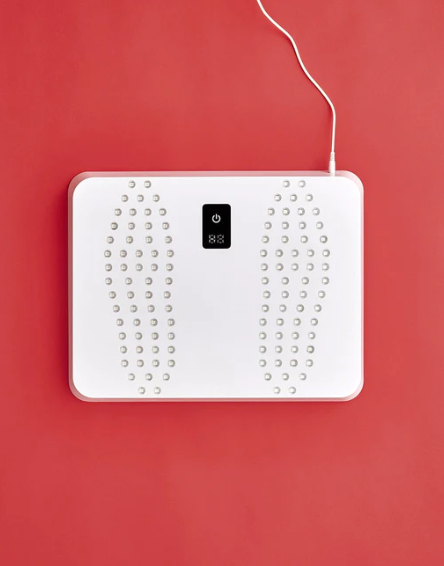 My husband says he feels this is helping his sore feet. He has noticed his pain is down quite a bit and is excited to keep using this red light therapy for foot pain. I will keep you updated with his progress in using this!
Buy
You can purchase the Red Light Therapy Foot Pain Relief Device online at https://brighthealththerapy.com/. It retails for $199 (on sale from $249!).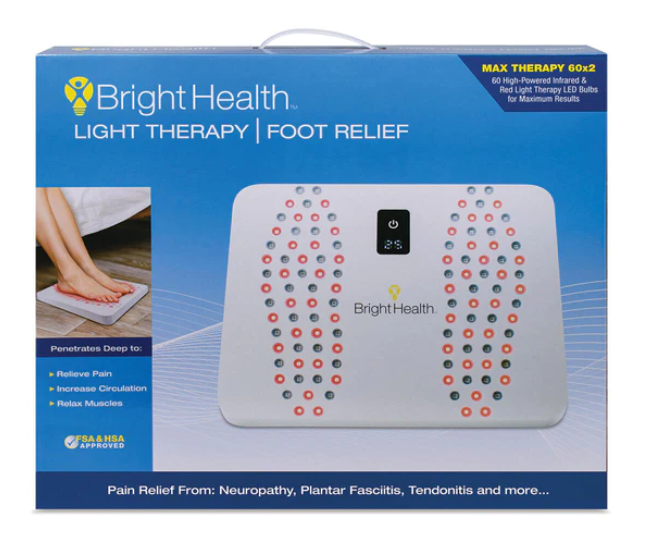 Win!
One lucky person is going to win the Red Light Therapy Foot Pain Relief Device! Yay!
Rules
The contest is open to US 18+. The giveaway will end on August 1, 2022, at 11:59 PM MT. The winner will have 48 hours to confirm their win after I email them, or a new winner will be chosen. I am not responsible for lost or stolen mail.